A Guide to Mountain Bike Grip Sizes with Tips and Tricks
Choosing the right grip for your mountain bike is essential to a comfortable and safe riding experience. The handlebar grips are one of the three most important contact points between you and the bike—the others being the pedals and the seat. Having comfortable handlebar grips properly installed will greatly improve your control of the mountain bike and your ability to endure the rough terrain. In this article we'll help you understand mountain bike grip sizes and how to choose the right one. 
Mountain bike grip sizes range in length from 90mm to 150mm. The most common inner diameter of grips is 22.8mm. Inner diameters can range from 20.55mm to 31.8mm. The outer diameter of mountain bike grips range from 30mm-40mm. Choose longer grips for a rider with wider hands and thicker grips for a rider with a larger palm or longer fingers.
Mountain Bike Grip Dimensions
The steep downhill inclines that mountain bikers have to traverse can place tremendous strain on the rider's wrist and palm for prolonged periods, as discussed in this article from The Journal of Sports Science, titled "The Physiological Demands of Downhill Mountain Bike Riding."  This is why carefully choosing a grip size that suits your hand measurements is vital. 
Our article on tips for choosing a mountain bike grip diameter has a handy chart to measure the hand grip size you will need to buy, as well as information about the materials and textures of various mountain bike grips.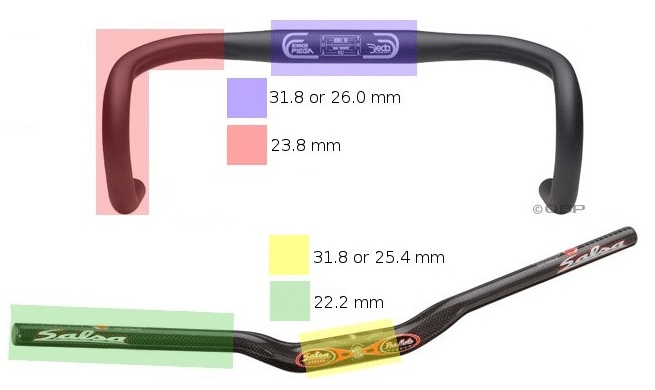 Grip Length
Grip lengths start from about 90 mm and go up to about 150 mm, that's a range of about 3.5 inches to about 6 inches in length. The type of grip shifter you install on your mountain bike will also affect the length of the grip. For example, a twist shifter (aka. grip shifter) takes up more space on the handle bars due to its broader design, so the appropriate length for a handlebar grip would be 3.5 inches, or 90mm. This twist shifter would pair well with these shorter 90mm non-slip grips, both from Amazon. 
Grip Inner Diameter
The inner diameter for mountain bike grips can be determined by using a caliper like this one from Amazon, to make sure that the grip will fit snugly onto the handlebars. Read our step by step guide on mountain bike grip installation for tips to easily fit your grips onto the handlebars. 
Grip Outer Diameter
The size of a rider's hands will determine the outer diameter of the mountain bike grips. Someone with larger hands or longer fingers should choose a thicker or chunkier grip so they have a firm grasp of the handle without overlapping their fingers. 
If you have smaller hands then choosing a grip with a smaller outer diameter measurement will ensure that you don't experience muscle fatigue in your hands and arms as a result of holding on too tight on ill-fitting grips, as is detailed in this article from the International Journal of Mechanical and Production Engineering Research and Development.
Chunky grips like these can offer extra cushioning for someone with larger hands. Chunky grips also reduce the gap between the hand and the grip so you don't hold on extra tight because you feel an air gap. 
You might also be interested in learning how to choose a mountain bike grip for sweaty hands or how to choose mountain bike grips for large hands. Make sure to take a look at our related articles to find some tips and tricks.
Factors that Might Affect Mountain Bike Grip Size
Mountain bike grips offer a way to customize your bike so that you feel more comfortable during long endurance rides. The grip size that is needed is influenced by other components that are already on the bike and their compatibility with each other. 
The size of a mountain bike grip is affected by the type of gear shifter installed on the bike, the type of mountain bike, the handlebar length, the choice between a lock-on or push-on grip, as well as the material and texture of the grip. 
Type of Shifter
The type of shifter on the bike plays an important part in deciding the grip size. Grip shifters that require more space on the handlebars accomodate a shorter grip of about 90mm, whereas other shifters such as electronic shifter or trigger shifters require longer grips that are about 130mm. Read our article on how to choose a mountain bike grip shifter for more information about the various grip shifters available.
Type of Mountain Bike
Most new mountain bikes have an average handlebar diameter of 22.2mm, which makes it easy to change out your handlebar grips. However, the handlebar may vary in thickness from 22.2 to 31.8mm as you can see in the image above depending on where you measure. Make sure of your handlebar diameter by measuring it with a vernier caliper. 
Related articles:
Mountain bikes come in various sizes, so we recommend you read our article on mountain bike sizing and have a look at the chart to determine what size bike you need. 
Handlebar Length
The handlebar length is typically the same for most mountain bikes so this factor does not affect grip size. A handlebar that is too long can be dangerous because you can accidentally clip trees or bushes when riding, as discussed in this article from Bike Perfect. So the accepted length for mountain bike handlebars is around 760mm for most riders. However, the gear shifter takes up space on that handlebar that can affect the length of the grip to be installed. We suggest measuring the width of your gear shifter and subtracting that from the available space on the handlebar to determine what size grip can be properly installed. 
Lock-On vs. Push On Grips
Some grips are simply locked onto the handlebars by tightening an Allen screw, while others just slide onto the handlebars and are fixed in place with grip adhesive. The type of grip does not affect the size of the grip that you require. 
Read our article on mountain bike grip adhesive for tips to secure your grips onto the handlebars. Both lock-on and push-on grips come in various sizes so that you can find a set to suit your riding style and hand size. For example this lock-on grip set has a length of 130mm and an outer diameter of 22mm. 
Grip Texture & Material
Generally speaking the texture of the grip wouldn't have a significant effect on the size of the grip. However, the thickness of the grip can vary from material to material. The material of mountain bike grips can vary from rubber to silicone to foam, with the foam and silicone type being the chunkier grips available, like these extra chunky handlebar grips or high density silicone foam grips.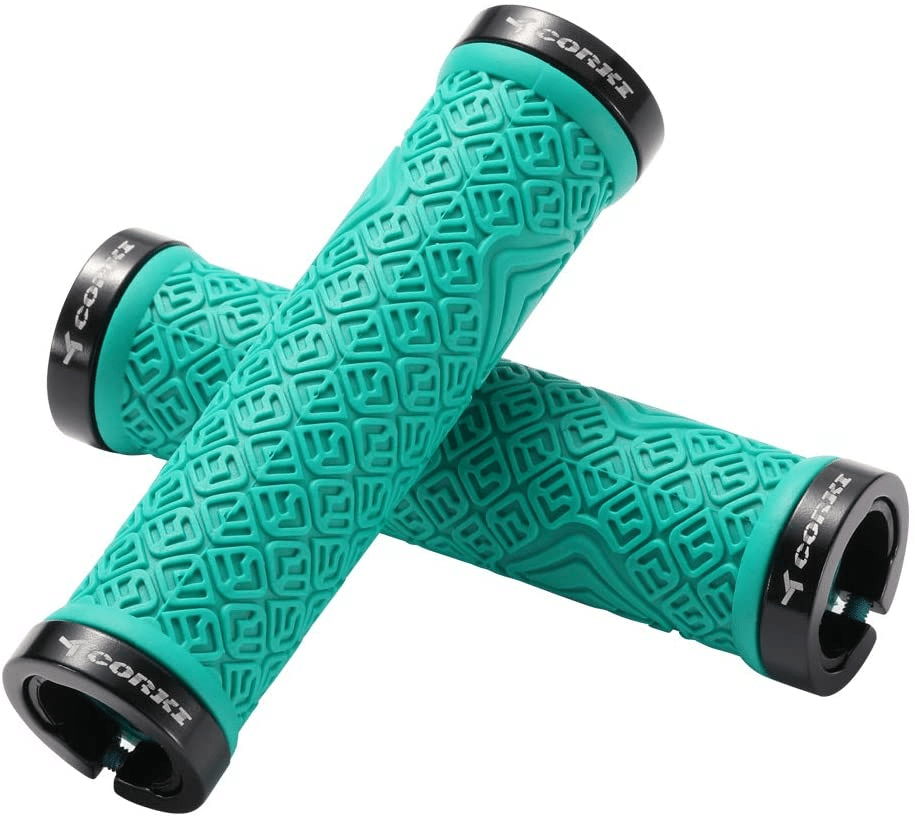 Are all Mountain Bike Grips The Same Size?
People have different size hands and hold onto cylindrical items—like handlebars—with varying grasp strengths as discussed in this article from Human Factors: The Journal of the Human Factors and Ergonomics Society titled, "Grip Force Vectors for Varying Handle Diameters and Hand Sizes." So naturally mountain bike riders would need to install handlebar grips that suit their particular hand size. 
Common mountain bike grips have a 22.2mm inner diameter and a 32mm outer diameter. Grip lengths can vary between 90mm and 150mm, depending on the kind of grip shifter that is installed. 
What To Do If Mountain Bike Grips Are Too Long?
If the mountain bike grip is longer than the handlebars, there are ways to resolve the problem. One thing that you can do is slide both the brakes and shifters inwards towards the center. However, while this does solve the problem of the grip being too long, it will make both shifter and brakes farther to reach which may be uncomfortable on long rides. 
Slip-on grips can be cut shorter if they are too long. Another option is to move the shifters and brakes inward on the handlebar.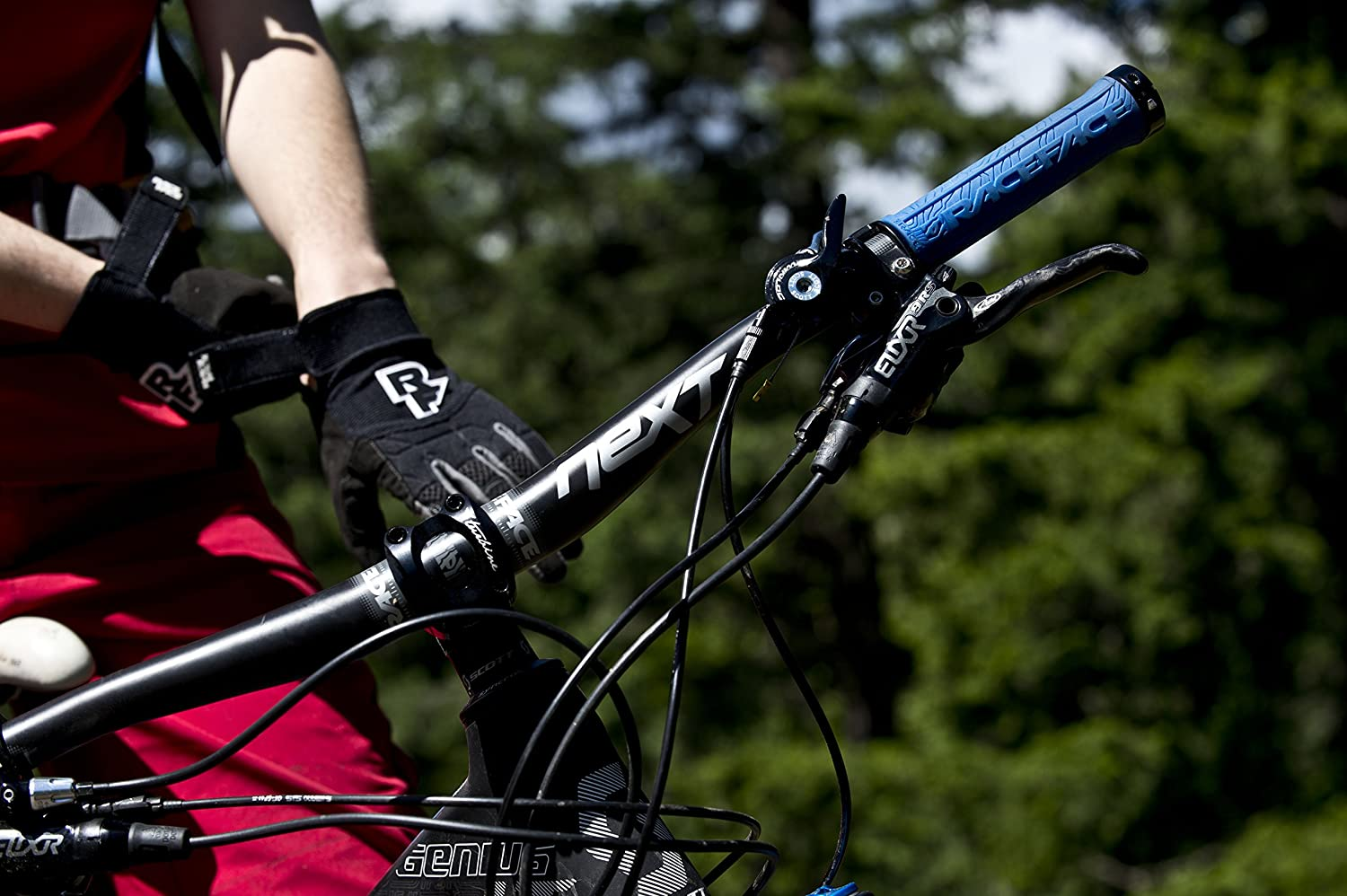 Similarly, you might be interested in how to fix a mountain bike grip that has fallen off. Make sure to check out our related article to figure it out.
How to Measure Hand Size for Mountain Bike Grips
Buying the correct size hand grip for your mountain bike requires a bit of preparation that will only take a few minutes, but can save you the hassle of getting the wrong size and having to return the grips, especially when you are eager to go for an adventurous ride. 
To measure hand size before buying mountain bike grips first measure the distance from the middle finger to your wrist. This will determine the outer diameter of the grip that's necessary. Next extend the thumb outwards and measure the distance from inside the base of the thumb to the edge of the palm. This measurement will determine the length of the grip.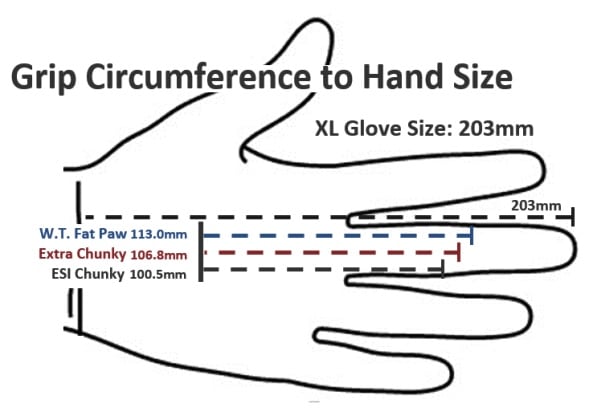 Step 1. Measure the Distance from Your Middle Fingertip to Your Wrist
Start by measuring the distance from the tip of your middle finger—which is the tallest finger on your hand— to where the palm of your hand meets your wrist. This will ensure that your grasp on the bike handle comfortably encloses the entire outer diameter of the grip. 
Step 2. Extend Your Thumb Outwards And Measure the Base Width
Extending your thumb will help you determine the maximum length that you'll have to reach to easily change gears or brake without compromising your hold on the handlebar grips. This measurement will give you a good idea of the ideal length of your grip. 
Step 3. Combine these Measurements to Determine Grip Size 
Your hand length measurement will indicate what size diameter grip you'll need, and your hand width measurement will influence the length of the grip. Based on these two measurements you'll be able to choose a grip with the appropriate thickness and span to ensure a safe and comfortable ride.  
Step 4. Compare Grip Diameters and Lengths to Find the Right Fit
This table will help compare the different sizes of handlebar grips for mountain bikes.
Once you've found the perfect grips, you may be interested in learning where to hold mountain bike grips to maintain proper posture. Take a look at our related article to find out. Similarly, you might want to learn how to choose mountain bike tires for maximum grip. If so, we have an article where you can learn more about it.
.
Disclosures
This website is a participant in the Amazon Services LLC Associates Program, an affiliate advertising program designed to provide a means for us to earn fees by linking to Amazon.com and affiliated sites.