What Mountain Bike Should I Buy?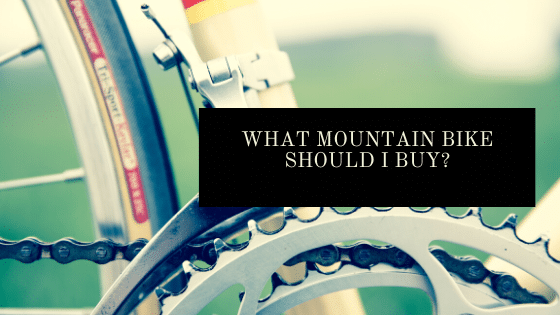 By reading this article you should be much more knowledgeable about mountain bike shopping and should be able to answer the question "What mountain bike should I buy?". Key topics that we discuss include: 
What technical terms should I know when buying a mountain bike?
What type of mountain bike should I buy? What are the different types of mountain bikes and their features/advantages?
What are the different types of suspensions and their pros/cons?
What variety of brakes are there for mountain bikes and why do they matter?
How do different frame materials affect mountain bike function?
What are the different types of components (shifters, derailers, etc.)?
How much does a mountain bike cost?
How much do mountain bikes weigh?
Where should you buy a mountain bike and what are the best brands? 
What mountain bike should a beginner buy vs. an advanced mountain biker? 
Also, make sure to check out our related topics on:
What technical terms should I know when buying a mountain bike?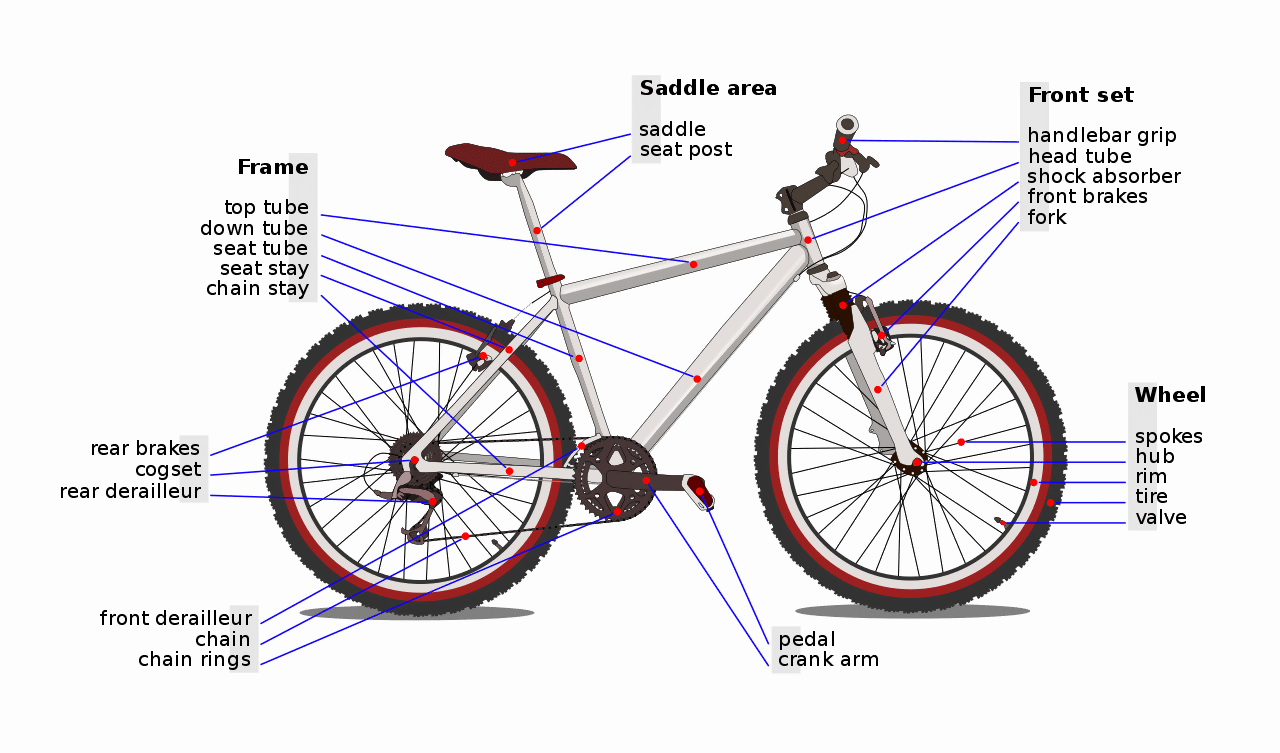 If you're new to mountain biking, it's easy to get overwhelmed with the technical terms you will encounter in bike forums or websites. Thankfully, we've made a layman's guide to some of the items you need to know when purchasing your own mountain bike. This guide has been adopted from the Glossary of MTB Terms and Slang by NTX Trails:
26er : means 26-inch diameter wheels. This is the classic mountain bike wheel size.
27.5 : means 27.5 inch diameter wheels. Synonymous with 650b
27.5+ : means 27.5+ inch diameter wheels with 2.8" or other plus-sized tires
29er : means 29 inch diameter wheels
29.5+ : means 29.5+ inch diameter wheels with 2.8" or other plus-sized tires
All-mountain : all-purpose trail bikes that can handle climbing, descents, drops and technical trails.
AM : acronym for all-mountain
Alloy : short for an aluminum – alloy bike frame. This is the most common type of mountain bike.
Armor : wearable protection for riders like knee pads, sternum pads, etc.
Bottom bracket : the connection point of the crankset to the bike frame
BSO : cheap mountain-bike knock-offs that can't handle actual off-road trails
Cadence : your spin/ pedaling rate
Chain rings : a large ring on the bicycle to which the cranks are attached to. Also known as sprocket
Chainstay : the length between the rear axle and the seat tube 
Cockpit : the handlebars, stems and everything involved with controlling the bike
Contact patch : the surface area of the tires which is in contact with the ground. A larger contact patch means better traction but increased resistance 
Coward levers : brake levers 
Crank/ crank arm : connects the pedals to the spindle
Crankset : consists of the spindle, chain rings, sprockets and the crank arm
Cross-country : least extreme and most popular type of mountain biking race and bike
Derailleur : the mechanism that moves the bike chain. Usually refer to the rear derailleur but may also refer to the front one
Derailleur hanger : small metal piece attached to the rear axle connecting the rear derailleur to the rest of the bike frame
Double-crown fork : fork that is usually found on mountain bikes
Downhill : races or trails that take place on steep, rough terrain that involves descending and clearing obstacles via jumps, drops and other technical maneuvers
Dropper post : a seat post that can be raised or lowered with a lever
Dual suspension : a full suspension bicycle with both front and rear suspension, also known as full suspension
Enduro : a kind of race that focuses on downhill sections but may require uphill travel
Fatbike : a bike with tire widths of 3 inches or more, also known as fattie
Fork : part of the bicycle that holds the front wheel
Front triangle : the main body of the bicycle frame which compose of the top tube, down tube and the seat tube
Geometry : the angles at which a bicycle's three main frame tubes – top tube, down tube, and seat tube – are positioned
Hardtail – a bike without rear suspension
Head tube : the part of the bike frame which connects the front fork to the bike
Knobby tires : off-road tires that use deep tread to provide traction
MTB : generally used shortcut for Mountain Bike or Mountain Biking
Presta valve : valve often found in MTB inner tubes 
PSI : the amount of air pressure in a bike's tube, also known as Pounds per Square inch
Pump : used to inflate tire
Quick Release : an axle that attaches a wheel to a bicycle frame
Rear triangle  : the portion of the bike that connects the rear wheel to the bicycle frame
Rigid : a bike that doesn't have front or rear suspension
Saddle : used to refer to the bike seat
Seat stay : the connection of the seat tube to the bike frame
Single-speed : a mountain bike with only one gear
Slack : a head tube angle where the front fork is raked outward, improving control on descents
Slop : side-to-side wear of the bike chain. Also known as the chain slop
Steel bike frame : bike frames which are usually stronger than alloy frames and more durable than carbon frames
Strava : a GPS tracking device that is used by bikers to determine their speed during trail rides
Tandem : a bike built for two
Tubeless  : a bike which can run without inner tubes
Wheelbase : the distance between the center of the rear wheel and the center of the front wheel
XC : Cross-country bike
What type of mountain bike should I buy? … What are the different types of mountain bikes and their features/advantages?
There are basically four basic types of mountain bikes, classified by their purpose. The following is a summary of their features:
| | | |
| --- | --- | --- |
| Type | Best Features | When you should buy this |
| Cross country or XC  | Carbon fiber or steel front fork, hardtail or rear suspension, steep head angles (69-71 degrees), 26"-29" wheelsets | If you enjoy uphill trails, occasional jumps and short descents |
| Trail  | Heavier front forks, full suspension models (with a few exceptional hardtail models), rear air shock provision, short chain stays, narrower head angle  (65-68 degrees), wheelsets usually 27.5" and 29" although some varieties exist | If you enjoy different kinds of trails, travel mostly downhill, and aren't focused on uphill speed  |
| Enduro/ all-mountain bike | Longer travel forks, more suspension travel, slacker head tube angle, wide handle bars, higher bottom brackets, wheelsets usually 27.5" and 29" | If you love trails with difficult jumps and features; If you've previously broken your trail bike and want to step up your game |
| Downhill bike | Carbon or aluminum frames, coil or air shocks, Head angle of 63-65 degrees, wheelsets of 27.5" or 29" | If you love downhill trails and engage in daredevil jumps, stunts and exhibitions |
Cross Country or XC mountain bikes are built with the best pedals. These bikes can be used in short tracks or endurance events. They are similar to road bikes with a focus on efficiency and portability. XC mountain bikes, however, are not ideal for downhill performance. While they can handle occasional bumps, they are best suited to riders who enjoy ascending hills. The tires on these bikes may also have reduced traction, control or durability. XC bikes may have hardtail frames, which means that the rear tires don't have suspensions. XC bikes may also feature rear suspensions, which makes the bike more suitable for rough terrain but adds to the weight. The Savadeck Dec300 Carbon Fiber Mountain Bike is one highly recommended, fully hardtail mountain bike that is light and doesn't require complicated assembly. 
Similarly, you might be interested in learning how to choose mountain bike pedals for grip maximization. If so, take a look at our related article to find out more.
Trail mountain bikes, meanwhile, are suited for both uphill and downhill tracks. They are general purpose and can accommodate the needs of most mountain bikers. Compared to XC mountain bikes, trail mountain bikes can handle more challenging terrains, steeper drops and higher jumps. These bikes maintain an equal balance when it comes to features. This dual full suspension bike is an excellent choice for beginners and for bikers who intend to travel on short (<10 mi.) uncomplicated trails.
Enduro or all-mountain bikes live up to their name. While primarily focused on downhill biking, these big bikes can handle steep climbs easily. They are made for rough terrains and more technical trails. Enduro bikes are great for races where descents are the focus but uphill travel is necessary beforehand. If you're unsure of what kind of bike to get, all-mountain bikes are your best bet because they can endure the worst wear. They have strong frames, long wheelbases, and great suspension travel. Compared to XC bikes, however, they are often bulkier. 
Downhill bikes are exactly what their names suggest. They are designed for challenging descents but not for climbing. If you have the skills, fearless attitude and insurance coverage to endure downhill trails, these kind of bikes are the best for you. Take a look at this Mongoose downhill bike to see the difference between downhill bikes, XCs, and AMs.
Lastly, freeride bikes are quite similar to downhill bikes, but the main difference is the purpose for which they are used. Freeride bikes are made to endure big jumps, sudden drops, and technical stunts. They are often used by exhibitionists, although they can still weather high-speed downhill travels. They are not suited for uphill biking trails. These bikes are often light in weight, but sport thick frame tubes that can be easily maneuvered. They are a cross between XC bikes and downhill bikes. 
Besides these five bike categories, there are other unique kinds of mountain bikes on the market. "Fat" bikes have extra-thick tires made for traveling off-track. There are also e-bikes already available on the market, which fuse motorcycle and mountain bike features to allow you to enjoy seemingly impossible trails. These hybrids are not as easy to find as the general categories we mentioned before.  If you want to give these a try, however, this electrical mountain bike from Ancheer has been generating buzz online with its affordable price and superior performance.
No matter which type of bike you buy, at some point you're going to have a flat. When you do, be sure to reference our detailed guide on how to change a mountain bike tire. You'll surely be glad you did!
Different Types of Mountain Bike Suspensions, and Why You Should Buy Them
A suspension system is the beginner's best friend. It absorbs shocks and bumps and provides you comfort and protection. As its name suggests, riding a full-suspension bike will make you feel that you are floating on wheels. More suspension gives you a sense of control over your mountain bike so that you can keep pedaling forward. 
There are different kinds of suspension systems available on the market today. Each one has its own limitations and advantages. The best kind of suspension system for you is the one that will help you carry out your specific goals and ride through your desired trails. We've compiled a list of the basic types below to help you decide what mountain bike suspension you should buy:
Table of different mountain bike suspensions
| | | | | |
| --- | --- | --- | --- | --- |
| Type of suspension | What is it? | What does it do? | Why should you buy it? | Example Mountain Bike |
| Rigid Suspension | A mountain bike without any suspension | Minimizes weight and helps improve dexterity and increase speed. | If you want to improve your bike skills and identify your mistakes. It is also cost-efficient and will make usual trails feel like new challenges. | The Piranha 21 Speed Rigid Mountain bike |
| Hardtail/ front suspension bike | An MTB with front suspension only (suspension fork) but no rear shock | It is easy to control, affordable to maintain and lighter when compared to full suspension MTBs | It's great for smooth trails, easy ascents, and trail use | The Schwinn Bonafide Mountain Bike with Front Suspension |
| Dual Suspension/ full suspension bike | An MTB with both front and rear suspension  | It has a heavy frame which provides ample support for riders on rugged terrain, and gives you the smoothest ride  | It can be used on off-road trails, rough descents, and downhill jumps. It's also recommended for riders with back issues | The Raleigh Bikes Kodiak 2 Mountain Bike |
Different Types of Mountain Bike Brakes and What to Consider When Buying Them
Brakes help you slow down and prevent collisions with obstacles on the trail. There are various categories of mountain brake systems: coaster brakes, rim brakes or disc brakes. Each kind further divides into sub-categories, providing you with a vast array of brake types to choose from. We've compiled a summary of the features of different brake types below for you:
Table of different MTB brakes and which mountain bike brakes you should buy
| | | | | |
| --- | --- | --- | --- | --- |
| Type of brake | Description | Pros | Cons | Example bike |
| Coaster Brakes | The back pedal brake; these lock in the rear wheel when you pedal in reverse | Operates quietly and smoothly, performs well in rain and snow, seldom breaks down    | Not recommended for long descents, easily skids as the brakes are only on the rear wheels, will not work if the bike chain is disengaged. Not recommended for high-heat trails | MTB with coaster brakes are often customized designs. You can buy coaster brake components online like this Wheel Master Weinmann DP18 Rear Wheel |
| Rim Brakes | Uses a lever on the handlebar to apply friction to the rim of the rotating wheels, thus stopping the bike | Affordable, light in weight, easy to maintain and very effective | Performance is affected by the quality of the rims. They are also prone to rim clogs in sleet, mud or snow and are not recommended for race use. Not recommended for high-heat trails | Schwinn High Timber Mountain Bike |
| Disc Brakes | Modern brake  that connects to a rotor on the wheel hub | Recommended for downhill, off-road trails, high-speed trails which generate a lot of heat, and debris or water-filled trails. These are also compatible with full suspension MTBs | These require a well-coordinated system of disks, forks and the frame. They can also break down over time due to high heat exposure caused by high-speed trails | Merax 26" Mountain Bicycle with Suspension Fork 24-Speed Mountain Bike |
Disc brakes can be further divided into two types:
| | | | | |
| --- | --- | --- | --- | --- |
| Type of brake | Description | Pros | Cons | Example bike |
| Mechanical  | Use a lever connected to the brake caliper by a cable | Cheaper than hydraulic brakes, less complicated  | Requires adjustment from time to time, less powerful than its hydraulic counterpart | Mongoose Dolomite Fat Tire Mountain Bike |
| Hydraulic | Uses a lever connected to brake caliper by a hose  | More powerful system, often features a self-adjusting mechanism to maintain the throw of brake levers | Requires adjustment from time to time, more expensive and heavier than mechanical type | Hiland 27.5" Mountain Bicycle with Hydraulic Disc-Brake Lockout Fork |
Different types of Mountain Bike Wheels and their Limitations
Wheels are the foundation of mountain bikes. These spoked, round objects can make or break your game when the ride gets rough and tough. In choosing the wheels for your mountain bikes, the market offers a lot of options that vary based on wheel diameter, spoke arrangement, and tubes. Here's a quick guide on what to expect from each variety.
Table of different mountain bike wheels (base on wheel diameter)
| | | | | |
| --- | --- | --- | --- | --- |
| Type of wheel | What does it do? | Why would you buy it? | What are its limitations? | Example bike |
| 26" | Provides the strongest brake control, quick response to pedal pushing and no-fuss straddling | If you are an experienced rider, this bike can provide maximum acceleration and quick brakes on steep ascents. This is the classic bike wheel size that has been around for a long time | This set of wheels require more input from the rider. Newbies might find it more difficult to maneuver on trails with a lot of obstacles. | Hiland 26 Inch Mountain Bike with Suspension Fork/ Disk Brake/ Kickstand |
| 27.5"/ 650b | These wheels combine the best features of the 26" and the 29". They accommodate heavy pedaling but allows the rider to relax during downhill trails. | If you want the agility offered by the 29" but the control associated with the 26," the 27.5" is your best bet. | It is not as easy to control as 26ers, which might make it difficult to use over extremely rough terrains.  | Eurobike Mountain Bike G7 21 Speed 27.5 Inches Wheel Dual Suspension Folding Bike |
| 29" | 29ers' big wheels are great for downhill trails. They make going over obstacles a cinch and offer the best traction amongst the three. | If momentum is your priority when it comes to biking, the 29er is the one for you. The 29er wheel shines on tricky descents. | Big wheels aren't the best choice when it comes to steep climbs or speed chases.  | Diamondback Overdrive 29 Hardtail Mountain Bike |
Different Types of Frame Materials and the Pros/Cons of Each
When you consider the question 'which mountain bike should I buy?', remember that the mountain bike frame is the skeleton/backbone of your bike. While your skill determines your cycling performance, the frame helps determine if your bike is nimble and/or durable. If you are particularly interested in Carbon Mountain Bikes vs. Aluminum Mountain Bikes, take a look at the link. Here are some of the common mountain bike frame materials on the market today:
Table of different mountain bike frame materials
| | | | |
| --- | --- | --- | --- |
| Type of frame material | Pros | Cons | Example bike |
| Steel | Affordable, reliable and widespread, steel is the material of choice of both department store bikes and professionally made ones for beginners..  | Chromoly steel, the alloy of choice, is heavy. | Xspec 26" 21-Speed Folding Mountain Bike for Adult |
| Aluminum | Stiff, light and affordable, this material is used to make both XC and downhill bikes. | Aluminum frames are denser sometimes because aluminum is not as stretchable as steel. This material is a bit more expensive than steel but can compete in lightness. | Schwinn Protocol 1.0 Dual-Suspension Mountain Bike with Aluminum Frame |
| Carbon Fiber | A composite, not a metal or alloy, carbon fiber is considered the best value for money by professional bikers and racers. It is the lightest and strongest material of all the four. Carbon fiber doesn't bend or get dents easily. | Due to its durability and light weight, it is quite expensive. A carbon fiber bike doesn't bend or endure dents, it breaks all at once. | Steppenwolf Tundra Carbon Race/ Pro/ LTD Team LTD Hardtail 29er MTB |
| Titanium | Titanium tends to be dense, strong, and elicits a "Wow!" reaction from onlookers. | Titanium tends to be more expensive due to the difficulty in processing it. Its lightness can also be its downfall as some poorly made frames can be flimsy and hard to sell second-hand. | WAZMM Mountain Bike Titanium Alloy Frame Adult Bicycle  |
You might also be interested in learning how to buy mountain bike grip shifters and what to do when a mountain bike grip shifter is stuck. Take a look at our related articles to find out.
Different types of Mountain Bike Components and their Benefits
Although not the biggest parts of a mountain bike, the drivetrain, shifters and brakes can have a big effect on how smooth your ride is.. These items are often referred to as a bike groupset or components. While mountain bikes are often sold with default components, you can always choose to upgrade these items if you want better performance. Here is a quick guide on the offerings from two of the most popular brands that dominate this market today – Shimano and SRAM:
Table of different mountain bike component levels
| | | | |
| --- | --- | --- | --- |
| Level | Shimano Name | SRAM name | Benefits |
| Newbie/ Beginner on a budget | Acera | - | Comes in double and triple-chainset  models, basic yet functional |
| Newbie/ beginner  | Alivio | X-3/ X-4 | Compared to Aceras, weighs less and has better RapidFire levers |
| Advanced beginner | Deore | X-5 | Integrates brakes and gears into one bolt |
| Intermediate | SLX and SLX DynaSys | X-7/ X7 | A wide range of gear options are compatible. Has impressive performance/value for money. |
| Advanced Intermediate | Deore XT | X-9 & X9 | Lightweight, this component set allows easy gear shifting and more stopping power. |
| Advanced Intermediate | Deore XT DynaSys | X.0 & X0 | Allows user to operate both derailleurs |
| Professional | XTR | XX | Cream of the crop, this set is lightweight, performs well and looks good. |
| Downhill/ Freerider | Saint and Zee | - | These are specifically made for downhill use; the Zee is for amateur use while Saint is for pro use  |
Reference: https://www.bicyclehabitat.com/
Make sure to also check out our related article about choosing mountain bike grip diameter as well as our step-by-step guide to mountain bike grip installation for more useful information too. You may also be interested in learning about grip adhesives as well. Take a look at our 5 tips to choose mountain bike grip adhesives for more tips on this topic.
How much does a mountain bike cost?
The cost of mountain bikes vary depending on the brand and the build. The cheapest mountain bikes on the market can go for as little as $367. Luxurious brands, meanwhile, can cost as much as $5,208.
If you're a beginner looking to buy a mountain bike, a budget of $1,000 would provide you with some standard options. This Diamongback 27.5er mountain bike is an excellent option for $700. For this price, you get an aluminum hardtail frame, 27.5" wheels, and SRAM single ring 1x8 drivetrain.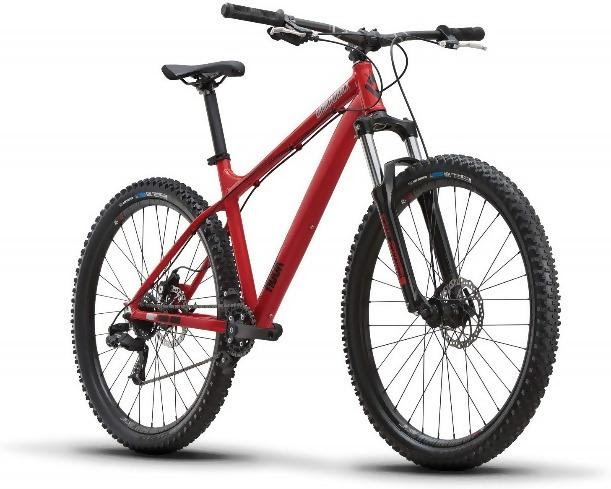 Another great option would be the Savadeck Deck300 Carbon Fiber mountain bike. For $979, you get a bike that has a Toray T800 carbon fiber frame, Shimano MT200 Disk brake system and Shimano RD-M6000 derailleur system. The easy assembly, smooth ride and light frame have made the model one of the best reviewed on Amazon.com.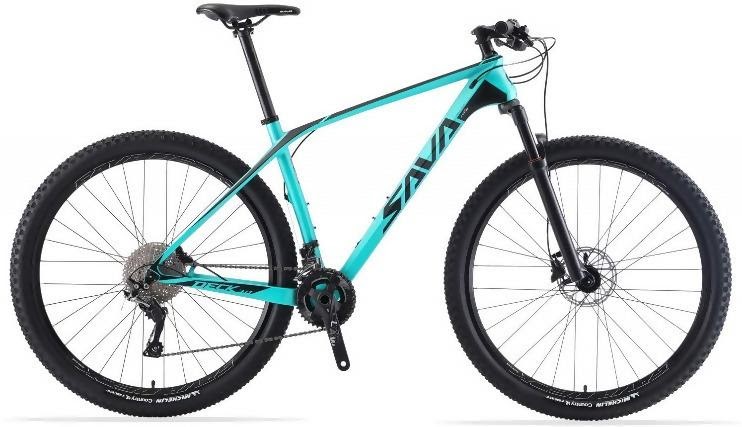 Of course, you can purchase sleeker bikes with more features if you have a bigger budget. For someone just starting out in the sport, however, a $1000 budget is enough..
How much does a mountain bike weigh?
Over the years, mountain bikes have generally gotten heavier as more features and accessories have been added. This increase in weight, however, hasn't kept bikers from enjoying long trails and steep slopes. Some professional bikers experiment with weights to keep their bikes stable on more complex downhill trails. 
The weight of mountain bikes can range from 24 to 50 pounds. Generally speaking, XC bikes weigh the least, with most weighing in at 24 pounds. Due to this characteristic, a XC mountain bike is the best choice for riders who want a fast and lightweight bike. Here's an XC bike that's between 24 and 33 lbs depending on size.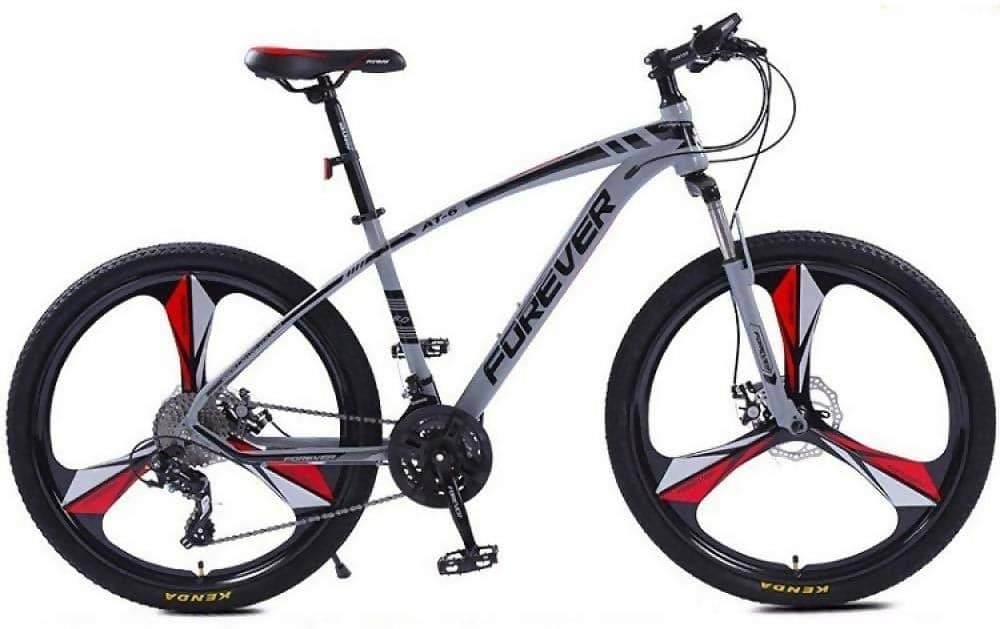 For riders on the heavier or taller side, an equally heavy bike is better for support. The bike will be better able to meet your stability and performance requirements on trails. Fat bikes are specifically made for this purpose. One such example is the Mongoose Dolomite Fat Tire mountain bike which weighs 49 lbs but also offers all-season riding.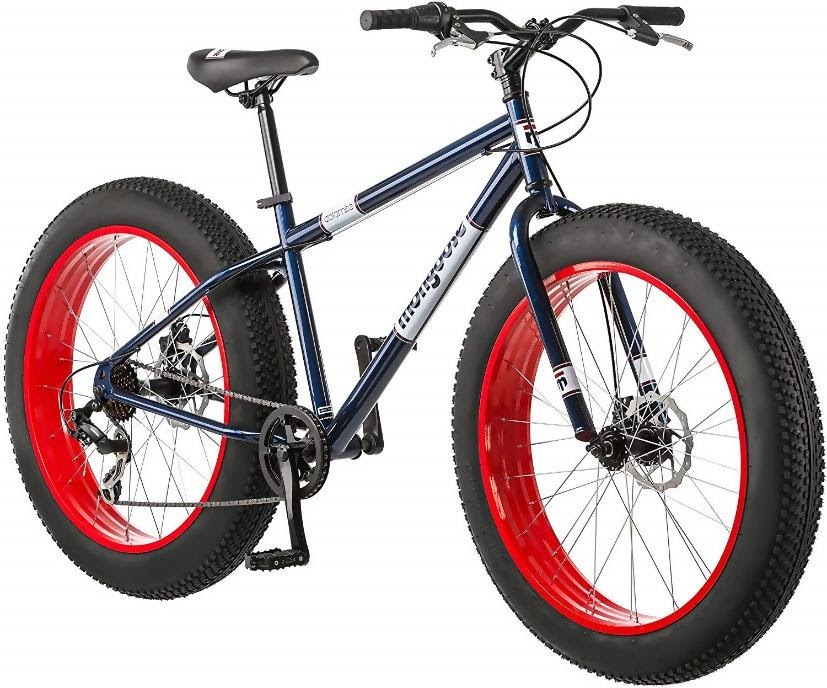 In addition, most downhill bikes are on the heavy side, with the average weight among these bikes set at 35 pounds. This extra weight is due to the weight of the front suspension which adds stability, impact resistance for the rider, and extra durability. This Gravity FSX downhill bike weighs 35 lbs.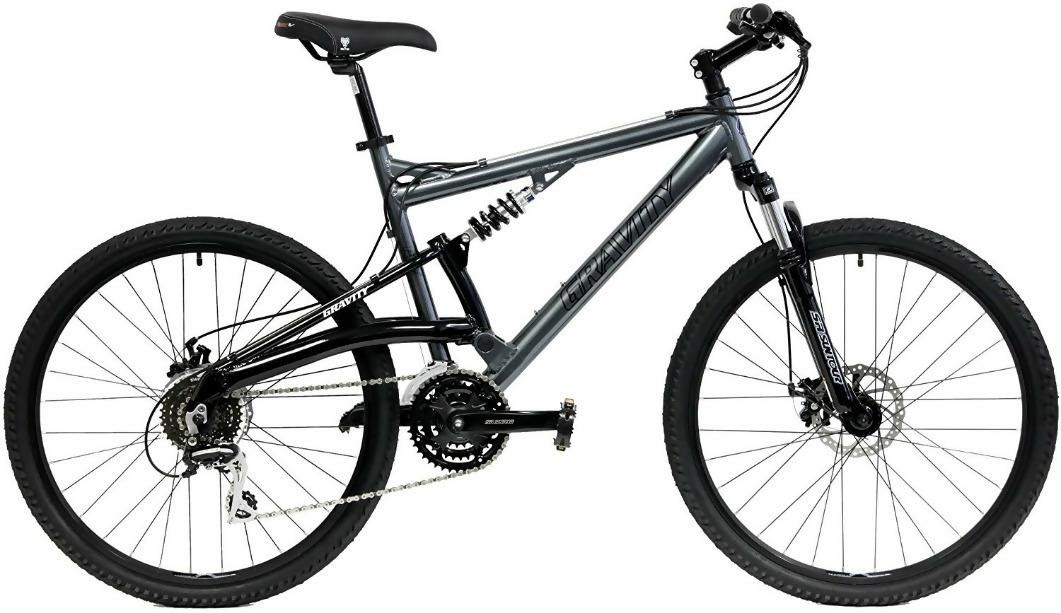 Where to buy a mountain bike
Nowadays, you have a lot of options to choose from when deciding where to buy a mountain bike. For those who want to see actual products and do test runs before actually committing, an in-store purchase might be in order. Those who are already familiar with the brands or who can invest time in research might find better deals by buying online.
Whether you're scouring the market for MTB parts or bikes themselves, you'll find a wide range of brands and designs available online. Many of these items are sold for a fraction of the price that they usually sell in stores. You can also buy second-hand models or previous releases online if your budget is limited.
Note that product reviews, warranty coverage and other fine print are available when buying online. Before making the purchase, ensure that the supplier is reputable and has a proven track record when it comes to delivery times, responses to shipping damage and other forms of sales support. Otherwise, a good deal might not be worth it if you're going to risk getting broken products.
The bottom line is, whether you buy in-store or purchase on-line, make sure to do your homework. If you're open to buying online, several companies on Amazon consistently deliver quality products. The Huffy Bicycle Company offers many products online. Other brands worth looking into are Mongoose, Schwinn, and Diamondback Bicycles.
Beginner versus Advanced mountain biker (how to become a better biker)
According to the New York City Mountain Bikers group, there are basically seven different levels of bikers when it comes to mountain biking. These levels can generally be classified into three categories which require different kinds of bicycles.
A newbie has never biked off-road before or is about to buy his or her first mountain bike. The beginner, meanwhile, is the one that can manage riding a fat-tire, has ridden a bike in the last 5 years, or can ride for at least an hour without stopping. The strong beginner, who can ride off-road tracks for two hours without stopping, rounds out this group. 
If you fall in any of these beginner types, you should look for bikes that are dependable but not too flashy. At this point, a full suspension bike is a waste of money as you cannot maximize the use of its features yet. At best, hardtail bikes will allow you to stick to a budget and help improve your skills for the long term. While a $100 bike isn't going to help you improve your performance, a $200-$500 bike can help you get into the game. As an example, the Mongoose Dolomite fat tire mountain bike has a durable steel frame that is priced affordably at $359.99.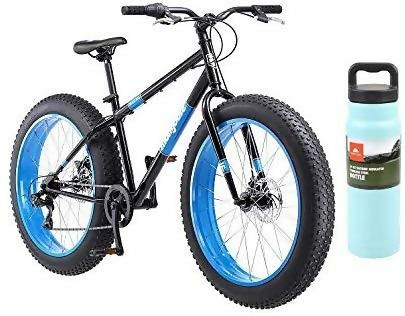 An intermediate biker, meanwhile, is one who can handle two-hour off-road rides without stopping frequently. A strong intermediate, can handle 3-4 hour rides in technical trails. Intermediate and strong intermediate bikers have done races and can handle the occasional downhill rides. 
If you are an intermediate biker, your budget can vary anywhere from $500-$2000. It is important, however, that you shouldn't buy a bike by weight, as recommended by the founder of "Mountain Bikes Apart" blog Colin Gray. According to him, you would be better off shedding pounds on your own body by exercising more frequently rather than expecting a lightweight bike to do the trick. This Diamondback Overdrive 2 29 provides some significant benefits over a beginner's hardtail bike.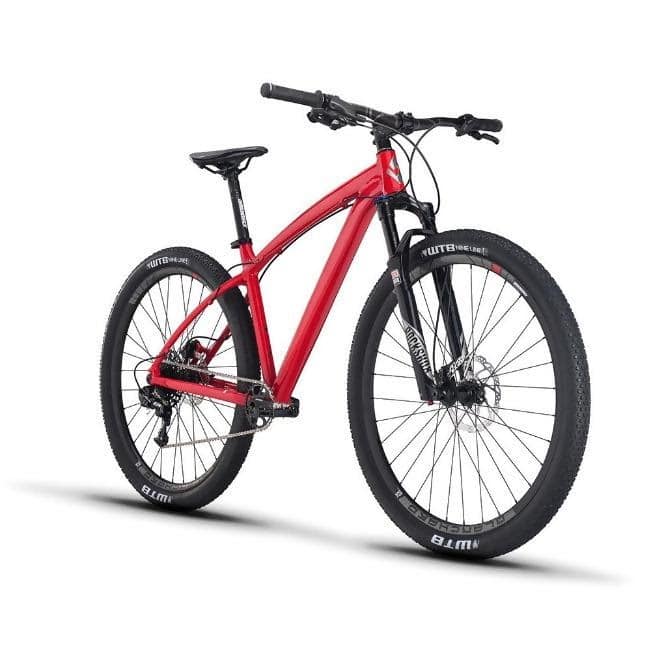 The final category includes the advanced riders, who rides 2-3 times a week on a regular basis. 3-4 hours of ride doesn't elicit frequent stops, and he or she can easily handle challenges such as rocks, steep climbs, and gnarly descents. Expert riders, lastly, are those who compete professionally in mountain bike races, and have sponsorships to back them up. 
For the pros, the market is wide open, with a lot of impressive bikes being sold more than the $5,000 price range.  Gray, however, insists that the best riders don't need the best equipment to win. In fact, many champion riders have beaten competition riding vintage bikes and old models. At the end of the day, you can keep your old hardtail or choose to invest in the lightest bike frame that you can find. The key here is finding a bike that helps you go beyond your boundaries and aim for the win. 
What is the difference between a women's mountain bike versus a regular mountain bike?
A woman's mountain bike is basically the same as a regular mountain bike, except for a few features relating to comfort. Many bikes made for women are built with shorter distances between the frame top and the saddle. They also have thinner tubes and lighter frames. Lastly, women's bikes have wider saddles to accommodate female anatomy. 
The idea that women need a different type of  mountain bike has both its fans and its detractors. On one hand, some bloggers say that there is no need for such customization. Women shouldn't be limited to gender-specific mountain bikes. They insist that gender-neutral mountain bikes can perform or even outdo women-specific ones as long as the rider is comfortable. At the most, women riders should simply replace the saddle of a regular mountain bike to make their trips more comfortable. 
On the other hand, there are female riders who actually prefer gender-specific bikes due to the increased comfort and ergonomic features. They do admit that the best bike remains on the rider's preference and priorities, as even gender-neutral bikes can work well with women. If you want to give mountain bikes specifically made for women a try, this 26 inch trail runner mountain bike has great reviews on Amazon.
What are the best mountain bike brands?
There isn't really a fixed list of the best brands when it comes to mountain bikes. Professionals agree that when it comes to buying mountain bikes, you should consider the model itself and not the brand alone. For those who want to purchase from well-established brands, however, these are some of the brands often recommended on forums dedicated to mountain biking:
Yeti – This company has been around since 1985, when mountain biking was still in a nascent state, and has been a popular choice for professional racers and serious enthusiasts.
Santa Cruz – founded by a skateboarding legend, this brand was established in 1994 and pioneered the design of full-suspension bikes
Trek – one of the older companies that builds bikes, Trek has been around since 1976 and takes pride in its engineering innovations when it comes to bicycle technology
Ibis – established in 1980, Ibis mountain bikes was the result of a hippie's love for bikes. They focus on producing efficient bicycles and are known for their Mojo series.
These brands are considered the top-of-the-line and are often used by world-renowned racers.  Most of their models cost $3,000 and up due to decades' worth of good reputation and solid craftsmanship.
Savadeck Bicycles – some of their carbon fiber mountain bike have generated buzz among mountain bicycle bloggers.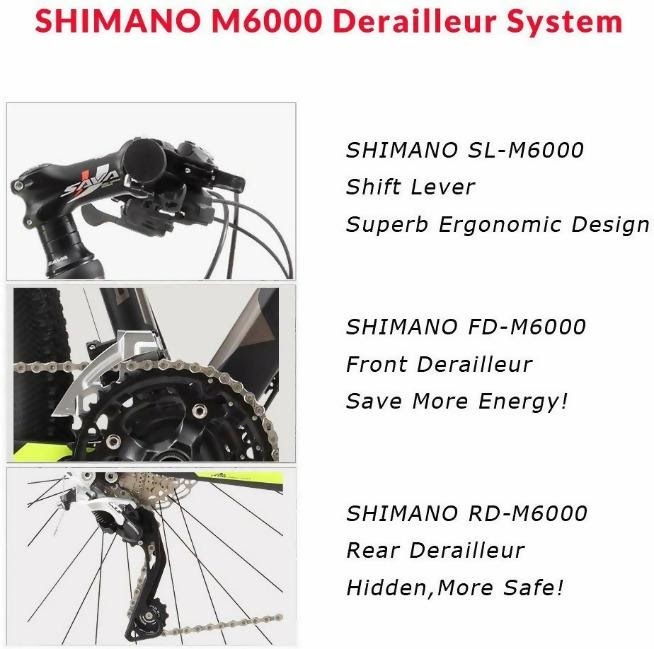 Raleigh – a 131 year old bicycle brand, this company made its bikes available on Amazon in recent years to the general public's delight. 
Disclosures
This website is a participant in the Amazon Services LLC Associates Program, an affiliate advertising program designed to provide a means for us to earn fees by linking to Amazon.com and affiliated sites.