Mountain Bike Saddle Price Guide
Sometimes we get carried so away with how advanced the mountain bike wheels are, how fancy the mudguard is, or the color of the mountain bike that we forget about our comfort while riding the bike. While a good saddle is not appreciated enough, a bad saddle is literally "a pain in the butt" in which case you will need to replace it. If you are in such a position, our comprehensive mountain bike saddle price guide will be a great place to start. 
Mountain bike saddle prices vary based on brand, design, material, style, and size. Most mountain bike saddles cost from $20 to $250 and high-end saddles cost from $150 to $400. The higher prices are due to the quality of the material used, advanced ergonomic design, and perfect-size-fit features. 
Before you think of exploring the beautiful scenery with your mountain bike, consider your saddle's suitability and consider a saddle like this if yours is not comfortable enough. 
A mountain bike's saddle is an important feature as it provides a certain level of comfort for the rider despite the difficult terrain they will be riding on as explained in this video tutorial by Singletracks Mountain Biking. Our article that explains how to choose a mountain bike saddle cushion for comfort has helpful tips to make your saddle more comfortable if you experience pain while riding. 
You may also be interested in learning if you should position your mountain bike seat higher than the handlebars. If so, be sure to check out our related article to find out more.
What is the Average MTB Saddle Price?
Mountain bike saddle designs that put too much pressure on the perineum region of a cyclist have been studied and revealed to be one of the leading causes of erectile dysfunction in male cyclists. So when you are planning on buying a saddle the design should be taken into consideration along with other factors such as price.
The price of an MTB saddle ranges anywhere from $20 to $400 and depends on the brand, style, design, and material. A basic bike saddle can be found for around $30, while a mid-range saddle that offers a bit more support and comfort will be around $90, and a high-end bike saddle will be at least $200.
This research paper on the effect of bicycle saddle designs on pressure on the perineum of the bicyclist, explains how bike saddles have an impact on the cyclist's soft body tissue. Our tips to prevent and manage mountain bike saddle numbness can help with the task of choosing a saddle and is a helpful resource to help prevent long-term damage to the perineal area and avoid buying the incorrect saddle for your needs.
Mountain bike saddles like these are uniquely designed seats that are firmly attached to a mountain bike. A mountain bike saddle is one of the five contact points on a bicycle and is comprised of a shell, nose, rails, saddle clamp, suspension, and cover. It has to bear the weight of the rider for prolonged periods which requires it to be comfortable and durable which does affect the price.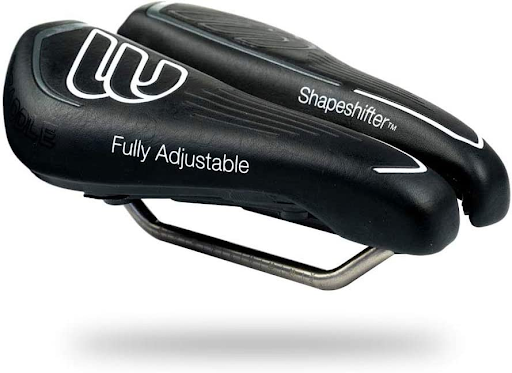 How Mountain Bike Saddle Price is Affected by Different Features
The price of a biking saddle is affected by certain factors like style, brand name, design, material, aesthetic appearance, and the kind of comfort it offers. Some MTB saddles are designed to be more affordable. So, more cost-effective materials are used to produce these saddles, reducing their cost of production. 
Mountain bike saddle price is affected by features such as ergonomic design, specialized padding, outer layer materials, and the saddle rail design. Cheaper saddles have fewer features that aid with comfort and are typically less customizable. 
On the other hand, some saddles are designed to give the user more value and are adjustable to the rider's preferences. High-quality materials are used in their design to offer more comfort when fitted on your mountain bike—these MTB saddles usually cost more but offer better quality and a longer lifespan.
Here is a list of the notable features that affect mountain bike saddle price:
Feature 1. The Padding Material
Saddle padding is one of the necessary features that ensure comfort during a ride. While non-padded saddles like these are good, the cushy padding of saddles like these provides comfort while you are riding in a seated position. Our article that compares trekking seats versus mountain bike seats explains what style and padding types are best suited for these two types of cycling. 
Saddle manufacturers often use foam (polyurethane), gel, or memory foam as their main padding material. Among these 3 major padding materials, memory foam is usually the most expensive and is used for high-end saddles, although memory foam padded saddles like this are more affordable and can cost around $40.
Feature 2. The Material of the Shell 
The saddle shell is the body of the saddle that gives the seat its desired shape. It can be made from any material like nylon (which is the most common material), plastic, or carbon fiber. The more durable the material used for the paddle shell, the higher the price of the saddle. 
Saddles made with carbon fiber are stronger and more durable, so they are more expensive. Plastic saddles come close as they are equally durable. Nylon shells, especially carbon-nylon shells like those made from Benlui Exports (a saddle manufacturer), are quite affordable and popular among MTB riders. 
Feature 3. The Outer Cover Material
Saddle covers help with the aesthetics of the saddle while providing more comfort for the rider. Riders are advised to choose high-quality saddles made with the best material. Classic leathers, vinyl, and spandex are preferred by many riders because they withstand the wear and tear of riding. 
Generally, the material used for the cover of the MTB saddles can affect the price. Saddles covered with classic leather or spandex cost more than those covered with vinyl or cotton. An MTB saddle cover reinforced with an extra layer of Kevlar like this one costs even more.
Feature 4. The Rail Material
Saddle rails are located beneath the saddle and are the suspension and attachment system of the seat. A good saddle rail should be able to absorb all the jarring and force that comes from hitting bumps on the road. Saddles can be made from steel alloys like Chromoly, manganese, carbon steel, titanium, carbon fiber, and Vanox a Vanadium Alloy. If the materials used in mountain bike manufacturing interest you then check out our article that compares carbon mountain bikes vs. aluminum and which could be best for you.
Titanium and carbon fiber are mostly used for high-end saddles and are more expensive. Vanox, manganese, and Chromoly are the cheaper alternative to titanium or carbon fiber. As this article from the Institute of Mechanical Engineers explains, carbon fiber is less dense so it makes the bike components lighter while also being extremely strong. 
How Size Affects MTB Saddle Price
Since different individuals have different sit bone widths, there is no one size fits all saddle. Your sit bone can't be adjusted to fit your MTB saddle; therefore, you must find an appropriate saddle that suits your body. 
MTB saddles that are larger than 138 mm cost between $30 - $150, while MTB saddles that are larger than 140 mm cost between $50 - $200.
The right saddle will be one that is built to accommodate your sit bones while maintaining a relaxed and comfortable ride. The first step to deciding what size MTB saddle to buy is to determine the measurement of your sit bone. The chart below will help you decide on the shape and size of the saddle to accommodate your sit bones properly.
Although size is not the only determinant of a saddle's price, it does affect the price. Large saddles tend to cost more, and are more comfortable, especially for longer rides or leisure rides where comfort is important. For instance, this medium-sized volt saddle costs approximately $129, whereas this wider saddle costs approximately $150.
Here is a breakdown of the different saddle sizes:
Size 1. Small
Saddle sizes that are less than 135 mm wide are considered small and are often used for racing or short-paced riding. Small saddle sizes are mostly used by women or people with narrow sit bones. They have little or no noticeable difference in price when compared with the medium size saddles. But narrow saddles are cheaper than larger-sized saddles of the same material and brand.
Size 2. Medium 
Saddle sizes that are between 140-148mm wide are considered medium and are often built for people with a wide sit bone and for short-paced riding. They are cheaper than large saddles of the same material and brand.
Size 3. Large 
Saddle sizes that are more than 150 mm wide are considered large and are mostly used by people with wide sit bones. It wouldn't be comfortable riding a long distance with a small saddle if you have wide sit bones. Likewise, using a saddle that is too wide for your sit bones will cause chafing and discomfort as this article from Michigan State University explains.
Comparison of Saddle Sizes and Prices
Make sure to take a look at our related guide explaining how to measure a bike saddle correctly for additional tips and tricks.
How Saddle Materials Affect MTB Saddle Price
Numerous saddle materials like vinyl, spandex, nylon, artificial leather, and animal leather affect saddle price. Like the law of economics, saddles built with sought-after materials are often more expensive than saddles built with manufactured materials like nylon and plastic.
MTB saddles that are made from synthetic materials with gel padding cost between $20-$150. MTB saddles that are made from synthetic materials with foam padding cost between $35-$150. MTB saddles that are made from classic leather cost between $100-$300.
The different materials of mountain bike saddles are classified as follows:
Material 1. Synthetic Saddles With Gel Padding
Synthetic saddles with gel padding conform to the rider's body shape better than the other materials discussed. It does this from the first day you sit on the saddle without the need for a "break-in" period.
The fact that gel is a bit heavier than foam is a major downside to using a gel-padded synthetic saddle instead of a foam-padded one. Another downside to using a gel-padded synthetic saddle is that it gets compacted easily, so it is not a durable material for MTB saddles.
Material 2. Synthetic Saddle With Foam Padding
Syn­thet­ic saddles, with foam padding, are often the most popular choice when it comes to mid-range sad­dles, as saddle manufacturers now use high­er qual­i­ty syn­thet­ic mate­ri­als instead of real leather. Although the durability of both kinds of material differs, synthetic materials are gaining more popularity due to their anti-slip nature.
Foam-padded synthetic saddles are common among MTB owners. Most synthetic saddles are water-resistant and suitable for outdoor use in all kinds of weather. They are lighter in weight and require low maintenance. Synthetic saddles padded with foam are relatively easier to break in. They are not as expensive as leather saddles and offer a lot of cushioning for the rider.
Material 3. Classic Leather Saddles
Saddles made with high-quality leather don't have a hard shell as seen in most classic Brooks saddles. Instead, they are made with a stretched molded piece of thick leather that covers the front and rear ends of the rails. Leather saddles take a bit longer to break in as they take your shape as you ride consistently. 
Genuine leather saddles cost more than saddles made with synthetic leather, because of the cost of acquiring and treating animal hide.
Comparison of Saddle Materials and Prices
How Saddle Designs Affect Price
The structural design of the saddle has an effect on the rider's comfort and well-being and therefore affects the price of mountain bike saddles. 
MTB saddles that are made with advanced ergonomic designs like cutaways cost between $50-$150. MTB saddles that are made with additional health-benefiting designs cost between $150-$300.
This case report, released by the Chaoyang University of Technology, shows how a mountain bike saddle can be designed according to the physiology of the cyclist, to be more comfortable.
Although the design is not the major determinant of the price of saddles, well-crafted saddles cost more than those designed with minimal thought given to the cyclist's comfort. Saddle design affects the price as it is costly to produce a well-made saddle that ensures comfort, disperses pressure, and reduces numbness, which is discussed in our guide on how to prevent and manage saddle numbness. The cutouts and designs are carefully considered, and each side is padded with enough gel or foam to ensure maximum comfort while it is still aesthetically pleasing.
Here is a list of the various saddle designs:
Design 1. A Flat Saddle
A flat saddle is designed to be flat, or at least almost flat, from the saddle's tip to the back axis. They do not have raised or lower areas. Flat saddles are suitable for riders that love to ride in an upright position.
Flat saddles can allow the rider to change position easily while riding. The rider can slide backward while riding in an upright position or slide forward while trying to ride in a forward bent position, especially when using drop bars. Our article about what mountain bike drop bars are, explains the benefits of adding drop bars to your MTB when it comes to the various riding postures you can adopt while riding. 
Design 2. A Waved Saddle
Waved saddles are designed in the shape of a wave. They are suitable for riders who prefer to ride in one position. The design helps to maintain their preferred riding position which encourages stability and an even distribution of the rider's weight. A saddle that has the form of a wave also prevents the rider from putting too much pressure on sensitive areas. Our easy steps to improve mountain bike saddle comfort show how the saddle's curves reduce pressure on injury-prone areas. 
Design 3. An Ergonomic Saddle With a Cut-Out in the Middle
Soft tissue pressure is a common challenge for MTB riders. Saddles with an ergonomic cut-out in the middle help to relieve soft tissue pressure for riders and improve blood flow while riding.
The cut-out is designed and implemented to make the genital area of the rider comfortable. While at the same time reducing the pressure in the perineal area of men and the pubic bone arch of female riders.
Design 4. A Solid Saddle
Solid saddles don't have a cut-out or an inward recess in their design. They are designed to provide comfort for the rider's sit bones but don't reduce the pressure around the pubic area. A solid saddle can take the form of a flat or waved saddle. Riders who prefer to do most of their riding in a standing or semi-standing position might benefit from these types of saddles, especially if they have angled the saddle correctly for their riding style. Our article about how to adjust mountain bike saddle angle explains how to achieve the best angle for your saddle for better comfort and performance. 
Summary of Saddle Designs, Materials, and Prices
Make sure to check out these tips and tricks to choosing a mountain bike saddle as well. This article will surely provide you with a lot more information.
Popular Mountain Bike Saddle Brands
Mountain bike saddle brands tend to have significant identifiable features and the most popular brands include WTB, Fizik, SRT and many more.
Popular mountain bike saddle brands include WTB, Fizik, and SRT. WTB is an affordable brand for basic mountain bike saddles, Fizik specializes in mid-range saddles that are affordable and comfortable, and SRT is a high-end bike saddle manufacturer that produces saddles for professional and experienced riders.
Here are the most popular mountain bike saddle brands:
Brand 1. WTB Saddles
WTB is a popular saddle brand that is specially designed for comfort and can be used by beginners, amateurs, and professional riders alike. Their saddles are among the most popular mountain bike saddles, properly shaped for speed and comfort, while maintaining an affordable price range.
The medium padding thickness and subtle curves make them a very comfortable seat as they are neither too thinly padded nor over-padded. 
WTB saddles like this one have an upward curved tail and gentle drop to the nose to reduce the pressures in the perineal area while pedaling uphill. They have a size range of 135mm to 142mm, allowing you to pick the most suitable seat width. They are also light and weigh between 300 to 320g and are made with microfiber cover material which is easy to clean. 
They are very soft to the touch and are made from lightweight polyurethane padding to protect the usually sensitive contact points of riders. The saddles are also 30% more shock absorbent than the average polyurethane, and the special gel inserts provide additional support to stop the pinching of soft tissues while also cradling the sit bones in a comfortable position on the saddle. Their prices range from $45 to $20.
Brand 2. Fizik Mountain Bike Saddle
Fi'zi:k brand derives its name from the phonetic spelling of 'Physique'. The brand aims to provide solutions to basic cycling problems through physiological research and anatomic study. They put a great deal of consideration into the physiology of the human body as it interacts with their saddle designs. 
The brand is also known for providing sophisticated, beautiful, and comfortable saddles for cyclists. They might not be the most expensive saddle brand, but they are certainly not the cheapest. The prices of their saddles range from $80 - $300. These ergonomic saddles and 3D printed saddles like these are the most expensive saddles from this brand, offering more comfort and additional health benefits for the cyclist. Their prices range from $150 - $400.
Brand 3. SRT Saddles
SRT makes high-range saddles for its consumers which are often used by pro athletes. Their main saddle design, this BiSaddle SRT 2.0, is an adjustable noseless bicycle saddle made with titanium rails. It has been trademarked by popular cyclists like James Lawrence, popularly called The Iron Cowboy. James is the world record holder for completing 50 full-distance triathlons over 50 consecutive days in 50 different states, according to his website IronCowboy.com. 
SRT also makes adjustable saddles that can be expanded or retracted. These saddles allow you to ride farther and longer without any discomfort. They are also designed to eliminate rubbing, saddle sores, and numbness. SRT saddles, like this one, are pricey, as they cost over $200.
How to Find Comfortable Mountain Bike Seats on a Budget
Before choosing a seat, ensure you understand the type of saddle that would work for you. This is possible if you know your sit bone measurement and the posture you are comfortable riding in. Also, look out for unique qualities that indicate the saddle will be durable and offer optimal comfort. 
Buy an appropriately sized saddle with an ergonomic design, foam padding, and a synthetic cover to reduce cost and increase comfort.
How Much Do Mountain Bike Saddle Accessories Cost?
Mountain bike saddle accessories are additional biking materials that help improve riding and encourage comfort. There are generally over 100 biking accessories, and only a few have been designed for saddles. 
The most popular saddle accessories include a waterproof saddle cover, a padded seat cushion, and a saddle stabilizer. A waterproof saddle cover can range from $5-$20, a padded seat cushion can cost between $15-$50, and a saddle bag can be purchased for around $20-$50. 
A drawstring saddle cover protects the seat from rain or moisture and keeps the saddle as dry as possible while protecting it from damage, and wear and tear. They generally cost $5 to $20. 
A padded seat cushion is another saddle accessory used by riders who require more comfort while sitting on their saddles. As their name suggests, the padded cushion is made with soft cushions in the right places, to improve comfort. They cost between $30 to $100.
A saddle stabilizer is a bike component that can be connected to the bicycle saddle rails and allows for the easy attachment of bottles and small travel bags. The average price is between $20 to $50. Saddle bags can be attached to the stabilizer rails or directly onto the seat post. Our mountain bike tool bag ideas provide various ways that bags can be attached to your bike to carry emergency tools and supplies. 
Summary of Saddle Accessories
Disclosures
This website is a participant in the Amazon Services LLC Associates Program, an affiliate advertising program designed to provide a means for us to earn fees by linking to Amazon.com and affiliated sites.