Mountain Bike Tool Bag Ideas and Tips & Tricks to Pack Them
Riding your mountain bike on rough terrain might be one of your absolute favorite activities. While there's nothing wrong with having fun, safety should always be your number one priority. No one can totally avoid incidents, such as falling, crashing, or flat tires. When an accident occurs you can easily fix your bike as long as you take some essential tools with you. To ensure that nothing gets lost or damaged when riding there are some great mountain bike tool bag ideas for your on-trail tools.
Some mountain bike tool bag ideas include using a tool pouch, a tool roll, a toolbox, saddlebag, pannier bag, or front frame bag to carry tools that can be used for mountain bike repairs on a trail.
A tool bag can be secured to various areas of the bike for safe and easy transportation. Some bags allow you to carry tools without taking away from the overall aesthetic of your bike or adding too much weight to your bike. Read our article that provides tips to fix a mountain bike tool bag that's heavy for ways to carry tools without increasing bulk and weight on your bike frame. Similarly, our article explaining how to choose a mountain bike tool bag that locks will also give you more secure ideas.
Below is a complete guide to mountain bike tool bag ideas, what tools to include in your bag, and how to attach the tool bag to your bike securely.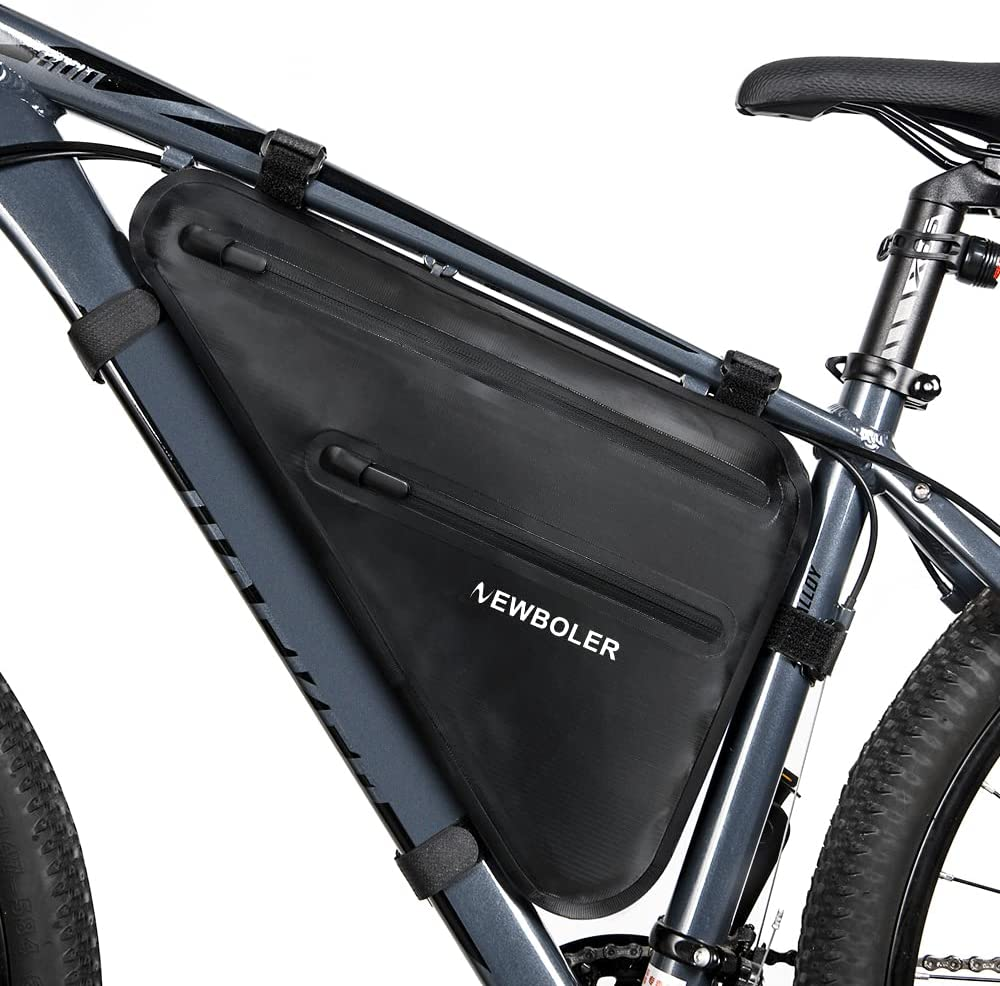 1. Mountain Bike Tool Pouch
A mountain bike tool pouch is a relatively small bag that can hold a few essential bike tools, such as wrenches, tire levers, or patch kits. Oftentimes, tool pouches feature one main compartment and a couple of internal mesh pockets for extra storage.
A mountain bike tool pouch can contain a sufficient amount of tools, but not as much as an entire toolbox. Most pouches weigh about 0.44 pounds and come at an average cost of about $15. They can be strapped conveniently under the mountain bike seat or alternatively, they can be stored in a backpack.
Most mountain bike tool pouches are waterproof, some of them feature laminated or seamless zippers to make the bag completely water-resistant. In this post, Waterfly claims that its bags are 100% waterproof. If you ride your MTB on a rainy day, you will not have to worry about water damaging your bike tools.
The drawback of using tool pouches is that they do not allow you to carry all the essential items you might need during a ride. If you need to bring replacement tire tubes or air pumps with you, tool pouches are too small.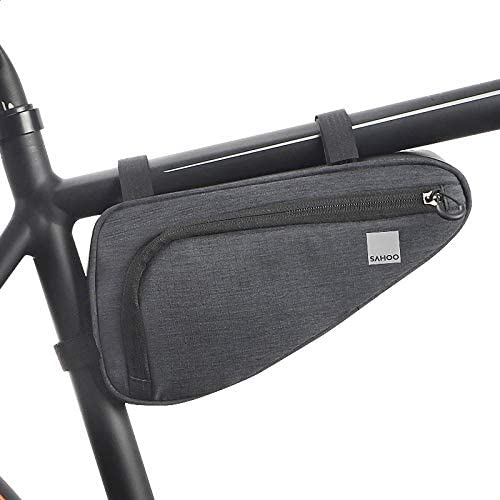 2. Mountain Bike Tool Roll
A mountain bike tool roll is a special type of tool bag that can be rolled and fastened to the bike frame. This portable tool bag is typically used for carrying metal tools, such as wrenches. However, some options feature mesh pockets that allow you to store tire levers, a CO² pump, and other essential tools for your bike.
Use a mountain bike tool roll for carrying basic tools. A tool roll weighs around 0.23 pounds, costs around $15, and can be easily slipped into a backpack or bottle cage.
If you want to find out what tools are considered essential mountain bike tools then read our article. One of the primary benefits of using a tool roll like this is that you can easily attach it to literally any part of your bike. Whether you want to mount it onto the rear rack or lock it onto the top tube of your bike's frame, you can easily do so. A tool roll can also be stored in a backpack.
Although mountain bike tool rolls are often made from waterproof materials, they don't always offer full closure with zippers. Therefore, tiny water droplets may still manage to trickle into the interior and damage your tools. If you are looking for a fully water-resistant tool bag, buying a tool roll might not be the best choice.
3. Mountain Bike Tool Storage Box
From different wrenches to tire levers, tool storage boxes contain the necessities for nearly every problem you can run into while cycling. Some bike tools storage boxes also include replacement parts and repair kits.
Mountain bike storage boxes are for serious riders who want to be prepared for every situation. They usually hold a wide range of tools, including hex keys, Torx wrenches, screwdrivers, chain rivet extractors, sprocket removers, multipurpose master link tools, and tire levers. These boxes are on the heavier side, weighing around 6-7 pounds, and cost around $80.
Mountain bike tool storage boxes like this feature a complete set of tools that bikers might need during a ride and you can customize your storage box and include specific tools and replacement parts for your MTB.
On the other hand, these storage boxes are relatively bulky and do not always feature mounting systems to attach them to your bike. Therefore, some boxes need to be carried in a backpack. If you are expecting to ride on trails that are particularly rugged and far from emergency help then carrying a larger tool kit that will enable you to perform tasks like changing a tire is a good idea. Read our step-by-step guide on how to change a mountain bike tire.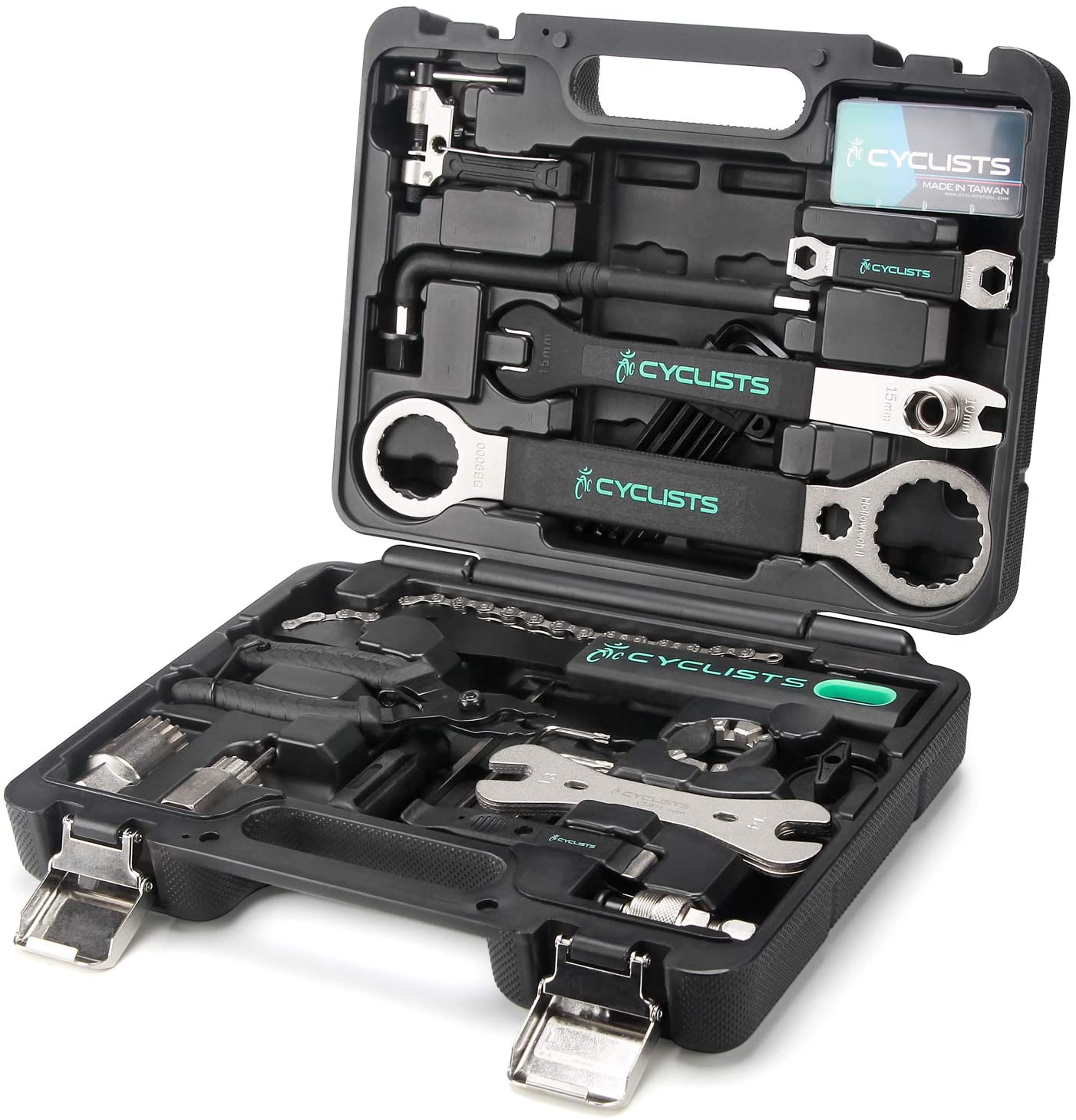 This tool storage box holds everything you need for simple maintenance and additions such as adding drop bars to a mountain bike and mountain bike chain installation. Be sure to take a look at these and other similar articles for more details.
4. Stealth Mountain Bike Tool Kits
A stealth MTB tool kit provides a storage place for tools that are attached to your bike in a discreet manner and won't get in your way.
Stealth tool kits are designed for riders who want to be prepared for anything but don't want a bulky tool kit messing up the style of their bike. Some examples of stealth tool kits are storage capsules with multi-tool features, bottle cages with sliding storage ports, thru-axle replacement tool kits with several hex keys inside, and tool kits with multiple bits and chain links that can be hidden in the crankset of a bike.
f you want the necessary tools to repair your bike without attaching a tool bag to the frame that alters the bike's aesthetics, investing in a stealth mountain bike tool kit like this is the way to go.
Purchasing a metal or plastic MTB tool kit is an excellent choice if you want to carry some tools without taking up much space or adding weight to your backpack. Oftentimes, on-bike tool kits are well-built and do not stand out. These kits are often lightweight—weighing between 0.22 and 1.5 pounds.
While stealth mountain bike tool kits provide the tools necessary to get you out of many situations, they do not contain instruments to fix all technical complications. Therefore, you may still need to use a pouch that holds more bike tools.
Alternatively, you can purchase multiple stealth tool kits with different types of wrenches or tools. Stealth tool kits cost around $70 so buying multiple may not be an option for everyone. The website of stealth tool kit manufacturer—Granite Design—provides detailed information about different types of stealth mountain bike tool kits.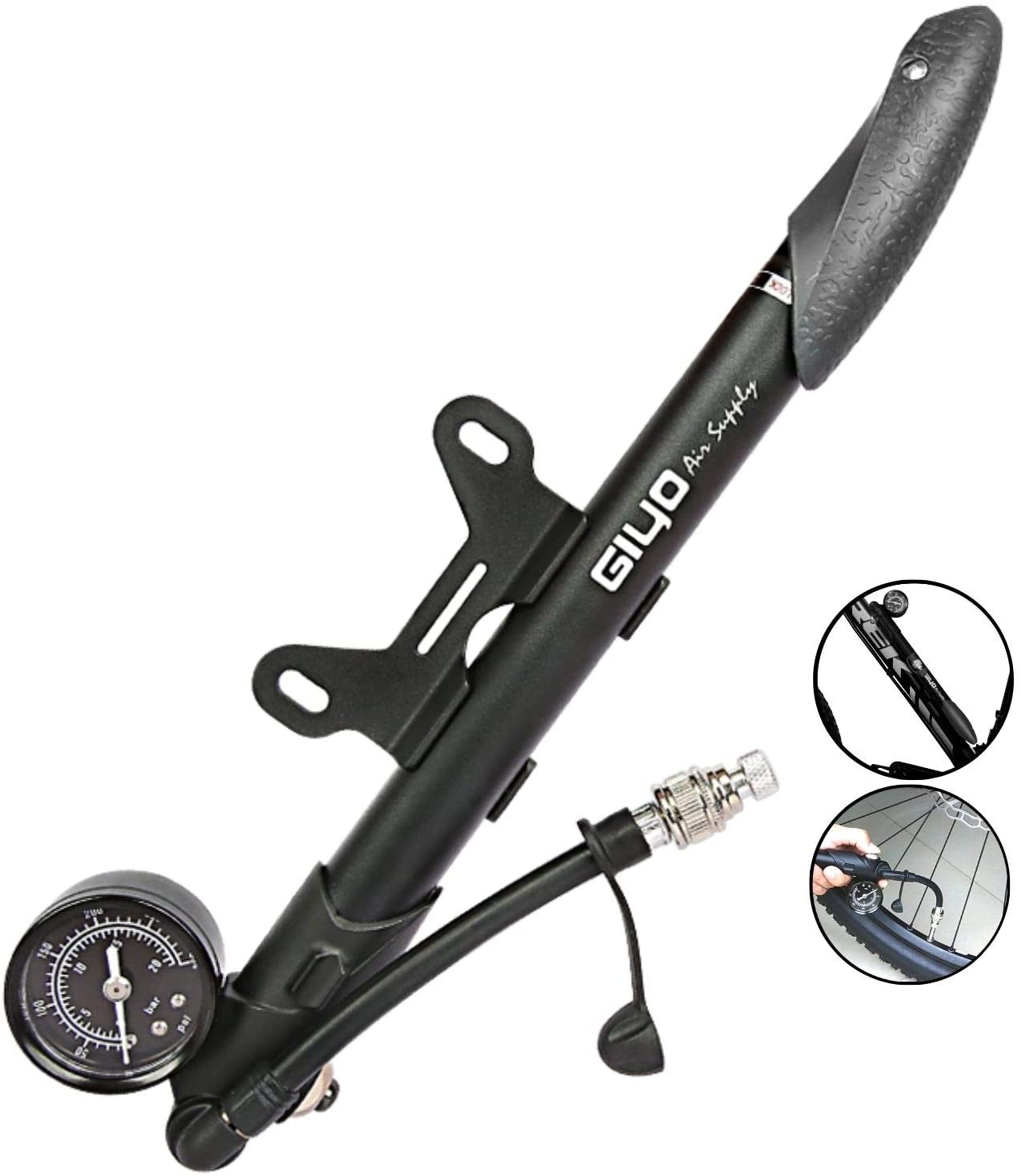 5. Mountain Bike Tool Saddlebag
MTB tool saddlebags are usually portable but still large enough to fit some essential bike tools.
A mountain bike tool saddlebag is an excellent choice for those looking for a portable tool bag that can be hidden under the bike seat. Saddlebags weigh somewhere between 0.3 to 1.1lb and offer a capacity of up to 340oz. High-quality bike tool saddlebags cost around $15-25 and are often water-resistant.
A mountain bike tool saddlebag like this can be attached right under the seat by tightening Velcro straps or adjustable buckles.
Bike tool saddlebags are lightweight and feature multiple inner and outer pockets. These additional compartments can be used to fit more tools and keep everything organized throughout a ride.
Saddlebags come in a variety of size options, allowing you to choose the one based on the number of tools you want to carry. While most bikers lock their tool saddlebags to their bike, some also carry them in backpacks.
Another benefit of mountain bike saddlebags is that they are typically made from waterproof materials, such as nylon, polyurethane, polyester, TPU, and PVC. In addition, some of them feature laminated zippers making the bag completely waterproof. This article from The Journal of Industrial Textiles explains current developments in waterproof and vapor-permeable fabrics that manufacturers can use to produce waterproof accessories like bags and jackets.
The main drawback of bike tool saddlebags is that they are not always large enough to fit all essential tools, such as air pumps or replacement tubes. In addition, some saddlebag mounting systems are not secure enough for riding on rough terrain, resulting in the bag falling off the bike.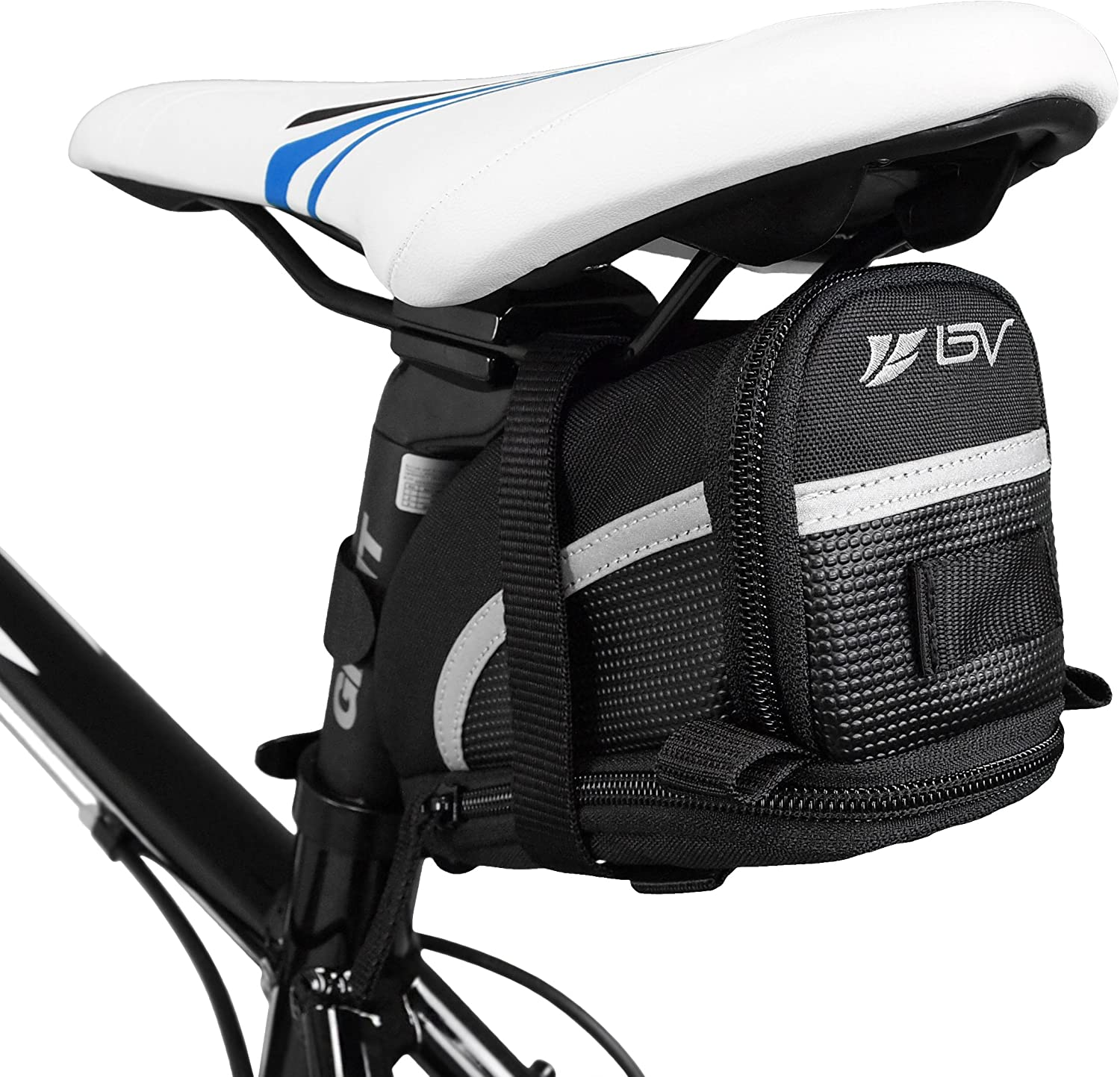 6. Mountain Bike Front Frame Tool Bag
A mountain bike bag or pouch that can be attached to the front frame of your bike is another good option to carry essential bike tools. These bags are relatively small but can fit a few wrenches, tire levers, and a patch kit.
Mountain bike front frame tool bags are ideal for only taking a few tools along. They can feature a case for keeping the rider's phone visible but protecting it against water, dust, and mud. The transparent case allows riders to use their phone for navigation. Mountain bike front frame tool bags weigh approximately 0.3 to 0.9 pounds and tend to cost about $15-25.
The only issue with front frame tool bags like these is that they are not large enough to fit all bike tools. The extra pockets, however, offer space to take essentials.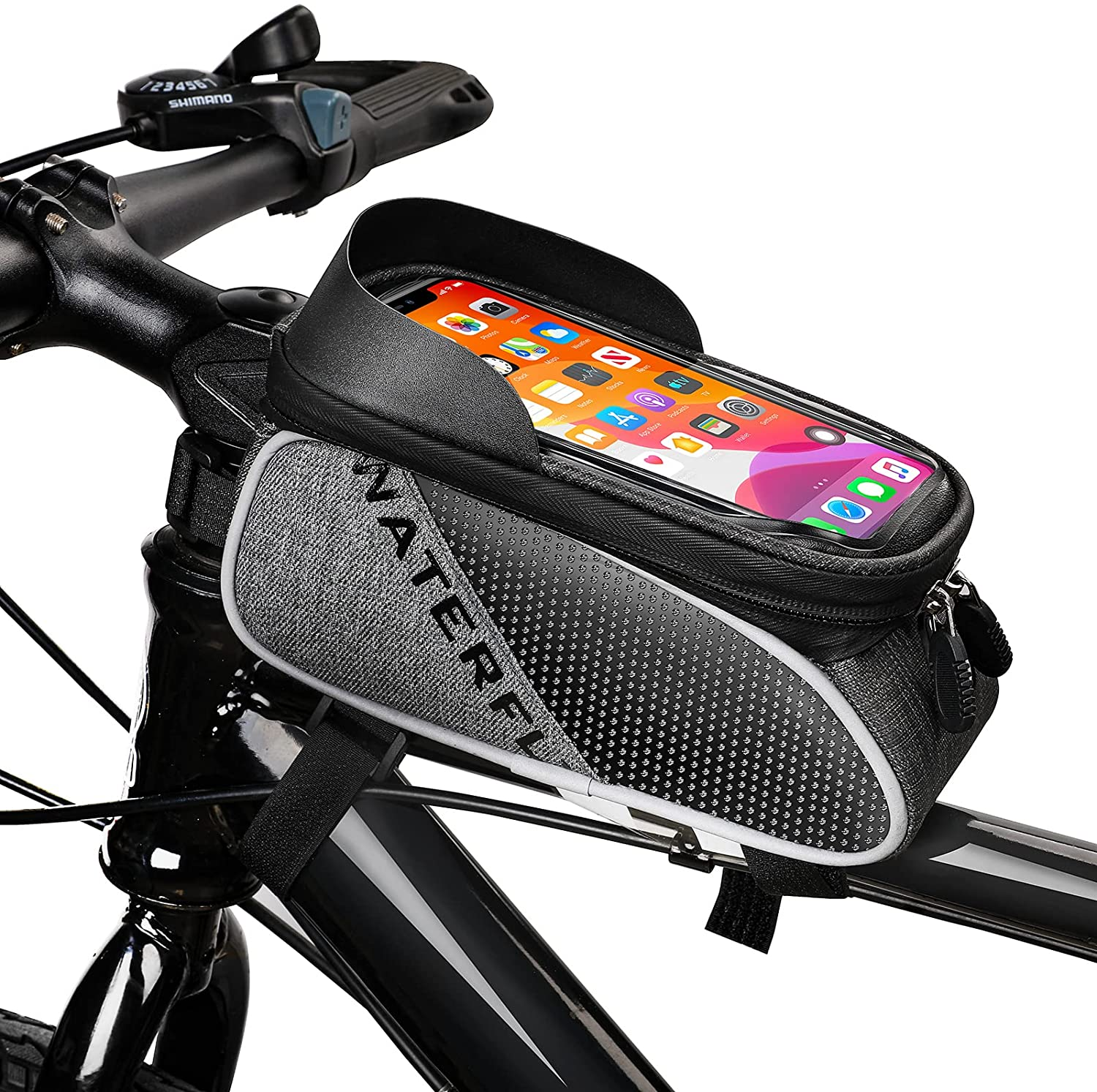 7. Mountain Bike Tool Pannier Bag
Mountain bike tool pannier bags are a larger alternative to the tool bag ideas discussed above. With large compartments and many extra pockets, pannier bags allow for storing and organizing bike tools easily.
A mountain bike tool pannier bag is a large bag that can be attached to the rear rack of the bike. Bike pannier bags typically weigh between 0.6 and 2 pounds and offer a capacity of 10-30 liters. High-quality mountain bike pannier bags cost approximately $50-80 and are usually made from water-resistant materials. Some mountain bike tool pannier bags can even be converted into regular backpacks.
Pannier bags offer plenty of space for any bike tools, including hex keys, wrenches, tire levers, an air pump, replacement tire tubes, and patch kits like these.
Oftentimes, bike tool pannier bags come with a mounting system that clips right onto the rear rack. This ensures that the pannier is securely attached to the back. No matter how rough or uneven the terrain is, using a pannier bag like this ensures that no tools will be lost.
While pannier bags are pretty convenient to use, they are not suitable for everyone. If you want to carry just a few tools with you, attaching a bulky pannier bag to your bike might not be the best choice.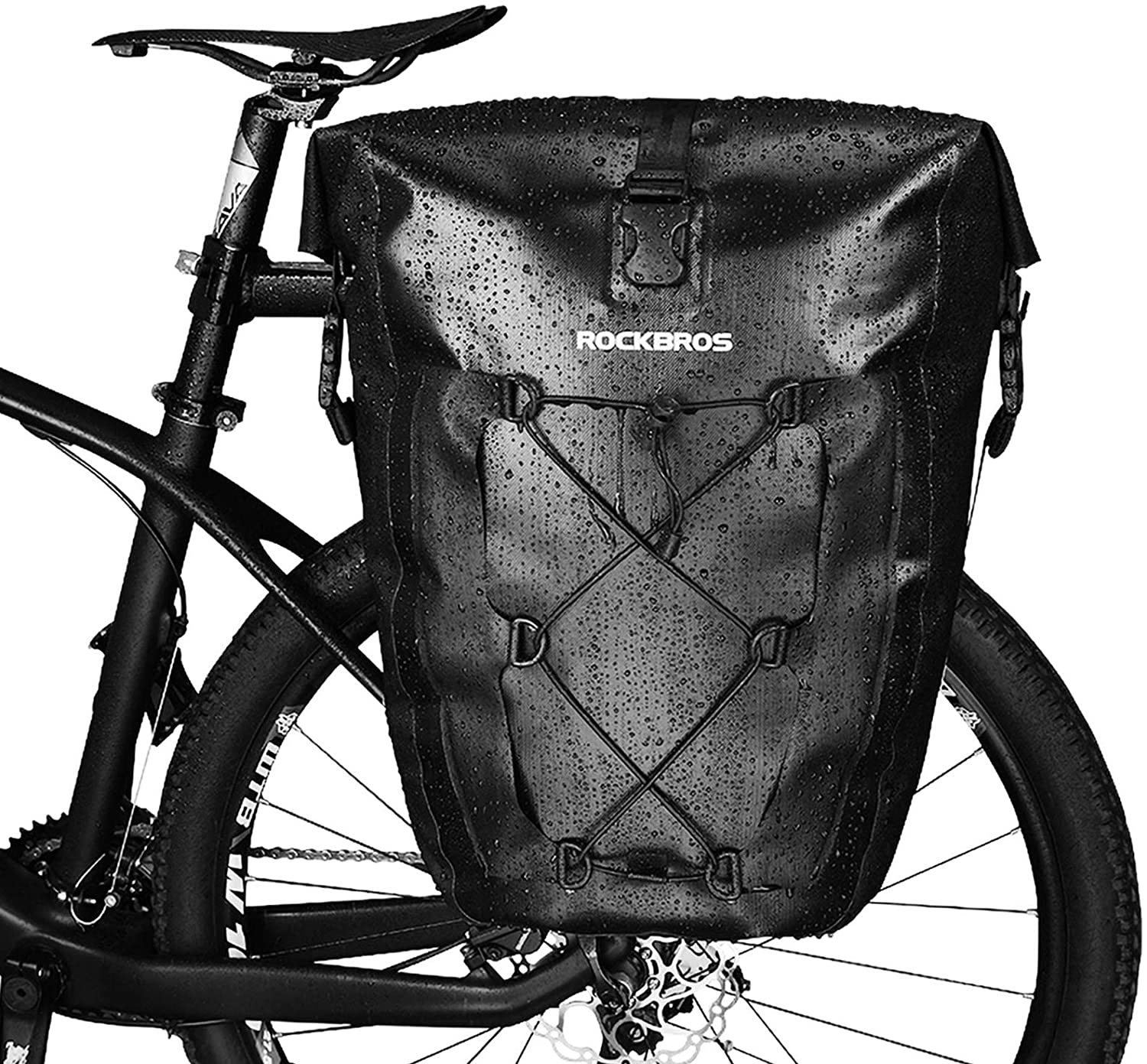 What Should Be Included In a Mountain Bike Tool Storage Kit?
While selecting the right mountain bike tool bag is important, knowing which tools to include in your kit is even more crucial. Creating a list of essential bike tools to bring will prevent you from carrying a full-size tool kit every time you go mountain biking.
Some great tools to include in a mountain bike tool storage kit are wrenches, tire levers, a tire pressure gauge, an air or CO² pump, tire patch and repair kits, and a replacement tire tube. Some bags also include first aid items, which can turn out to be very helpful in the event of an injury.
If you want to learn about all the possible tools that mountain bikers often use, then read our guide about the ultimate list of tools for mountain bike maintenance.
This YouTube video by GMBN Tech provides a list of essential tools for a mountain bike ride. Alternatively, this article by ParkTool lists the key tools you need for regular bike maintenance.
Allen Wrenches
Allen wrenches are some of the most essential items you should consider bringing in a bike tool bag. They allow you to easily remove and reattach your bike wheels or adjust other bike parts if needed. While some bike tool kits include different-sized Allen keys, you can save space and weight by bringing only the ones necessary to fix your particular type of bike.
When dealing with a flat tire, you will most likely need a 6mm hex key, so make sure you always carry one with you. You can also use a combination of flex-head ratcheting wrenches, like these.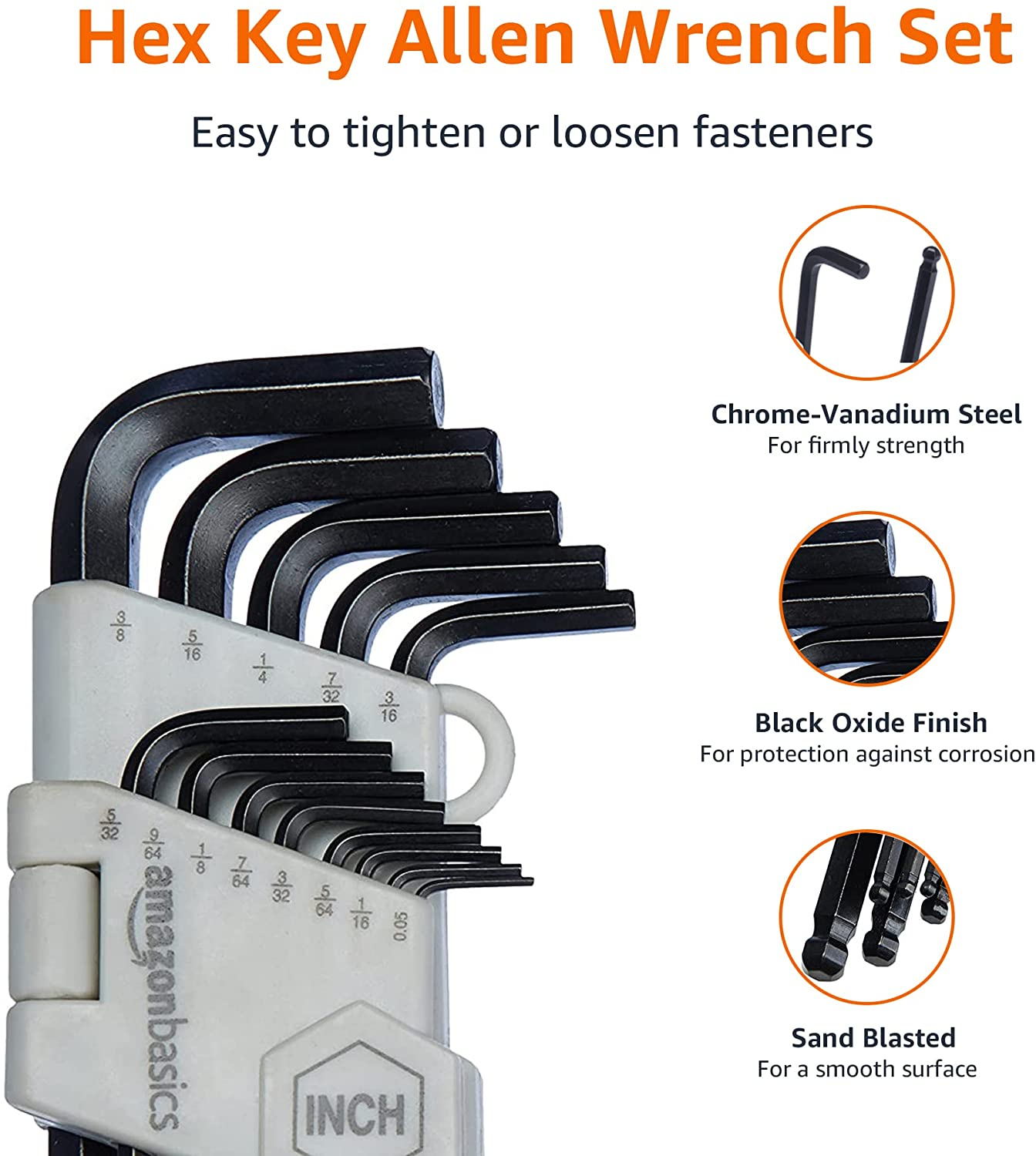 Tire Levers
Tire levers are flat plastic or sometimes metal tools with a curved end that slips under the lip of the tire and allows you to easily remove it. If you ever get a flat tire during your mountain biking trip tire levers can come in handy. While taking tire levers with you can be beneficial, you can always use your hands as an alternative. Still, tire levers are quite small and will not take up much space in your bike tool bag.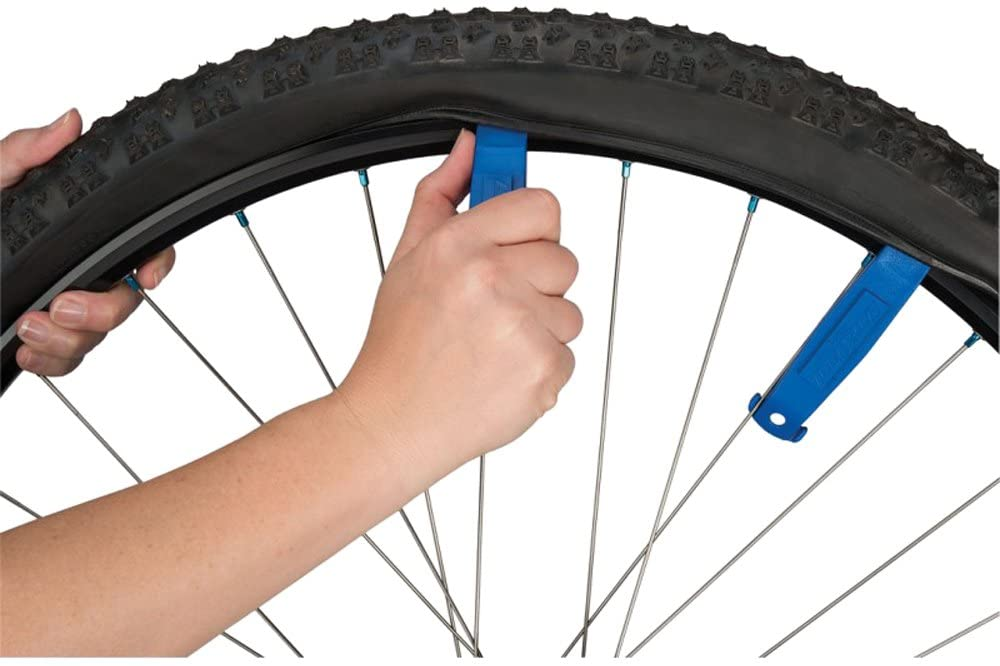 Tire Pressure Gauge
Monitoring tire pressure before going on a ride is essential to stay safe. In order to check tire pressure from time to time, a tire pressure gauge can be included in your tool bag. Read our comprehensive guide to mountain bike tire pressure to learn how to adjust your tire pressure according to the specific terrain or altitude.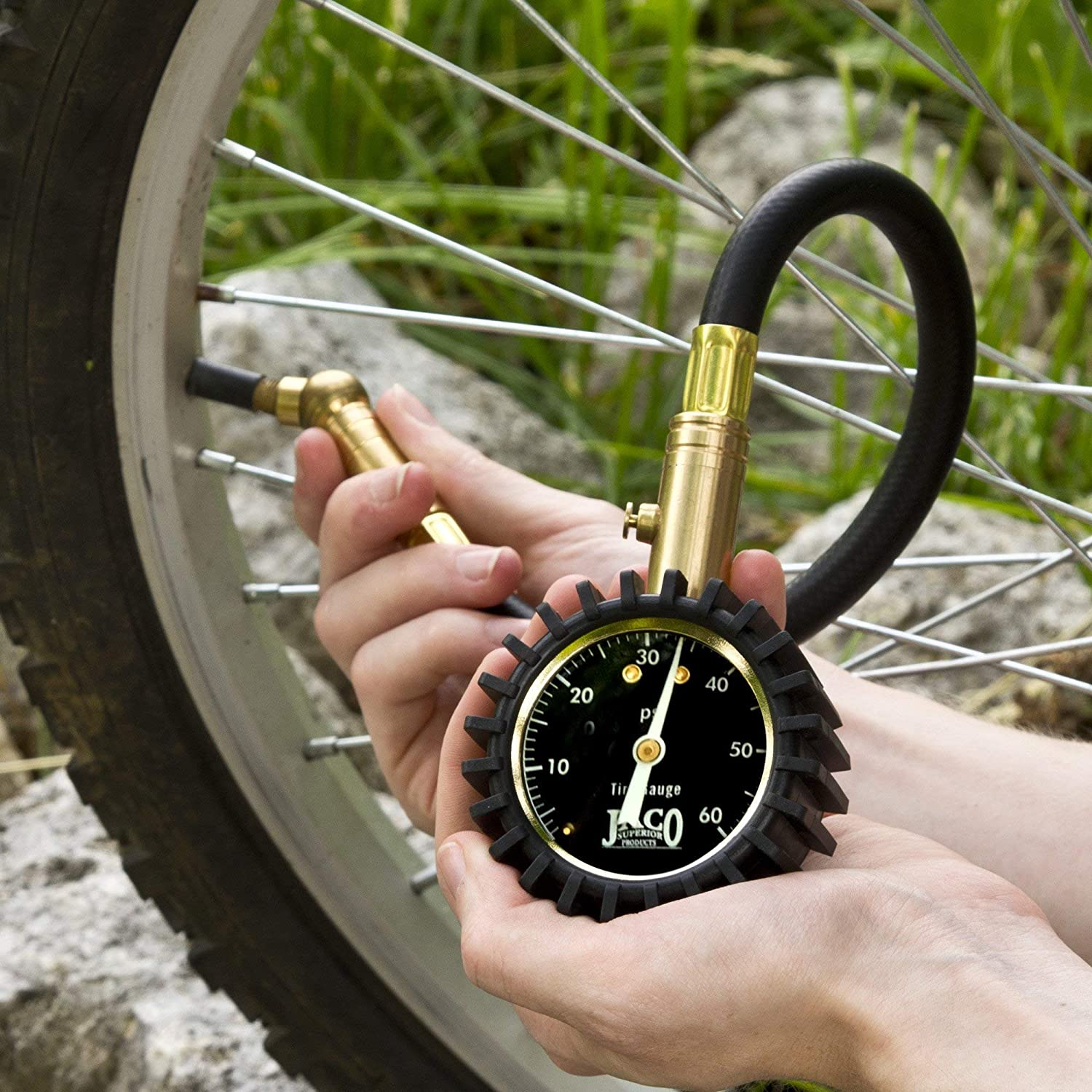 Air Pump or CO² Inflator
If you ever end up having a flat tire on your bike or your tire pressure seems too low, you will need an air pump like this to reinflate your tires. If you are using a large tool bag or pannier bag you can carry a regular hand pump with you. If you have limited space choose a CO² inflator like this instead.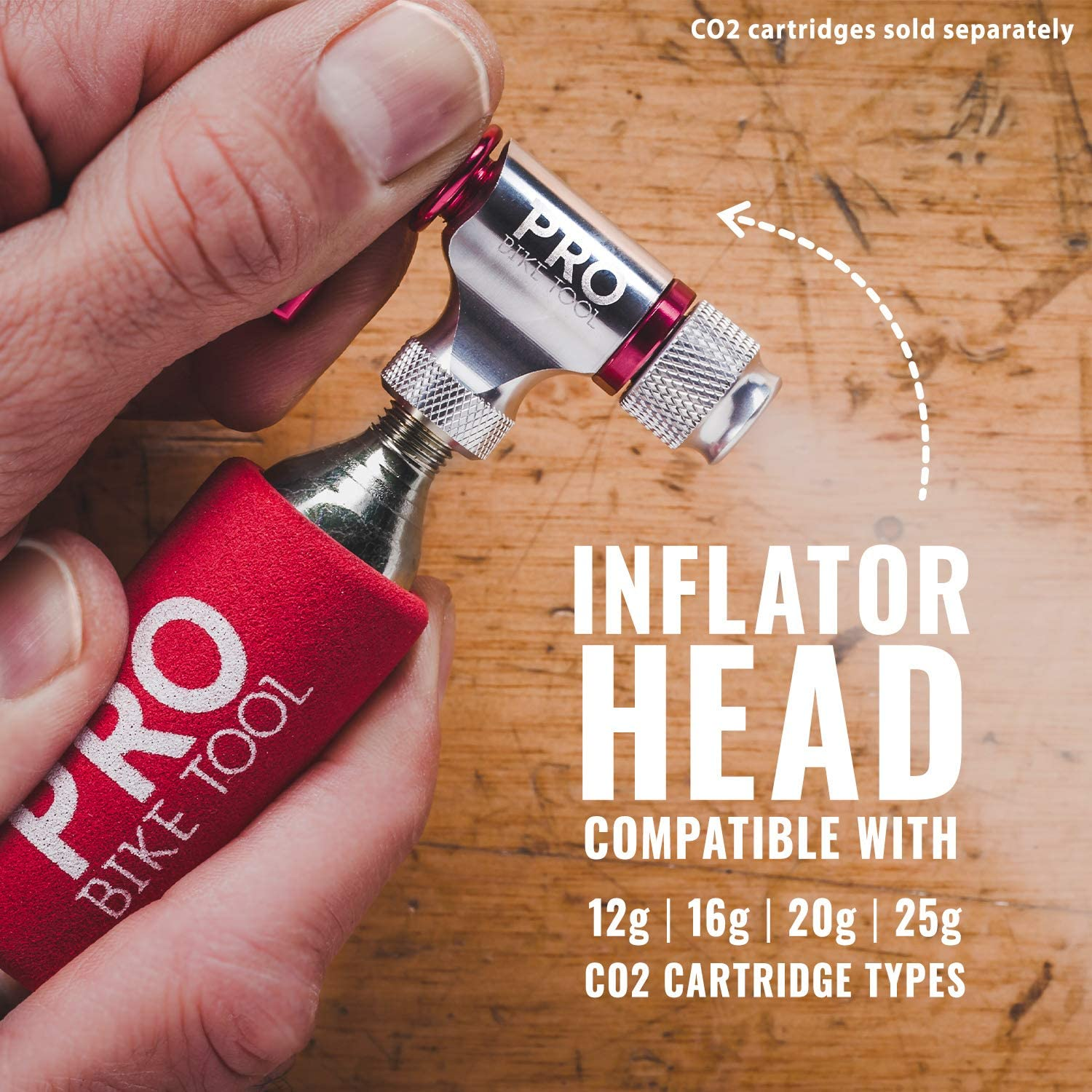 Tire Patches and Repair Kits
Mountain bikers typically ride on rough and uneven terrain, which means they may often end up having a flat tire. In some cases, the entire tire or the tube needs to be replaced. However, in several instances, you can simply fix the tire or tube by using a patch or repair kit like this. When thinking of items to include in your bike tool bag, make sure you add tire patches and repair kits to the list.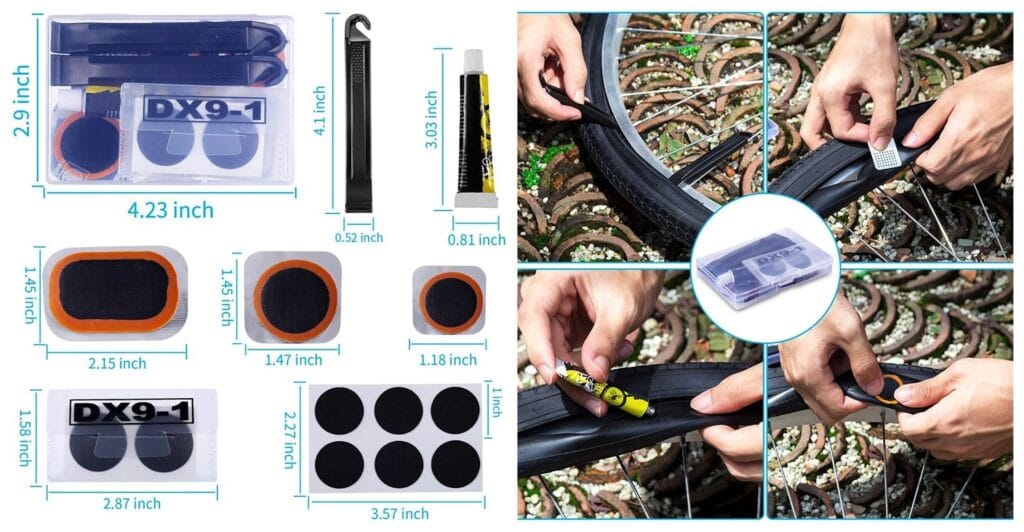 Replacement Tire Tube
In some cases, fixing a tire tube with pre-glued patches is not possible. If this is the case, you will need to replace the damaged tube with a new one. If your bike tool bag is large enough to fit a replacement tire tube like this, make sure to bring one. Instead of a flat tire ruining your mountain biking trip, you will be able to fix it in just a few minutes.
First Aid Kit
No matter how experienced you are, mountain bike accidents are pretty much unavoidable. Bringing a few first aid kit items in your mountain bike tool bag is advised. Instead of taking an entire first aid kit with you, you can include some essentials, such as band-aids, bandages, disposable gloves, and alcohol wipes. Our article about mountain bike armor durability discusses the most common bike-related injuries and how wearing the correct protective gear can reduce the severity of the injury.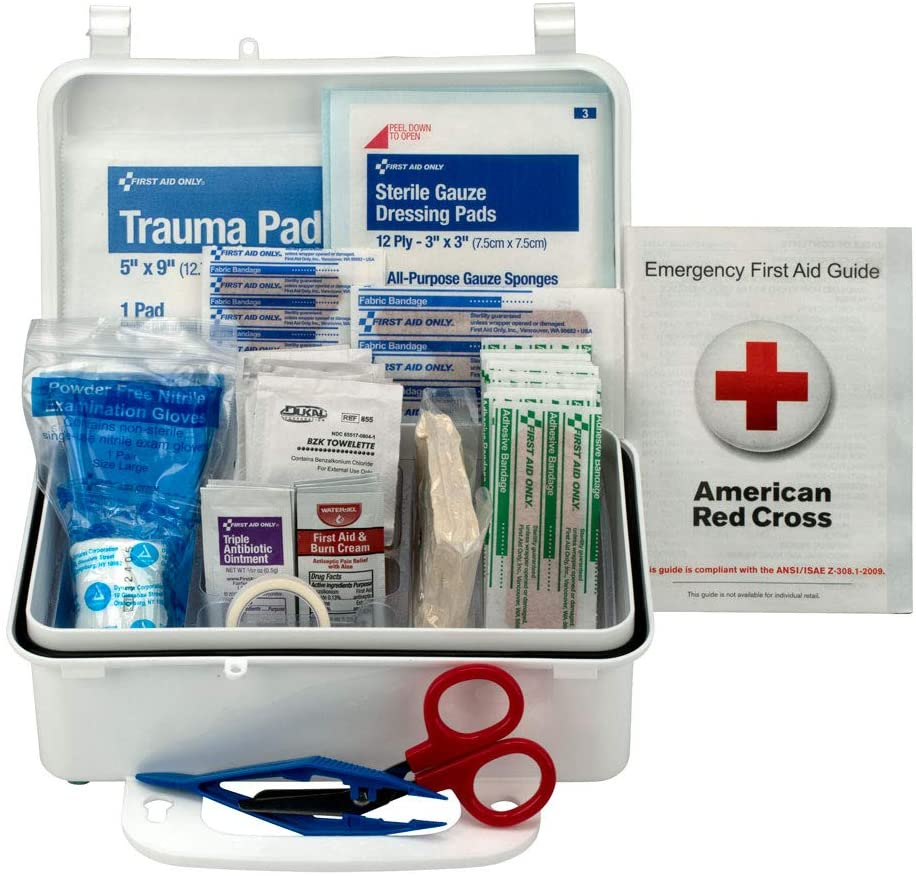 A Summary of Tools to Include in Your Mountain Bike Tool Bag
Similarly, if you've ever wondered how to install a mountain bike fender to help hold your new mountain bike tool bag, be sure to check out our related article.
Where to Carry Your Mountain Bike Portable Tool Kit
After putting all essential tools in your bike tool kit, you should consider how to carry the bag while riding. It is important to consider the weight of the tools you plan to bring on your ride and whether they should be carried by you or attached to your bike.
Carry a mountain bike portable tool kit by securing it to a bike, in a backpack, or as a fanny pack.
As this article from Applied Mobility explains, the size and weight of a backpack can affect the comfort and maneuverability of the rider especially if there is a higher frequency of turns and steep inclines.
Here are three ways you can carry your mountain bike tool kit:
On Your Person
If you prefer carrying your bike tool kit yourself, consider bringing it in a fanny-pack-style carrier. This option would work for smaller bike tool bags, such as rolls or pouches. While some tool bags already have longer straps, you may also need to attach a DIY belt to secure it to your waist. Some options, such as this one, offer additional straps that can be tied around your thigh.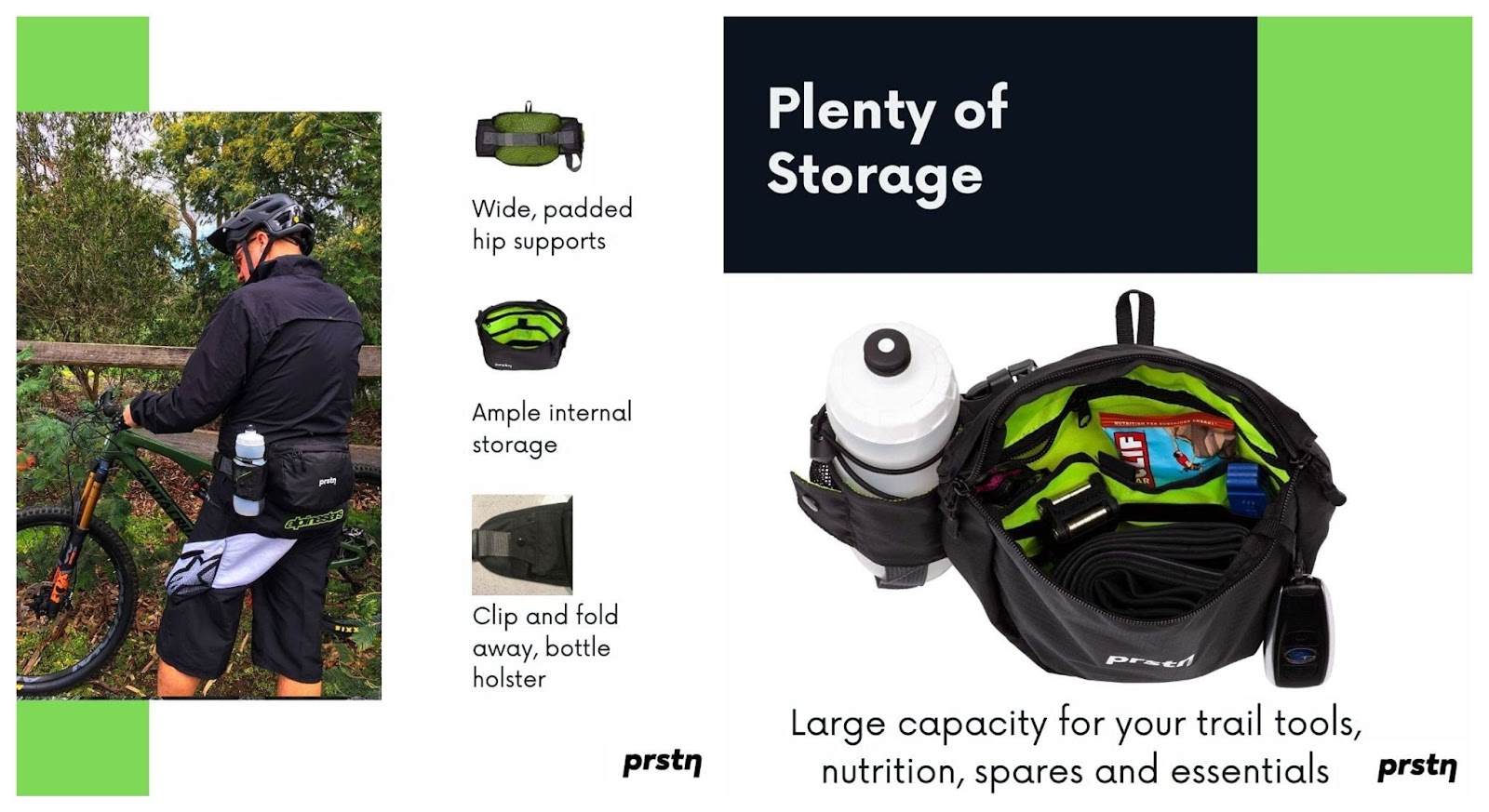 In Your Backpack
A tool bag can also be carried in your backpack. As long as your backpack is large enough to fit your tool kit, there is nothing to worry about. Tool bag options that can be brought in a backpack are rolls, pouches, toolboxes, and saddlebags.
One thing you should keep in mind is that a tool kit will make your backpack heavier. Make sure you can tolerate the weight of your backpack to prevent injuries or bike falls. We recommend using a backpack especially suited to cycling like this one because it has padding in the correct places as well as a sleek design.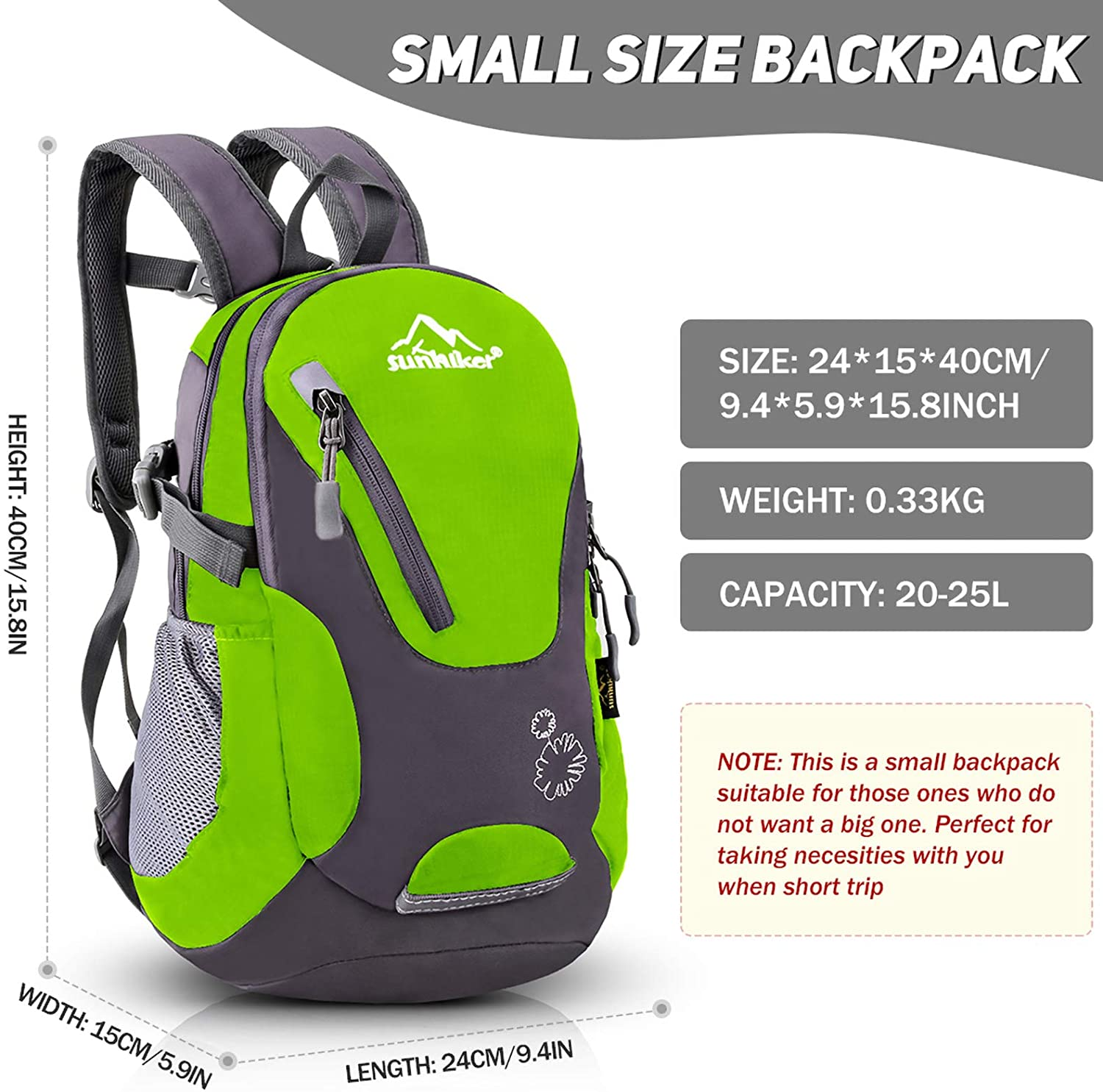 On Your Bike
The best way to carry a tool bag is to mount it directly on your bike. This way, you won't have to transport extra weight on your body, making a mountain biking trip even more enjoyable. To make sure that your tool bag can be attached to your mountain bike, check for Velcro straps, adjustable buckles, or special rack clips. Typically, saddlebags like this, pannier bags, and front frame tool bags can be attached securely to the bike.
How To Attach Your Mountain Bike Portable Tool Kit To Your Bike
Now that you know about several mountain bike tool bag ideas, attaching your mountain bike tool bag to the bike is essential to keep it in place during the ride. If you fail to fasten the bag securely onto your mountain bike you may lose tools or even the entire bag.
Attach a portable mountain bike tool kit to the top tube, under the bike seat, hidden inside the steerer column, inside the bottle cage, or mounted on a rear rack and secured with the Velcro straps or attached buckle closures.
Here are a few ways you can attach a mountain bike tool kit to a bike:
Strapped To the Top Tube
As long as your tool bag fits in the triangle between the top, bottom, and seat tubes, you can mount it on your bike. You will just need to tighten the Velcro straps or adjustable buckles around the top tube and you are ready to go. To prevent the bag from sliding and swaying while you ride, you should also fasten the straps around the seat tube.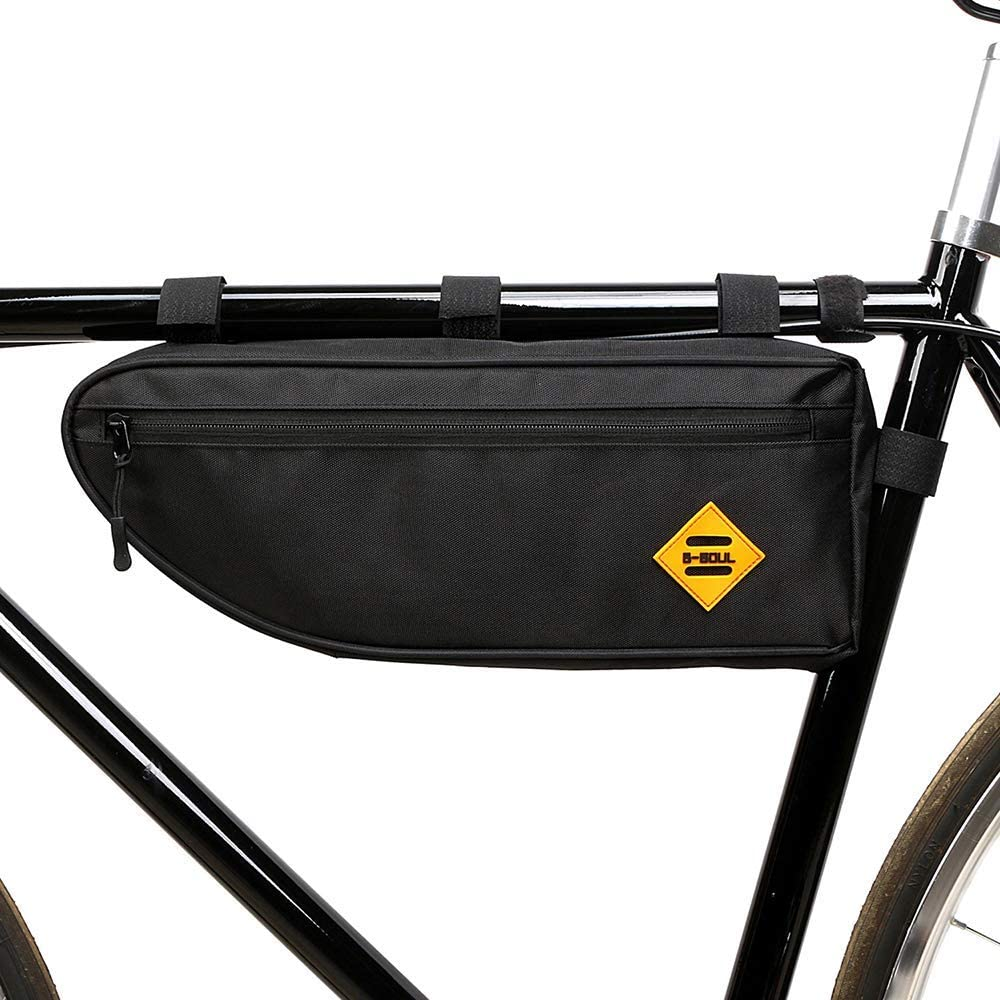 Attached Under the Seat
Tool bags that go under the bike's seat are known as saddlebags. There are two ways you can install a saddlebag. The first and most commonly used method is by using Velcro straps or regular straps to secure the bag to the bike. Safety can be further improved by using tool bags that have reflective strips which make nighttime riding safer as this Rockbros catalog displays.
The second way involves special mounting hardware or a quick-clip attachment that comes included with some tool bags. When fastening the bag, you will need to use the click-in-dock method. You may also need to use additional tools, such as Allen wrenches, to tighten the bolts.
Patrick Wise from Bike Shepherd provides a step-by-step guide for attaching a saddlebag under the bike seat.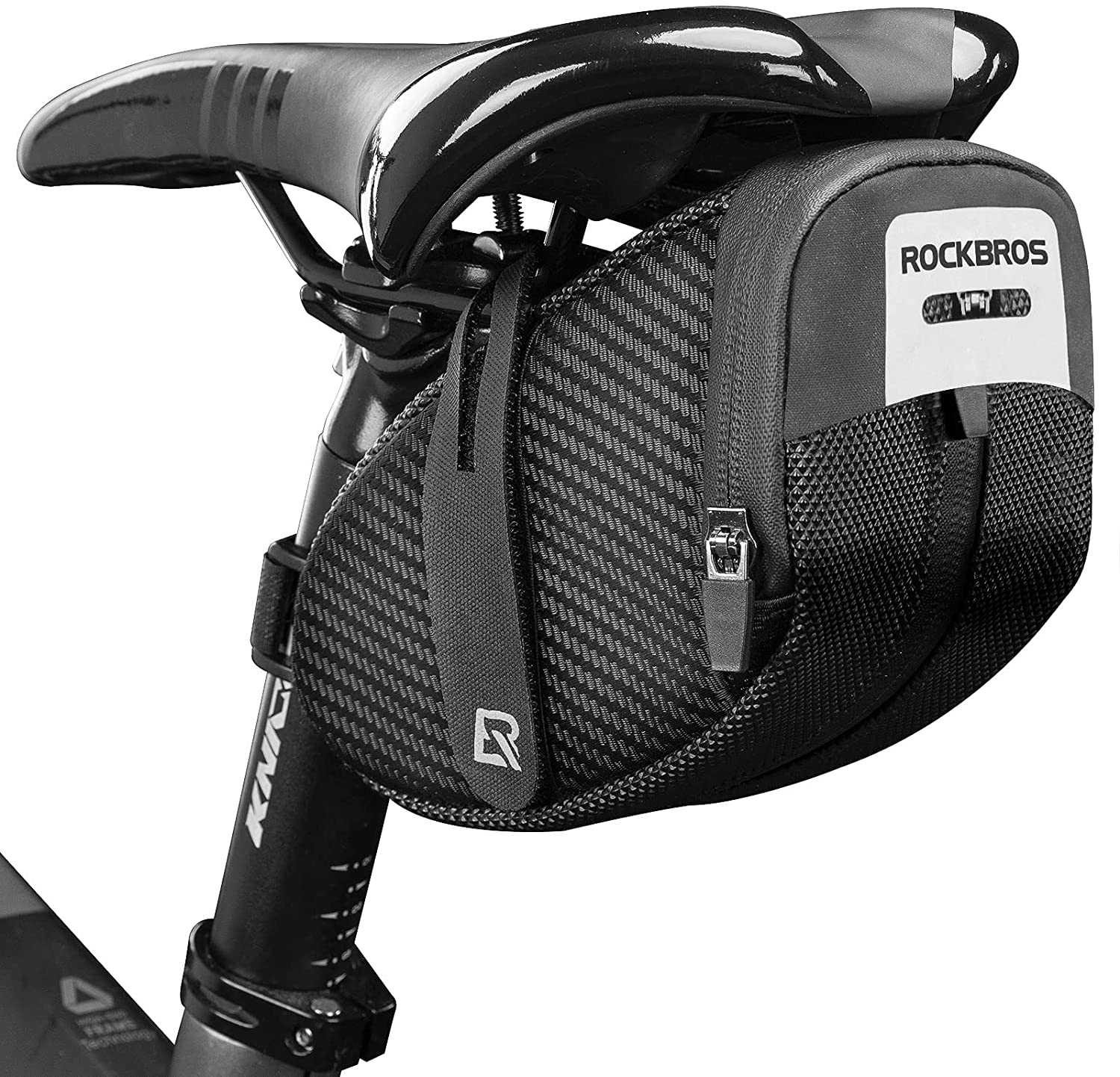 Bottle Cage On the Top Tube
Some bike tool bags fit into regular bottle cages. If you have a bottle cage attached to the inner tube of your bike these types of tool bags can be put in there instead of a bottle. For detailed instructions on how to install a bottle cage onto your mountain bike, watch this YouTube video by Live to Play Sports. This tool bag with a sealed zipper is compatible with regular bottle cages that you can mount on the bike frame.
Hidden In the Steerer
If you are not happy with how your bike looks after mounting a tool bag on it, you should consider hiding your tool kit in the steerer. To do so, you will first need to get a special stealth tool kit. This EDC tool by OneUp Components is an example of a stealth mountain bike tool kit that slides into the inner hole of the steerer. For a step-by-step guide on how to install the EDC tool onto your mountain bike steerer, watch this YouTube video by The Lost Co.
Mounted on the Rear Rack
Another way to attach a tool bag to your bike is to mount it directly on the rear rack. This option works for pannier bags that feature special rack clips that ensure secure attachment. In some cases, pannier bags also come with regular straps or Velcro fastenings that can be tied around the rear rack.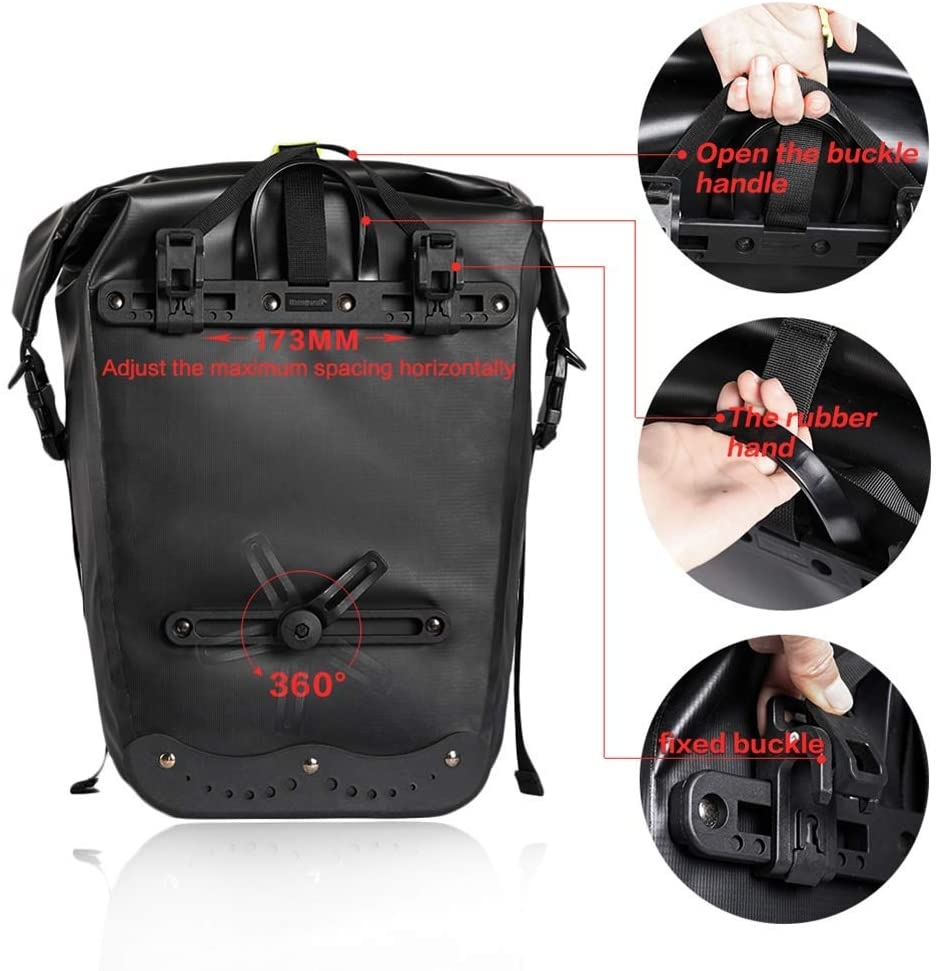 Disclosures
This website is a participant in the Amazon Services LLC Associates Program, an affiliate advertising program designed to provide a means for us to earn fees by linking to Amazon.com and affiliated sites.