How to Choose Mountain Bike Gloves with Grip
Every mountain biker should have the right apparel for a comfortable ride. Bicycle gloves are a must-have for every cyclist. If you don't invest in good equipment, you'll find yourself unable to ride for as long, due to unnecessary discomfort in your hands. In this article, we'll discuss how to choose mountain bike gloves with grip to maximize riding comfort. 
The efficacy of mountain bike glove grips depends on the material, thickness and padding, finger design, elasticity around the wrist, touchscreen compatibility, and level of water resistance.   
Why Do You Need Mountain Bike Gloves with Grips? 
Mountain bike gloves with grips are one of the most important items when it comes to safety. 
Mountain bike gloves with grips are needed because they aid in gripping the handlebars and provide protection against various hazards such as thorny branches or extreme weather conditions. Additionally, they provide warmth when it's cold and breathability in heat.
They provide additional cushioning and comfort, especially when riding on bumpy and rocky terrain. They protect your hands from blisters, scratches, and bruises, making your ride more comfortable. Some can even prevent carpal tunnel and joint injuries while riding. 
You may also be interested in learning about the different mountain bike grip taping techniques. Be sure to take a look at that article next to find out more.
What Factors to Consider When Buying Gloves with Grips
Durability is a key factor when choosing mountain bike gloves. They are constantly exposed to severe weather conditions, thorny bushes and plants along narrow trails, and sweat. The durability of gloves depends on the material, padding, and stitching.
Key factors when buying gloves with grips include durability, the weather conditions they are suitable for, comfort level, level of protection, and material used.
Mountain bikers ride all year-round and are exposed to hot summers, freezing winters, and everything in between. If you like to travel around to different places to ride, it would be advisable to use gloves like these, which are suitable for all seasons. If you prefer to ride where the climate doesn't change too drastically, there are gloves specifically made for your weather.
If you ride on rocky terrain, you should purchase gloves with padded grips, like these, and maybe even padded knuckles to provide extra protection. It's also important which material the gloves are made of. Make sure to get gloves that are breathable to keep your hands cool during warm seasons but with enough insulation to maintain blood flow during cold months.
Not all gloves provide the same level of protection. The longer you ride and the more severe the terrain is, the thicker you'll want the padding on your gloves to be. Also, get gloves that protect you from different weather conditions. This depends on the materials of the gloves. To learn more about mountain biking safety, check out this article from Arrive Alive.
Mountain Bike Glove Materials and How They Affect Grip
Comfort, grip quality, durability, and protection all come down to mountain glove material. Gloves are made out of a combination of synthetic and leather materials, with the padding made out of silicone, foam, rubber, and gel pads.
Different types of mountain bike glove materials include synthetic leather which is wind and waterproof and maintains warmth, synthetic suede which is less expensive and easy to maintain, silicone pads that absorb shock, rubber pads that are durable, and textured gloves that are anti-slip and great for snowy weather. 
Option 1. Synthetic Leather is Water and Windproof and Maintains Warmth.
Synthetic leather is perfect for cold and rainy days because it's water and windproof, keeping your hands warm and dry. This material wicks sweat away and does not compromise your grip on the handlebars. It's resistant to dirt as well, so if you fall the integrity of the glove like this, is not compromised. In this article we explain how to fix a mountain bike grip that has fallen off, should you crash and fall.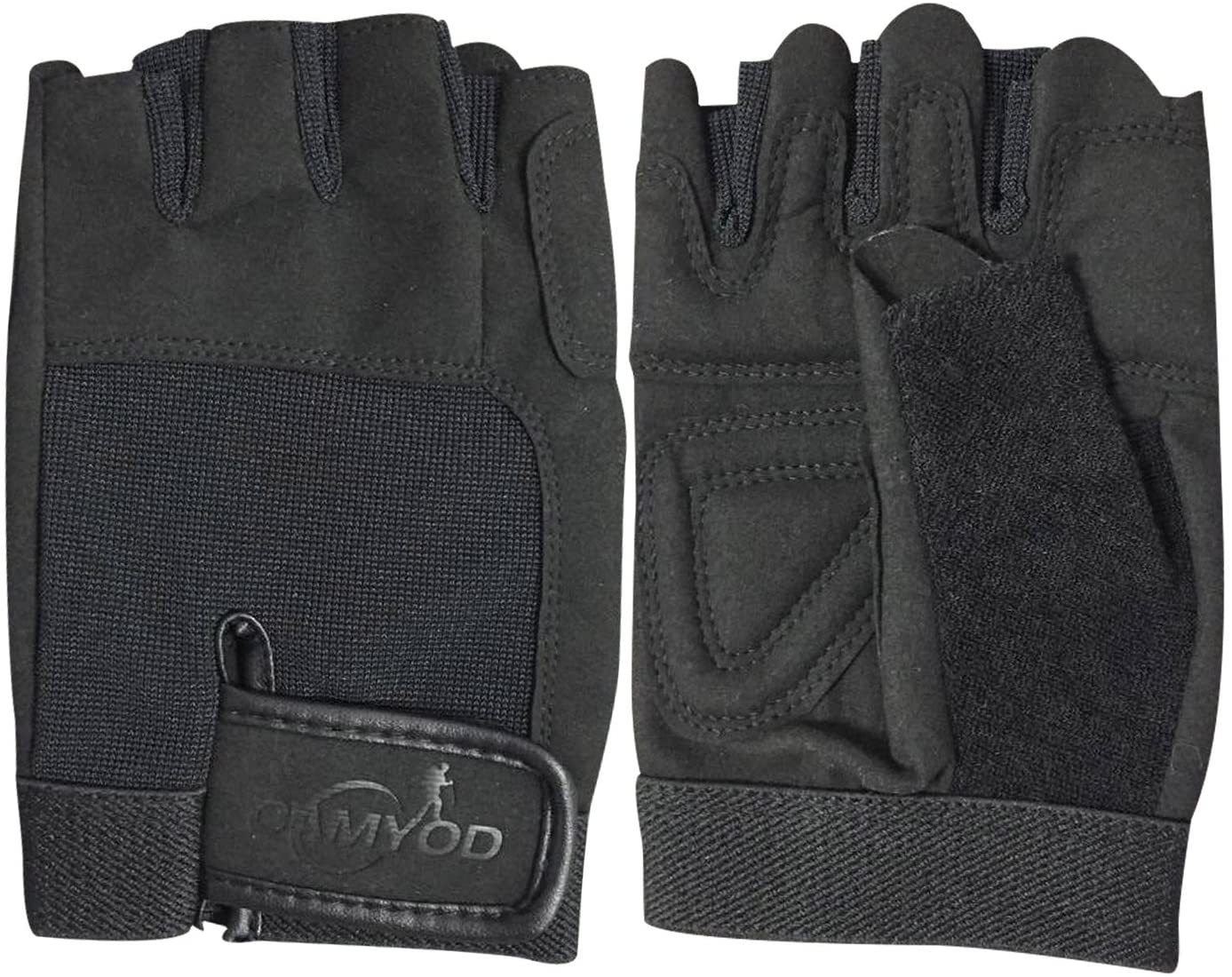 Option 2. Synthetic Suede Is Less Expensive, and Easy to Maintain
Synthetic suede is an animal-friendly material that resembles natural suede but is more durable, less expensive, and easy to maintain. It has water repelling qualities, so it can be safely and easily cleaned, and cannot be easily damaged by water. This material is much more durable than its natural counterpart and these mountain bike gloves will last you a long time.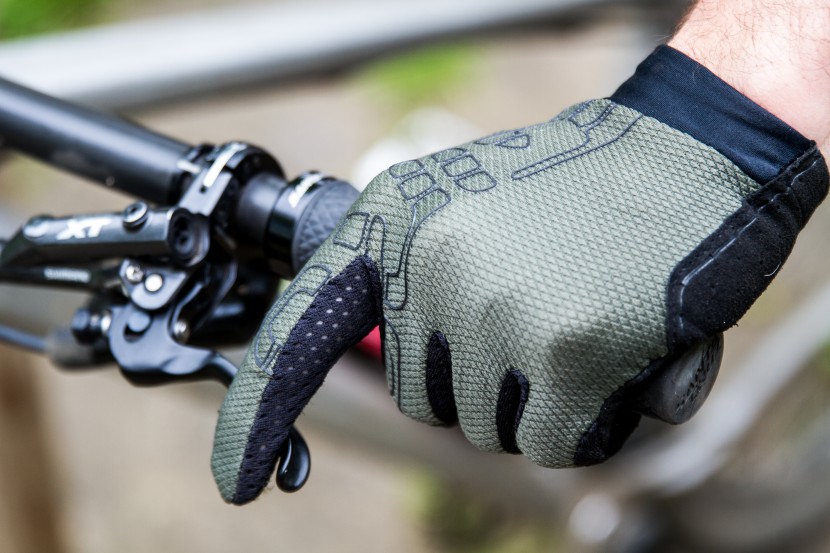 Option 3. Silicone Padded Gloves Absorb the Shock of Riding Over Bumps in the Road
Mountain bike gloves must have padding to absorb the shock of riding over bumps in the road. Without it, you will lose control over your bike. Many brands add silicone padded detail on the palms to ensure a firmer grip and to provide impact protection. Use gloves like these that are not too bulky, or you won't have a firm hold on your handlebar, making it harder to control your bike. Silicone padding provides great absorption, but will not last too long. Check out our step by step guide on mountain bike grip installation, to make sure that your grips provide a proper surface to hold onto, if your gloves start wearing through.
Option 4. Rubber Padded Gloves are More Durable than Silicone Ones
Rubber pads are a bit thicker than silicone pads, and absorb shock and reduce impact. They can be bulky, so make sure you get gloves with thinner pads like these, so you can control your bike effectively. Rubber pads are durable and will last a long time. They can be hard and firm up over time, which might hurt your hands or cause numbness, so be sure to get ones as thin as possible to help prevent this.
If you're worried about numbness, read our article that explains choosing the correct mountain bike grips for numbness.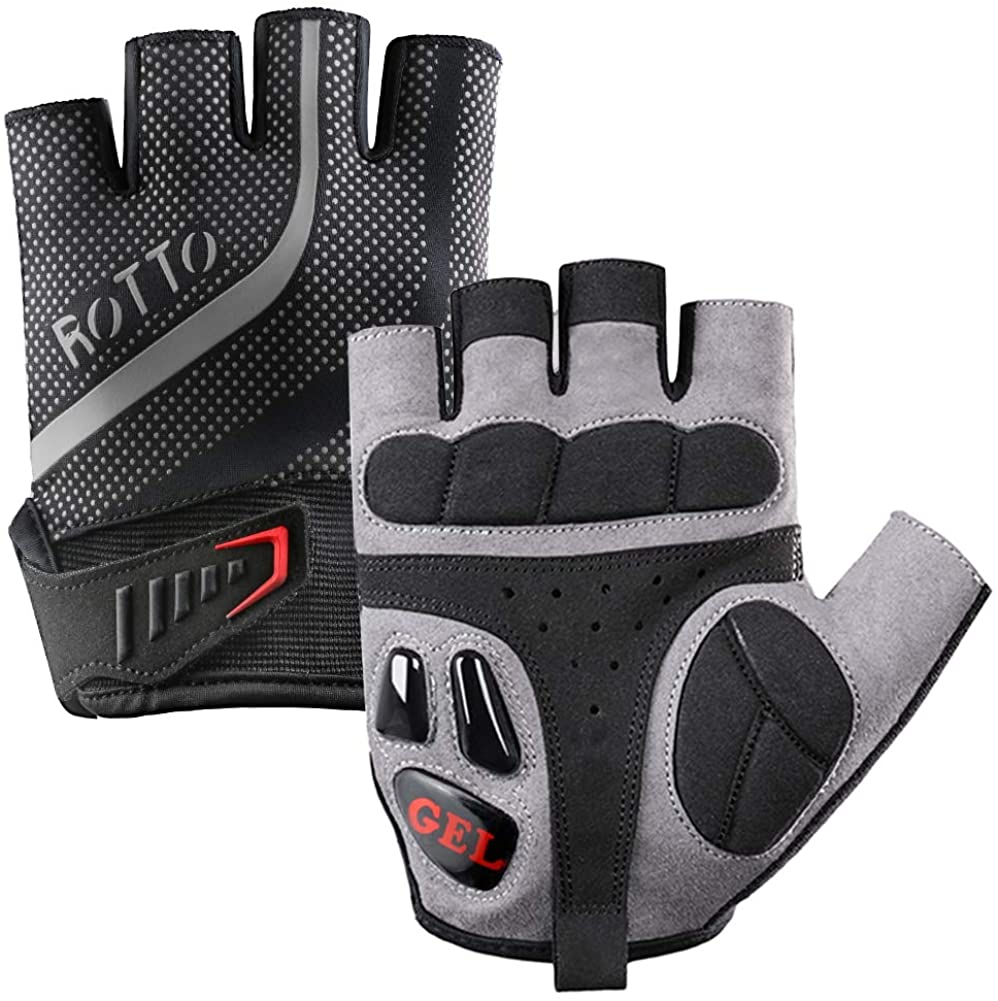 Option 5. Textured Gloves are Anti-Slip and Great for Snow.
Textured gloves like these are made from various materials that are anti-slip and usually water-resistant, so you can have a pleasant ride during rainy and snowy weather. Synthetic leather and suede are also used to make this category of gloves. A combination of materials such as elastic and rubber provide a better grip as these anti-slip materials help you get a firm hold on the handlebars. These materials are usually lightweight, thin, and well ventilated, making them great for hot weather as well. If you are biking somewhere really cold, look for textured gloves with thicker backs to keep you warm.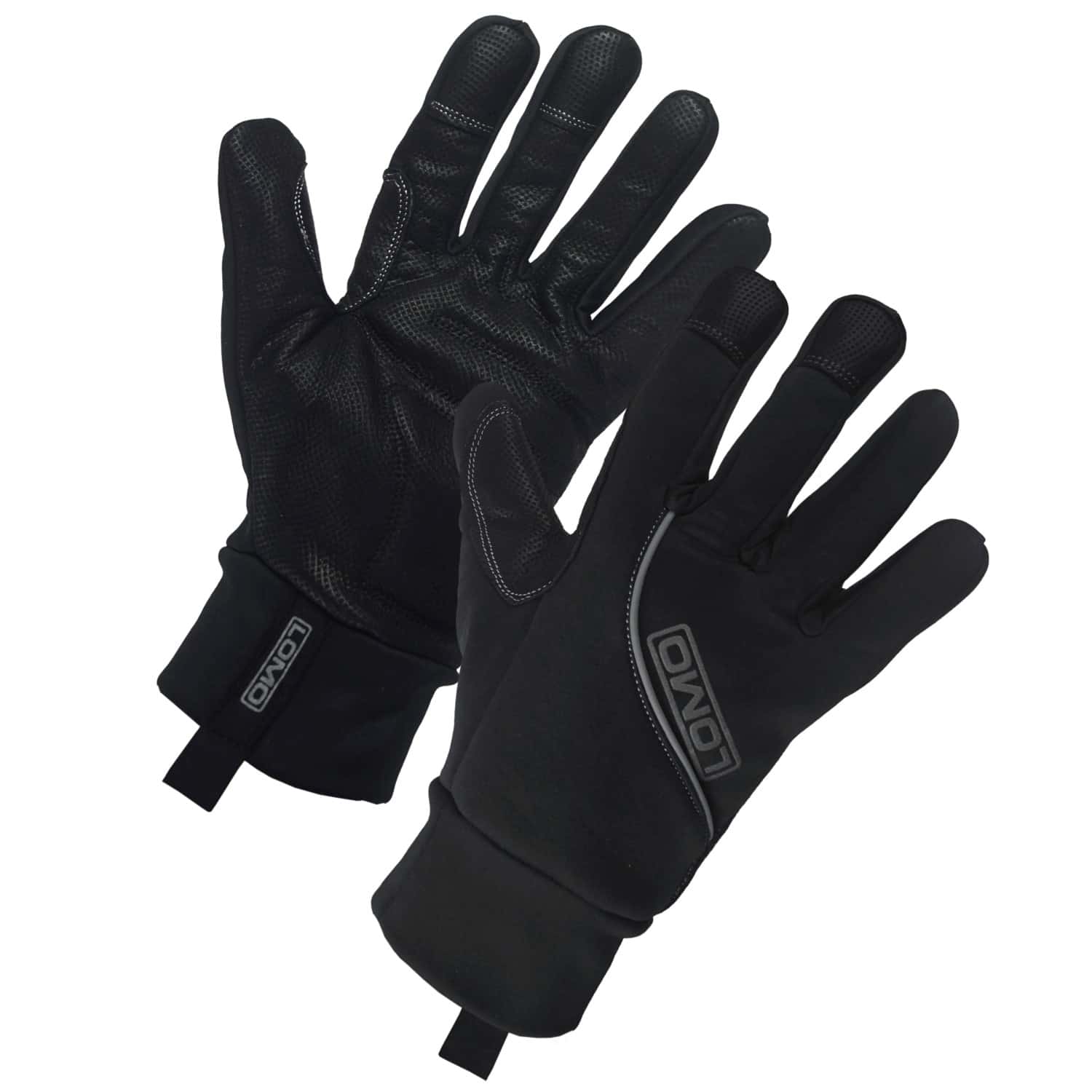 Below is a summary of different mountain bike glove materials with their pros and cons:
| | | | | |
| --- | --- | --- | --- | --- |
| Mountain Bike Glove Material | Pros  | Cons | Amazon Product Example | Price |
| Synthetic Leather | Lightweight, breathable, moisture-wicking | Not enough padding | Giro La Dnd Mountain Cycling Gloves | ~$30 |
| Synthetic Suede | Durable, wrist support, breathable, enhanced grip | Not the most protective | Evo Palmer Pro Trail Full Finger Cycling Gloves | ~$30 |
| Silicone Padded | Shock absorption | Wears out quickly | K-mover Non-Slip Light Silicone Padding Mountain Bike Gloves | ~$15 |
| Rubber Padded | Warm, perfect for winter, touch screen finger, waterproof, non-slip | A bit thick | Winter Cycling Gloves Full Finger Rubber Pad Touch Screen  | ~$30 |
| Textured | Breathable, slip-resistant | Needs more padding | Cool Change Mountain Bike Gloves SBR Padded Shockproof | ~$35 |
Related Articles:
Mountain bike trigger shifter vs. grip shifter - what's best for you?
Benefits of clipless pedals on a mountain bike
Common mountain bike grip upgrades and how to choose the right one
Other Factors to Consider when Choosing Mountain Bike Gloves
Other factors to look at when choosing mountain bike gloves are thickness and padding, finger length, elastic or velcro wrists, touchscreen capability, full finger or half finger, water resistance, glove fit, and weather conditions.
Here we take a closer look at factors to consider when choosing Mountain bike gloves:
Factor 1. Thickness/Padding
The thickness of gloves depends on the material they are made of. Thicker gloves with more padding (especially with hard material) like these, can feel bulky, limiting your hand mobility. You can't feel your bike as well and can lose control more easily. To really make sure you can control your bike, you need to maintain a proper posture. Read our article to learn more about where to hold grips to maintain proper posture.
On the other hand, gloves like these that are too thin, do not offer much protection and don't offer much comfort. If you ride on rockier routes, you'll need more padding. Be careful what kind of material you choose because some make you sweat more than others, which can cause your hands to slip around on the handlebars. 
Factor 2. Finger Length
Unfortunately, manufacturers have different measurements, so not all gloves will fit the same. Measure your hand size before purchasing your gloves to make sure the gloves will fit correctly. Measure the length of your hand from the top of the middle finger to the base of the palm, and the width just below your knuckles at the widest part of your hand. Check this measurement with the size chart of your preferred glove brand before you order. If you want a perfect fit, it's best to try the gloves in-store.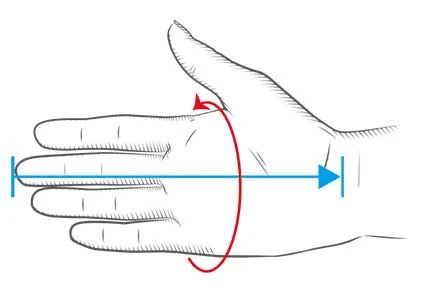 If your hands are on the smaller side, you may also find interest in our related guide to mountain bike grips for small hands. Be sure to check it out for more information.
Factor 3. Elastic or Velcro Wrists 
Despite choosing the right glove size and being secure and snug on your hands, you should also look for gloves that are secured around the wrists. There are two types of glove fastenings  - elastic and Velcro. Both of them have pros and cons. Elasticated gloves are lighter and simpler, but the elastic will loosen after some time. Velcro is very easy to put on and take off but can lose its adhesiveness. Elastic ones might be more for those who ride in cooler weather as they close up the hand, and Velcro for summer as there is a lot of open space to allow for air movement.
Factor 4. Touchscreen Compatibility
This is a type of glove is made from a material compatible with smartphone and tablet touchscreens. If you need to check your phone regularly while on a ride, touchscreen compatibility comes in handy so you don't have to stop and take your gloves off as explained in this video.
Factor 5. Full Finger or Fingerless 
This comes down to personal preference. Fingerless mountain bike gloves like these are usually recommended for warmer weather. Some people feel like these gloves give them more control over the bike. The disadvantage of fingerless gloves is that when the fingers get sweaty or dirty they become slippery, loosening your grip. They have less padding and your fingers are more likely to get injured.
If you want to learn more about injuries in mountain bike racing, check out this study from the Journal of Wilderness and Environmental Medicine.
Full finger gloves like these, protect your whole hand and have more padding. They can be a nuisance during the summer since they make your fingers and hands sweaty, but they are excellent for colder weather conditions. You still maintain full control over your bike even with covered fingers.
Factor 6. Water-resistance
For hands that are sweaty make sure you get these gloves that are made of water-resistant material. If your hands get wet in the rain they could slip causing you to lose your grip and crash. Materials that are water-resistant don't allow water to get to your skin which will keep your hands steady and make your ride safer and easier. In this article we provide tips and tricks on how to choose a mountain bike grip for sweaty hands, should you have to ride without gloves.
Factor 7. Glove Fit
A good pair of mountain bike gloves like these, should not even feel like gloves but like a second skin. A glove's fit plays a crucial role in its comfort and performance. There should be minimal room between the gloves and the hands, allowing for a snug fit while riding, but they should not be so tight that they limit movement or feel uncomfortable.
Carefully measure your hands so you do not order the wrong size as glove size along with bike size, is very important. If you need help with bike sizing in general, check out our article that provides a mountain bike sizing chart.
Factor 8. Weather Conditions 
There are a wide array of mountain bike gloves that are suitable for all weather conditions. Certain gloves are specifically designed for certain weather - hot, cold, rainy, and so on. 
Here we provide a detailed mountain biking glove comparison: 
| | | | | |
| --- | --- | --- | --- | --- |
| Other Factors When Choosing Gloves and Grips | Pros  | Cons | Product Example | Price |
| Thickness/Padding | Comfortable, prevent injuries, solid grip, knuckle padding, works with touchscreen | Bulkiness  | Dakine Cross | ~$35 |
| Finger Length | Great fit and feel, breathable, true to size | Not so tight at the back of the hands | Royal Racing Core Gloves | ~$40 |
| Elastic Wrists | Comfortable, breathable, anti-slip, easy to take on and off | Fingerless  | Otter Winterproof Gloves | ~$35 |
| Velcro Wrists | Comfortable, padding, good for all-weather | Slightly bulky | Troy Lee Designs 2020 Men's Air MTB Gloves  | ~$30 |
| Full Finger | Gel on palm, secure, touchscreen compatibility  | Sizing  | Troy Lee Designs 2020 Ace Gloves | ~$30 |
| Half Finger | Perfect fit, light, breathable, secure | A bit expensive | Mens Cycling Gloves Half Finger | ~$20 |
| Water-resistance | Warm material, wind and waterproof, anti-slip, good for winter | Finger seams are prominent | Souke Sports Winter Cycling Gloves | ~$25 |
| Touch Screen Compatibility | Touchscreen compatible, warm, anti-slip, for winter, windproof | Bulkiness  | Gorelox Winter Warm Gloves | ~$20 |
Disclosures
This website is a participant in the Amazon Services LLC Associates Program, an affiliate advertising program designed to provide a means for us to earn fees by linking to Amazon.com and affiliated sites.