Types of Bike Pedals & How to Choose the Right One For You
Choosing the right type of bike pedals might be a lot harder than it seems due to so many different pedal types being available. Pedals also come in various materials like carbon-reinforced plastic, aluminum alloy, nylon, or polycarbonate. The many styles of pedals might leave you wondering what type suits mountain biking best.  There's a lot to process  regarding the different types of bike pedals, so let us guide you through them all in this article.
The different types of bike pedals include flat bike pedals, platform pedals, toe-clip pedals, clipless pedals, and hybrid pedals. Use clipless mountain bike pedals for maximizing pedaling efficiency. Choose flat pedals for comfortable and efficient pedaling for everyday cycling or use hybrid pedals as a transition to clipless pedals.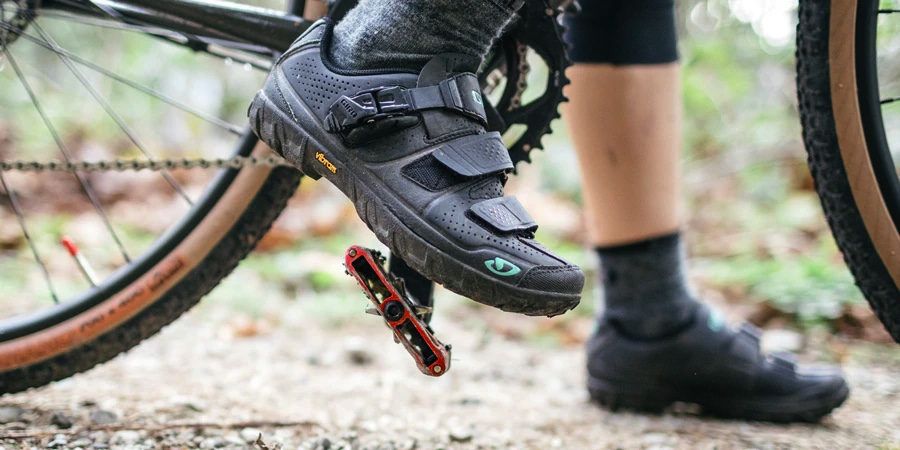 1. Flat Bike Pedals
Flat pedals are the most basic type of biking pedals because they don't have a clip-in mechanism. You just place your foot on it and push to ride without making any adjustments. Most bikes come with flat pedals that can be changed to other types. 
Flat pedals offer easy foot removal from the bike in case of accidents, allow bikers to ride in any type of shoes, and are more affordable than clip-in pedals. Choosing flat pedals with raised knobs for better grip. 
Flat pedals like these are great for recreational cyclists that want to get that sense of free movement, and for trail cyclists that wish to have all the foot freedom while jumping and doing some easy stunts.  They look like plain bike pedals without any other attachment other than the flat platform to place your foot on.
One thing that might also make you opt for these is their affordable price range. You can also pair them with any type of shoe, so there's no need to spend even more on cycling shoes. You just hop on your bike, ride as much as you want, and hop off. It's that convenient with flats.
With flat pedals, your foot won't be locked to the pedal so it's easy to avoid the worst-case scenarios of sprained ankles or even worse injuries as explained in this article from Bythlon. 
Another safety factor to consider is mountain bike armor which will definitely lower the risk of major injuries, so make sure you check out our detailed guide to mountain bike armor pieces. 
Below is a summary of the main advantages and disadvantages that come with flats:
Pros:
Great for recreational and trail cyclists
Offer easy foot removal from the bike in case of accidents
More affordable than clip-in pedals
Allows you to ride in any type of shoes
Cons:
Your foot isn't firmly attached to the pedal so there might be a chance of slipping
2. Platform Pedals
Platform pedals are flat pedals, with a slight difference in design. They have an outer frame and an open design that encourages mud shedding and water dispersion when riding. You'll recognize the platform pedal by the design that looks like the letter "Y" within the pedal frame.
Platform pedals provide complete freedom and are perfect for commuters and recreational riders. Use platform pedals for the comfort of flat pedals but with sufficient float. Platform pedals don't have any variations with toe clips or straps.
Platform pedals like these are quite popular with beginner mountain bikers because of the freedom they afford riders. Their knobby spikes help the rider's shoe to maintain a good grip, and their designs help shed debris when riding on rough trails. Our article that explains how to choose mountain bike pedals for grip maximization discusses all the features of these and other pedal types. 
Pros:
Provide a surface for better grip
Increase comfort while riding
Prevent slippage in wet conditions
Don't allow for the collection of dirt, mud, and debris
Cons:
 Don't actually secure your feet to the pedals
You can only exert power on the down-stroke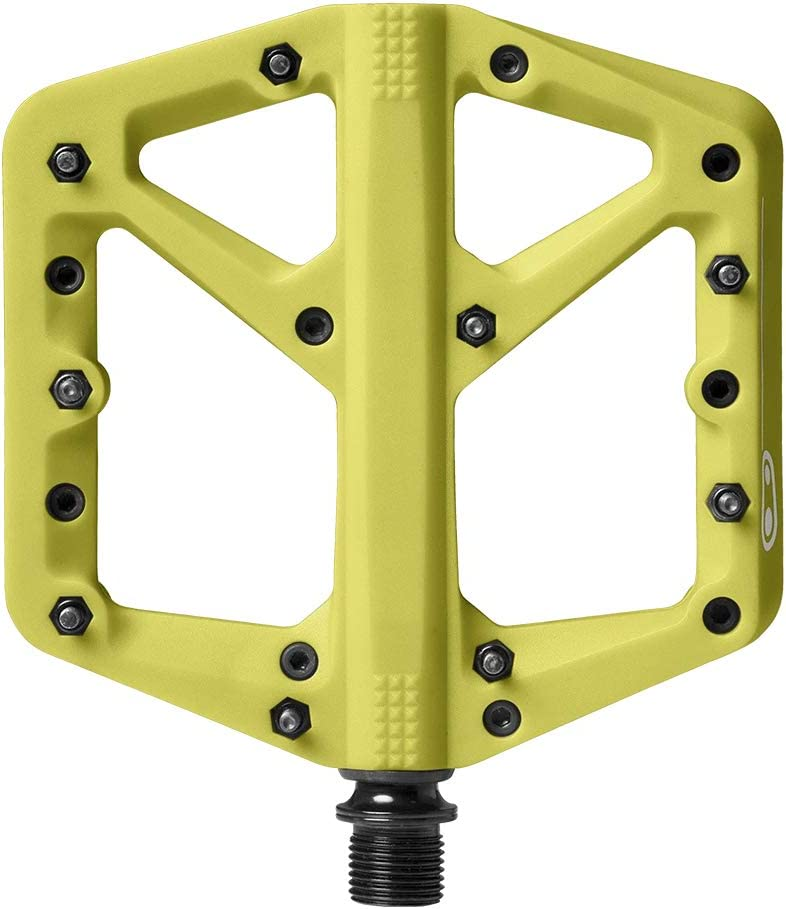 3. Pedal Straps
If you want to have the comfort of flat pedals but need additional support and grip on a flat pedal, you could use flats with straps. 
Pedal straps are flat pedals with straps threaded through them that go over the middle section of the rider's feet. Use pedal straps for the stability of a flat pedal with the security of being connected to the pedal.
Pedals like these are a great option since the straps are a bit more flexible and cause less pressure on your feet.
You can also adjust the straps to be looser or tighter. With straps, there's that additional security option as you might be able to quickly pull out your foot if you don't tighten them too much. 
Make sure you check out our comparison of pedal straps vs. cages. It is the perfect guide that could help you when purchasing your pedals. If you want to know how to make bike pedal straps then read our article for free templates and ideas about what materials to use.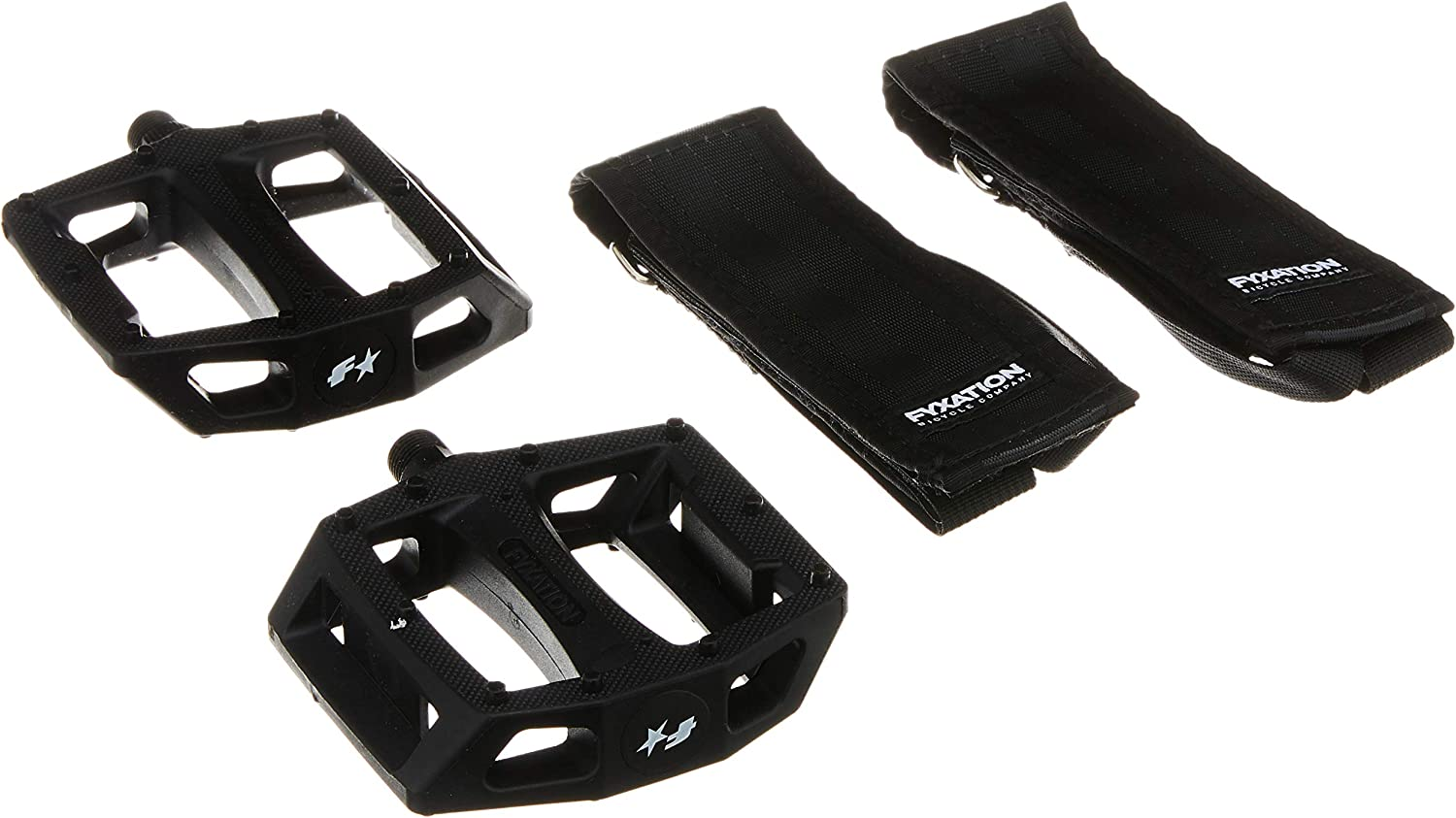 4. Toe-Clip Pedals
Toe-clip pedals are simply flat pedals with harnesses fixed on the front of the pedals to attach your feet to the pedals. They are similar to strap pedals, although those cover and support your foot from the sides as well. Clip pedals only use the clips to enhance your foot retention on the front. 
Toe-clip pedals are flat pedals with harnesses attached to the front of the pedals to secure the front of the rider's feet to the pedals. Use toe clip pedals to have maximum push and pull power while pedaling.
The cage can be adjusted and provides stability and maximum pedaling efficiency, due to your feet being firmly attached to the pedal surface without any slipping. This helps pedaling efficiency by giving the rider better control in both the down and up strokes. The improved upstroke is yet another great advantage of clip pedals. They expand the stroke cycle when compared to regular flat pedals that don't provide the best foot retention in some areas of the rotation. So if you are keen to try these pedals, our article about how to remove mountain bike pedals gives step-by-step instructions to make changing pedals a breeze.
These pedals make a perfect compromise if you are somewhere between flats and clip-in pedals it could be tricky to pull your foot out quickly in an emergency.
Pros:
Better cycling power transmission
Increases comfort while riding
Prevents slippage 
Provides better control of both up and down strokes
Cons:
 Could be tricky to remove your feet in an emergency
5. Clipless Pedals
Clipless pedals are somewhat confusing due to their name which might lead you to incorrect assumptions. Regardless of what it might sound like, these pedals use clips to fix your foot onto the pedal. Similarly to flat pedals with straps, your foot will have better retention on the pedal and therefore your cycling power will be improved.
Clipless pedals increase control while riding, prevent pedal slippage in wet conditions, and enable faster and more powerful cycling. Cleats that are installed under the rider's shoes clip into the clipless pedals. 
These pedals are exceptional for wet conditions as your foot won't be able to slide from the pedal, and you'll get a precise and more efficient stroke. You might be a bit frightened by the idea of it, but they do come with some serious advantages when compared to flats.
If you aren't new to biking and would like to get an even better experience, clipless pedals will do the job splendidly. Not only do they offer better foot retention, but you'll also enable you to ride faster, with even power distribution, and climb steep inclines with more proficiency on your mountain bike.
Clipless pedals tend to be more expensive than flats, so you should be prepared for an extra expense if you are going to pick this pedal type. Below are some of the advantages and disadvantages to keep in mind when considering clipless pedals:
Pros:
Better cycling power transmission
Increases comfort while riding
Prevents slippage in wet conditions
Enables faster cycling
Cons:
 Might be a bit expensive when compared to flats
There is a learning curve involved when mastering the techniques to attach and release the feet safely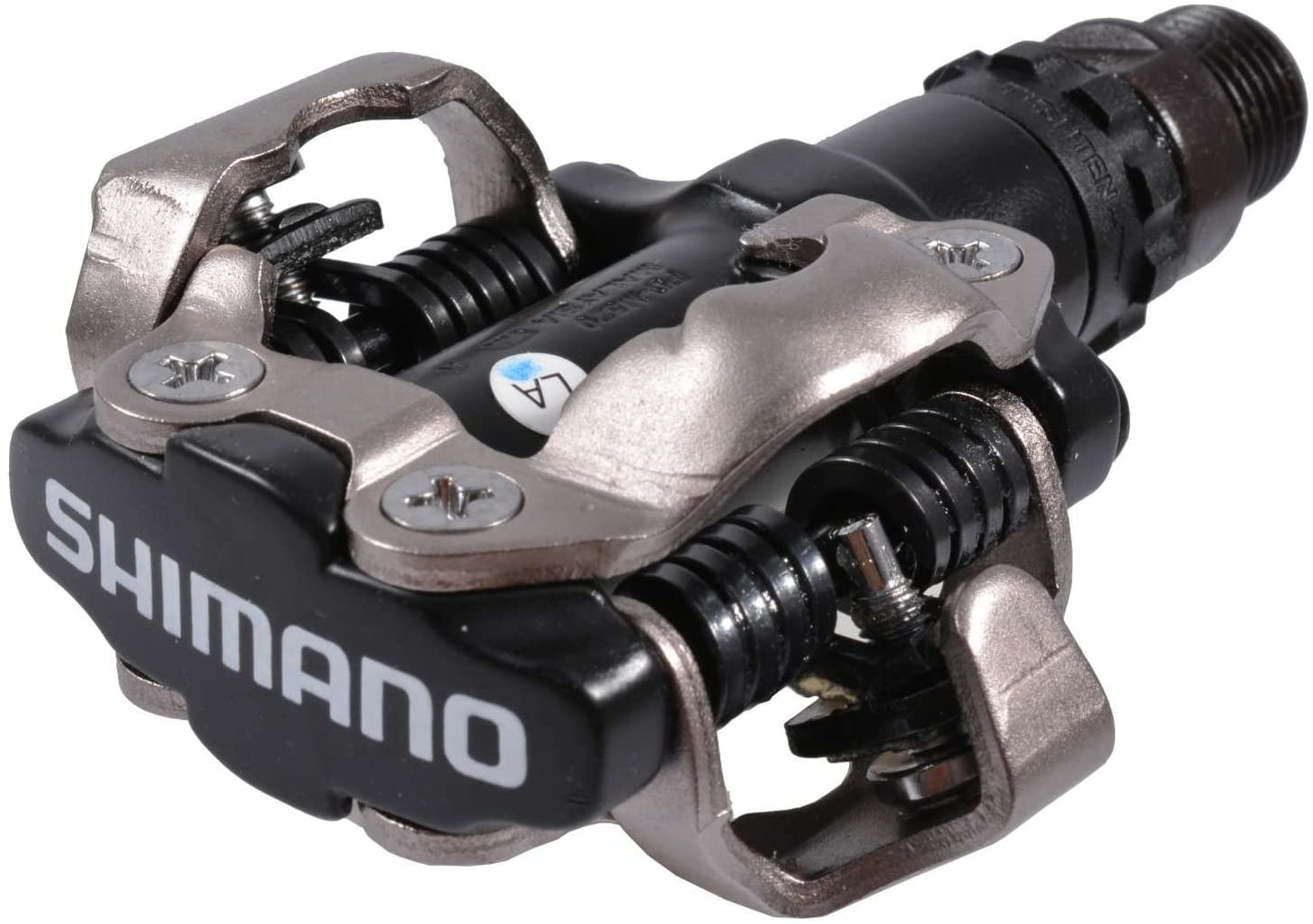 At this point, it might be helpful to know the ideal MTB saddle position for your body. Be sure to take a look at that article as well for more information. You might also be interested in learning more about the most common mountain bike problems, their causes, and solutions. Take a look at our related article for more details.
Safety Of Clipless Pedals
According to the book Cyclecraft by John Franklin, clipless pedals are safer than flat pedals with cages and flat pedals with straps and that is due to their built-in safety mechanism that lets your foot quickly release from the clips in an emergency.
This happens at certain foot angles, such as when you start to fall from the bike, or when your foot slips. Because of this, clipless pedals are better for experienced riders.
The safety release feature makes clipless pedals a viable option instead of toe clips or strap pedals but they take some getting used to. You can learn more about the enhanced safety that clipless pedals provide in our article that covers the benefits of clipless pedals on a mountain bike.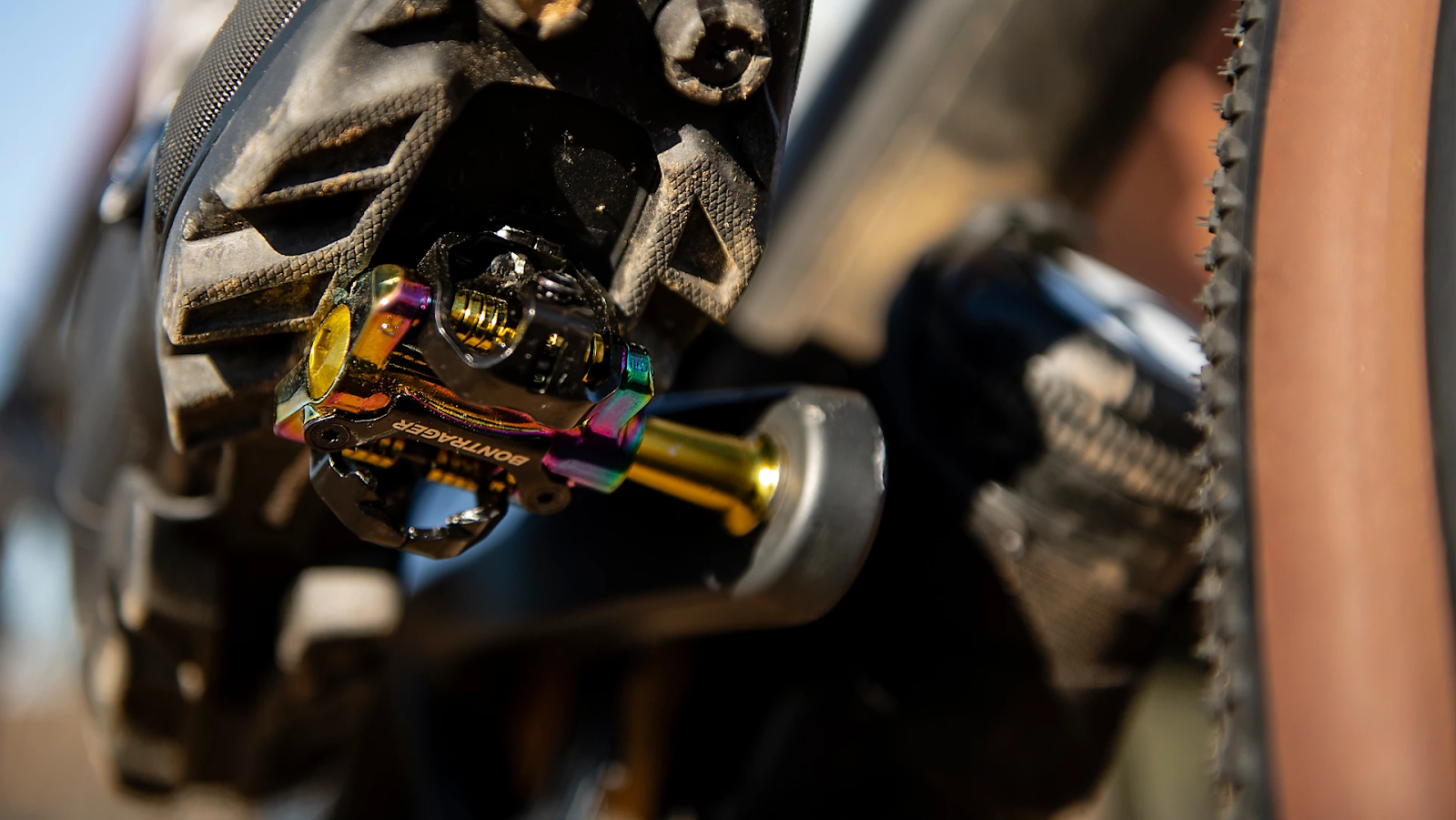 SPD Clipless Pedals
The term SPD clipless pedals refers to Shimano Pedaling Dynamics pedals. They are a product of a major bike pedal developer, Shimano, and are by far one of the most popular clipless pedal designs.
Many cyclists opt for pedals like these, as they are great for several reasons. First off, you can find walkable SPD cleats to pair with this pedal system. This comes in handy, especially if you are a mountain bike rider or an off-roader.
Another benefit of these pedals is the adjustment capability. The SPD pedals come with double-sided clips, and you can attach them to your SPD cleat from either side. It makes it much easier to fix the cleat to the pedal of your bike and also helps you to start cycling much easier and faster.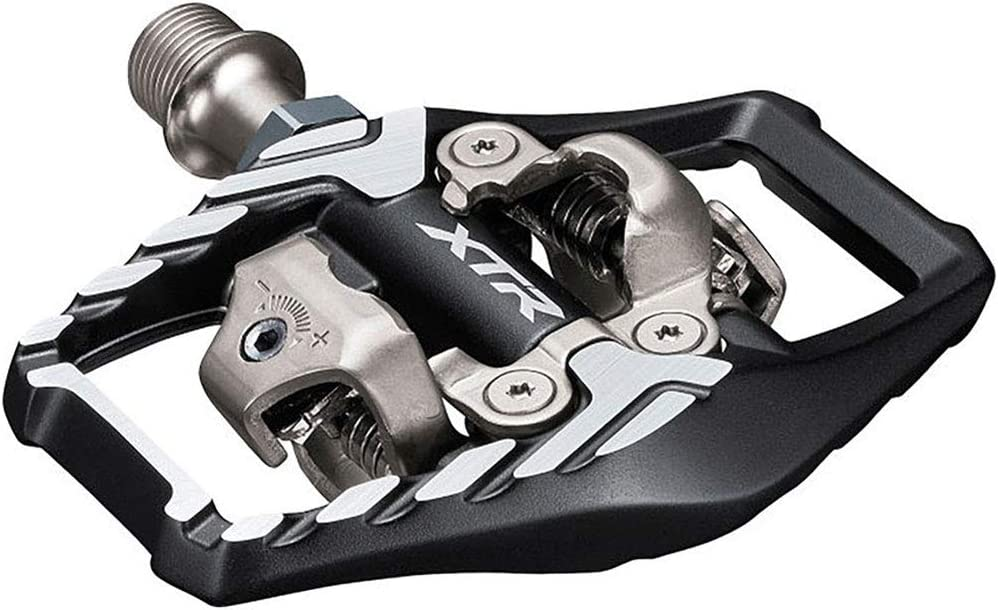 SPD-SL Pedals
The SPD-SL pedals are also clipless types of bike pedals made by Shimano and they tend to be just as popular as the SPD ones—although they are aimed at a different type of rider. These clip-in pedals are great for those who wish to get better cycling power distribution.
They come with a larger platform, and there are three bolts for foot retention on the surface of the platform. These lightweight pedals have plastic cleats, and their emphasis is on transferring as much power to the drivetrain as possible.
According to Shimano, SPD clipless pedals are aimed at mountain bikers and off-road bikers, these are great for everyday use and fast sprints on your road bike.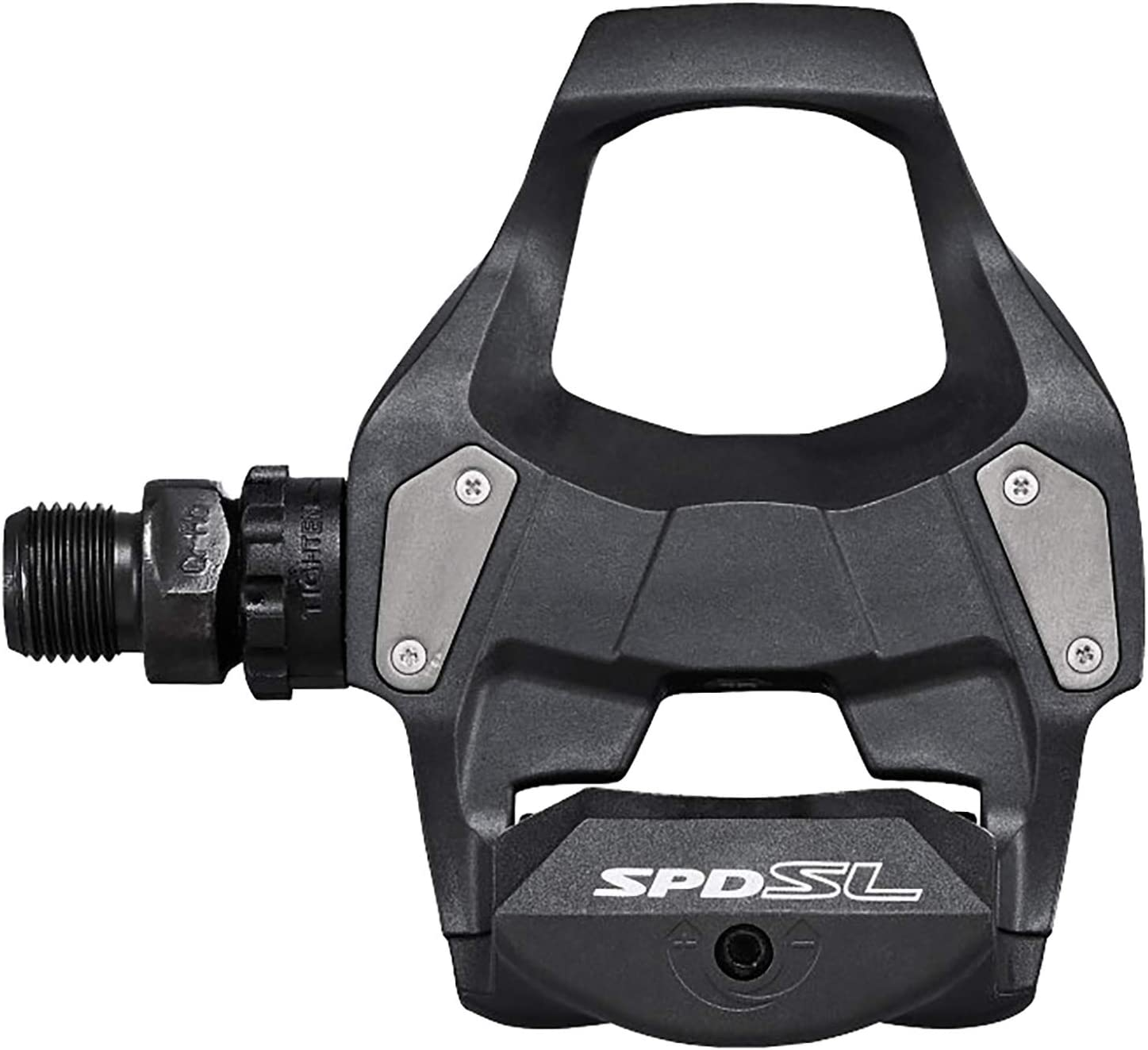 6. Hybrid Pedals
For those of you who still can't decide between the different types of flat and clipless pedals, there's a perfect option in between—hybrid pedals. These come with two separate sides, both of which can be used individually and changed according to your preference.
Hybrid pedals are a combination of toe-clip and clipless pedals. On one side, there's a clipless mechanism, while on the other side is a toe clip option. Choose hybrid pedals to have the option of both of these. 
So, it's up to you to choose between the two types and select the best option for you. If you are still new to clipless mechanisms and wish to make a transition from regular flat pedals, hybrid pedals like these are a great option.
They allow you to use the clipless mechanism side, while also being able to switch to a clip-less pedal at any moment. This way, you can learn to use the clipless side slowly and adjust to the techniques. On the other hand, it also has to do with your cycling cleats or shoes. If you go for a ride in your everyday shoes, you can use the toe clips.
Below is a summary of the main advantages and disadvantages of hybrid pedals:
Pros:
Gives you the chance to switch the two-pedal sides
Makes a great way for clipless pedal beginners to adjust
Offers versatility for different types of shoes or cycling cleats
Fits most bike types splendidly
Cons:
The clipless side is not as good as a regular clipless mechanism
7. Road Bike Pedals
Now that we've covered the main pedal types that are available, let's discuss the specific types that go well with your road bike. To do this, we need to get into the difference between the road bike pedals, spin bike pedals, and MTB pedals.
Road bike pedals are optimized for speed and focus on road performance, while MTB pedals are dedicated to enhancing support and stability. In comparison to spin bike pedals, road bike pedals have more of a cage design.
This makes it easy to recognize road bike-specific pedals like these. We've mentioned the importance of getting the most out of the biking speed, and clipless pedals will give you just that. Still, there are vast differences between the road bike clipless pedals and MTB clipless pedals, so keep reading if you don't want to buy the wrong pedals.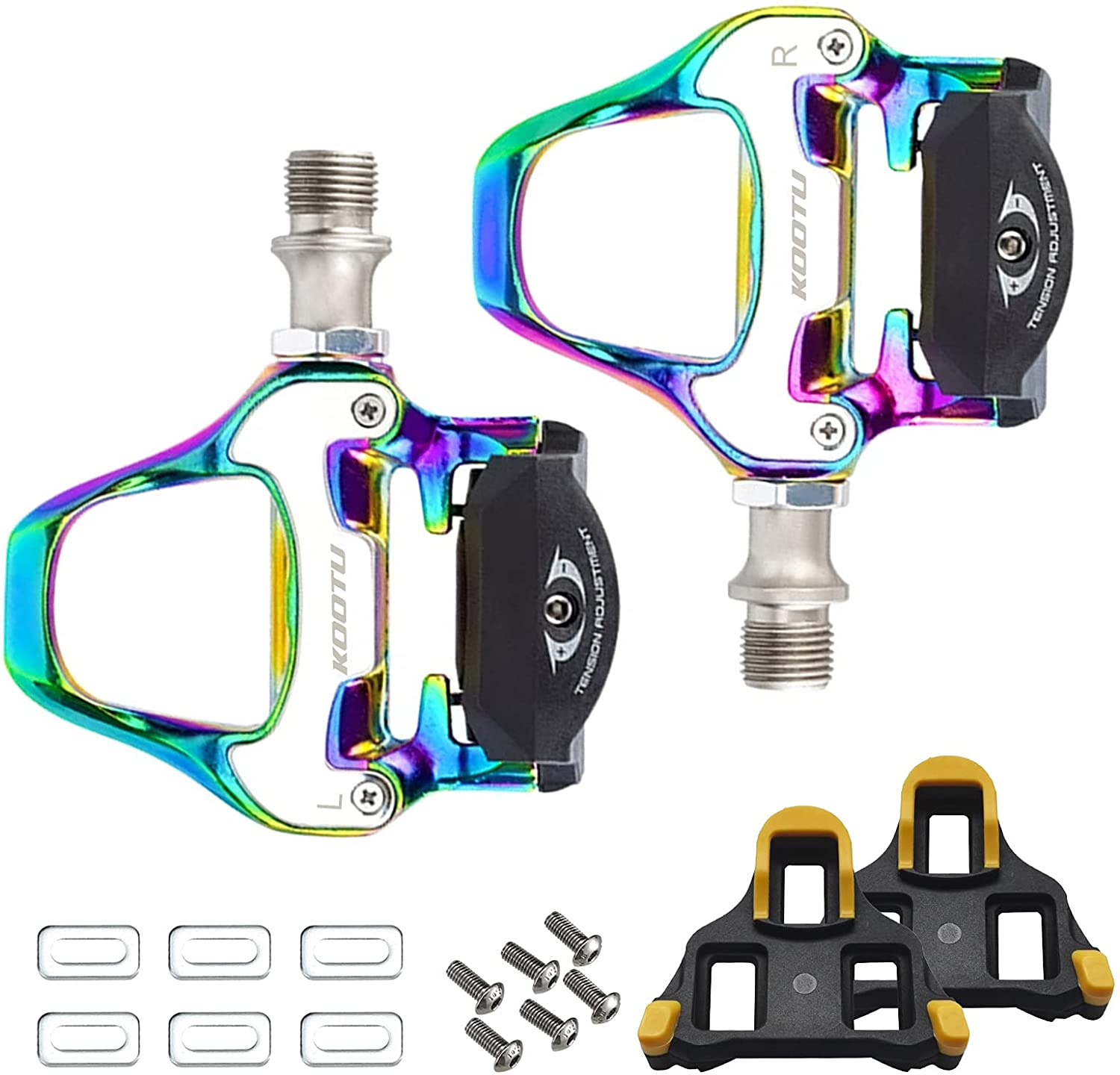 And in regards to upkeep, you might be interested to know when to replace a mountain bike chain. If so, be sure to read our related article to find out more. 
What Makes Road Bike Pedals Different Than MTB Pedals?
It's all about the main purpose of the bike pedal when it comes to differences in design. Road bike clipless pedals are different from the MTB clipless pedals and that is due to the three hole design that these pedals use for foot retention located on one side of the pedal.
Because of this, you can minimize the pedal's weight, which is much more efficient for cycling on a road bike because you'll get a better power thrust and handling. On the other hand, MTB clipless pedals mostly use two holes on both the front and the rear for maximum retention and to provide more stability.
The Best Pedal Types For A Road Bike
The ultimate choice of road bike pedals is anything from the clipless category. You can rely on pedals like these SPD-SL. Because of their large platform surface and lightweight design, these are perfect for a road bike sprint. You can pair them with this set of SPD-SL cleats for the best possible road bike combination.
Mountain Bike Pedals
MTB pedals come with a different intention in design when compared to road bike pedals. They are designed with stability and control in mind, as you'll be riding on mountainous terrain. So, foot retention and support are crucial, and you can choose from MTB flat pedals and MTB clipless pedals.
If you opt for flat pedals like these, you'll notice the obvious difference when compared to regular flats. Namely, these come with a slightly wider outer pedal frame to help you get a better grip on challenging surfaces. The design helps put pressure on your foot, which helps with the control and stability while riding.
Clipless MTB pedals like these have two bolts for cleat retention, usually located on the front and the rear of the pedal for maximum support. The important thing is that you can easily detach the cleat from the retention system in case of an emergency.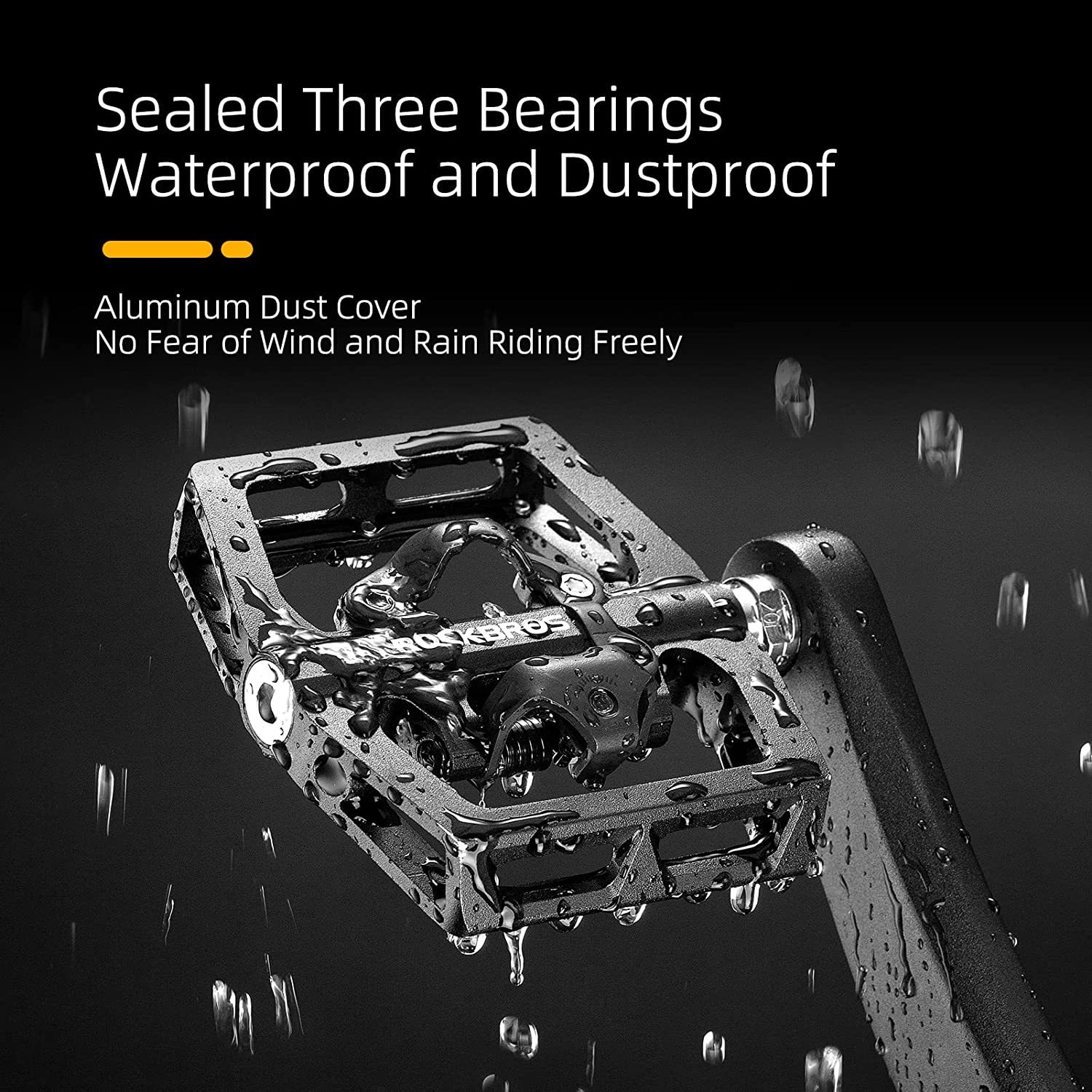 BMX Pedals
You can use different types of pedals on your BMX bike, including flats with toe cages, but the best option is a clipless pedal. Due to their design, they are quite similar to MTB pedals, and you can use most of the MTB clipless pedals like these on your BMX bike.
It's a safe bet to go with these Shimano MTB clipless pedals for your BMX bike or with some other brands like these Odyssey Twisted PC pedals or these Fooker pedals. These Crankbrothers Stamp 7 are a great flat pedal BMX option, that many stunt riders favor.
Spin Bike Pedals
Spin bikes use a similar pedal size to regular road bike pedals, so you can interchange them easily. You can also use toe clips or clipless pedals since the full retention during the upstroke is crucial for this type of pedal.
You can even clip in your spin bike with SPD pedals, and the choices are truly up to you as to what's your most comfortable option and the one with the highest retention. Still, you might be better off buying specific spin bike clip-in pedals as these are made to fit a spin bike perfectly.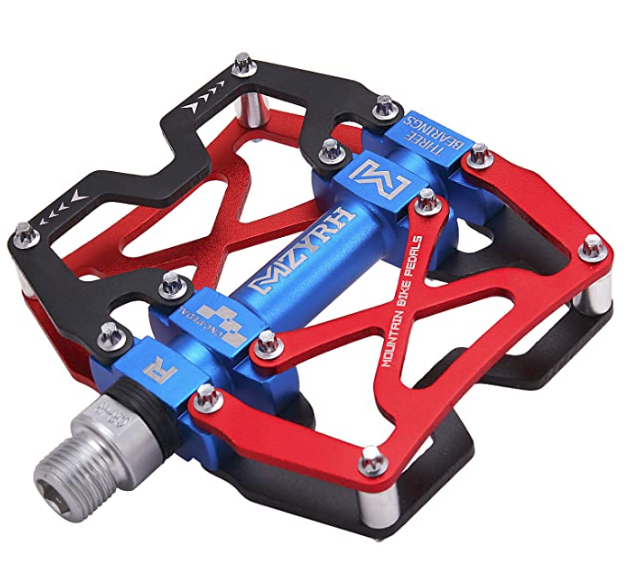 How to Choose The Right Bike Pedal For Your Needs
It is very important that you do a thorough assessment of what your needs are regarding the type of pedals that will work best for you. For you to do this and to choose the perfect pedals for your bike we have compiled the following comparison:
| | | | |
| --- | --- | --- | --- |
| Level & Type of Cycling | Recommended Type of Bike Pedal  | Why This Is Recommended | Product Example from Amazon |
| Novice recreational mountain bikers | MTB flat pedals | Easier to avoid accidents than clipless pedals | Bw Usa Berm Flat Mtb pedals |
| Commuters with fixed-gear bicycle | Flat pedals | Stopping at traffic lights might be a problem with clipless pedals | Road Bike Pedals |
| Cyclists getting used to clipless pedals | Hybrid pedals | The process is much easier when you can switch to flats if needed | Dual Function Pedal |
| Experienced Road Bike cyclists | Clipless road bike pedals | Provide better speed and power distribution than clipless ones | Carbon Road Bike Pedals |
| Experienced MTB cyclist | Clipless MTB pedals | Provide high stability for an MTB ride | Shimano Spd pedals |
| Beginner bikers | Platform pedals | Offer optimal learning conditions and a chance to avoid falls | Crank Brothers Stam 2 Platform Pedals |
| Experienced BMX biker | Clipless MTB pedals | Fit on BMX bikes perfectly | K Pedc Mtb Pedals |
Disclosures
This website is a participant in the Amazon Services LLC Associates Program, an affiliate advertising program designed to provide a means for us to earn fees by linking to Amazon.com and affiliated sites.