Differences Between Mountain Bike vs. Road Bike Seat posts & How to Choose the Right One
There are several types of bikes, each uniquely designed based on how they are used. However, mountain and road bikes are the most popular types. A mountain bike is meant for rugged terrain and is also called an off-road bike. A road bike, however, is meant for paved-surface riding, which includes streets, dedicated lanes, smoothed mountain paths, and other cycle paths. In this article, we'll discuss the difference between a mountain bike vs. road bike seat post.
There are no differences between mountain bike and road bike seat posts. Most seat posts are between 75 mm and 400 mm in length. Most common seat posts are 27.2 mm, 30.9 mm, or 31.6 mm in diameter. Choose 27.2 mm diameter seat posts for comfort on rough trails and 30.9mm or 31.6mm oversized seat posts for added strength and resistance against bending.
A bike seat post like this is an important part of any bike, whether a road bike or mountain bike. The seat post is a tube fixed into the bike's frame with the saddle of your bike attached to the other end of the post. There is no difference between mountain bike vs. road bike seat posts. But choosing the right length and diameter size seat post for a mountain bike according to the type of terrain you'll be riding can impact your comfort and riding experience as explained in this video tutorial by SpadOut.com.
If you're interested in learning the differences between road versus mountain bike saddles, be sure to read our related article to help you choose the right one.
Are Bike Seat posts Universal?
There are several types of seat posts, and most can be used on either a mountain bike or a road bike. A seat post is a connecting tube that fits into the bike frame's seat tube, extends upward, and has the saddle attached to its top, it can be raised higher or lower according to the rider's preference. 
Bike seat posts are not universal. Standard seat posts are 27.2mm, 30.9, or 31.6mm in diameter and between 75 mm and 400mm in length. Make sure that the diameter of the seat post is compatible with the mountain bike frame.  
You can learn more about seat post compatibility in this article by Level 9 sports. Our article about optimal seat tube angles explains the fixed angle of a bike and how to adjust that angle for better comfort and control.
Tips For Choosing an MTB or Road Bike Seat post
A seat post has adjustable height configurations that the rider can alter for better comfort and to assist with better steering according to the type of terrain encountered. 
When choosing a bike seat post, consider the seat post size, the material used in manufacturing the seat post, the type of clamp on the seat post, and whether or not you need a layback seat post. 
This article from IEEE Xplore explains how adjusting the seat post height according to the rider's body can improve their posture and handling. The seat post materials and size need also to be compatible with the bike frame.
Follow these tips when choosing a seat post:
Tip 1. Make Sure the Bicycle Frame Is Compatible With the Diameter of the Seat Post
The first thing to determine when choosing a bike seat post is the diameter. When determining the diameter of the seat post best suited for your bike, you must first measure the diameter inside the seat tube because the seat post needs to fit into the seat tube. Most mountain bike frames are compatible with seat posts of either 27.2mm ('standard'), 30.9, or 31.6mm ('oversize'). 
Each seat post has its benefits, depending on what you want. A wider seat post guarantees a firmer hold in the seat tube. They also ensure strength and durability. The only potential con to a large seat post is the added weight. Narrow seat posts are lighter but may slide down during rides if they don't fit snuggly into the seat tube. Our article about how to fix a mountain bike seat that keeps sliding down discusses ways to prevent this potentially dangerous situation. 
Tip 2. Buy Aluminum Seat Posts To Save Money and Carbon Seat Posts To Reduce Bicycle Weight
The most common materials used in manufacturing seat post is aluminum and carbon. Aluminum seat posts like this have more weight and are very durable. They, however, are not the best at absorbing vibration from riding as much as carbon seat posts. This article from the Engineering of Sport Journal explains the benefits of using fiber-reinforced composites in bicycle designs. Carbon seat posts are lighter; however, they are more expensive. You can use carbon and aluminum carbon posts for either a mountain bike or a road seat.
Tip 3. Ensure That the Seat Post Clamps Are Compatible With the Saddle Rails
The seat post serves as a connection between the saddle and the seat tube. Both the saddle and the seat tube are attached to the seat post with clamps. The clamps come in two types, the quick-release seat clamp like this one and the Allen key seat clamp like this one. The Allen key seat clamp comes with two bolts, so you would need an Allen wrench to attach it to the post. The quick-release clamp uses a lever to tighten or loosen its grip around the seat post and the tube and is easier to install.
Most seat posts come with a clamp designed to accommodate twin-rail saddles with bolts to secure the saddle. This clamp gives the rider a wide range of forward and backward adjustments for saddle placement. This is very important as bikers need to be able to adjust how far back or close to the frame they need their saddle to be. Our article about how to fit a mountain bike saddle explains how adjusting the height, angle, and position of the saddle improves comfort and riding posture.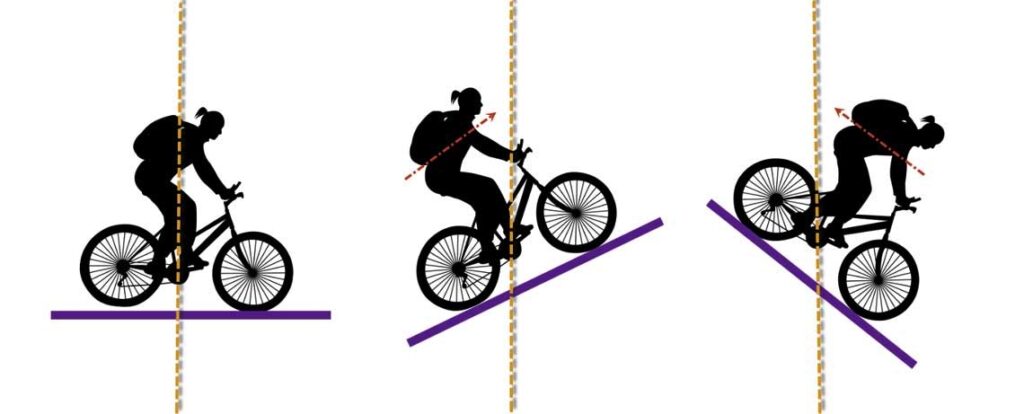 Tip 4. A Layback In A Seat Post Will Affect How High or Low You Can Move The Seat
A layback in a seat post is a slight bend at the top of the set post like this one has. It isn't common in every seat post; however, a layback seat post is useful for riders who might not get comfortable riding positions with the straight seat post. The layback in a seat post is different from the seat back. A seat back talks about how far back from the seat post the clamp is situated. The two terms are used interchangeably. However, the layback is an obvious bend in the seat post.
Similarly, you may find interest in our article explaining what to do if your mountain bike handlebar keeps twisting. Make sure to read our related article for more information.
Bike Seat Post Sizes 
The diameter of your seat post definitely has an effect on your riding experience. In this section, we shall look at the standard seat post sizes and their individual characteristics.
Common bike seat posts are 27.2 mm, 30.9 mm, or 31.6 mm in diameter. The length of a bike seat post can range from 75 mm to more than 400 mm. When considering bike seat post sizes, choose 27.2mm as a standard seat post size for comfort on rough surfaces, and choose 30.9mm or 31.6mm oversized seat posts for added strength, durability, and resistance against bending when riding on very bumpy terrain.
According to this article from Level 9 sports, the diameter of the inside of the seat tube determines the diameter of the seat post that you go should go for. 
Choose between the following sizes when buying a seat post:
Size 1. 27.2mm Seat Post
A 27.2mm seat post like this is the standard size for seat posts. These seat posts would fit directly into your set tube without any need for padding, and they also don't require extra force inserting them into the tube. The standard seat post is perfect for almost all seat tubes.
Size 2. 30.9mm Seat Post 
A 30.9mm seat post like this is a much wider seat post. It offers extra grip that a standard seat post doesn't. This seat post size also offers more strength and durability to counter the effect of extremely rough terrain.
Size 3. 31.6mm Seat Post
A 31.6mm seat post like this offers even more strength and durability than the 30.9mm diameter seat post. These seat posts are a step ahead of the 30.9mm seat post. They are stronger, more sturdy, and add more weight to the bike frame. 
Bike Seat Post Types
There are several types of bike seat posts. Each one has unique features that make them suitable for specific functions. In this section, we shall be discussing the different types of bike seat posts that exist including their features, and the best way to use them. 
The four types of bike seat posts include aeroposts, dropper posts, suspension posts, and micro-adjustable seat posts. Choose an aeropost seat post to improve aerodynamic performance, a dropper post for quick adjustability, and suspension posts for increased comfort. 
The type of seat post affects the load bearing and stress points on the bicycle frame as this article by Procedia Engineering explains.
Type 1. Aeroposts
Aerodynamics in a bike defines how a bike is shaped and designed to reduce the effect of air that can slow it down. Aeroposts, like this one, are seat posts designed and shaped to match and enhance the aerodynamic shape of a bike frame. Where other bike seat post types can be used on several types of bikes, the aeroposts are designed to match the frame and bike model.
Type 2. Dropper Posts
Dropper posts like these are the most recent advancement in seat post technology. Dropper posts are seat posts with heights that you can control from the handlebar of the bike. This is made possible by cables that connect them to a trigger on the handlebar. Dropper posts are the best option for riders who often have to adjust the heights of their seat post for various terrains. When thinking about mountain bike vs. road bike seat posts, dropper posts are more common on mountain bikes. With the dropper post, you don't need to dismount to manually adjust the height. The dropper post gives you the option to seamlessly control its height while riding
Type 3. Suspension Seat posts
Suspension seat posts are heavier and often come with an inbuilt shock absorber. This attribute makes them somewhat common on hybrid and mountain bikes. As this article from the International Journal of Sports Medicine explains, suspension features on mountain bikes can improve rider performance because it reduces energy expenditure and physical exertion. 
Type 4. Micro-Adjustable Seat posts
Micro-adjustable seat posts like this, as the name suggests, are seat posts with a micro-adjustable clamp that allows for easy and precise saddle adjustments. These seat posts are relatively light and have a simple design. Micro-adjustable seat posts are less commonly used as mountain bike vs. road bike seat posts since road bikes require more tweaks and are used daily. 
A Summary of Bicycle Seat Post Types
You may also find interest in reading our quick guide to mountain bike seat replacement. If so, be sure to check out our related article to find out more.
Do I Need a Bicycle Seat Post Extender?
When thinking about mountain bike vs. road bike seat posts, a seat post extender is a bike accessory that can be attached to both to make it longer. 
Use a seat post extender for warm-ups before a race, to improve comfort, to change riding positions, and when riding a smaller bike.
Our article about choosing a mountain bike extended seat post explains when to use an extender and what to look for when choosing a seat post extender for your mountain bike.
Riders use seat post extenders for these reasons:
Reason 1. For Warm-ups and Comfort for Racers
Seat post extenders are favored by many MTB racers. The seat posts of race bikes are usually shorter to assist with aerodynamics. However, some racers like to have variable heights during warm-up sessions or to alter their riding posture during a race. This is when the seat post extender is most useful.
Reason 2. For More Convenience When Riding
Riding experience and skill levels differ from rider to rider. If you feel like the length of your seat post is not long enough for your style of riding, then using a seat post extender will provide you with an alternative length. Our article that discusses whether you should position the seat of a mountain bike higher than the handlebar explains where to position your seat for better comfort and stability. 
Reason 3. For Riding a Smaller Bike
One of the most important factors to consider before buying a bike is the size. Using the wrong size bike can be very frustrating and uncomfortable. We suggest you read our article about mountain bike sizes which includes a bike size comparison chart before purchasing your bike. However, if you are stuck with a small bike, one of the ways to make riding slightly more comfortable might be to use a seat post extender.
Disclosures
This website is a participant in the Amazon Services LLC Associates Program, an affiliate advertising program designed to provide a means for us to earn fees by linking to Amazon.com and affiliated sites.