How to Choose Mountain Bike Toe Clip Compatible Shoes
Your pedal and shoe compatibility is a crucial element that directly affects how comfortable, safe, and enjoyable your ride can be. Hence, choosing the right shoes is an important task that requires enough knowledge about the types of shoes available and how they can meet your needs. For maximum comfort when using flat pedals with toe clips you would need to choose a pair of mountain bike toe clip compatible shoes.
Most shoes are compatible with mountain bike toe clips except cleats. Choose shoes with pointed toes, flat soles, leather tops, and light weights to maximize comfort and compatibility. 
Cycling products manufacturers have asserted that the type of shoes you choose adds a lot to your riding experience and boosts the efficiency of your pedals. In this article, we will help you choose mountain bike shoes that can be compatible with toe clips to make it easier for you to know more about the features that make a pair of shoes work effectively well with toe clips. It is also a good idea to remember that you are actually wanting to choose mountain bike pedals for grip maximization as we discuss in our article.
What Is a Toe Clip and How Does it Work?
Toe clips are small cages attached to the front of flat pedals designed to house the cyclist's toes when pedaling. The clips or cages bolt onto the body of the pedals and are used with straps that boost the usability of the toe clips. These straps are attached to the toe clips which are attached to regular flat pedals and are designed to square the ball of your feet while your toes are in the clips preventing them from slipping. 
Toe clips are harnesses attached to the front of flat pedals that secure the cyclist's feet to the pedals for optimal pedaling power, control, and safety. 
As our detailed guide outlines, there are many types of toe clips like these available on the market. The most common are the basic toe clip design, and then are also clips with cleats that are designed to clip into clipless pedals. To find out more check out our article that compares pedal straps vs. toe clips with tricks to pick the right one.
Benefits of Toe Clips 
It has been proven that toe clips can boost cyclists' safety and comfort to a great extent. This article from MKS asserts that toe clips add many advantages to the pedals they manufacture. The first and the most important one of these advantages is their ability to help the cyclist position his foot on the pedal securely enough to prevent slipping. Toe clips maximize the stability of the cyclist while pedaling by holding the front of the shoe in place. This prevents the possibility of slipping off while cycling and ensures comfort and safety. Besides that, using toe clips helps to expand the power stroke by expanding the contact surface area compared to riding without them. 
Not only this but using toe clips while cycling even has some health benefits as shown in this study by SAGE Journals that examines 10 cyclists to see the impact of using toe clips on the cyclists' respiratory health during a cycle ergometer test.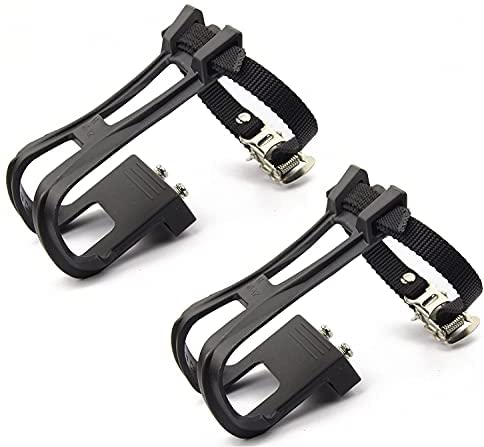 Similarly, be sure to read our related article explaining if bicycle toe clips are dangerous. You will find an array of expert literature in this related article.
Are Mountain Bike Toe Clip Shoes Better than MTB Cleat Shoes?
There is no better or worse as it comes down to personal preference and different needs. Both Mountain bike toe clip shoes and MTB cleat shoes are designed for certain purposes and are meant to be used for specific circumstances. Choosing between them will depend on why you are using them as the type of your ride and the nature of the terrain etc. 
In general, Mtb cleat shoes are preferred over mountain bike toe clip shoes because they are easy to clip in and out, offer a firm grip on the pedals, and can be useful for more types of rides compared to toe clip shoes. 
There is, however, a general tendency toward MTB cleat shoes but we provide a list of the pros and cons of cleat shoes and toe clip shoes so that you can decide for yourself. This handy video tutorial also provides an in-depth comparison of toe clips and clipless pedals.
Our article about the benefits of clipless pedals will clarify why MTB cleat shoes are a popular choice.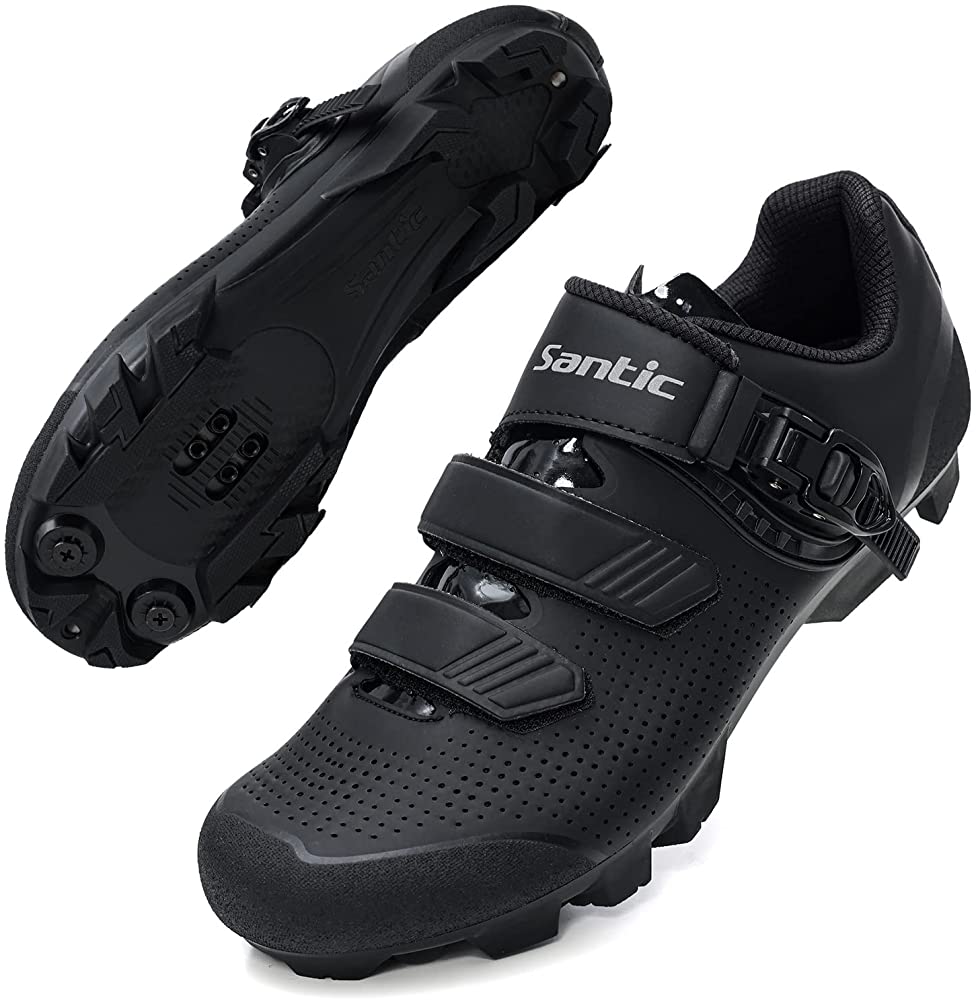 Toe Clip Shoes Pros And Cons 
Mountain bike toe clip compatible shoes include most running and walking shoes. However, cleats do not fit into toe clips because they are designed for clipless pedals.
Pros
The most preferable thing about toe clip shoes is that they are affordable. For toe clips, you can literally wear any sports shoes available like these, and they will do perfectly fine. There is no need to purchase special shoes to suit toe clips which makes it an easy option for cyclists. 
Toe clip shoes are also great in terms of affordability as they don't require a special type of pedal to be used since they can be any regular sports shoes. They can work with any pedal toe clips. 
Besides affordability, toe clip shoes can offer a great riding experience by being secured to the toe clip and, in turn, to the pedals to ensure safety, efficiency, and comfort. 
Cons
The biggest disadvantage of toe clip shoes is the fact that they cannot be used for all types of rides. They can be perfect for trekking, touring, and commuting but not for mountain biking. For riding over rough terrain, toe clip shoes are not the best option. This is because shoes are not easy to pull out of the toe clips like these and the strap which again makes it hard to use them in rough terrain compared to cleat shoes. When it comes to their efficiency, toe clip shoes are not as efficient as cleat shoes in terms of the safety and comfort provided. 
You might also want to take a look at our related article that takes an in-depth look at whether or not bicycle toe clips are dangerous. You might be surprised at what the findings are.
Cleat Shoes Pros and Cons 
Pros
One of the great things about cleat shoes is the fact that they allow cyclists to gain and maintain high speeds while riding compared to riding with a  pair of regular shoes. In addition, cleat shoes are more comfortable for cyclists since they are mainly designed for cycling purposes in comparison to regular shoes. They also help the cyclists to remain connected to the pedals which offers comfort and stability. Over and above this riding with cleat shoes ensures optimum power delivery.  
Cons 
The biggest con of cleat shoes is the price, as you will see on the Steel Vintage web page, compared to the prices of shoes for the toe clip system, which can be as affordable as any regular sports shoe. Also, cleat shoes could cost more as you will need to buy the whole clipless pedal setup. Moreover, depending on your usage, you will have to replace cleats every 6-12 months to keep your clipless gear working efficiently. 
Tips for Choosing Mountain Bike Toe Clip Compatible Shoes
Since you can use any type of sports shoes with toe clips, choosing the right pair of shoes can be challenging. It is very important to select shoes with certain features that can add a lot to the efficiency of your shoes. We discuss below some of the most important features to look for when choosing shoes for your toe clips. 
When choosing mountain bike toe clip compatible shoes, ensure the shoes are lightweight and small and have pointed toes, flat soles, and leather tops. 
Check out this thread on StackExchange that discusses the shoes that cyclists are using to find out more about what works and what doesn't work. You can also find some useful information, to help you choose between mountain bike toe clips and clipless pedals, in our article.
Tip 1. Ensure the Shoes are Lightweight and Small
When selecting a pair of shoes to use with toe clips, it is extremely important to avoid getting bulky heavy designs. Some models run large, while others run small. The bulkier the shoes are, the more difficult it will be to get your feet in and out of the clips. Although this might be a good thing for competitive riding, it is not the same with commuting or touring. A bad fit may ruin your cycling experience, no matter how good the shoes may look. As a result, it's always a good idea to choose a pair of shoes like these that are simple and lightweight. 
Tip 2. Ensure the Shoes Have Pointed Toes
Another important tip for choosing a pair of shoes that are compatible with toe clips is to ensure that the shoes have pointy toes as these do. Some shoe designs feature a wide, square toe area. This will pose a problem when using them with toe clips. Pointy toes will make it very easy for you to slip your feet in the toe cages, unlike bulky wide toes that will be very hard to slip into the toe cage. It is also recommended to try your shoes first with your toe clips to make sure they fit perfectly well with them.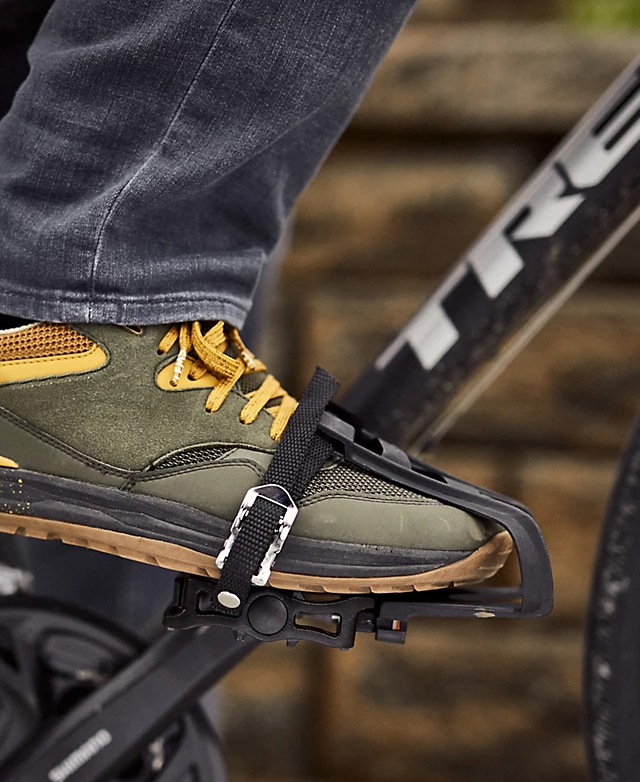 Tip 3. Select Shoes With Flat Soles 
A very important element to take into consideration when selecting a pair of shoes to use with toe clips is to make sure the shoes have flat soles like these do. Shoes that feature sole treads are not a good choice for pedaling with a toe clip. This is because treads tend to get caught in the pedals. A pair of shoes with flat soles will make it easier to get your feet in and out of the toe clip and ensure a smooth ride.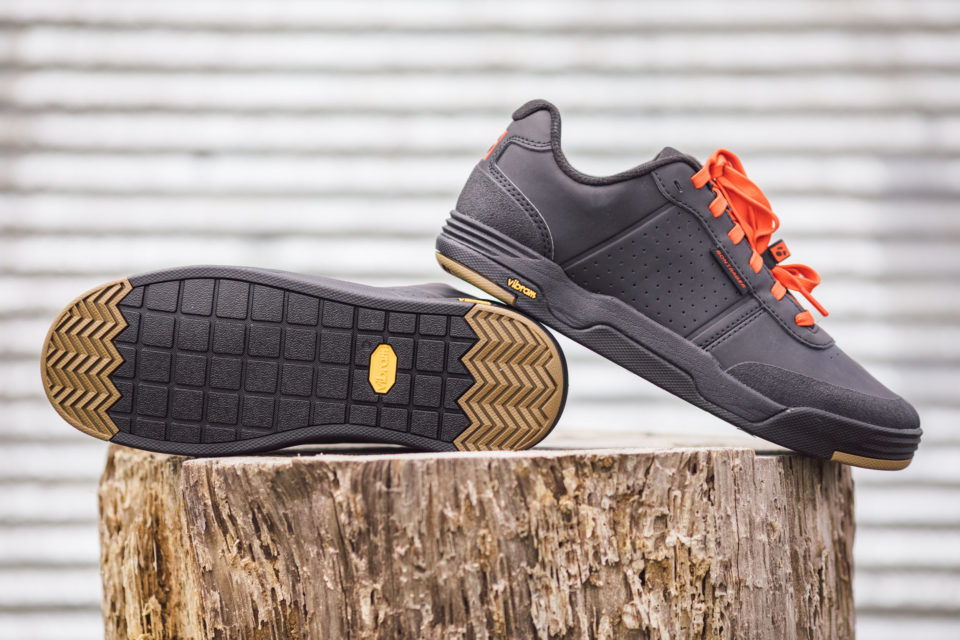 Tip 4. Choose a Pair of Shoes With Leather Tops
Another important tip for choosing a pair of shoes to use with toe clips is to make sure the shoes have leather tops. Leather uppers offer great protection for your feet and ensure that your feet won't hurt after a short time of riding. A stiff upper material offers great protection for your feet compared to other materials. Metal and plastic toe clips can easily cut through some materials and hurt your feet or at least press on them and cause you pain.  
Mountain Bike Shoes Versus Toe Clip Pedal Compatibility Chart
| | | | | | |
| --- | --- | --- | --- | --- | --- |
| Mountain bike shoe | Shoe Dimensions & Weight | Closure System | Toe Clip Pedal Compatibility | Outsole | Price |
| Five Ten Freerider Pro | 9x13x5 inches; 2.45 Pounds | Lace-up closure. | With flat pedals, mountain, and Enduro Race. Compatible with toe clips. | Stealth® S1 rubber outsole. and medium-stiff midsole. | $85 - $270 |
| X-Alp Launch | 12.6 x 8.07 x 4.13 inches; 1.94 Pounds | The award-winning BOA® Fit System. Hub dial and wire. | Flat pedals. Compatible with toe clips. | PinLoc Outsole™, in partnership with Goodyear®.. | $150 - $285 |
| Northwave Clan | 12 x 9 x 5 inches; 2.6 Pounds | Thread lacing | Platform pedals. Compatible with toe clips. | Michelin rubber sole. | ~$115 - ~$155 |
| Tommaso Vertice  | 12.8 x 9.8 x 4.7 inches; 2.2 Pounds | Velcro straps | Cleats not compatible with toe clips | Vibram Sole | ~$85 - ~$95 |
Disclosures
This website is a participant in the Amazon Services LLC Associates Program, an affiliate advertising program designed to provide a means for us to earn fees by linking to Amazon.com and affiliated sites.