Types of Mountain Bike Toe Clips – a Detailed Guide
Did you know that bike pedals weren't originally part of the bike? The pedal cranks were added to the original invention in 1853, almost four decades after Karl von Drais developed the first bike. These pedals were flat, so they couldn't be pulled up to gather more strength for the downstroke and the riders' feet would slide around on the pedal, unlike the different types of mountain bike toe clips available today.
Different types of mountain bike toe clips include basic toe clips, hybrid toe clips, toe clip pedals with cleats, toe clip pedals with reflectors, and dual-platform pedals.
Then in the late 1890s, a new pedal entered the market; a pedal that keeps your foot in place on a downhill and more challenging ride - the toe clip pedal. Our detailed guide that compares pedal straps vs. toe clips explains a bit more about these and other types of pedals. So in a century, we've come from no pedals to an overwhelming choice! Keep reading to figure out which type of pedal best suits your mountain bike riding style.
What is a Mountain Bike Toe Clip?
Mountain bike clips are straps made from various materials attached to the pedal, intended to keep the foot from slipping during pedaling and riding. But there's no one size fits all. Since there are different types of bikes and riding styles, the toe clips that suit mountain bike riding are different from road biking.
Mountain bike toe clips are small harnesses for feet, designed for moving the bike pedal by moving the rider's feet without working to maintain a grip on the pedal. Hybrid toe clips are clipless on one side and a flat bike pedal on the other, while toe clip pedals with clipless pedals provide peak pedal efficiency. With regards to safety, toe clip pedals with reflectors improve visibility for oncoming cars. Dual platform pedals for mountain bikes make it easy to share your bike with someone who doesn't use shoes for clipless pedals.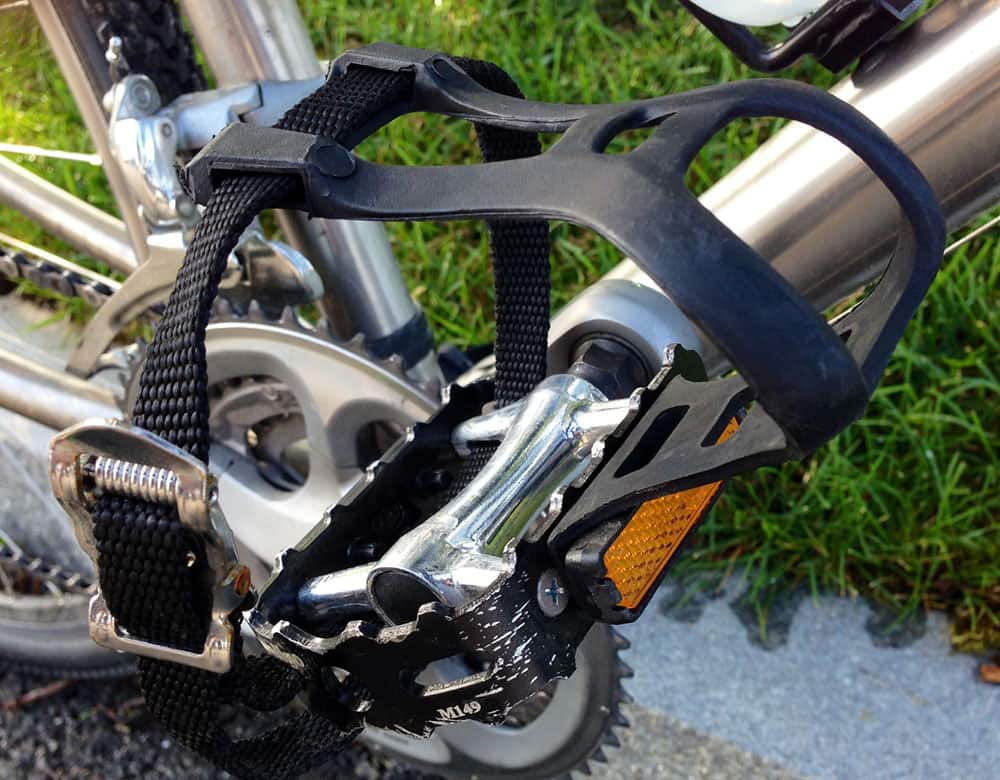 Types of Moutain Bike Toe Clips
Here we list the five mountain bike toe clip options:
1. Basic Toe Clips
These basic toe clips follow the original design from 1911, where the only purpose was to make pedaling more efficient. These toe clips are a simple cage going around the front of your foot for a better pedal stroke. Usually, an adjustable nylon strap goes over the foot to keep it in place.
Some manufacturers enhance the basic design with details like colored straps or reflectors. You install basic toe clips either by attaching them to the front of the pedal or by circling the pedal body as we explain in our article about how to install pedal straps and toe clips.
The basic toe clips are a good option for beginners who don't have much pedaling experience. Although toe clips provide better pedaling, they can be hard to adjust to. Some basic toe clips also come without a strap, which gives some sense of security to beginner or less experienced mountain bike riders that they won't fall because their feet are strapped to the pedal. If you are a beginner rider then our guide on what mountain bike you should buy may have some handy tips for you.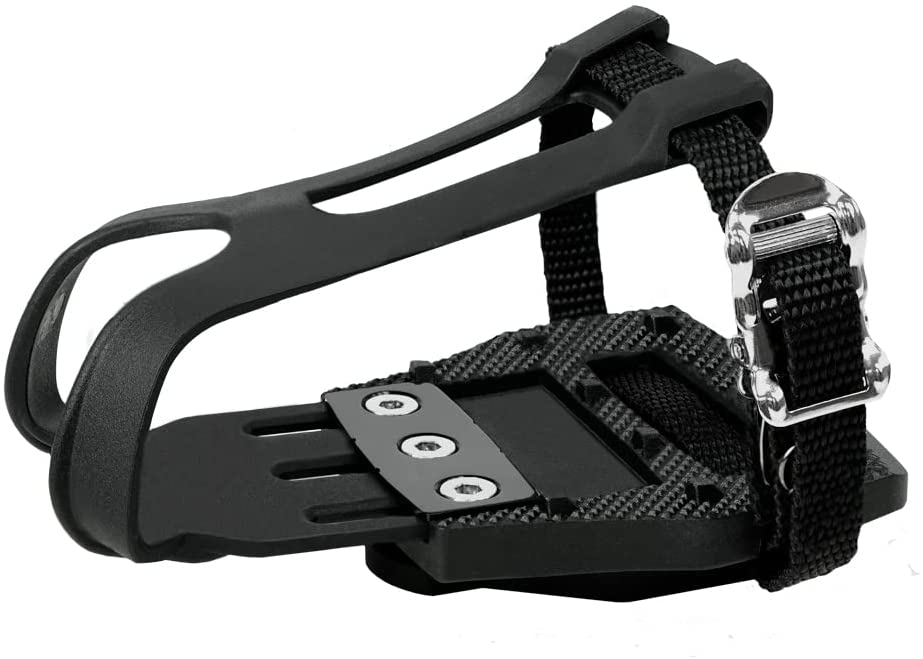 2. Hybrid Toe Clips
These hybrid toe clips combine the perks of clipless pedals and toe clips. The dual-sided pedals have a clipless side that attaches to specific cycling shoes, and the other side is a regular flat bike pedal. Being a hybrid the optional toe clip makes them versatile.
Hybrid toe clips are ideal for bikers who tackle different types of terrain and don't always want to use toe clips. But with these, there's an option for riders who want to use a clipless pedal or a toe clip interchangeably.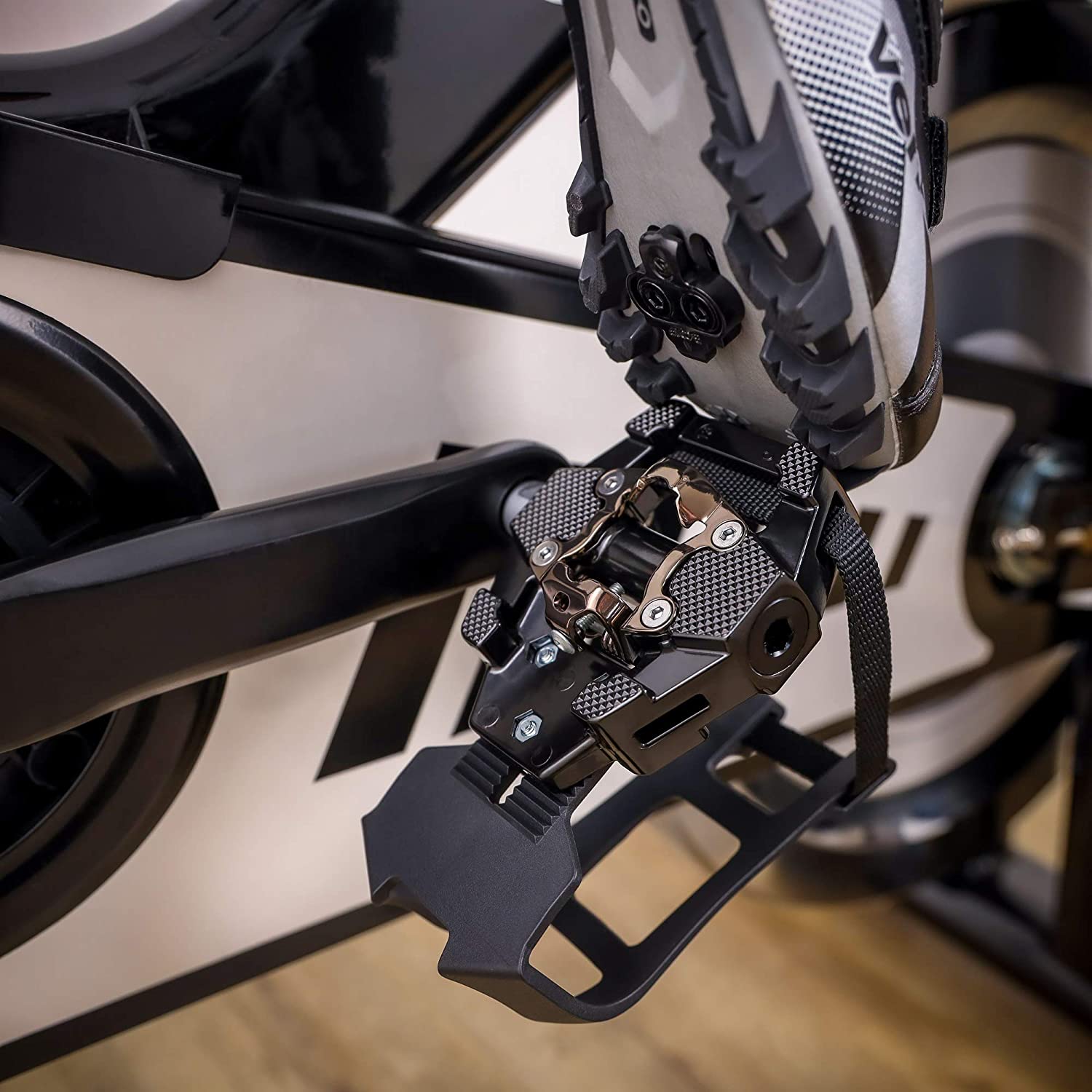 3. Clipless Pedals with Toe Clips
These clipless pedals with toe clips provide maximum pedaling efficiency. The rider must have shoes with cleats attached to the soles. The cleats attach to the pedal by clipping into a bracket on the pedal and then the rider turns their feet at a certain angle to get them out.
Note that clipless pedals with toe clips do not reduce oxygen consumption or increase gross cycling efficiency, as shown in this article from the Journal of Sports Medicine. However, they do reduce muscle function required, according to electromyography studies performed by Cruz et al. in the Journal of Electromyography and Clinical Neurophysiology.
Toe clips allow you to pedal at maximum speed without losing your grip on the pedals while maintaining optimum pedaling efficiency. If you're concerned about grip, check out our article on how to choose mountain bike pedals for grip. With toe clips, you can also use any kind of shoes and still have a great grip. The toe clip part is attached to the pedal with bolts and is adjustable to fit different feet and shoe sizes. The pedal's platform is grippy enough to be used with regular shoes.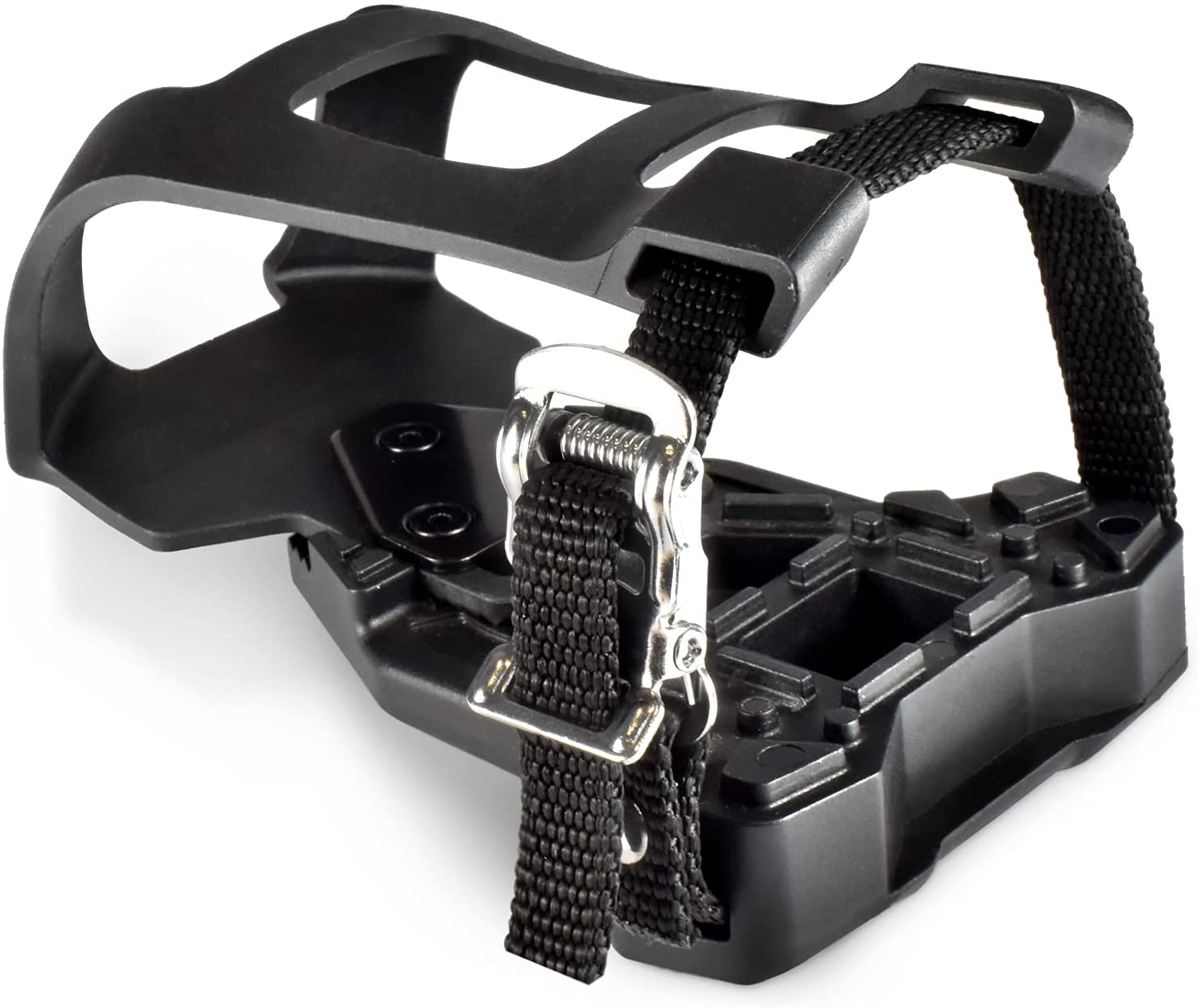 4. Toe Clip Pedals with Reflectors
Reflectors help you to be more visible to oncoming cars. If you use your mountain bike for any road biking at all, consider toe clip pedals with reflectors like these. Toe clips could cover the existing reflectors as we explain in our guide on mountain bike toe clip installation and use, so it's better to purchase bike pedals with reflectors and toe clips already installed. 
These are usually more basic models with less detail than reversible platforms or adjustable toe clips, but they do come with an adjustable strap.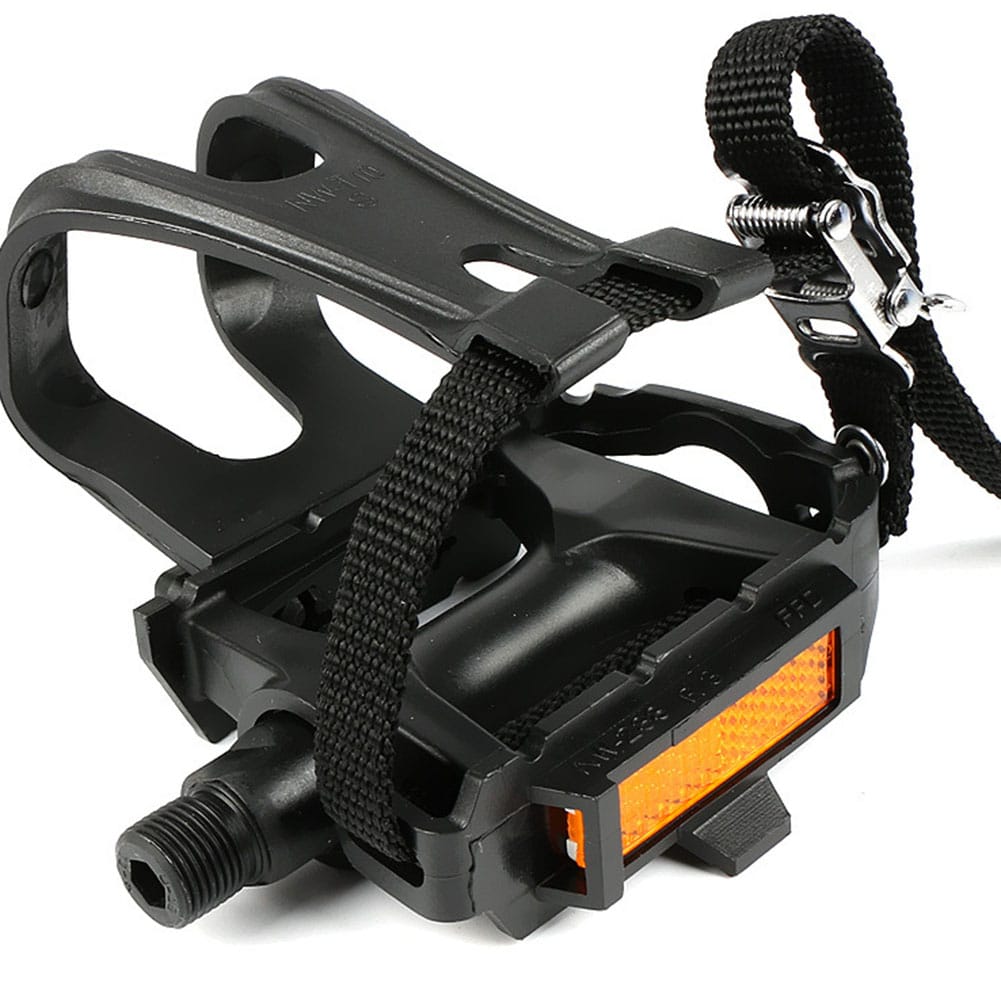 5. Dual Platform Pedals
These dual-platform pedals with toe clips are a budget option when sharing your bike with someone who doesn't use shoes for clipless pedals. They come with a side suitable for cleats and the other with a toe clip.
The dual-platform pedals for mountain bikes give the rider freedom to ride on different terrain, switching between the clipless and toe clips. Optionally, they can share their bike. The downside is that many of them don't come with adjustable toe clips.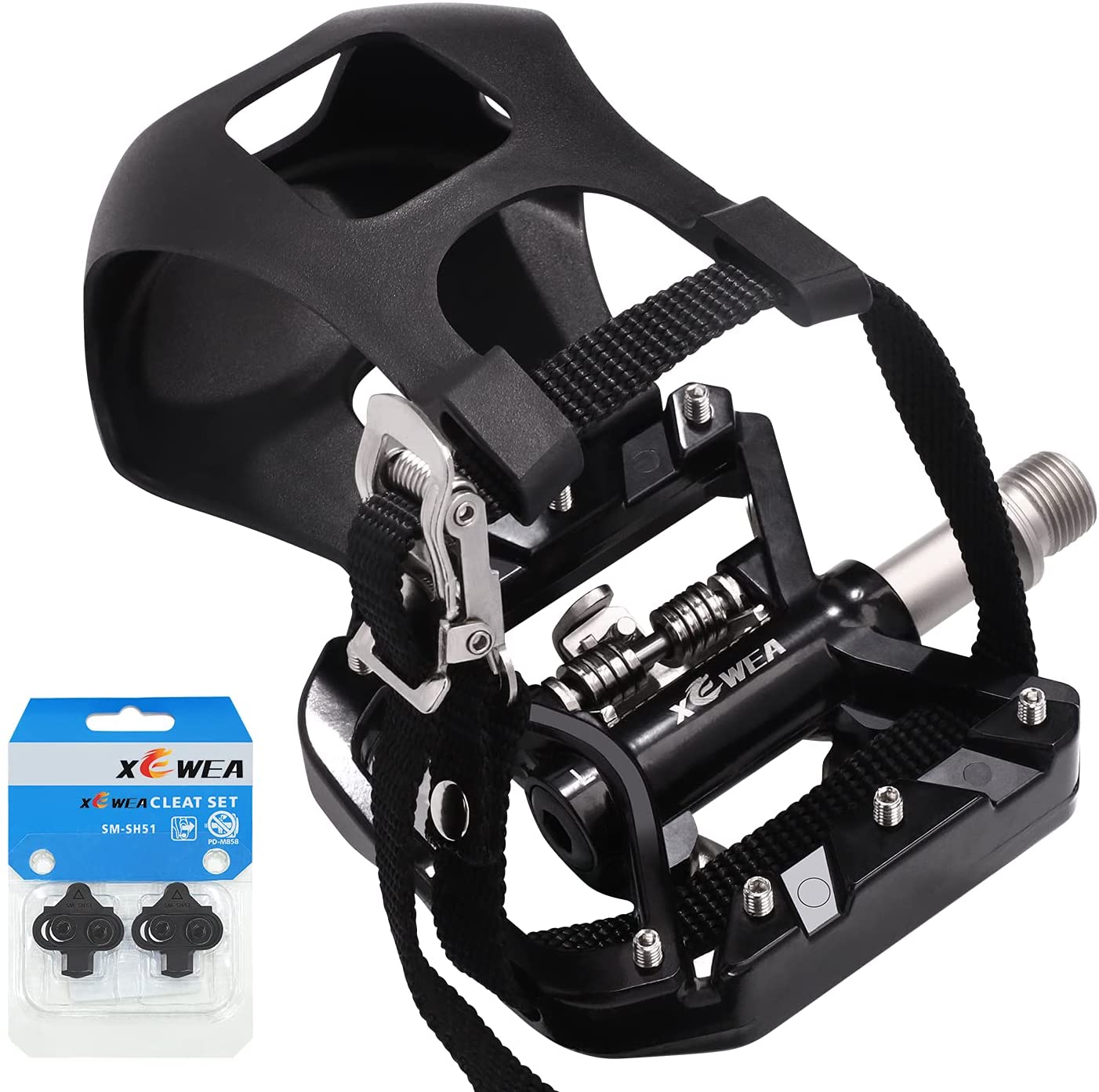 Related articles:
How to choose the best mountain bike body armor upgrades
How to adjust mountain bike fender offset
What Types of Bike Pedals Allow the Use of Toe Clips?
Different types of mountain bike toe clips are compatible with different pedals. If you're considering adding toe clips like these, check the type of pedals that you already have, as you can save money by selecting toe clips that will fit onto your pedals. However, if you're looking for different types of pedals, then you could buy ones with the toe clips already attached. 
Bike pedals that allow the use of toe clips include clipless pedals for toe clips that have cleats, flat pedals that work with regular shoes, and hybrid bike pedals where one side is clipless and the other is flat.
Type 1. Clipless Pedals for Toe Clips with Cleats
Clipless pedals like these are pedals that allow shoes with cleats to clip into them. They were actually designed to be used with special riding shoes with cleats that attach to the pedal. Over time, manufacturers have improved clipless pedals so that they provide stability and allow your feet to be clipped into the pedals but with a much easier release. And now you can even get toe clips that clip into clipless pedals as cycling shoes would. To learn more about the history of clipless pedals, check out this article from Nikola.
Type 2. Flat Pedals that Work with Regular Shoes
Flat pedals like these are the regular pedals you used to get on your bike. They're now the default pedals on cheaper or amateur mountain bikes. They're the most common kind, so you can find them at an affordable price. As a bonus, they work with regular shoes, so you're saving even more. 
Flat pedals are also the ones in greatest need of toe clips since they have nothing to secure your feet to the pedals, so it's often easiest to install toe clips on these pedals. 
Type 3. Hybrid Bike Pedals Have One Side that's Clipless and the Other that is Flat
Hybrid bike pedals feature two sides, one flat and one designed to fit shoes with cleats. Toe clips are often installed on the flat side so you can get support and security even when you don't have your cleats on.
These are also the best pedals if you're not using toe clips regularly or sharing your mountain bike with someone else. Even if you want to take your mountain bike on the road, you can just switch to the flat pedals. The downside is that hybrid pedals tend to be pricier.
Should You Use Toe Clips on a Mountain Bike?
Mountain bike trails are often tricky to navigate due to rugged terrain, mud, and sand. Using toe clips allows mountain bike riders to have more control of their bikes by their feet staying secured to the pedals and being able to pedal optimally. 
It's best to use toe clips on a mountain bike when riding through rough terrain or in wet and slippery conditions. 
Toe clips like these are a versatile and durable modification, especially for those avoiding using clipless pedals. However, disengaging from them takes time to master. Once an emergency occurs, like slipping or falling, it's almost impossible to focus on retracting your foot from the toe clip. It's even harder to pull your foot out of the toe clip when it comes to steep trails so only use these on your trail if you are comfortable with using them. For this reason, toe clips are better on beginner and intermediate trails with no known danger.
Similarly, you might find interest in our related article explaining how to choose mountain bike toe clip compatible shoes as well as our article explaining whether or not bicycle toe clips are dangerous. Be sure to check out both of those related items for more information.
Other Types of Bike Pedals
Mountain bike riders tackle a wide range of trails, including aggressive and enduro trails, which require more than a basic pedal. Luckily, the bike industry has a pedal for everyone's needs.
Different types of mountain bike pedals include flat pedals which still have excellent grip, clipless pedals, and clipless pedals with a platform.
Option 1. Mountain Bike Flat Pedals Still Have Excellent Grip
Don't get confused - the flat pedals for a mountain bike still have an excellent grip. Unlike the common plastic flat pedals, mountain bike flat pedals like these are made from durable material. They're double-sided, so it doesn't matter which side you ride them on. But they don't lock your foot, so you have to choose the right ones for your foot size. 
Mountain bikers with larger feet might have to search a bit more to find the perfect pedal. Here's where toe clips can help to secure your foot even if you don't have a large contact surface on the pedal.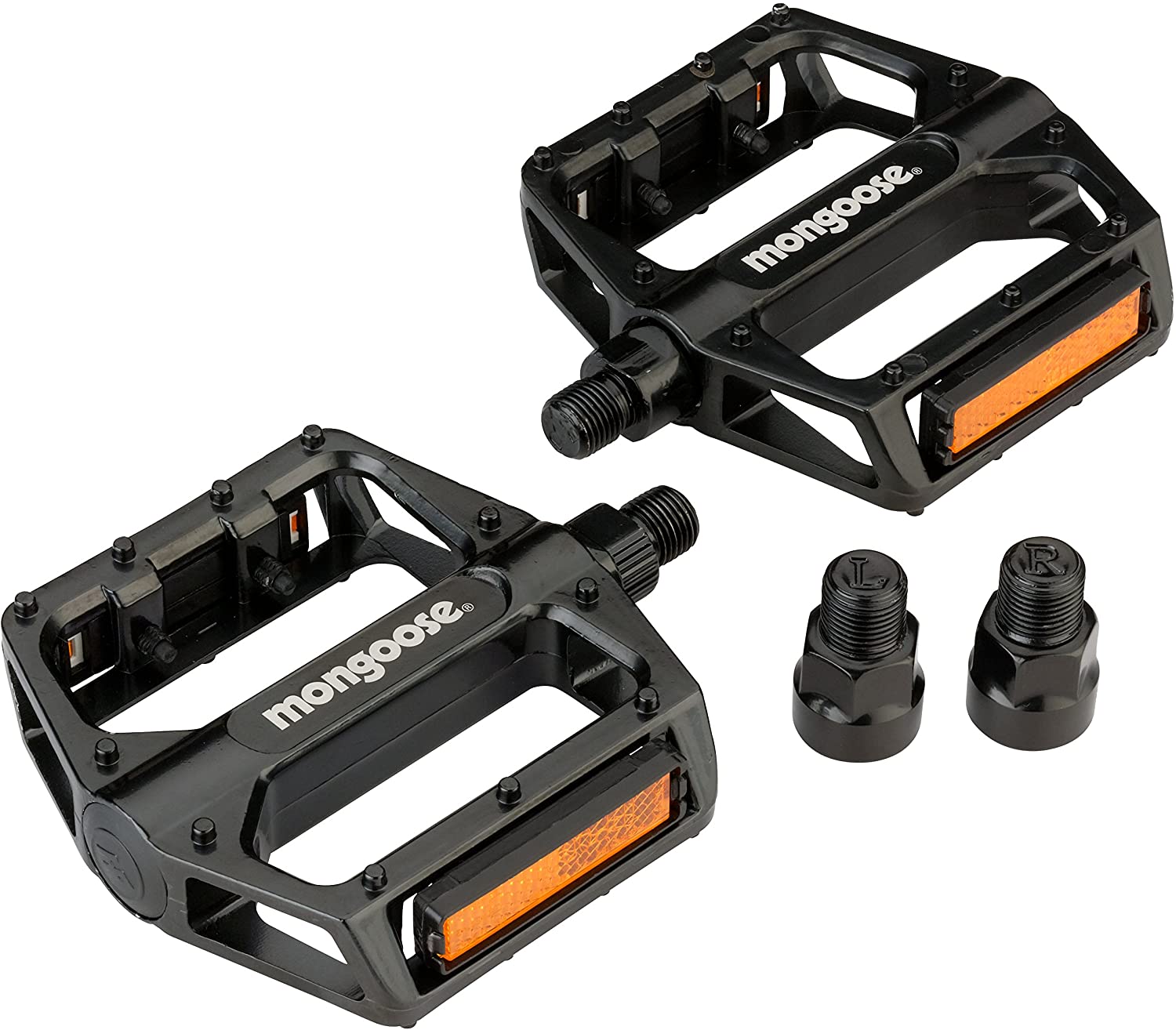 Option 2. Clipless Pedals for Mountain Bikes
Clipless pedals like these have a small contact surface, but this is compensated for by the rider's shoe fastening to the pedal via cleats. Some mountain bike riders prefer them because they allow them to move the pedal together with the foot, accelerate faster, and make each movement more effective. If you want to learn more about the benefits of clipless pedals, check out our article.
The main disadvantage of clipless pedals is the small contact surface doesn't work well for mountain bike riders with larger feet. In addition, the foot release movement might take some time to master compared to toe clips.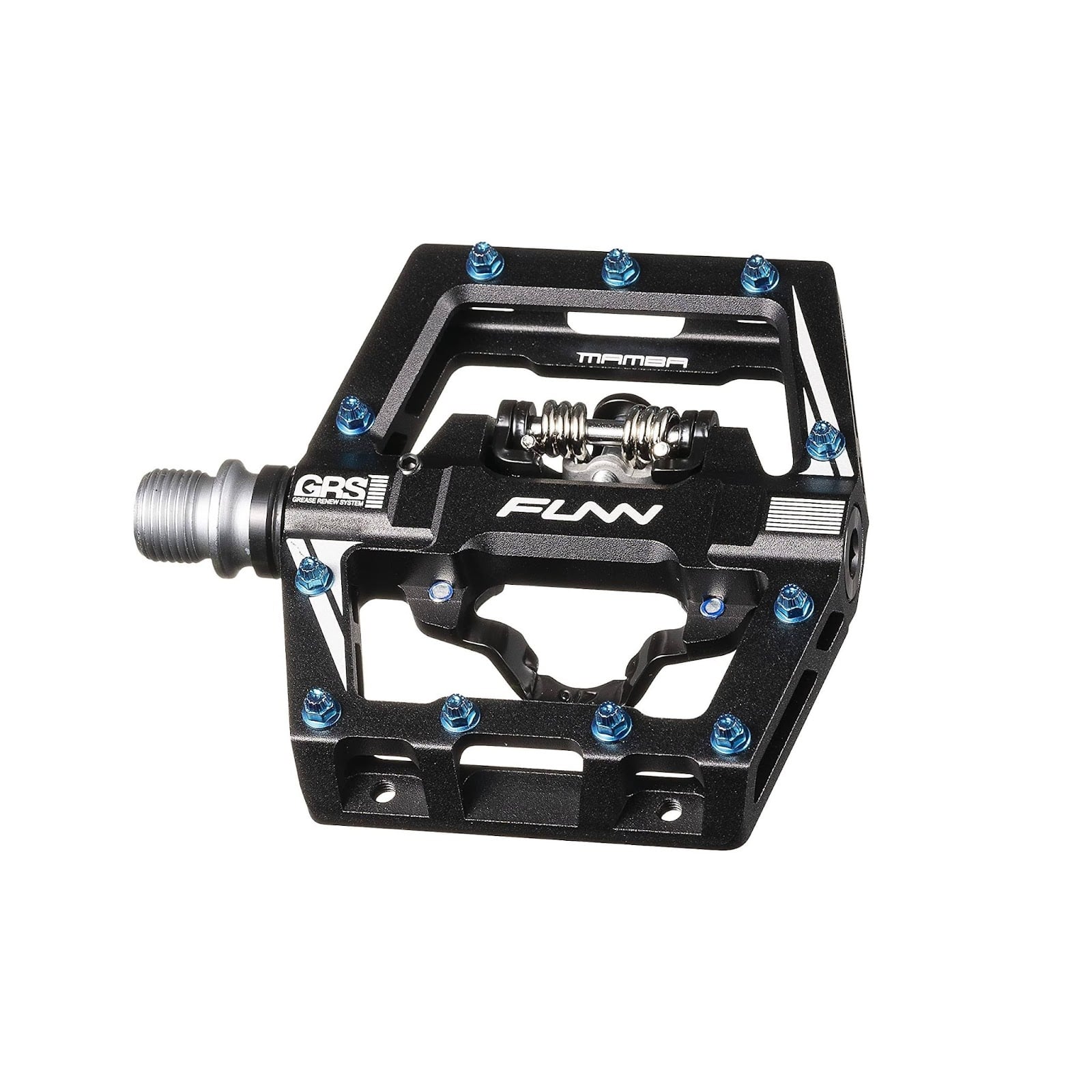 Option 3. Clipless Pedals with Platform Have a Large Contact Surface
The clipless pedals with a platform like these, also known as pedals with a cage, are not as common. They combine a clipless pedal with a large contact surface to provide the best of both worlds. Unlike the hybrid pedals, you don't have to choose a flat or clipless side; you get both sides in one. 
These pedals are ideal for mountain bike riders who are used to large pedals but want the benefits of clipless pedals.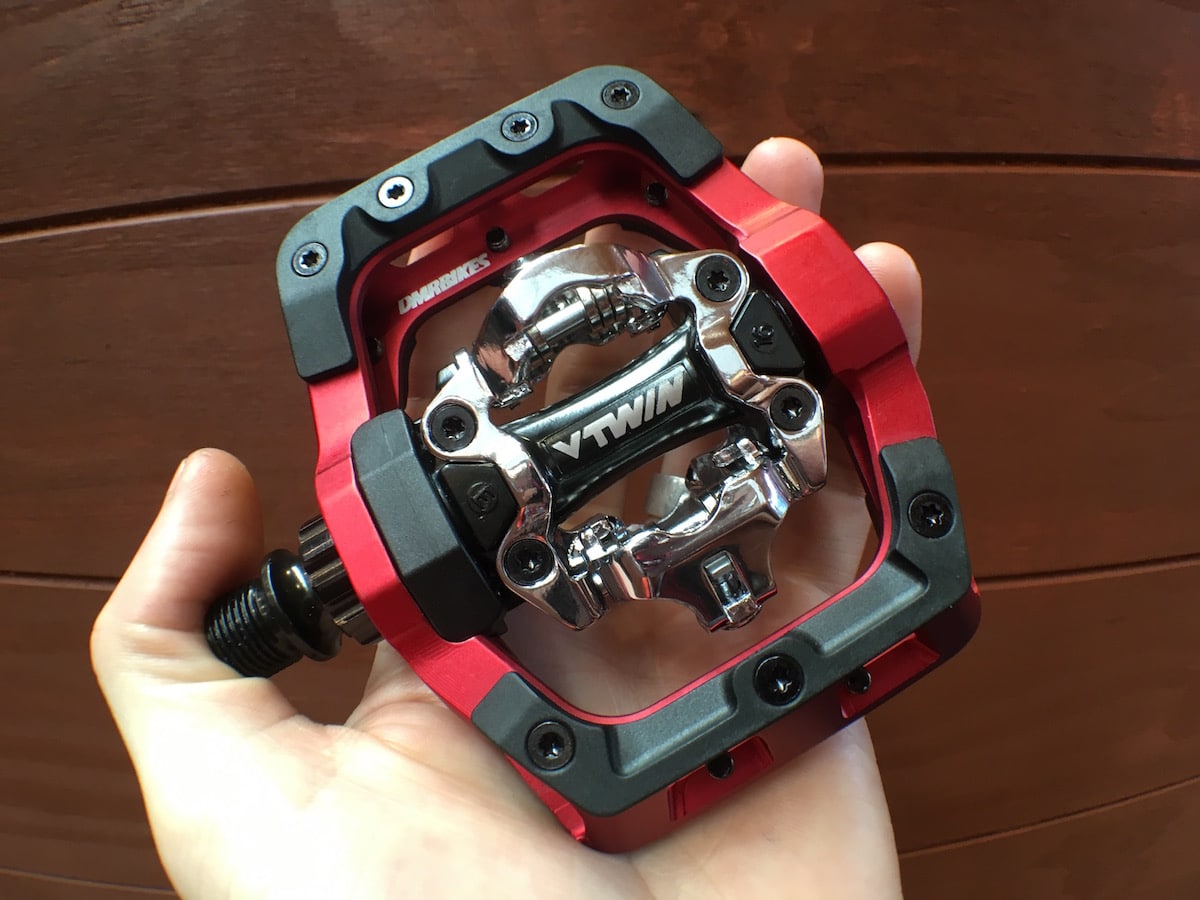 Disclosures
This website is a participant in the Amazon Services LLC Associates Program, an affiliate advertising program designed to provide a means for us to earn fees by linking to Amazon.com and affiliated sites.