Are Bicycle Toe Clips Dangerous? Summary of Expert Literature
Bicycle toe clips help to maintain a good pedaling cadence because they secure the rider's feet to the pedals. They allow the rider to apply consistent force to the pedals in both the downward and upward strokes, which improves speed. There are several options available to mountain bike riders when it comes to improving pedal grip, one of the time-tested methods is attaching toe clips to your pedals, but many people still question whether bicycle toe clips are dangerous or not.
Bicycle toe clips are dangerous when the straps are loose or too tight. However, toe clips are a suitable alternative for riders that aren't ready to use clipless pedals. Installing the toe clips correctly and using them properly could prevent accidents. 
There are still riders who prefer using pedal toe clips, even though clipless pedals have gained popularity in recent years. This article will discuss the possible dangers of using toe clips, how to use them safely, and which ones to choose if you are interested in fixing your foot to the pedal to improve control and speed.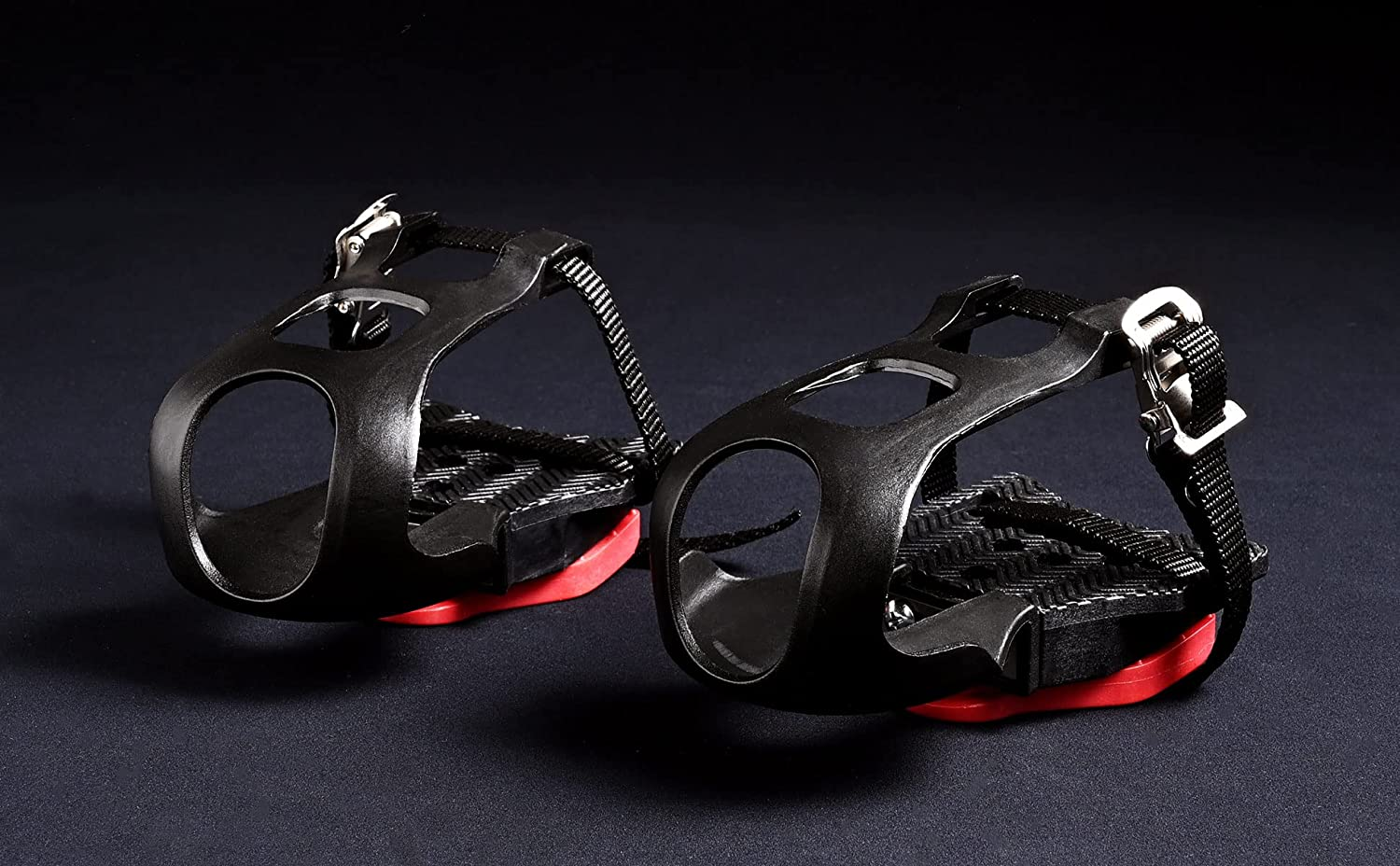 What Are Bicycle Toe Clips?
Many riders prefer bike toe clips because they can wear regular shoes when cycling and don't need to purchase special cycling shoes with cleats that fit into specific pedals. 
Bicycle toe clips are cage-like enclosures that are installed on platform pedals to secure the rider's feet to the pedals and assist with pedaling. Bicycle toe clips consist of a metal or plastic brace that covers the front of the foot and a strap that tightens around the bridge of the foot. 
Our detailed guide on types of mountain bike toe clips discusses the features of each type and what kind of riding they best suit.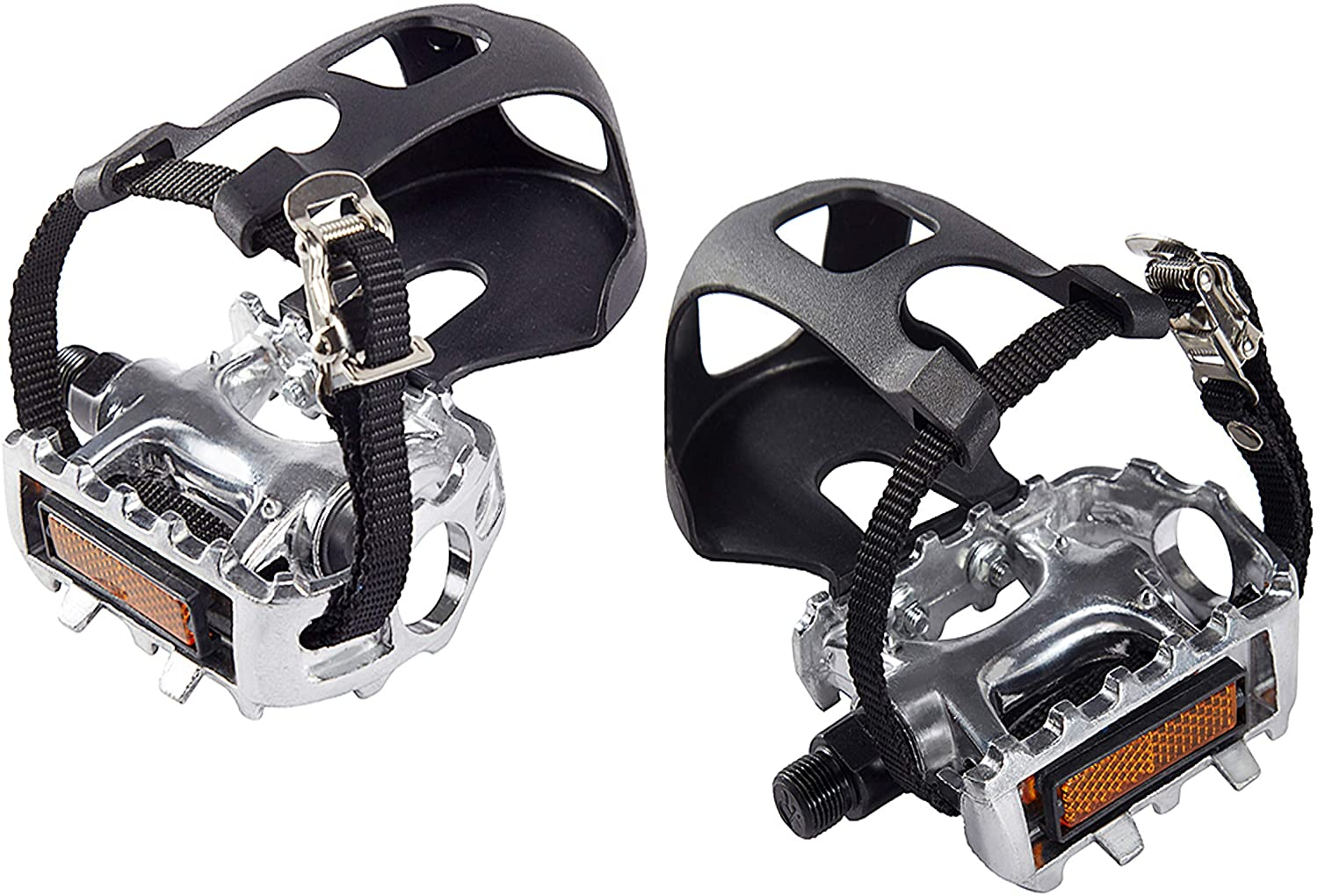 What are Half Toe Clips?
If you don't want to feel restricted while riding with toe clips then half-toe clips might be a better option for you.
Half toe clips are plastic or metal braces installed onto the front of the pedals. The rider's toes and the balls of the feet fit inside the brace so that the rider has complete control of the pedal in the downward and upward strokes when cycling, but their feet are not fastened with a strap.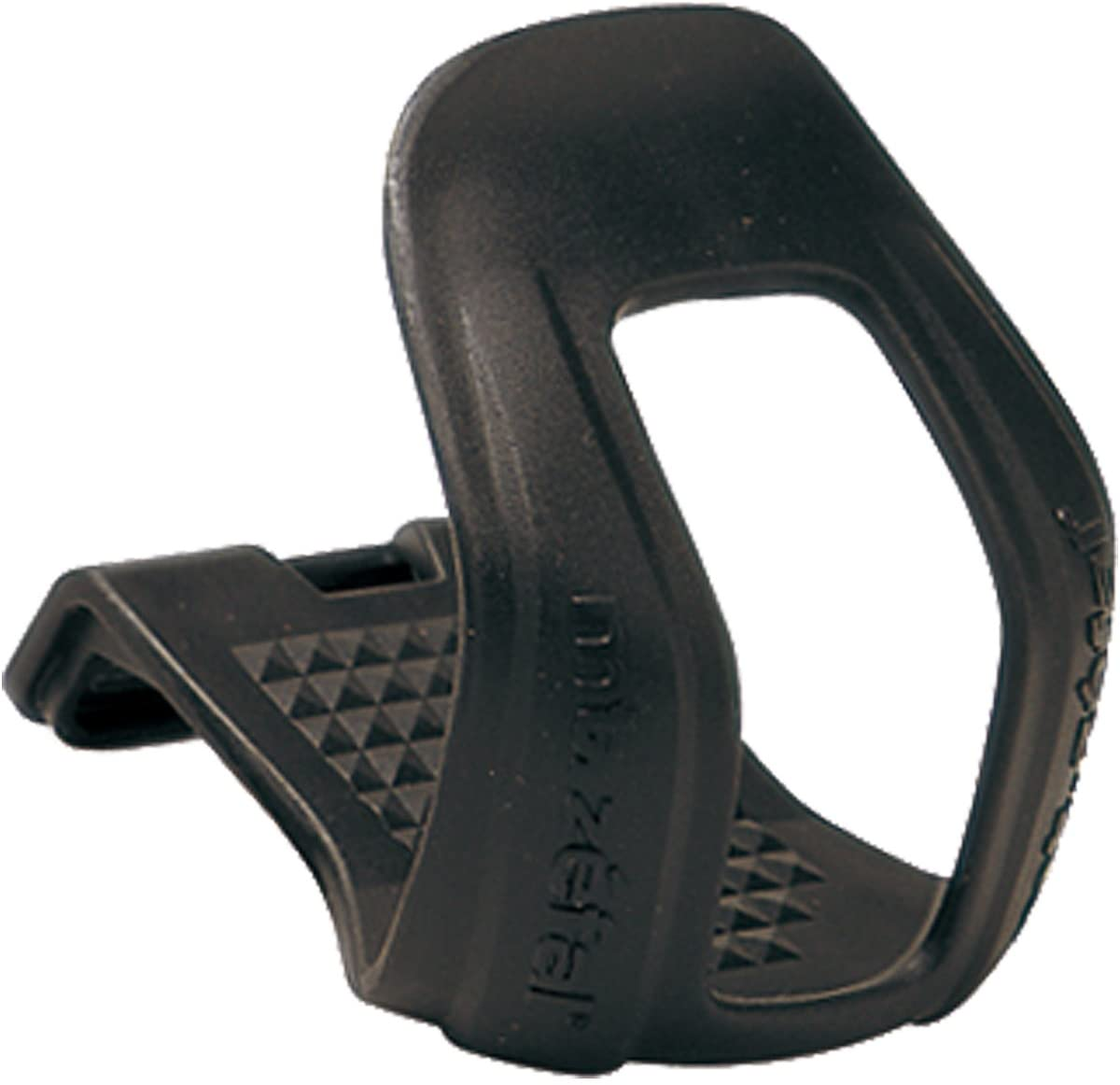 Why Use Toe Clips on a Bicycle?
Bicycle toe clips are a great biking accessory to install on your mountain bike if you want to learn how to pedal safely with your feet fixed to the pedals, but you aren't yet ready to purchase the more expensive clipless pedals and cycling shoes. Toe clips will also allow you to cycle with your existing shoes because most shoe sizes will fit into the cage section. 
The benefit of using bicycle toe clips is they fix the rider's feet to the pedals to improve stroke fluidity and speed when cycling, and they are cheaper than clipless pedals. The disadvantage of using bicycle toe clips is the rider's feet can get stuck if the straps are too tight, and won't prevent a fall. Toe clips can also damage the rider's shoes from the constant friction.
Our article comparing pedal straps vs. toe clips is another helpful resource you can read to learn more about foot retention if you want to improve your pedaling efficiency.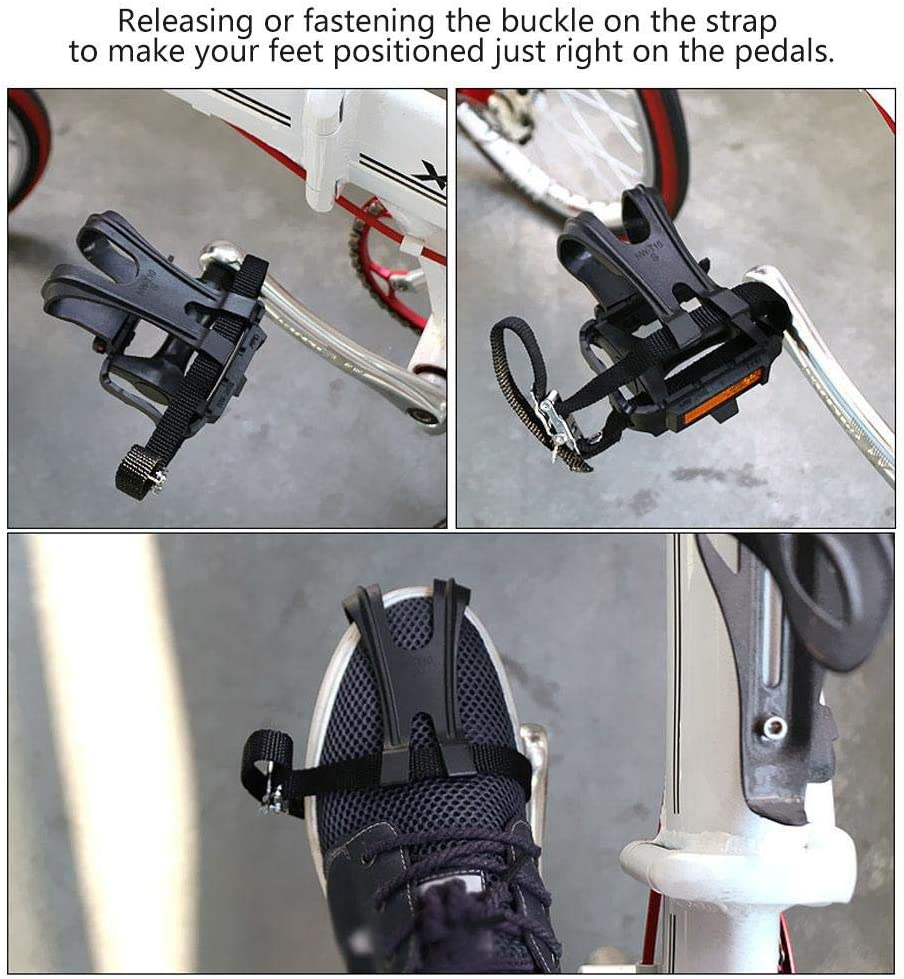 Are Bicycle Toe Clips Dangerous?
Toe clip overlay is when the toe clip is not installed properly and sticks out too far forward which could actually be dangerous. 
Bicycle toe clips are dangerous if they are not properly installed on the pedals and adjusted to fit the rider's feet. Toe clips that are too tight will cause the feet to become numb, while loose toe clips will cause the rider's feet to slip off the pedal. Practice pedaling and stopping with toe clips, as well as releasing the feet from the toe clips until it becomes easy. 
According to the Cannondale Owner's Manual for multi-speed bikes, if toe clips are incorrectly installed on the pedals they could protrude too far off the front of the pedal and accidentally touch the tire and cause an accident. Our article about the pros and cons of using toe clips on a bicycle also discusses several reasons why toe clips should be used with caution. 
If you want to install toe clips on your bike, these pedal toe cages will fit onto these Mongoose pedals, or you could replace your pedals with this toe clip and pedal combination after reading our step-by-step guide on how to change pedals on a mountain bike.
According to this article from the YouthCycleSport website, children under 10 years should not use clipless pedals or other forms of foot retention when mountain biking because these accessories may prevent them from developing other essential riding techniques like shifting their weight in turns and jumps, or correctly performing front or rear wheel lifts on rough terrain. The other concern with children using toe clips or clipless pedals is that many young children do not have the dexterity to correctly attach and detach their feet to the pedals while moving, which could result in accidents.  
You may have also wondered if you can build muscle biking or if mountain biking is good for core strength. If so, be sure to take a look at our related articles to find out.
Bicycle Toe Clips vs. Clipless Pedals
Toe clips and clipless pedals can be used for different types of bicycle riding.
When comparing bicycle toe clips vs. clipless pedals, use toe clips for commuting and for general cycling. Use clipless pedals when riding off-road on rough terrain, to improve pedaling efficiency on extreme trails, after practicing the technique to safely stop and release both feet.
This chapter about mountain biking from "Teaching Lifetime Outdoor Pursuits", explains how toe clips assist with smooth circular motions when pedaling, which makes gear shifting more efficient. The excerpt also suggests that beginner riders use toe clips like these before they progress to the more expensive clipless pedals like these so that they can gain confidence with foot retention while riding and practice the skills of stopping and dismounting. Our article guides you through choosing between toe clips vs. clipless pedals and offers advice on which foot retention method to use for particular riding conditions. And this video tutorial by Global Cycling Network will help you to choose and then use clipless pedals.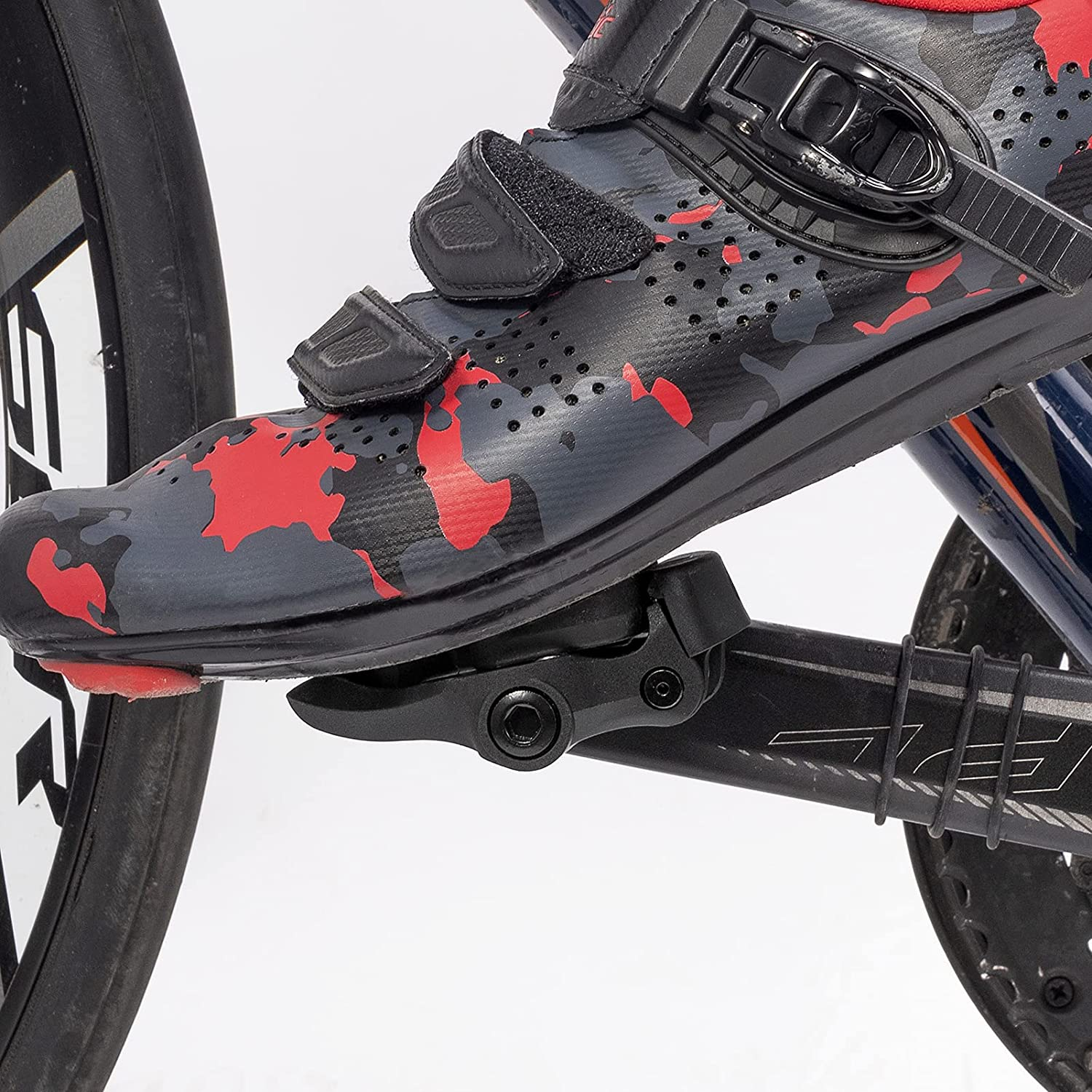 Similarly, you might find interest in our related article explaining all of the different mountain bike fender accessories and how to choose the right one. Be sure to take a look at that article for more information too.
Are Clipless Pedals Dangerous or Safety Hazards?
Clipless pedals are the pinnacle of bicycle foot retention, especially for mountain bike riders because they allow the rider to pedal more efficiently when riding on steep and rocky trails.
Clipless pedals are dangerous if the rider is new to foot retention while cycling and hasn't yet mastered the twist and release technique to safely disengage from the toe clips when coming to a stop or in an emergency. 
This article from Fort Hays State University reports that participants in the study who used clipless pedals had significantly higher power output and lower muscle fatigue when pedaling, compared to those using flat pedals or toe clips. Riders need to master the technique of attaching and releasing their feet when riding so check out our article about the benefits of clipless pedals on a mountain bike which also discusses how to safely mount and dismount using these pedals. 
​​
Beginner riders need to practice attaching and releasing their feet while the bike is moving before they go riding on trails and roads. Image Source: Amazon. ALT: To ride safely using clipless pedals make sure that you have gotten accustomed to inserting and disengaging your shoes while your mountain bike is moving.
Which Toe Clips Are the Best Toe Clips For Your Needs?
Disclosures
This website is a participant in the Amazon Services LLC Associates Program, an affiliate advertising program designed to provide a means for us to earn fees by linking to Amazon.com and affiliated sites.