Ultimate List of Tools Needed for Mountain Bike Maintenance
When we buy something or invest in something, we must understand everything regarding that product. Its guarantees, its insurance, how to maintain and repair it, and the tools that are important for repairing it. You and your mountain bike are going to be together for a long time and you need to know how to keep it up to spec. In this article, we'll discuss tools needed for mountain bike maintenance on the trail and at home.
Tools needed for mountain bike maintenance include a chain tool, needle nose pliers, a portable bike repair stand, electrical tape, a torque wrench, cleaning brushes, a spoke tension gauge, a spoke wrench, an Allen wrench set, and a set of tire levers for changing tires or puncture repair. 
Heavier tools that are required for maintenance and servicing your mountain bike can be stored in a shed or garage, where you house your bike. But smaller tools that might be needed for emergency repairs when out riding should be kept in your backpack.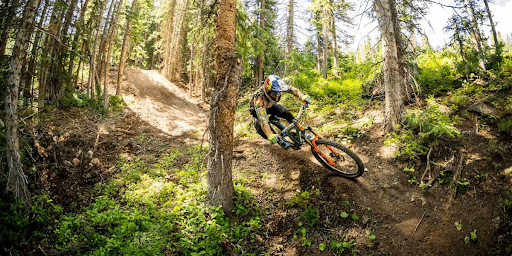 1. Chain Tools
A chain tool is a tool that is mainly used to break a chain link. It is used when a link in the bicycle chain breaks and the rest of the chain needs to be cut away and repaired or replaced with a new chain like this. A chain tool should have a handle that is comfortable to hold and turn and be made of good quality materials. This video tutorial explains how to use a chain tool to remove and replace a chain. 
A well-lubricated bike chain that is regularly cleaned and checked to prevent mud and grit buildup can last an entire cycling season according to other riders on this thread on mtbr.com. But the sudden forceful impact on a particularly rough track could cause a chain to snap, so you'll want to have a spare chain and a chain tool in your backpack to perform unexpected on-trail repairs. 
2. MTB Screwdriver
A screwdriver is one of those universal tools that all toolboxes need, that's why a regular screwdriver can be used to fix your mountain bike. There are two types of screwdriver heads available—a flat head or Philip's head (also known as a star head). Owning a multi-bit screwdriver set like this will mean you can have both types in a range of sizes, and it will also take up very little space in your backpack if you decide to bring some essential tools on your ride.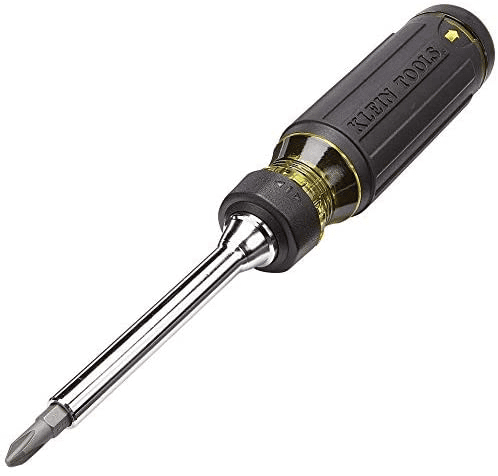 3. Spoke Wrench
A spoke wrench is a type of wrench used to tighten or loosen the nipple screws on the spokes in order to correctly align the wheel. You'll need to buy a spoke wrench that fits the spoke nipples of your bike but the most common sizes are 3.20mm, 3.30mm, and 3.45mm. 
According to this thread, a wobbling wheel could indicate a misaligned wheel and a spoke wrench is would be the tool to use to rectify this problem. Spoke wrenches like these are often sold in packs of four with varying sizes for under $10.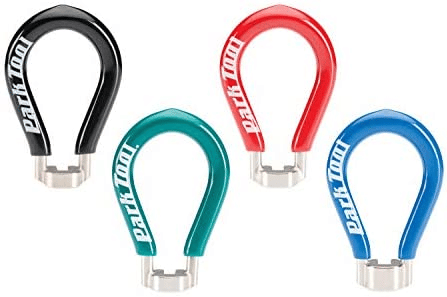 4. Tire Lever
Tire levers are used to get the tires off the wheel, as well as install a new tire on the rim. Our article about how to change a mountain bike tire gives step-by-step instructions that will help you easily change a tire without accidentally causing damage to the rim. Tire levers are made of plastic which reduces the risk of scratching the rim when changing the tire.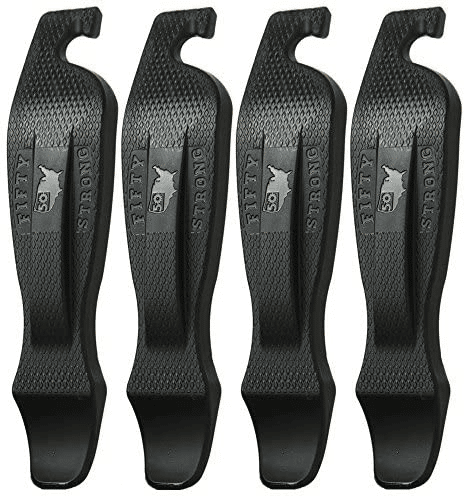 5. Portable Bike Repair Stand 
A portable bike repair stand like this allows you to easily repair your mountain bike at a fraction of the cost of going to a bike repair shop. It supports the bike when the wheels have been removed or simply if you want to keep the bike stationary while repairing a chain, replacing hand grips, installing new shifters, or lubricating the chain. If you want to know more about replacing hand grips or shifters then read our articles about how to remove mountain bike grip shifters and how to replace mountain bike grips.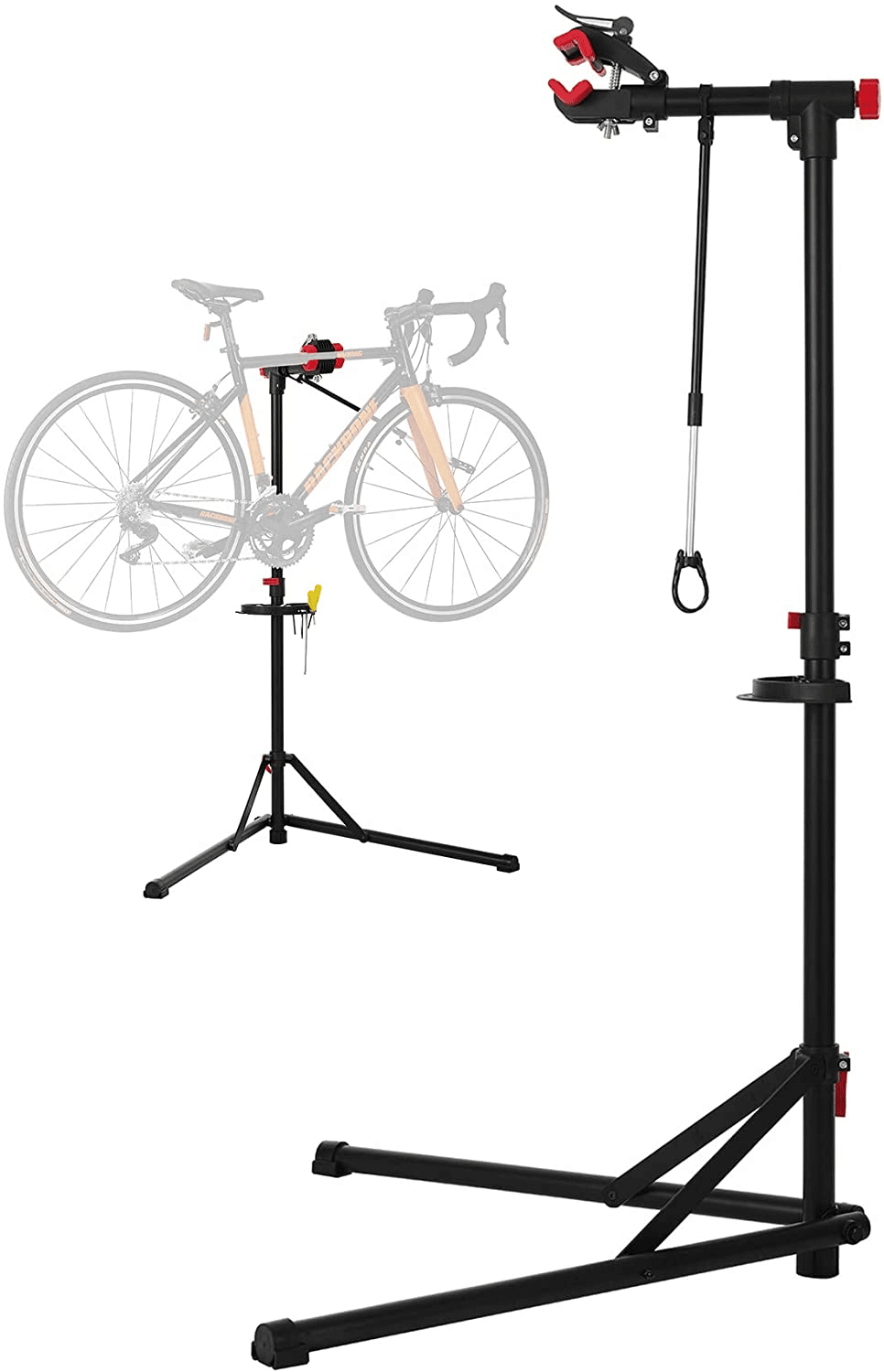 6. Needle Nose Pliers
Needle nose pliers like these are used to grasp and twist small wires that are in hard-to-reach places. Their textured teeth will allow you to get a firm grasp on the heads of screws and bolts, and can also be used to crimp fastenings on cables, as well as to bend, mold, or cut the wires.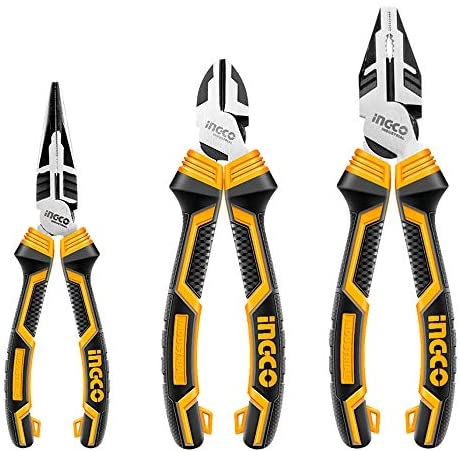 7. Park Tool
ParkTool is a company that sells a wide range of tools needed for mountain bike maintenance and instruments that come in handy when repairing different types of mechanical equipment and bikes. There are multiple tools in this PK-5 Professional Toolkit which sells for about $950, while this Park Tool toolbox sells for $300.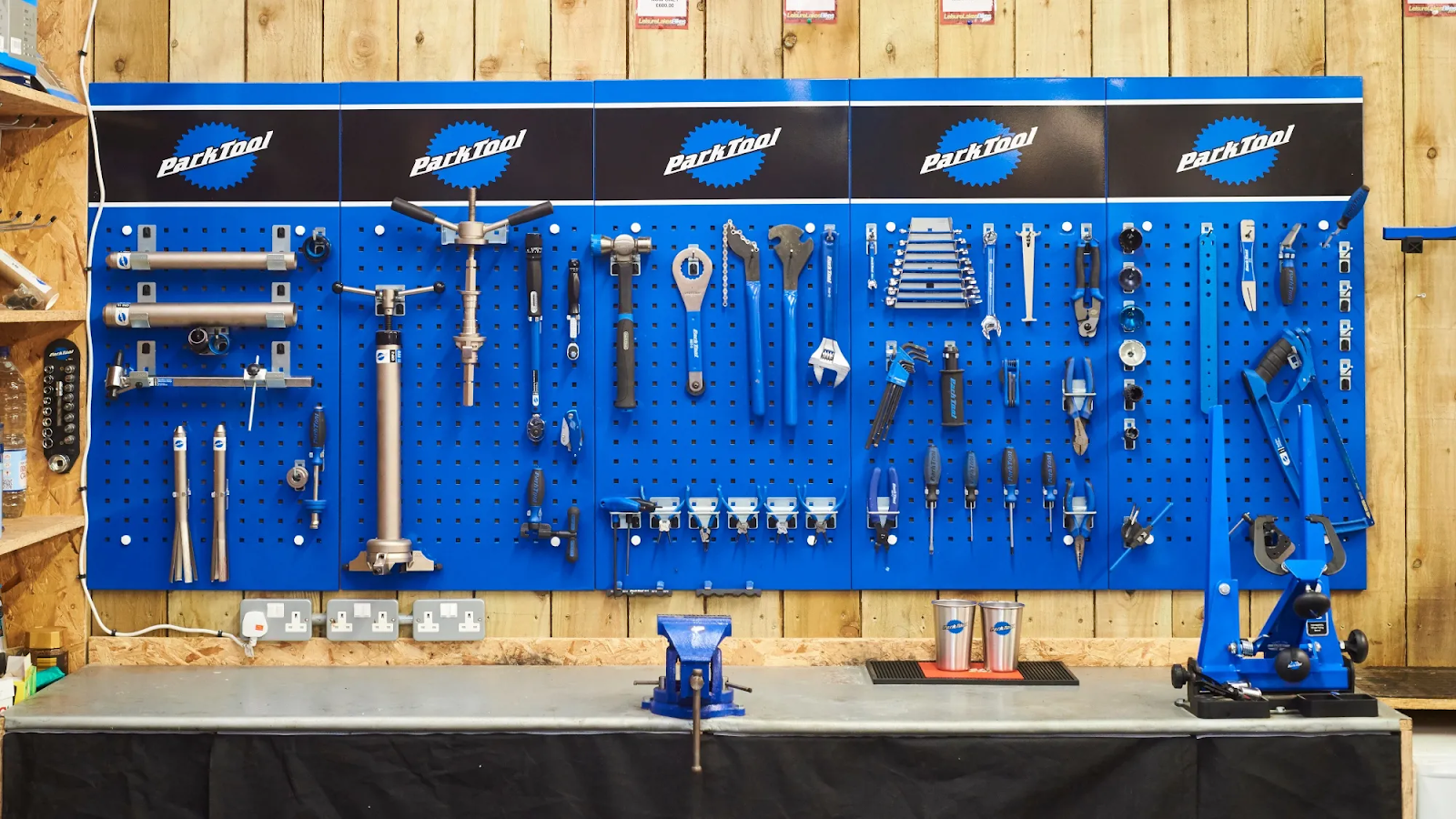 8. Pedal Wrench
A pedal wrench is used to tighten pedals, or to remove old pedals and replace them with new ones. It is made out of steel and has a firm grip on its ends. It has two sharp edges on the other working end which makes it easier to grip a pedal and tighten it. A regular wrench could do the trick, but a pedal wrench is designed to make removing pedals easier. To learn more about replacing pedals read our step-by-step guide on how to change pedals on a mountain bike. 
Even if you're not a bike mechanic, with these kinds of tools you can easily fix your own bike without having to go to a repair shop. The typical size of pedal wrenches like these varies and the usual price would be around $20.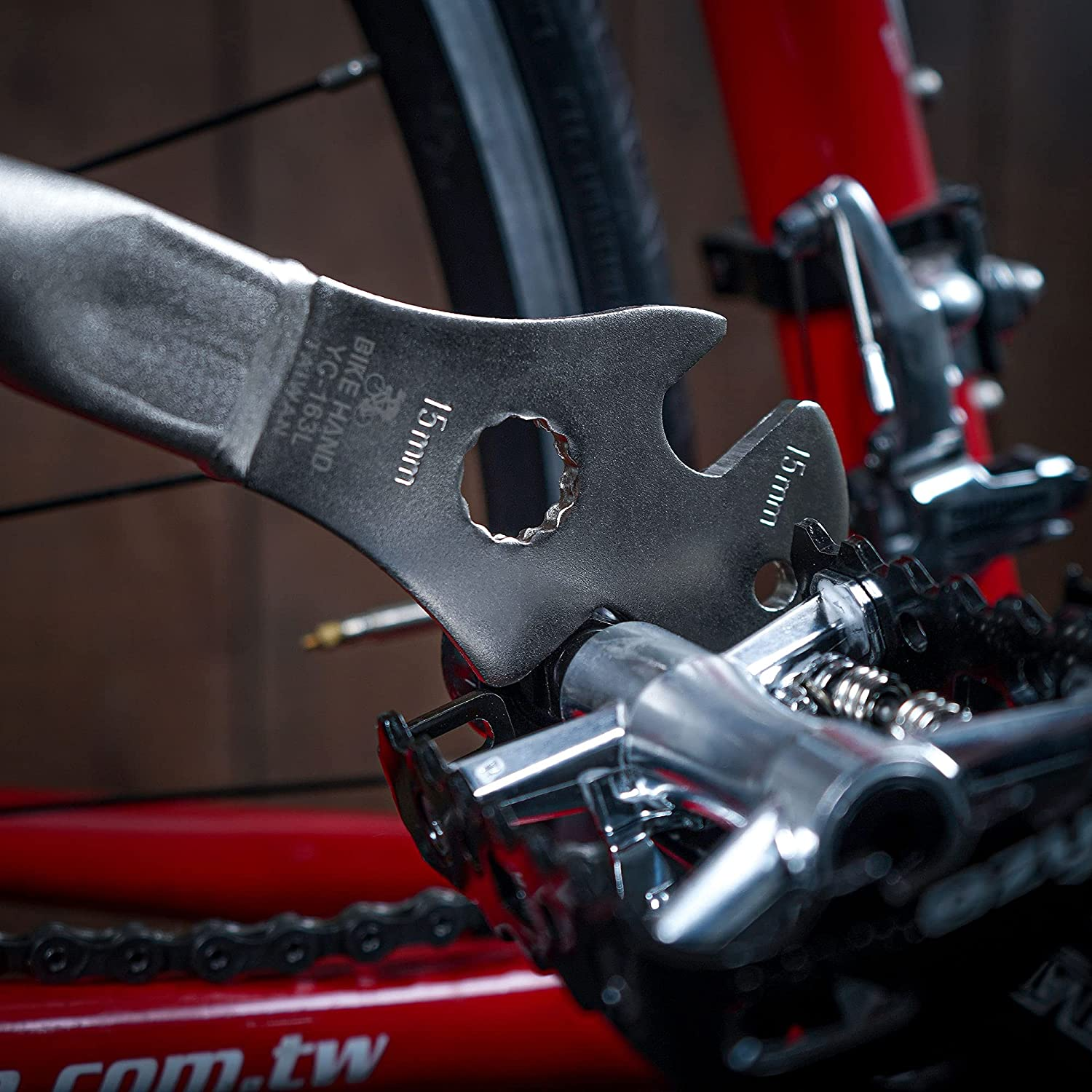 9. Torque Wrench
A torque wrench is used for adjusting and tightening the nuts and bolts on your bike. It is designed not only to loosen or tighten bolts but also to provide the necessary torque to each bolt. This article explains the difference between a torque wrench and a regular wrench. A torque wrench costs about $35 to $60.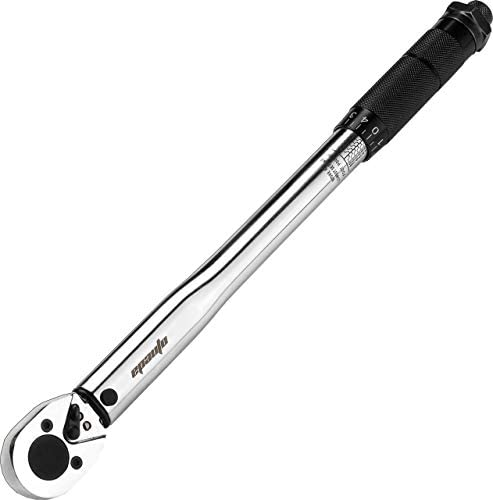 10. MTB Multi-Tool Kit
A multi-tool kit consists of all the necessary tools used to repair a mountain bike. It consists of either multiple screwdrivers or wrenches or a good combination of both and is handy for repairing your mountain bike when on the trail. A multi-tool kit usually costs about $25.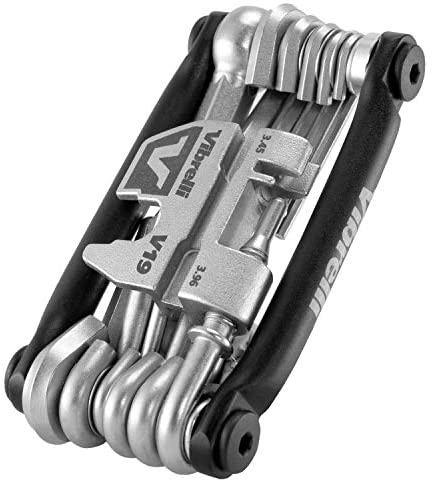 11. Bike Hand Chain Indicator
A bike hand chain indicator like this is an instrument that is used to estimate when the chain is worn out and when it is time to replace it. It is more of an estimation tool but is useful for determining wear on the chain so that it doesn't cause damage to your derailleur. To learn more about how issues with a bike chain can affect the derailleur, read our article that provides tips for when the mountain bike grip shifter is stuck.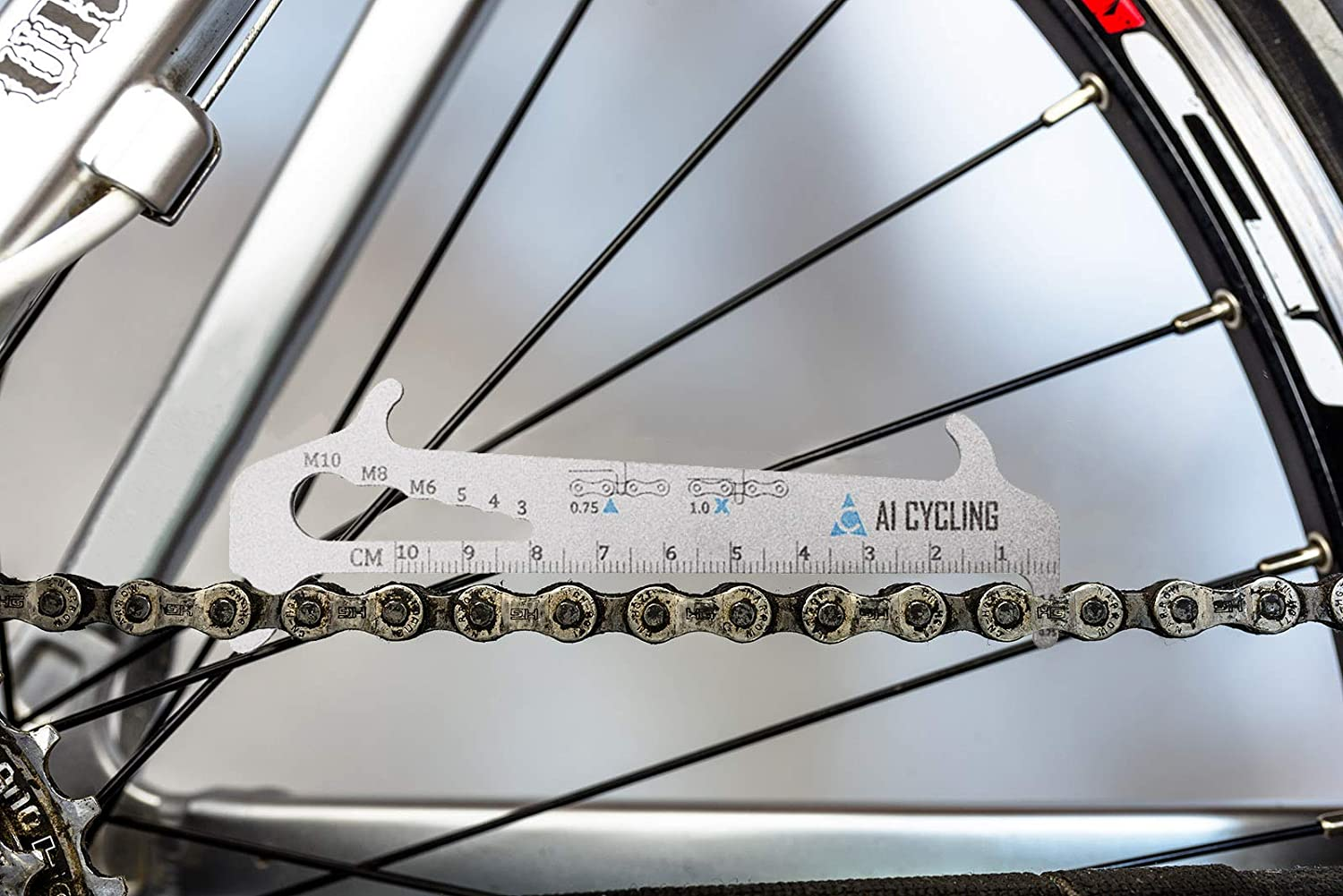 12. Chain Lube
Chain Lube is a lubricant that is used for your bicycle's chain. It protects the chain against corrosion and ensures smooth gear shifting when riding. Popular chain lubes include products like Finish Line Dry Bike Lubricant.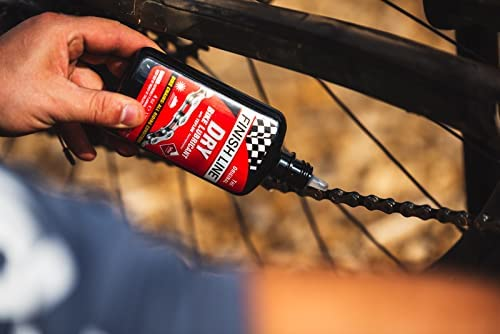 13. Set of Brushes
Mountain bikes travel through mud puddles and dirt trails, so regularly washing the crusty dirt off the bike will ensure your bike stays in good condition. Different kinds of cleaning brushes are used to clean different parts of the bicycle for example the tires, the chain, and the sprockets. Mountain bike cleaning kits have various sizes and types of brushes to reach into small spaces.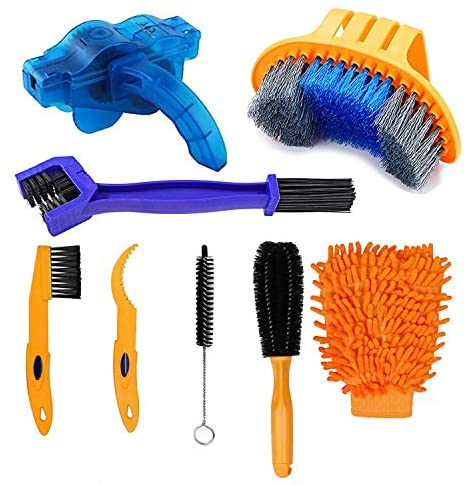 14. Cassette Lockring Remover
This cassette lockring tool is used to remove a cassette lockring. It attaches to the cassette and is removed by using a chain whip in a counter-clockwise direction, as this article from Park Tool explains. A cassette lockring tool costs anywhere from $10 to $20.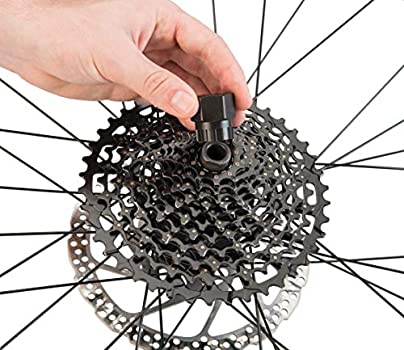 15. Spoke Tension Gauge
A spoke tension gauge is an instrument used on the wheel of a bicycle to measure the tension of the spokes. As a wheel turns the spokes bear the load and as this article from SpokeCal.io explains, spokes that are unequal in tension can cause buckling and damage to the wheel's rim. Ensuring your spokes are correctly tensioned saves you money in the long run because you won't have to replace damaged rims.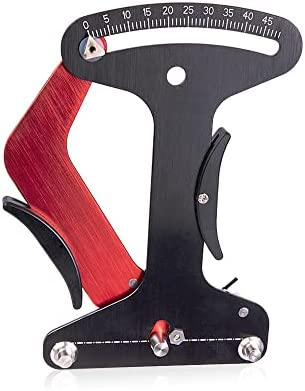 16. Allen Wrench Set
Allen Keys like these are used to tighten or remove fasteners that have a hexagonal head. They're also known as hex keys, and are usually included in a multi-tool kit and are a necessary part of your repair tool kit. Popular brands known for Allen or Hex keys are Hurricane, Levixon, and Tekton. The usual price of an Allen Key set is around $17 to $20.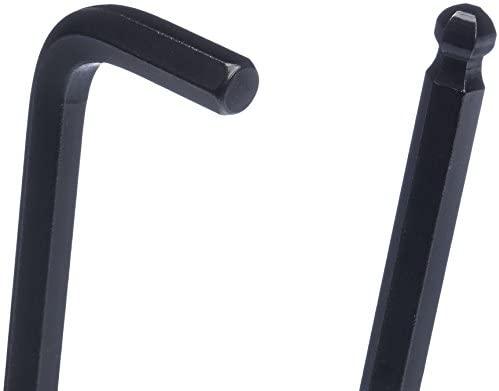 Allen wrenches are useful when you are learning how to remove mountain bike pedals. Be sure to read our step-by-step guide for more details.
Summary of Essential Mountain Bike Tools
If you're interested, be sure to check out our comprehensive guide to mountain bike tool kit essentials as well as our mountain bike tool bag ideas for more information.
How to Store Bike Tools Safely?
You can store and organize your bike tools in your garage or attic. You may organize them according to your preferences or according to how frequently they are used when repairing or maintaining your bike. 
To store bike tools safely, sort and organize the tools based on their purpose. Always clean your tools after use so that they don't rust. Get a mountain bike toolbox with locks, designate a tool drawer or mount a tool wall to keep the tools safe, and always keep the mountain bike workshop locked when not in use.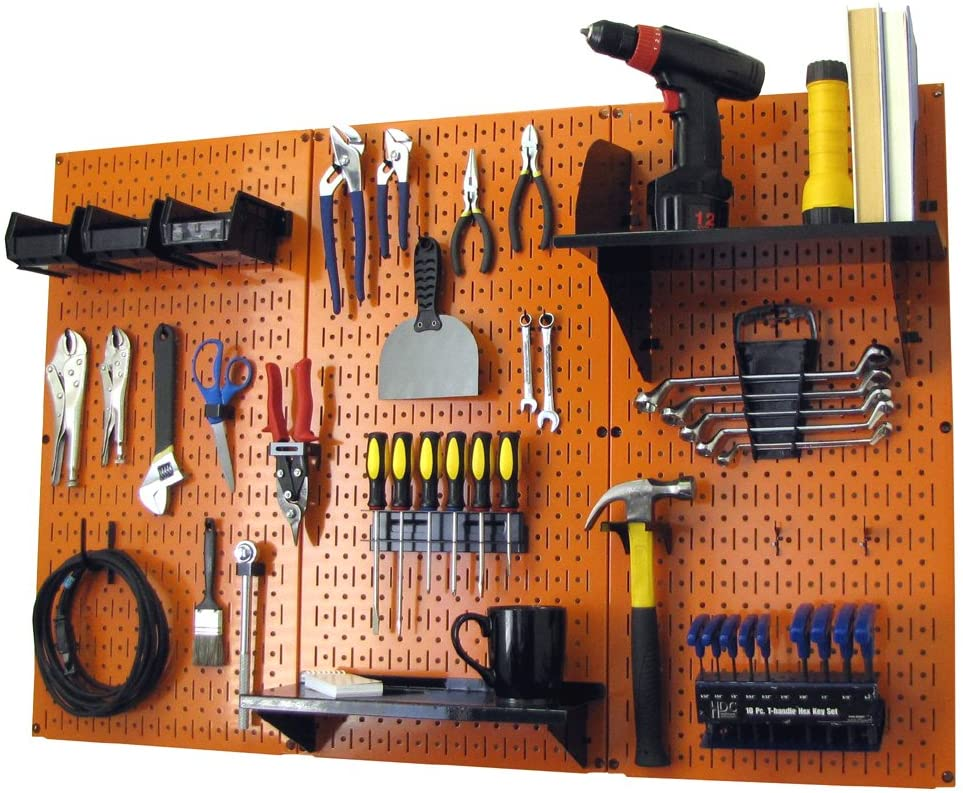 Step 1. Clean or Wipe all Bike Tools Used
Clean all your tools after working on your bike and before storing them away so that they are ready for the next repair job. Different degreasers or bike tool cleaners like this could be used to remove the grease from the bike tools to ensure they last long and don't start to rust. 
Step 2. Create a Tool Wall and Arrange the Most Used Bike Tools
You can arrange a tool wall in your garage or wherever you plan to store your tools using an organizer like this. You should place similar tools together and arrange them by size for easy access. Using this label maker to label your tools and the spaces where the tools hang will ensure you place all the tools back where they belong and will prevent any tools from being lost. 
Step 3. Look for an MTB Tool Box and Keep Delicate Tools Inside It
You could also invest in a mountain bike toolbox and keep the tools that could rust or other smaller tools in the box. A toolbox makes it easier for you to carry important tools and it also helps you to sort out which mountain bike tools are more useful. 
Ways to Carry A Mountain Bike Tool Kit on a Ride
We recommend having, at least, a basic tool kit with you on rides, especially when you may be far from help. Whether it is a flat tire, a loose handlebar grip, or a grinding bike chain, you should carry a few helpful tools with you in case of accidents and emergencies. 
To carry mountain bike tools on a ride wrap the tools on the bike frame with a frame strap, use Velcro straps to attach tools onto the mountain bike frame, arrange tools in a saddle bag and strap them to the bike, place the tools in a frame bag and fit it to the bike's front triangle, or carry essential tools in a backpack.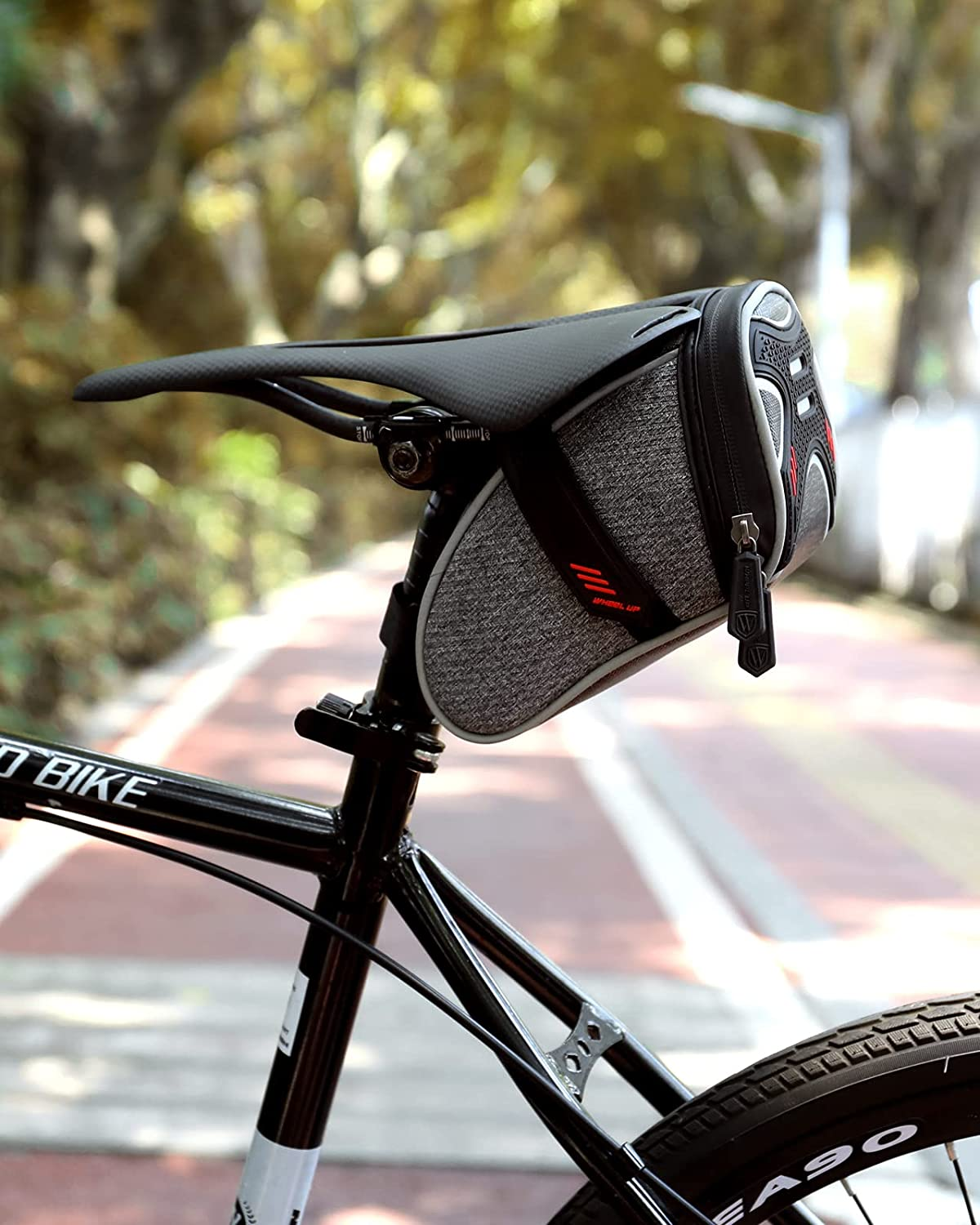 1.       Strapping Bike Tools to the Bike Frame Using Velcro or Rubber Straps
Carrying metal tools in a backpack can place more strain on a rider because the tools are heavy. This is why strapping them to the bike frame with Velcro straps like these is ingenious—they are out of the way and won't hinder the rider, but are also easily accessible in an emergency. 
2.       Carrying Frequently Used Bike Tools in a SaddleBag
A saddlebag like this fits inconspicuously behind the seat and can fit several compact tools inside. It is not recommended for very heavy tools are tools that are long, but a multi-tool will fit perfectly. 
3.       Fitting Bike Tools in a Bottle Cage
Bottle cages are spaces made on your bicycle that fit a water bottle. Bringing water along on a ride is always a good idea, but if you decide to carry your bottle in your backpack then the water bottle rack can be used to store essential tools. The tools should never be stored loose in the rack so we suggest using a mountain bike tool pouch like this to carry your tools in the bottle cage. 
4.       Carry Tools in a Backpack
Provided your tools aren't too heavy and they don't hinder your movements when cycling, they can be carried in a durable mountain biking backpack. If you intend to go on a hike during your ride and don't want to carry a cumbersome backpack loaded with tools, we recommend using a backpack like this that has a detachable pouch that you can strap to your bike, and place the tools in there when you go walking. We also provide some handy tips on how to fix a mountain bike tool kit bag that is heavy. Similarly, you might find interest in using a mountain bike tool bag that locks. If so, be sure to read our related article for more information.
5 Essential Mountain Bike Tools to Carry When Biking
When you're mountain biking you must be ready for all kinds of adventures and events that might occur on the trail. You should take a few necessary tools along with you for these situations and make sure that you're all set if something goes wrong. You should learn a few repair techniques so that you will have the basic tools and skills to do quick repairs. 
The essential mountain bike tools to carry when mountain biking are tire levers, a screwdriver, pliers, a chain link, and a mountain bike multi-tool.
1. Pliers 
A pair of pliers can be useful when you need to bend or pry something back into place, or if you need to cut a wire or cable. Pliers can also be used to loosen a nut if you don't have the correct size spanner or wrench because it has teeth to grip the hexagonal head. 
2. MTB Multi-Tool Kit
An MTB multi-tool kit consists of several tools like hex keys, spoke gauges, chain tools, and sometimes it may include a screwdriver. A multi-tool kit offers the flexibility of carrying many tools on your ride without adding unnecessary weight to your bike. 
3. Screwdriver
A screwdriver set with at least three sizes of flatheads and three Philip heads will be helpful in most situations.  A screwdriver is always a good tool to carry since there could be many circumstances where you might need one. A screwdriver can also be used to take out something that has punctured your tire. 
4. Chain Link
A bike chain can become slack during a ride or even break in extreme situations. Having a spare chain link will enable you to make quick adjustments to your chain if it starts to slip when changing gears, or allow you to make a quick repair if your chain snaps. 
5. Tire Lever 
A tire lever is used when fixing tire punctures. Their main purpose is to install or remove tires from the rim. Having tire levers on a trail will mean you can easily remove the tire and prevent any damage to the rim.
Summary of 5 Essential Mountain Bike Tools to Carry When Biking
You're also going to want to have a tire pressure gauge on you at all times. If you take a look at our quick and easy guide to mountain bike tire pressures, you'll find the best pressure needed for your bike. Be sure to check it out before you go on your next ride.
Disclosures
This website is a participant in the Amazon Services LLC Associates Program, an affiliate advertising program designed to provide a means for us to earn fees by linking to Amazon.com and affiliated sites.