Mountain Bike Fender Accessories & Tips/Tricks to Choose Them
When you decide to add a few things to your bike such as fenders, you might also want to add other accessories to improve the bike's aesthetics. Some people prefer to buy matching fenders or try contrasting ones to change the look of the bike. In general, mountain bike fender accessories are multi-purposed and solve the problems of protecting your MTB as well as making it stand out so we will discuss common mountain bike fenders and explain how they are used.
Common mountain bike fender accessories include reflectors, self-adhesive reflective tape, stickers, leather washers, and fender stays.
Stickers are a popular way to accessorize bike fenders and there are several different ways that you can use stickers and colored cable ties. You could make doodles of your own designs on your fenders by buying a doodling marker or investing in cool stickers that give your bike a personalized look. You could also add a light, like that of a motorbike. A light will also help you see better at night, especially if you're coming back from a hike in the mountains. It can also give your bike a modernized and stylish look. 
Also, if you're still wondering why you should put fenders on a mountain bike, to begin with, be sure to read our related article for more information.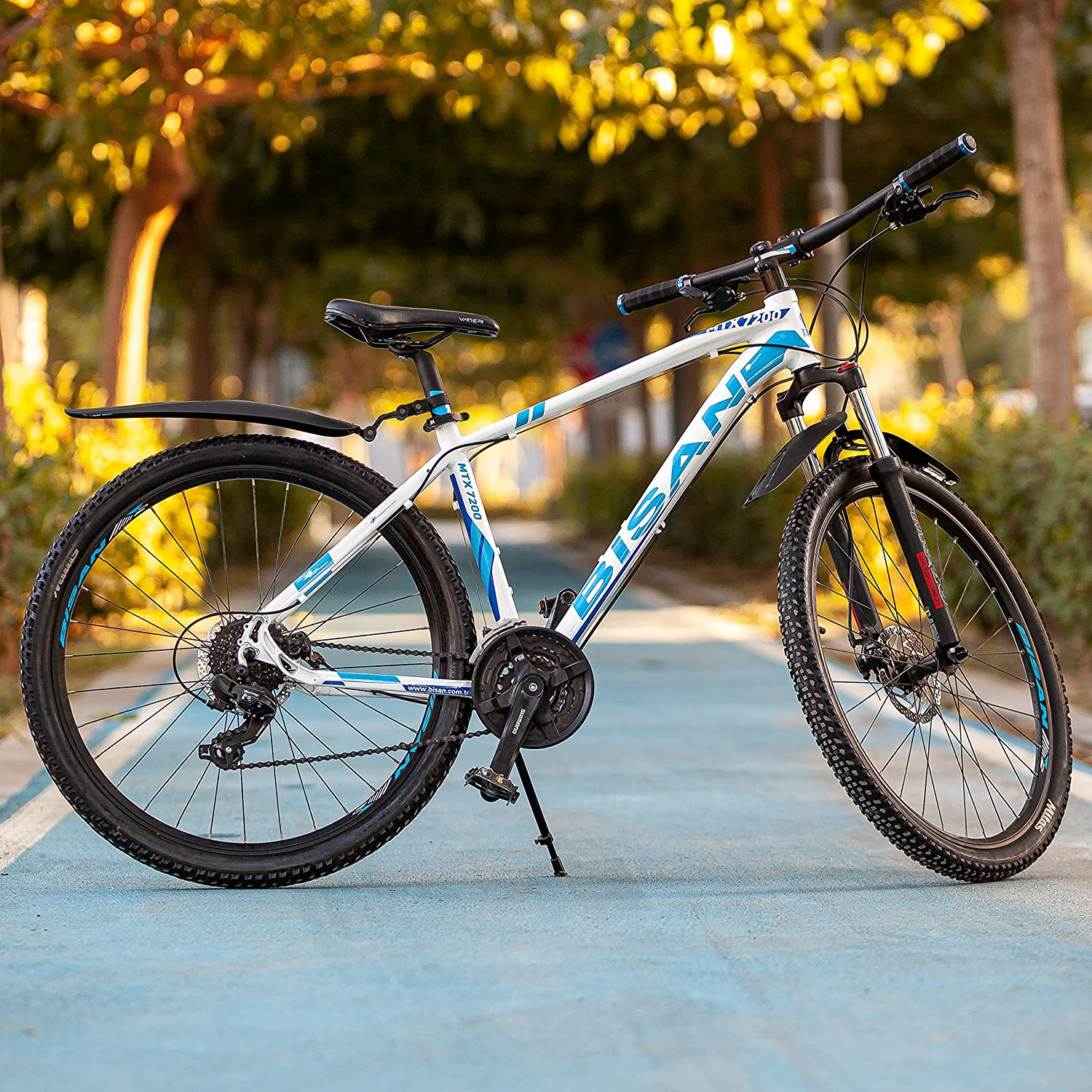 1. Reflective Tape
It is a good idea to keep a roll of reflective tape like this on hand. You can stick the reflective tape on your mountain bike fenders to transform the look of your mountain bike. The tape looks especially cool at night since it contains reflective material which could be either tiny glass beads or it could even be made out of tiny prism shapes that reflect the light. According to this article about reflective tape and visibility enhancement at night published in the Journal of the Human Factors and Ergonomics Society, four studies concluded that cyclist visibility distance, when using reflective tape, was as high as 256 meters when public street lights were off and as high as 146.47 m in rainy conditions. 
More than adding to the aesthetic value of your bike, this tape is used for protection since the reflective tape makes it possible for other vehicles to see the bike at night, which this article from Reflectivetape.info explains.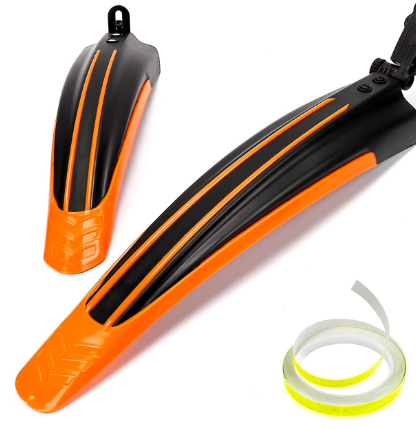 2. MTB Mudguard Stickers
Another way you can accessorize your bike is by sticking cool stickers on the fenders.  Stickers are always more popular among teenagers who see them as a means to express themselves and sometimes make a stylish statement. But even if it has been a while since you decorated with stickers and the idea of using fender stickers still seems kind of cool, there is nothing to worry about as they are acceptable for adults as well. Also, there is a huge variety of stickers available out there so you can go for some really funky options or you can choose to keep it subtle.
You could also buy some glow-in-the-dark stickers like these, because of their multipurpose use. They could help prevent accidents by making you visible to other road users while giving your bike a personalized look. According to this article by Betty Annable, from the Western State Teachers College, bicycle stickers not only increase bicycle safety but also make it much easier to recover lost or stolen bicycles since they are easier to identify. If you have a $5000 mountain bike, adding $1 stickers could save you a lot of time and money if someone steals it. Read our article about mountain bike insurance providers and coverage to find out what type of coverage you'll need for your bike in case it gets stolen or damaged.
3. Fender LED Rear Lights
Rear fender LED lights like these are used to protect your bike in the dark, they can also be used for different purposes such as reversing the vehicle, braking, as well as making sure that there isn't any vehicle behind your bike. It also gives your bike a modernized look and is both an accessory and an accident prevention device because it improves your visibility. This study from the National Library of Medicine shows that the rate of accidents by cyclists who had rear lights mounted on their bicycles was reduced by 19% compared to the normal amount of cyclists who were not using any lights on their bicycles at all.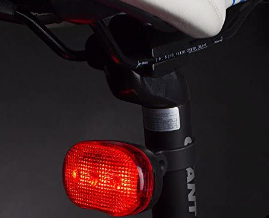 4.  Adhesive Bicycle Fenders 
If you can't find a ready-made fender with the correct length and width that you desire, then making your own fender is easy. We have an entire step-by-step guide on making your own mountain bike fenders that includes some unique ideas about different materials you could use and how to use fender templates to make a fender quickly. Because these custom fenders don't have the regular dimensions of ordinary fenders, you may not be able to find stickers or accessories that fit them. We then recommend cutting out your own adhesive fender coverings from vinyl. Vinyl sheets come in many different colors and finishes, so you could choose a matte vinyl like this,  chrome vinyl like this, or neon vinyl like this to really add something interesting to your bike. 
Similarly, be sure to check out these tricks to choose clip-on bike fenders for mountain bikes too. You will find a lot of additional information in that related article.
5. Fender Stays
Fender stays like these are attached to the mountain bike to make the fenders more rigid and to keep them in place. But securing a fender is not the only use for fender stays. If you are getting fender stays that are made of bendable material like aluminum you can get creative and find other uses for them. Velo Orange, a manufacturer of bicycle accessories, shares in this blog post about how you can use a bendable fender stay to create a stand for a rear bag.  
You could also bend a fender stay to make a custom bag rack that can be fitted to the front of the bike. If you want to learn more about ways to attach bags to mountain bikes then read our article about mountain bike tool bag ideas and how to pack them.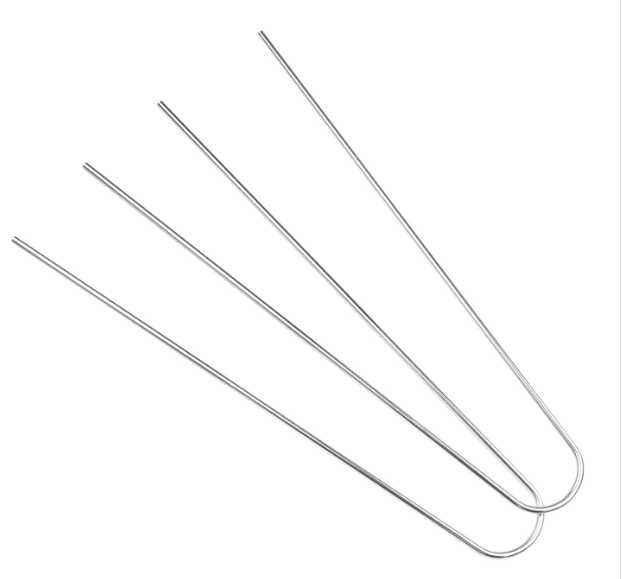 6. Leather Washers
Leather washers like these are donut-shaped pieces of leather that can be placed between the moving and rattling parts of your bike to dampen the vibration and make the bike firmer and more secure when riding. They're a very useful mountain bike fender accessory because they make your ride smoother and more enjoyable. According to Rene Herse, the main job of leather washers is to keep fenders in place so the vibrations from riding don't loosen them and the washers will reduce noisy rattling every time you move your bike.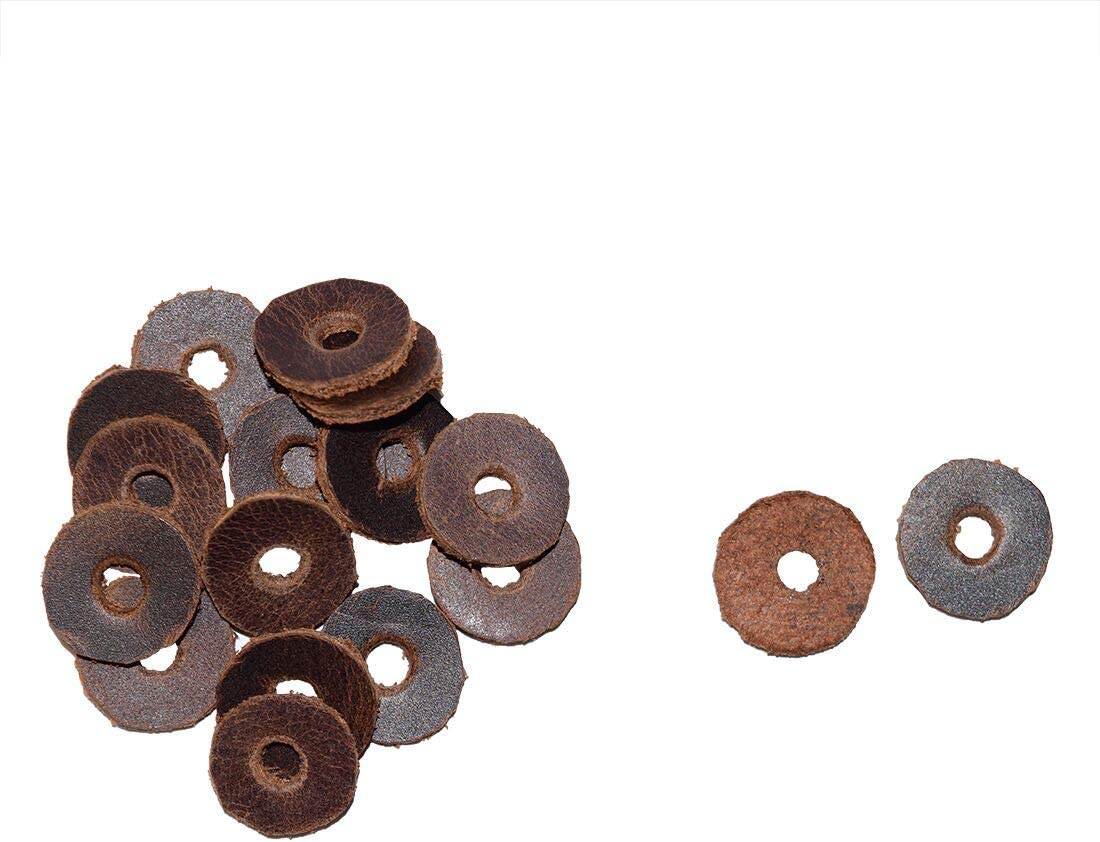 Summary of Mountain Bike Fender Accessories
For more detailed information, be sure to check out our article explaining the five key mountain bike fender parts along with their functions and pictures.
If you're still not sure how to install a mountain bike fender, be sure to take a look at our step-by-step guide that will give you loads of helpful information. Similarly, if you're wondering whether or not you can DIY mountain bike fenders or how to choose mountain bike fender extensions, be sure to check out those related articles too.
Is it Worth Upgrading to Mountain Bike Full Fenders?
It is always worth investing in your mountain bike if you're planning to keep it for a long time. You must make sure to buy the best quality accessories for the bike otherwise you'd have to go through the hassle of installing and reinstalling these parts all the time. 
Upgrading to mountain bike full fenders improves a bike's appearance, makes the owner happier, increases safety, and increases the mountain bike's lifespan.
The effects of upgrading mountain bike fenders with accessories are as follows:
1. Improved Mountain Bike Appearance
We know that the primary purpose of mountain bike fenders like these is to keep you and your bike clean but carefully chosen fenders can do more than that. Mountain bike fenders come in all kinds of colors and styles. If you are going to invest in full finders you might as well spend some time paying attention to the color and style of your bike and buying fenders that fit that aesthetic. Combining utility and style will improve the appearance of your bike and protect your clothes from mud splatters. Our article about mountain bike fender width explains what size fender to buy for different riding conditions as well as the fenders that suit the various bike and tire sizes. And if you are wondering about what tires you should install on your bike why not check out our article that explains how to choose mountain bike tires for maximum grip?
2. Boost Rider's Happiness
Full fenders and happiness? This might not make sense to everyone but bike enthusiasts and riders will surely know what we are talking about. Cyclists derive great pleasure from the look of their bikes and full fenders help the riders reduce the amount of mud that sticks to their bike frames. If you are riding on a muddy track, you can clean your bike at the end of the ride, but what if you have to make stops on your way. It is neither practical nor much fun to clean your bike at every stop you make. Luckily full fenders are designed to keep the mud and water splashes to a minimum. Full fenders, also called mudguards, also save your biking gear from getting ruined. Not having to worry about getting your clothes or your bike dirty will lift your mood and boost your happiness by allowing you to focus your attention on enjoying the ride.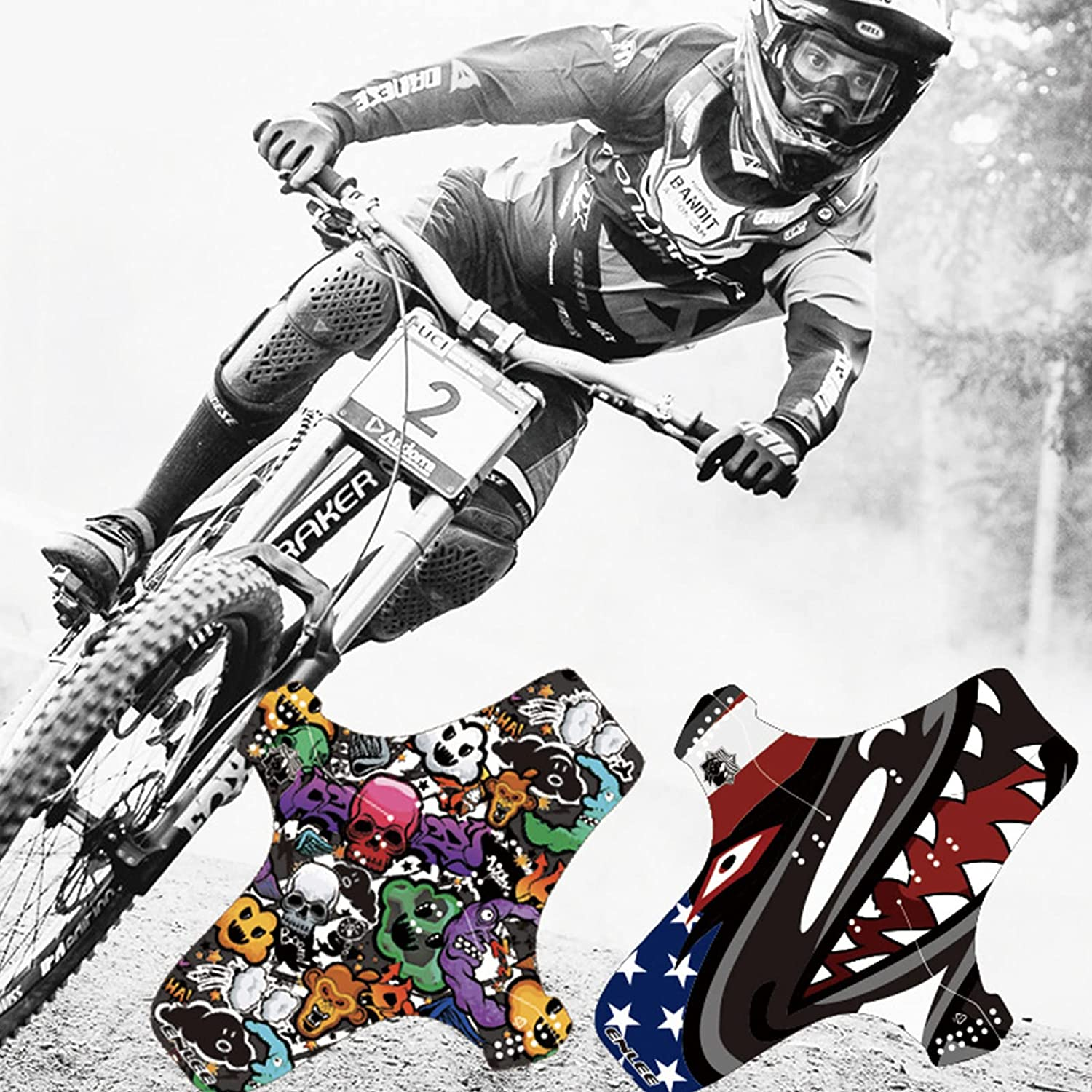 3. Increase Safety
Fenders keep you protected against splatters of mud and gravel on the road, and can help you keep your focus on the road instead of being distracted by splashes. When it comes to riding a bike or driving any kind of vehicle keeping focused and staying vigilant play a very important role in ensuring safety. Sometimes even a momentary distraction can lead to a catastrophic end. As fenders play a role in keeping the distractions in check, they contribute to increasing the safety of the rider and bike.
4. Increase Lifespan 
Installing full fenders like these on your bike means having considerably less grit on different components of your bike (eg. fork stanchions) and that means less damage to those components over time. The more shielded the components of the bike, the longer the overall lifespan of the bike. Our article about mountain bike fender offset will explain how to adjust your fender so that you get the maximum amount of cover. 
Things to Consider When Buying Cool Mountain Bike Accessories for Fenders
Whenever we think of accessorizing something, we generally use the things that represent our personal style, for example, some people like accessorizing with neutral colors, and some like their things to have a vibrant and colorful appearance. But there are also other factors to consider like the functionality of the particular accessory because placing an item on the bike that is just going to interfere with riding will probably take the enjoyment out of the ride. 
Some of the factors to consider when buying mountain bike fender accessories include the terrain, bike fender type and size, accessory purpose, fender quality, attachment type, and type and size of the mountain bike.
Terrain
Before buying something for your mountain bike, you must make sure that your bike is well-suited to the accessory and that it wouldn't affect the movement of the bike on rocky terrain. For example, this thread on BikeForums.net explains how the leather washers make sure that the parts of your bike are less noisy and how they also dampen any extra force or impact exerted on the bike while riding. 
Fender Type and Size
Buying a bunch of stickers or reflective tape or other accessories for your bike's fender depends on the type of fender you have and its size. Some fenders are wider compared to others or they could be shorter or longer depending upon the type of fender you've installed on your bike. According to PDW, a manufacturer of mountain bike accessories, any bike with  700c or 650b wheels would require a full-coverage fender however clip-on or fair-weather fenders may be useful for wheel sizes such as 26, 29, and 700c as well as 650b. 
Accessory Purpose
Having a multi-purpose accessory like a bike light like this is cost-effective because you can add an attractive-looking accessory to the bike fender that also serves to improve your visibility to other riders and motorists when riding on regular roads. Likewise, bike fender stickers or vinyl wraps like these not only decorate your bike but also perform a protective function by shielding your fender against scratches and nicks caused by stones when riding on trails. 
Fender Quality 
Your fender's quality also matters. A good-quality fender like this will not only last longer when riding on tough terrain but will also be a better surface to attach accessories to. A fender that is too soft won't be able to support the weight of a light, and will probably break with the slightest impact. Investing in a strong rigid fender means you can customize your fender to your liking because it will last so much longer. 
Attachment Type
Everything depends on the type of bike you have and how you've installed your fenders onto it. If they're attached with zip-ties or clip-on, they're easy to remove and you might keep two to three sets of fenders to change out, each with different accessories and sticker styles. But if you have only one pair of fenders that are permanently installed onto your bike, look for the best accessories that are stylish and functional so that you don't get bored with them. There are all kinds of fenders available on the market including basic and modern styles that can be installed on the seat post as well as an attachment that screws on through a rubber hook and loop. 
Type and Size of Mountain Bike
The type and size of your mountain bike affect the fenders you're going to buy and whether they should be half fenders like these or the full coverage ones like these. It all depends on your bike and the installation of your Fenders, if both these things are done well, then you can think about accessorizing your fenders. 
According to this article by Velo Orange, when we choose a fender for the bikes, the main rule to follow is that the fender should be at least 8 mm wider than the size of our tires which are available in three sizes—26, 27.5, and 29-inches. You must make sure to buy the fenders wider than the tires so that they provide full protection and coverage of the tires.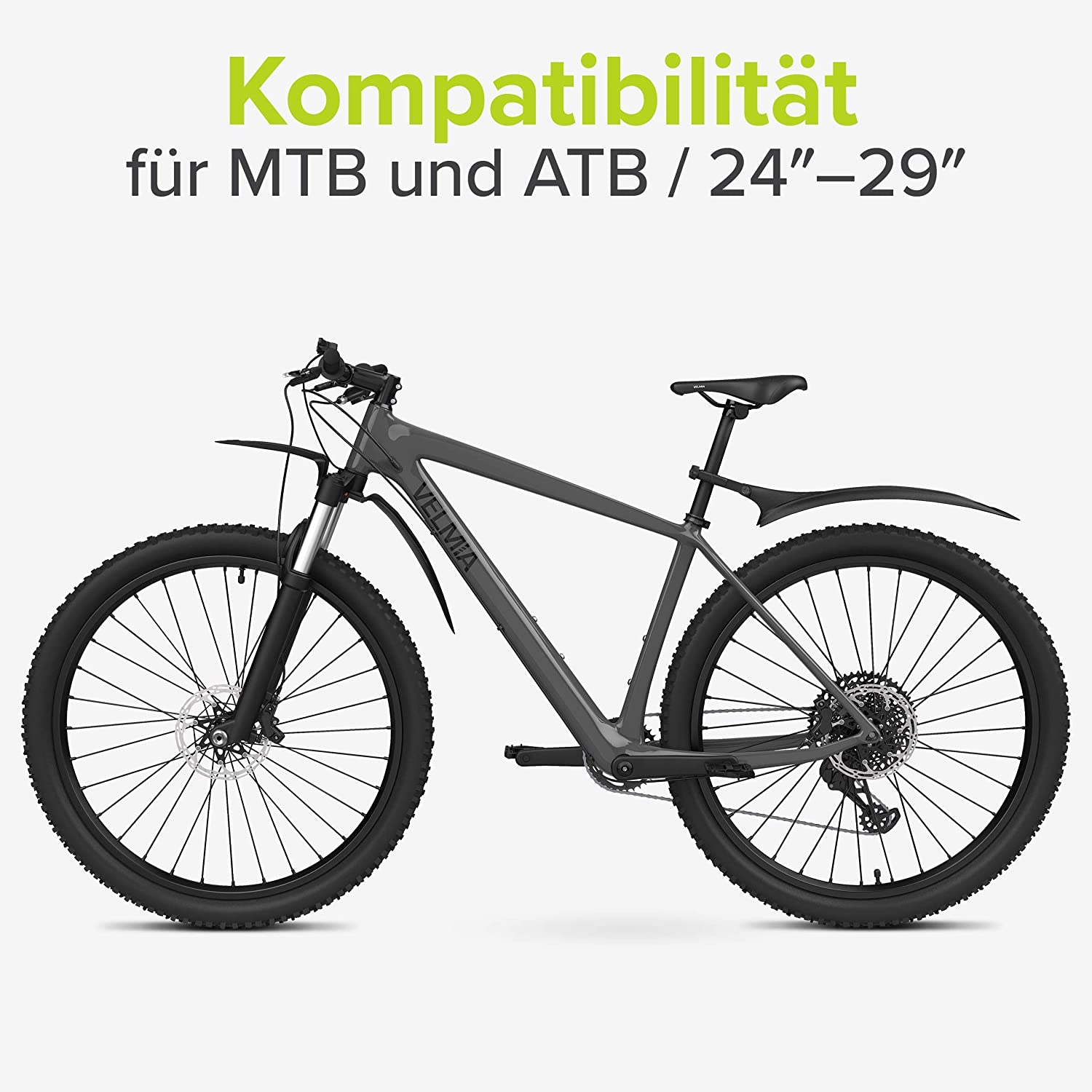 Ways to Upgrade Fenders for Bikes Without Mounts With Accessories
There are several places on a mountain bike where you could mount various types of accessories, like the seat post or fork crown for installing fenders. But not all bikes have the same types of mounting spots or methods. Thinking of ways to accessorize your bike doesn't have to be difficult because most accessories come with places where you can attach double-sided tape or other removable adhesives.  
To upgrade fenders for bikes without mounts, add stickers, install cycling lights and reflectors, and attach bike flags for maximizing visibility during commutes. Accessories for mountain bike fenders can be attached with double-sided tape, removable adhesives, and cable ties. 
1. Covering Fenders With Cool Fender Stickers
Make a collage on your bike fenders by placing stickers of various styles and sizes like these, in an overlapping pattern. This type of sticker arrangement will offer more protection for the fender's surface because the stickers are layered on top of each other. A sticker collage also allows you to create a unique design that sets your bike apart from other bikes. 
2. Install Lightweight Cycling  Rear Lights  
You can invest in cycling rear lights for rear fenders that are lightweight. In most countries, it is illegal to have a vehicle without any lights at all and in USA different states have very specific laws governing bike safety including laws about bike lights. In Florida, for example, when riding in the dark, the bicycle is required to have a white light on the front that is visible from a distance of at least 500 feet and a red light on the back that is visible from a distance of 600 feet, as explained in this article by Christopher G Burns, Esq. 
As this article from the Transportation Research Board explains, the risk of bicycle fatalities is four times greater in the dark, which is why bike lights are important in order to preserve your life and help other road users see you. 
Mount Bike Flags  
You can mount bike flags to your bike in order to make it look cool, but that's not the only reason. Another purpose of a bike flag like this is to ensure safety by increasing visibility. If you are getting a bike flag for this purpose there are some things that you must consider. Firstly, the bike flag should be mounted at a suitable height and should be of an appropriate size. A bike flag that is too small might not fulfill the purpose of increasing visibility, while a flag that is too large might be a problem when it gets too windy. Another important thing is the color of the flag. A brightly colored flag in red or orange will be visible from a greater distance and will be better. 
You might also find interest in learning about more mountain bike accessories. If so, be sure to take a look at our article explaining if bicycle toe clips are dangerous. Be sure to read our related article to find out more.
Disclosures
This website is a participant in the Amazon Services LLC Associates Program, an affiliate advertising program designed to provide a means for us to earn fees by linking to Amazon.com and affiliated sites.