Mountain Bike Essential Accessories – A Biker's Guide to the Best Accessories for Safe, Cool, and Comfortable Rides
Mountain biking is a demanding outdoor activity that requires proper preparation and the right equipment to ensure a safe and enjoyable ride. As a mountain biker, you need to be fully prepared before hitting the trail and equipped for any potential incidents that may occur during a ride. This is where mountain bike essential accessories come in. These accessories include repair kits, safety gear, apparel, maintenance tools, and other must-have items that every mountain biker should have in their arsenal. By having the right accessories, you can enhance your safety, comfort, and overall riding experience on the mountain.
To ensure safe and enjoyable rides, it's essential to have the right gear and accessories. Among the mountain bike essential accessories are an inflator, tire patch kit, and master links for repairs. For a pro rider feel, get fender upgrades, gloves, and tube straps. Take snacks, sunscreen, and a hydration pack for comfort. Keep tools, a bike stand, and chain lube in the garage for maintenance. 
In this guide, we will be looking at a comprehensive list of accessories every serious cyclist should have. We will consider the essential items for mountain biking safety; the best mountain biking accessories for comfort; cool accessories to have with you when you go for a ride, and accessory gift ideas for a cyclist. We will also review trusted brands that manufacture some of the most popular mountain biking accessories. Finally, we will look at the required items that should be in a kit as well as tips to help you determine the right accessories for your kit.
Mountain Bike Essential Accessories to Ensure Biking Safety
On the trail, whether cross country, trail riding, or downhill riding, so many things can go wrong, from a punctured tire to the chain of your bike getting stuck. In extreme cases, you might even get lost. Equipping yourself with a few essential items guarantees you'll be able to fix minor issues while you're on the trail, and won't need to cut your ride short. 
Some mountain bike essential accessories to consider for safety include a multi-tool with hex keys, a chain breaker, tire levers, and screwdrivers for making on-the-go repairs.  Other items include an inflator or tire pump, a patch kit and spare inner tube for fixing flats, and zip ties and master links for quick fixes. Additionally, it's always a good idea to have a well-equipped first aid kit on hand and a reliable GPS device like a Garmin navigator to help you stay on track. 
Our mountain bike tool kit essentials guide is a handy reference for collecting your mountain bike tools.
Here are mountain bike essential accessories to ensure biking safety:
1. A Multi-Tool to Make Quick Repairs on the go
A multi-tool is a must-have item you should carry with you, whenever you set out on a ride, whether on your local trails, during a multi-stage race, or when you bike pack in the wilderness. There are innumerable things that can go wrong with your bike. A mountain bike has several components and moving parts, any of which can become damaged when riding. Having a versatile multi-tool handy will enable you to tackle most repair tasks when riding. Our ultimate list of tools needed for mountain bike maintenance lists all the tools you will ever need to repair your mountain bike.
A  multi-tool should be durable and portable, preferably pocket size. A Lezyne's V Pro-11 like this is great as it is coated with anti-corrosive pigment which makes it perfect for use on rainy days. The Park Tool IB-3 I-Beam like this one comes with the 3,4,5,6 and 8 mm Hex wrench, screwdrivers, and other essential tools you might need at any time.
2. An Inflator or Tire Pump for Maintaining Proper Tire Pressure
An inflator can mean the difference between riding or carrying your bike for the rest of your ride. The tires of your bike bear the brunt of the weight of the bike and your weight pushing downwards which is the reason why your tires might get either ruptured or deflated mid-ride from sharp rocks, nails, or other debris on the trail.
The go-to solution for a flat bike tire is to patch it up and then pump it. A pump like this with an inner tube patch kit is an important accessory to have during a ride. The required pump or inflator has to be portable, small enough to fit into your backpack, and relatively easy to operate.
The BV Mini Bike Pump is awesome for filling high-volume mountain bike tires and a  Pro Bike Tool Pump like this is lightweight. Both come with Presta and Schrader valve heads. A Topeak Mountain TT Twin Turbo like this is also a great option for 27.5-inch and 29er mountain bike tires because although it is longer, it comes with a cage clip.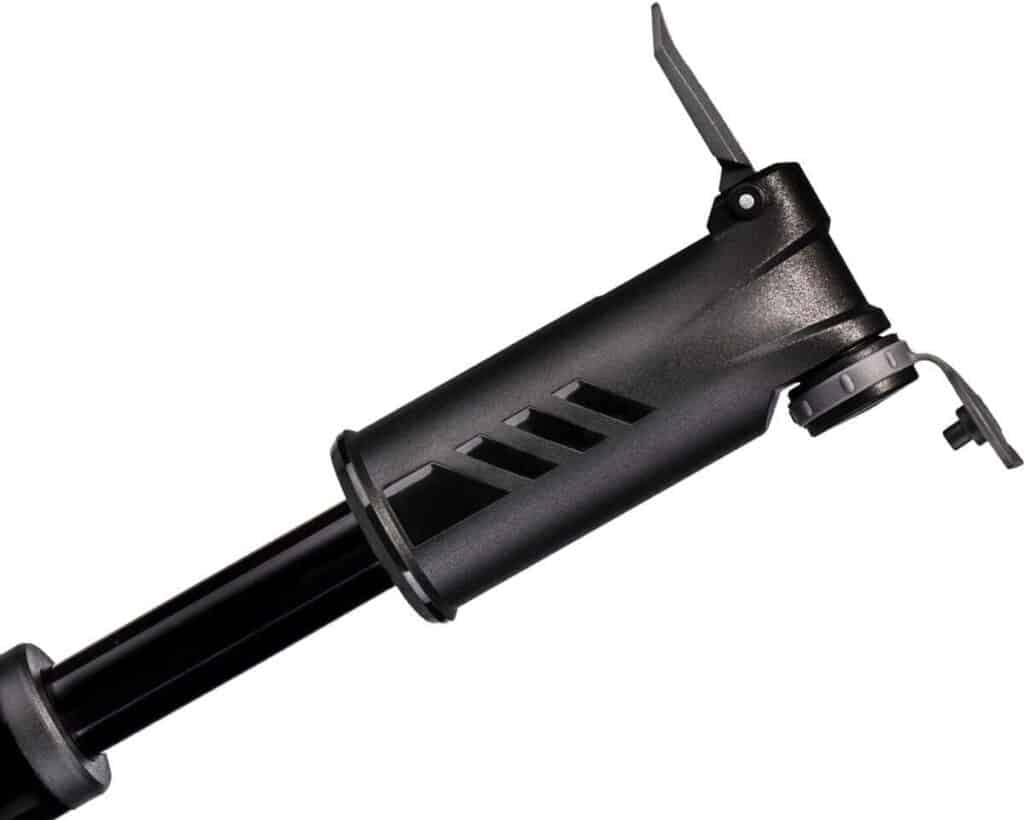 3. A Tire Patch Kit for Fixing Flats
A patch kit is a collection of different sizes of patches you will need to quickly patch up a tire in case of a tear or puncture when you are on a trail. Consider a patch kit as the first aid kit for your tire and an essential repair tool for an emergency. A perfect example is this RocRide 9 Piece Tire Patch Kit. Maintaining the correct tire pressure will help you avoid annoying punctures. Our article about mountain bike tire pressures explains what factors to take into account when determining your ideal tire pressure.
Note that a patch kit is only useful for a tubed tire. The tubed tire consists of a tube fitted between the rim and the tire. for tubeless tires. A tubeless tire has no tube but has air between the tire and the rim and requires a plug kit to be repaired. The kit for a tubeless tire will consist of a sealant injector syringe set, a cutting tool, a tire plug kit, a puncture kit, and sealants. Some of these items, like sealant injector syringe sets and sealants, are sold separately. An RRK Tubeless Bike Tire Tool kit like this comes equipped with everything except sealants.
4. A Spare Inner Tube for Fixing Flats
Whether you have tubeless or tubed tires, there is the possibility of you completely damaging them as you navigate your mountain bike on paths with sharp-edged rocks, nails, or even jagged tree roots. In such a case, you have no choice but to change the tube of the tire, or in the case of a tubeless tire, insert a new tube. This is why it is important to always have an extra tube in your backpack. Our article about mountain bike tool bag ideas and tips to pack them lists the most important items to always carry with you and how to back your tools so that they don't hinder your ride. 
When choosing a spare inner tube, the size matters. Ensure you get a tube that fits the wheel's diameter and also the width of the tire fitted to your bike. Another factor to bear in mind when selecting a spare inner tube is the material it is made from. The first option is a butyl tube like this, which is bulkier, easier to repair, and compatible with either a Presta valve or a Schrader valve. The alternative is a latex tube like this. Latex tubes are lighter and more fragile. They are also a bit more complex to fit because they are floppier and leak more air than the butyl tube when ruptured.
A  BWSHLF 29 Inch Bike Tube like this is an excellent choice for most mountain bike tires. It comes with a Schrader valve and is perfect for a 29-inch wheel. It is made of butyl. Many more brands are out there and our article about how to choose mountain bike tires for maximum grip will help you become more familiar with the wide variety of tires and tube options that are available.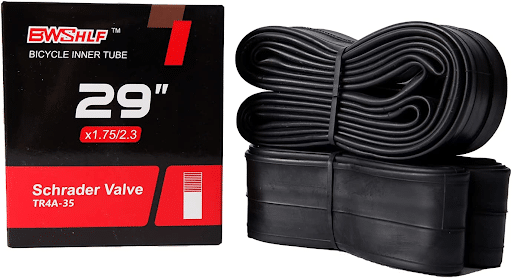 5. Zip Ties for Unexpected Repairs
In the grand scheme of mountain biking, the zip tie is perhaps one of the most versatile and underrated tools. Zip ties like these can be used in place of a bolt for a broken chain ring. They are also useful for attaching accessories to your bike instead of clamps. You can use a zip tie as a temporary lock to prevent your bike from being stolen. Its other uses include temporarily threading the barrel adjuster of the rear derailleur with a zip tie, and pushing the derailleur to a comfortable gear as a quick fix.
Finally, you can use a zip tie to temporarily block a punctured tire when you run out of patches and also use it to hold your shoe in place when the buckle snaps. The use of a zip tie is only as limited as your imagination. Our article about the key mountain bike fender parts lists zip ties and a fundamental item to ensure proper alignment of front and rear fenders. As versatile as zip ties are, they are really cheap.
6. Master Links for Unexpected Repairs
Your chain is an essential part of your bike. It links the front and back gears of your bike, converting your rotational pedaling into forward motion. The dread of broken bike chains has been the source of motivation for really awesome inventions. One such invention is the master link, also called the fast link.
A bike chain consists of several links joined together and can break, usually from wear, old age, stress, and blunt force applied to it from crashing. When changing a broken link on a chain, you need the right tools to do the job properly. Our article about how to fix a mountain bike chain offers an in-depth, step-by-step guide on how to fix your chain. 
In a bid to reduce the usual stress of removing a broken link and then replacing it with another, master links were invented. All you need to do is completely dislodge the broken link and join the chain with the master link. You can do this with a master link plier like this. You can get a single master link like this, and you can also get them in multiple pairs like this. 
7. A Reliable GPS Device Like a Garmin Navigator
The Garmin navigator is a brand of navigational device that is an essential item for any biker. If you are not a professional rider, GPS tracking might seem unnecessary, however, the Garmin navigator is equipped with a variety of features that cater to a wide range of needs. You can use a Garmin navigator like this to record your route, collect data on your heart rate as you ride, receive phone calls, record your altitude, and track your hydration.
You have two options when it comes to a navigator: either a watch or a cycling computer. Both are great options, and can even be used together if your budget allows for it. There are several models and bundle packages that include other accessories like earphones and additional sensors. Once you familiarize yourself with the key features they each have, you can make a well-informed decision.
The Garmin Cycling Computer comes with various features including GPS tracking, collation and presentation of your biometric data as you ride, and the display of your speed, distance, time, elevation, cadence, and heart rate on a screen. Some of the new models on the market are equipped with more interesting features like navigation, incident detection, smartphone pairing, and built-in coaching.
For more rugged use and mobility, a Garmin Watch like this is often preferred. Unlike the cycling computer which has to be attached to the handlebar, and be removed when you are not around your bike for fear of theft. The Garmin watch remains on your wrist for as long as you want. Music, mobile connectivity, and ABC sensors are among other features the Garmin watch offers.
8. A Well-Stocked First Aid Kit for Emergencies
From the common scratch resulting from scraping on shrubs, to being thrown over the handlebar, there is an abundance of dangers you are exposed to whenever you ride your bike. With a first aid kit like this, you can attend to minor injuries quickly. According to this article from the Sports Medicine Journal, mountain bike injuries can leave long-lasting effects if not dealt with timeously, and having a first aid kit handy can reduce the recovery time. 
Some of the essential items that should be in your first aid box include bandages, gauze, medical tape, a knife, and a zip-lock bag with Ibuprofen, Benadryl, and iodine tablets. These are just standards. For more specific items, a thermal blanket is a requirement if you will be camping out, and a headlamp for night rides.
For a more extensive list of equipment to cater to extreme injuries, you need a tourniquet, epi-pen auto-injector, 6.0 cuffed endotracheal tube, scalpel and blades, 10cc syringe, and decompression needles. You will need to pack these items carefully and out of the way to ensure they don't get damaged. 
Our article about how to choose a mountain bike tool bag that locks is a helpful resource for ideas for storage while on the trail.
Summary of Essential Mountain Bike Tools and Accessories
Mountain Bike Essential Accessories to Ensure a Comfortable Ride
Limiting your riding to days that only have clear weather or ideal conditions would mean missing out on a lot of opportunities to ride. As an enthusiast, you probably love to ride at all times, and in all types of weather. Thankfully there is a wide variety of useful mountain biking accessories that can improve your comfort and safety whether riding in the blazing heat or a downpour. And of course, don't forget the snacks.
Mountain bike essential accessories for a comfortable biking experience include high-energy and protein snacks, sunscreen, a water bottle for short rides, a hydration pack for longer rides like cross-country trails, and a poncho for rainy days. These accessories can help you remain comfortable while riding by maintaining energy levels, protecting your skin from harmful UV light, staying hydrated, and keeping you dry during wet weather conditions.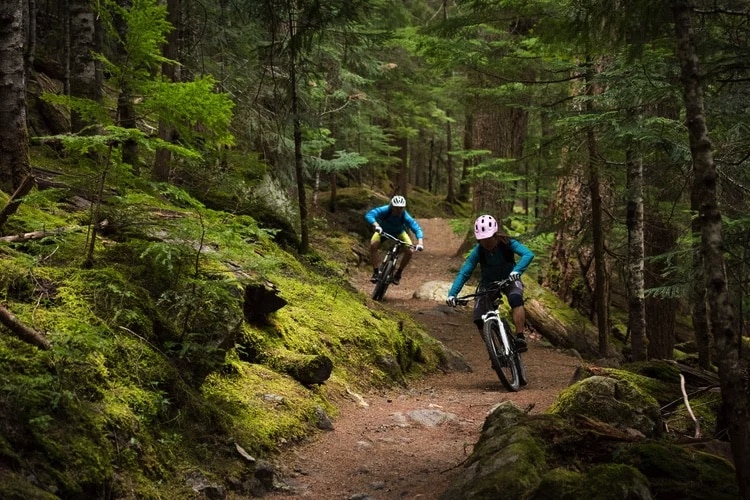 Here are mountain bike essential accessories to ensure a comfortable biking experience:
1. Snacks for Maintaining Energy Levels
Snacking is an important aspect of mountain biking. The attention you give to it is dependent on the type of mountain biking you are about to undergo. Also, snacking falls within your broad diet and so should be considered based on what you eat before and after a race and not only during a race. Doing this will help in your decision-making and significantly boost your performance. This article from the Orthopedic and Sports Medicine Institute explains that you can actually aid post-workout recovery by eating the right snacks.
Your choice of snack during a race is dependent on the distance and the ease of eating and drinking while riding. There is also the concern of how you intend to pack the snack to prevent spillage. For short, intense races, snacks with small amounts of carbohydrates are better. Longer races may require you to consume snacks with high carbohydrates taken intermittently.
Note that there are no strict patterns for snacking, and you will have to experiment till you find a pattern that best suits you. Depending on your preference, your snack can be a combination of sports foods and whole foods. Your snack can include sports bars, fruit cake, sandwiches, sports drinks, dates, and jelly beans. You can also include leftover pizzas (they taste great and are high in carbohydrates), baked potatoes, dried meats, and salty snacks. Ensure your choice of snacks is ready to eat and drink, practical, non-perishable, and most importantly, convenient. 
2. Skin Protection Through Sunscreen
According to this article from the National Cancer Institute, the risks of overexposure to the sun can range from premature aging to skin damage that can develop into cancer. Mountain biking is an exclusively outdoor activity that will have you in the sun for more time than you can manage, especially if you are a professional. Apart from hand gloves, a helmet, goggles, a vest, and shorts, you need to apply sunscreen on your skin to protect yourself from the sun. Our mountain bike armor heating and cooling tips have useful ideas to help you stay cooler when exposed to the sun for long periods of time. 
Sunscreen protects your skin from both UVA and UVB. UVB is a form of UV that causes sunburn and two types of cancer, malignant melanoma and basal cell carcinoma. UVA affects the elastin on the skin, which leads to skin wrinkles. Using a sunscreen with high SPF will help block both UVB and UVA radiation. Note that sunscreen is not a definitive solution, and using them is not a license for you to stay in the sun for longer. 
Preferred sunscreen products should have a high SPF, like this Paula's Choice (SPF 50), and a UVC logo with four or five UVA stars. Preferred usage is 30 minutes before going out and reapplication every 2 hours when outside. If you can manage it, it is better to ride early in the morning before 10 am and in the evening after 4 pm, as these periods have lower intensity rays. 
3. Hydration Solutions for Short and Long Rides
Staying hydrated during a mountain bike race is crucial. It's one of the most important mountain bike essential accessories to have. It keeps your joints lubricated, helps in creating oxygen in your body, repletes water lost due to perspiration, improves energy, and helps you regulate your temperature. There are several options for carrying water when you hit a trail. What you choose to go with is dependent on whether or not you want extra weight strapped to you or your bike.
Water bottles are a great choice. They come in different sizes like this 24 oz. Insulated Squeeze Bottle. They can easily be strapped to your handlebar or the down tube of your frame and are perfect for short races. However, when it comes to more demanding mountain biking, like cross-country and trail riding, you will need a much larger container that can hold more water.
Hydration packs, also known as drink bags are a special form of hydration system built like a backpack. It is essentially made up of a "bladder" that holds the water, and a capped mouthpiece fitted with a hose through which a biker can drink water hands-free while riding. The bladders come in different capacities from 2 liters to 18 liters like the TETON Sports Oasis 18L like this. Hydration packs can also hold other important items you might need for your race, like a normal backpack. This makes them the best choice for long-distance mountain biking.
4. Rain Protection with a Poncho
Choosing to ride only in clear weather will limit how often you get to hit the trail with your mountain bike. The best you can do is prepare for disagreeable weather conditions, one of which is rain. A poncho gives you the required protection from the rain.  Long ones can keep your hands dry, as well as cover the handlebars.
Ponchos have their advantages as much as they have disadvantages. A SaphiRose Lightweight Cycling Rain Poncho like this is easy to put on, will protect most of your body from rain, is light, loose-fitting, and can be used as a small tent. However, in extremely windy conditions, a poncho will work against you as its loose fabric will yield to the resistance of the wind, causing you to sway in the wind. They can get caught in branches and shrubs and are therefore inappropriate for off-road biking. Also, if you are big on looking cool while you ride, you might find the poncho rather unappealing. 
Summary of MTB Accessories To Improve Comfort
Cool MTB Accessories for Your Next Ride
There are certain MTB accessories that you might not consider essential but that can improve the look and feel of your mountain bike. They range from safety, aesthetics, and comfort and can make riding a much more enjoyable activity. While you may not notice the absence of these accessories, using them can noticeably enhance your performance.
There are some cool MTB accessories and upgrades that you might want to consider. Upgrading your old fenders can provide better protection from mud and also improve the aesthetics of your bike. Biking gloves can protect your fingers from injuries and also provide a better grip on the handlebars. A tube strap can reduce the weight of your backpack. With a GoPro, you can record your trails and cool moves and share them on social media. A Bluetooth headset can help you shut out distracting sounds and fully focus on the race.
Here are some cool MTB accessories to enhance your next ride:
1. Upgraded Fenders
Neither you nor your bike deserves to have mud plastered all over from riding. Fenders are there to make sure this does not happen. You can learn more about that in our article that looks at whether mountain bike fenders work. The traditional long fenders attached under the fork of the tire are functional to an extent. However, they can sometimes lack durability and aesthetics. Fortunately, several brands manufacture modern and cool-looking fenders today.
Modern fenders like these Mucky Nutz are made from recycled material and are available in different sizes. They are tough, which guarantees durability, and are also flexible. They retain their shape irrespective of the force that is applied to them. If you own multiple bikes, the Mucky Nutz can be used on all of them as they are compatible with all wheel sizes and tires of up to 3 inches. Their design features a slight tilt at the front which deflects projectiles away from the tire. 
When upgrading your mudguard, look for something compatible with all wheel sizes, that is easy to attach (with zip ties, velcro, or screws), and flexible yet durable enough to handle blunt forces.   
2. Biking Gloves for Improved Grip and Hand Protection
A good grip on your handlebar can be the difference between losing control of the bike's direction and successfully maneuvering a sharp bend. Where you could rely on your bare hands, it is advisable to use biking gloves. Gloves have a dual function. The really good ones are designed to increase the firmness of your grip around the handlebar. They also protect your hands from biking-related injuries. Before purchasing a pair of gloves, have a look at our article on how to choose mountain bike gloves with grip. 
However, sometimes it is better to go bare hands than opt for a poorly designed glove, and there are a lot of those on the market. Hand gloves like these Giro Xen Cycling Gloves are considered the all-around best gloves as they are durable, offer a reasonable amount of protection for your hands, and can be used in almost all weather conditions. Before purchasing any biking gloves, ensure they are relatively light, comfortable (breathable), well-sewn, durable, appropriately padded, and easily adjustable.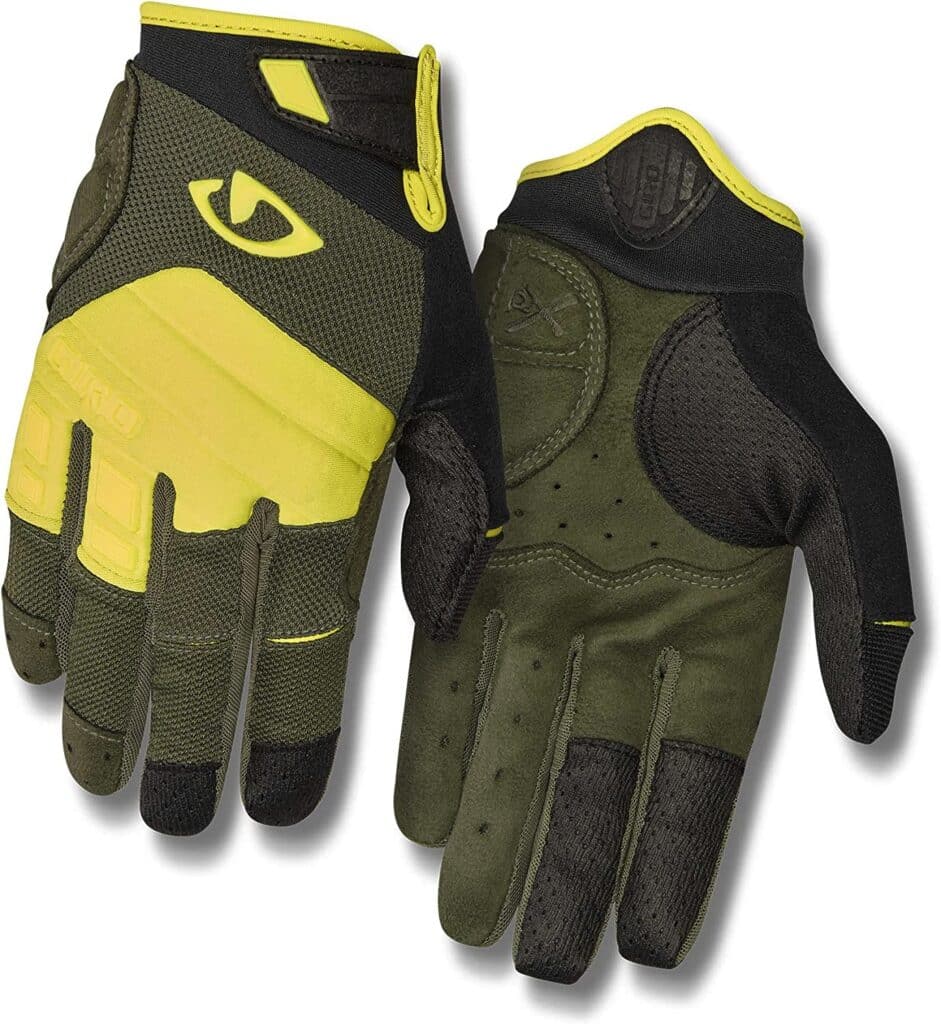 3. A Tube Strap for Hassle-Free Spare Tube Storage
We already discussed the importance of having an extra tube with you, which is, so you can change the tube of your mountain bike tire when it gets damaged beyond what a patch can fix. However, where you put your tube also matters. In a case where you find your backpack full of other essentials, or you are riding without one, then a tube strap will be important.
A tube strap as the name implies is a strap designed specifically for your tube. You use it by simply strapping the tube to any of the bike posts. There are lots of brands of tube straps on the market, however, getting the best for yourself will require an understanding of what you should be looking for. Go for a long strap(about a foot long), equipped with a hook and loop or a bolt. Its inside should be made of materials that can grip the frame of your bike firmly.
An example of a good tube strap is a Granite Portaledge Tube Mount like this which is lightweight, easy to use, and made up of alloy plates, with a silicone-coated hook and loop strap to ensure a firm grip around the bike frame.  
4. A GoPro Camera to Capture Epic Adventures
It would be rare to find a cyclist who doesn't have one form of an action camera or the other on them when they are on the trail. Recording while riding has become kind of a culture, and an awesome one at that. This is the most effective way you as a cyclist relive your experience and assess your riding style after a race and also give the audience live updates on your journey. When it comes to recording in sports, GoPro is the go-to, among several other brands.
There are several models of the GoPro, with new ones capable of stabilizing and recording 4K videos. You can also share your videos directly on social media. How you intend to mount the camera, your unique needs, and your budget will determine what model you should go for. The GoPro website also has tons of tips for improving your videography skills when riding on the trail. 
With GoPro, you are sure to find the camera for you. This GoPro Max is modern and sleek, records 4k videos, and is a 360-degree camera. It also allows you to instantly share your videos. A GoPro Hero 8 Black like this offers inbuilt stabilization, with four options for its lenses (narrow, wide, super view, and distortion-free-linear). Another option could be a GoPro Hero 9 Black like this, which is armed with scheduled recording that lets you set when the camera will automatically record footage.
5. Bluetooth Headphones to Ride to Your Favorite Tunes
Music is a great stimulator. When it comes to physically demanding outdoor activities like mountain biking, the extra motivation you get from tuning in to music while shutting out distractions is welcome. This is why headphones are a favorite for bikers. 
Choosing Bluetooth earphones is highly subjective. You would have to try out a few until you get the one you are comfortable with. However, irrespective of what you go with, you want a pair that is durable, preferably water resistant (as you will be sweating a lot), can pick up calls easily, and is lightweight (so that it doesn't interfere with your helmet). Another factor to consider is whether you want headphones that totally or partially cancel out noise.
Aftershokz Aeropex headphones like these are amazing. They partially cancel out noise, so you can still hear your surrounding environment. They are lightweight and sit well around your head. They have a battery life of about 8 hours. High-end Bluetooth headphones like these Sony 1000XM4s cancel out all noise completely, have a 30-hour battery life, and can support 2 Bluetooth connections.
Gift Ideas for Mountain Biking Accessories
Although any mountain bike accessory can make a great gift, it's possible that the person you're shopping for already owns the item. To ensure that your gift is well-received, consider choosing an accessory that's unique or has additional features beyond what the recipient may already have. Aim for a non-essential gift that's both stylish and practical.
Some gift ideas for Mountain bikers include sunglasses, a rechargeable bike light, a speedometer and odometer for measuring distance, and a phone mount.
These mountain bike accessories could make great gifts:
1. Sunglasses for Eye Protection on Mountain Biking
Sunglasses are an essential accessory for cyclists. You can never have too many pairs, which is why they make for an awesome gift. From protecting the eyes from UV lights, debris, and specks of dust, to insects flying about along forest paths, sunglasses protect the eyes from all these annoyances and more. Sunglasses can be the difference between finishing a race with teary, swollen eyes and finishing with a smile and healthy eyes. And of course, there is the added benefit of looking cool while riding.
As with most mountain bike essential accessories, there is a broad range of brands. However, there are core features to look out for in sunglasses. They should have a wide view range, should be able to fit all shapes and sizes of full-face helmets, and be durable and flexible. Of course, your final choice will be determined by your personal preferences or that of who you intend to gift. This article from the Extreme Sports Journal takes a look at what factors should be considered when purchasing sunglasses for outdoor sports like mountain biking and cycling. 
These POC Ora Clarity Mountain Biking Goggles that are more for eye protection are a perfect gift. They can be adjusted to fit any size of head helmet, so you don't have to worry about them not fitting who you intend to gift. The lenses are clear and foam free for both trail and enduro ventilation. They have a wide field of view, meaning the user will not be blindsided. If the lens gets destroyed, you can easily get a replacement lens.
2. A Rechargeable Bike Light for Safe Riding 
Riding at night is both a thrill and an adventure every cyclist undertakes at one time or another. Being fully equipped for it is, however, key to preventing accidents during an already accident-prone time of the day. One of the most important accessories needed is rechargeable bike lights. No cyclist should go out at night, without one, which makes them a thoughtful gift to give.
When choosing a headlight, there are key areas to be mindful of. These include the lumens, the run time, the beam pattern, and any other useful features. Lumen is how bright a bike light is. We suggest you go for a bike light with a minimum lumen of 1,500. Of course, the brighter the better. The run time is how long it can operate before it dies out. The beam pattern can either be focused or wide. It can also be a combination of the two, which is better.
A Magicshine Monteer 8000S Galaxy like this boasts a lumen of 8,000, with a runtime that averages an hour and a half. It produces both focused and peripheral beams. It comes fitted with a Bluetooth wireless control. For a less expensive option, you can go for a Magicshine RAY 2600 like this with 2600 lumens, and it also lasts an hour and a half.
3. A Speedometer & Odometer to Track Mountain Biking Progress
A speedometer measures speed, and an odometer measures distance. Some devices perform both functions. For a bike, they are called cyclo-computers, and they can be used to measure a wide range of activities, both of the bike, and the rider. For a competitive cyclist, or one that is interested in measuring cycling data, a cyclo-computer is a perfect gift.
The money you will spend is largely dependent on the versatility of the device you intend to get. A Cycplus like this, which is high-end, comes with a lot of capabilities. You can record speed, distance, heart rate, cadence, power, altitude, and the route traveled. There are low-end devices that just read one or two types of data but it all depends on your budget.
However, whatever cyclo-computer you get, ensure it is durable, waterproof, and has a long battery life to at least cover your travel distance. Also, fancy touch screens might not be too practical because of wet hands or gloves when cycling. Finally, consider one that comes with a workable cable clutter and a functional hold, for proper attachment to the handlebar of the bike.
4. A Phone Mount for Staying Connected on Mountain Bike Rides
A phone is an essential gadget that most cyclists would rather have on them at all times. However, it can be fragile, as well as expensive. Cyclists run the risk of losing or damaging their phones while on the trail. Keeping it in a backpack makes it unreachable, which is why phone mounts are designed. Using a phone mount keeps a phone safe and within reach. 
Like most accessories discussed in this article, there are several brands of phone mounts. They come at different prices and with added features, depending on the brand. However, you want to go for one that is durable, has a very strong mount system, and has other added features like portrait or landscape orientation. Also, note that there are phone-specific mounts. So, be sure to confirm if the mount can work with a specific phone or just about any type of phone.
A Quad Lock Out Front Bike Mount like this is built for just iPhone and Samsung Galaxy Phones. It is both light and flexible. It comes with a dual-stage lock that is patented and can be used for various sizes of handlebars. There is also the Nite Ize Wraptor Rotating Smartphone Bar Mount like this which is unique for its 360-degree rotation. It comes with a universal mounting strap and allows for edge-to-edge screen visibility.
How To Find the Best MTB Accessories Brands 
When it comes to Mountain Bike Essential Accessories, there are several brands offering a variety of options, making it difficult to decide which ones to choose. But don't worry, we have compiled a list of popular brands that most cyclists use for different categories of accessories.
To identify the best MTB accessory brands, consider looking for those that have a significant presence in the market based on reviews from reputable review sites, blogs, and respected cyclists. Look for a brand that provides comprehensive resources to help customers use their products, including a blog, YouTube videos, and a user manual.  
Additionally, their products should be available on Amazon as well as their website to facilitate delivery to a broader geographical area.
These are our favorite MTB Accessory brands:
Park Tool
Park Tool is a trusted name among cyclists. From repair shops to countless trails all around the world, mountain biking communities depend on them for their amazing tools. They manufacture an array of products from tools, to repair stands, to gears.
They have tools for working on brakes, cassettes, wheels, chains, cranks, bottom brackets, derailleurs, pumps, and pedals. Irrespective of what you need to do on your bike, Park Tool has it. Their tool kits come in several types, all of which are designed to suit specific purposes. Their Professional Kit like this which costs $939.95 includes most tools you will need including an adjustable torque driver, hex wrenches, chain checker, chain tool, cassette pliers, screwdrivers, cleaning tools, and more. The kit has 88 specialized tools altogether.
Garmin 
Garmin is the most popular brand when it comes to bike computers and navigation accessories. They offer a wide range of accessories that fall within several price ranges. Garmin services not just the cycling industry but also automobile, aviation, sports, and marine, making them one of the most trusted brands.
Garmin manufactures both cyclo computers and smart watches for mountain biking. Their devices are capable of reading a wide array of data, including GPS capabilities. Beyond reading data, they have a system that presents all the data in a clear format to help bikers in their decision-making.
Garmin offers six models of cyclo-computers. There is the Edge 130 Plus like this which costs $119, and cyclists can use it to measure their heart rate compared to the Garmin 530 like this, which costs $404. It comes equipped with a whole lot of features and capabilities, including security for your bike.
Endura
When it comes to mountain biking apparel, there are so many brands, each boasting its own influence in the market. You might have to go through a couple until you find one that best suits your specific functional and aesthetic needs. Some of the top brands include Patagonia, Endura, dhb, Yeti, and others. However, for the sake of this article, we will be looking at Endura.
Endura as a brand dates back to 1992, founded by Jim McFarlane, a passionate club cyclist. The brand manufactures a wide range of apparel, including shorts, big tights, trousers, and jackets. Their accessories cover a list of items, including the Endura FS260 Pro Skullcap like this and their Endura Men's Hummvee Lite Icon Full Fingered Cycling Gloves like these. Others include waterproof socks, road overshoes, and thermal legwear.
Orange Seal
A damaged tubeless tire means the end of the race for a cyclist, but not if they have the wherewithal to quickly repair the tire. This is why having a sealant is quite important. And yes, there are so many brands of sealants out there, some of which will do the job properly however, we will talk more about Orange Seal.
Orange Seal is driven to help cyclists attain optimal tire performance and durability with their bikes. From the regular formula, which costs $11, to the endurance formula like this, which costs $22.99, their sealants get the job done. They also manufacture valves, rim tapes, and gloves.
Lezyne
The brand name Lezyne is synonymous with pumps, especially among cyclists. Where you can get just about any quality pump on the market, Lezyne is a good place to start, and this is because of its influence in a rather competitive space. They cover a wide range of pump types.
Lezyne manufactures floor pumps for high-pressure roads, tubeless setups, tubeless essentials, and other accessories. They also manufacture hand pumps for high-pressure roads, shock pump kits, tubeless essentials, and accessories. Beyond pumps, they also have multi-tools, tire repair accessories, and bicycle storage.
Their price range for their floor pump is $84.99 for their sport drive like this and $109.99 for their CNC digital drive like this. Their hand pumps start at $19.99 for a Lezyne sport drive and $58.99 for a micro floor pump. They also boast of a high-end Lezyne 1-fp-prodr-v204 Pump like this which costs $159.99.
What Mountain Bike Essential Accessories Do I Need To Have at Home?
When it comes to owning a mountain bike, having the right tools and accessories is essential for maintaining and repairing your bike at home. A basic set of tools such as hex keys, screwdrivers, and wrenches will come in handy for tightening bolts and adjusting components. 
Other mountain bike essential accessories for maintenance and repair include a bike stand to elevate your bike off the ground, making it easier to access the wheels and drivetrain. It's also important to have a basic toolset for repairs on the go, and chain lube to keep the bike chain lubricated and maintained. It is recommended to keep these tools at home for easy access when doing maintenance and upgrades.
Our extensive library of how-to guides and step-by-step articles has got all the bases of mountain bike repairs covered from mountain bike set dropper repair, to how to fix grip shifters.
1. A Bike Stand to Hold a Bike in Place
Most of the repairs and maintenance you will do on our bike will require you to hold it in a fixed but accessible position. Others will need you to turn the bike upside down. This is why you need a bike stand. It is perhaps one of the most important bike accessories every cyclist should have at home. Even if you will not be doing any work on your mountain bike, it is good practice to leave your bike suspended than for it to rest with its tires on the floor. Key features to look for in a bike stand include angle adjustment, height adjustment, a quick-release clamp, and load capacity. 
A stand with a wide angle adjustment ensures you can fix your bike at odd angles during certain repairs or maintenance. Height adjustment allows you the freedom to position the bike at the required height relative to make it easily accessible during repairs. A quick-release clamp with adjustable diameters that is easy to attach is always preferable. Finally, if possible, go for one that can maintain the weight of the heaviest mountain bike, which is better than having to buy a new stand every time you upgrade your bike. The Park Tool Unisex Adult PRS-22.2 like this is a high-end stand, that meets all these requirements.
2. A Tool Set for Basic Bike Repairs
A standard tool set comes with practically all the tools you will need to work on your mountain bike. In the long run, an investment in a toolset that comprises all the major tools you would need is better than getting them individually. You will be saving yourself a lot of money as well as time.
A Park Tool PK-5 set like this comes with torque drivers, standard types of wrenches, cap tools, cassette pliers, chain tools, crank pullers, several types of screwdrivers, turning forks, brushes, etc. It has a total of 88 specialty tools you will need to perform countless bicycle repair and maintenance procedures. Check out this video tutorial by Park Tool that explains everything you need to know about this tool set. There is also the Park Tool AK-5 set like this which has a more limited selection but includes 36 specialized tools.
3. Tire Sealants for Emergency Punctures
Tire sealants perform dual functions. Some are designed to coat the inside of a tire before a ride which serves as added protection. In the case of tire puncture, they are used to seal the holes, so you can continue on your race. 
As stated earlier, there are several brands of tire sealant and most will perform well. However, you can start with an Orange seal. They manufacture several types of sealants including Endurance Formula Tubeless Tire Sealant like this which comes with an injector. 
4. A Chain Lube for Smooth Bike Performance
When it comes to the maintenance of your mountain bike, your chain should be a priority. Made of metals, and consistently moving across both the front and rear gear, it is prone to wear and tear, and also rust due to exposure to rain and mud. A poorly maintained chain ring will cease while you ride and in the worst case, actually break. This is why having chain lubes is very important. Our guide on how to lube a mountain bike chain outlines the various types of lube and helps you determine what lube should be used for each riding scenario. 
A chain lube smooths the chain's engagement with the other components of the gears, the cassette sprockets, and chainrings. It also helps maintain a seamless movement of the chain around these components as you ride. Finally, it helps prevent corrosion, as well as wear and tear. Motul 102984 Chain Paste like this is a popular lubricant.
What's Included In a Mountain Bike Accessories Kit?
A mountain bike accessory kit, as the name implies, is a kit that consists of essential accessories a cyclist needs. There are no standard lists of items you will find in a kit. The components within a kit are often dependent on the purpose for which a cyclist might need it. 
A mountain bike accessories kit typically includes tools and accessories that can be used to perform quick and minor repairs. Additionally, these kits often contain items for cleaning the mountain bike parts, such as degreasing solutions and microfiber cloths. 
Some kits are specifically for cleaning like this one. There are also repair kits like this MASPODER Bike Repair Kit. However, before any race, you would have to pick out the most important accessories you need based on the nature of the ride.
Tips for Determining What Mountain Bike Accessories to Pack
Some mountain bike essential accessories that riders may want to consider bringing with them include a helmet, gloves, a hydration pack or water bottle, a repair kit with spare tubes and a tire pump, and a multi-tool for quick adjustments. However, it's important to note that not every ride will require all of these accessories, as the type of ride and conditions can vary. Riders should assess their needs before heading out and bring only the essential mountain bike accessories they'll need to have a safe and enjoyable ride. The accessories you bring with you will depend on the type of ride you're going on and the conditions you're likely to encounter, as well as how much extra weight you can tolerate.  
For example, if you're going on a short ride on a sunny day, you may not need to bring a hydration pack or lights. On the other hand, if you're planning a longer ride in hot weather, you'll want to bring extra water and electrolytes to stay hydrated. Similarly, if you're riding on well-maintained trails, you may not need fenders or extra tire tubes. However, if you're planning a ride on rougher terrain or in wet conditions, these accessories could be essential.
For short rides, essential accessories include a multi-tool, tire tube inner, tire pump, and basic screwdriver set. Optional items, such as zip ties, master links, and a patch kit, may be left behind. For more demanding rides, such as cross country or multi-day trail riding, consider bringing a tire repair kit, a hydration pack, a first aid kit, and an LED light.
Here are some additional tips to keep in mind when packing for your ride:
Tip 1. Carry a Satellite Communicator If You Are Not Close to a Road 
If you're going on a remote ride, or exploring an unfamiliar area, it's important to have a satellite communicator with you. This device can help you call for help in case of an emergency, even if you're outside of cell service range.
Tip 2. Keep a Paper Map If You Don't Expect Cell Service on the Trail
If you're going to be riding in an area without cell service, it's important to have a paper map with you. This will help you navigate the trails and find your way back to civilization if you get lost. 
Tip 3. Always Carry a Multitool If You Are Riding Solo
If you're riding solo, it's important to be prepared for any mechanical issues that may arise. A multitool with a variety of wrenches, screwdrivers, and other tools can help you make repairs on the trail and get back on your way.
Tip 4. Use a Whistle to Call for Help If Something Bad Happens
In case of an emergency, a whistle can be an effective way to call for help. It's loud and easy to use, and can be heard from a distance. Make sure to keep it accessible, either on your person or attached to your bike, in case you need it. 
By being prepared and packing the right gear, you can stay safe and comfortable on the trail.
Disclosures
This website is a participant in the Amazon Services LLC Associates Program, an affiliate advertising program designed to provide a means for us to earn fees by linking to Amazon.com and affiliated sites.