Complete List of Mountain Bike Armor Names with Tips and Tricks For Selecting Armor
Mountain bikers are at a higher risk for injuries because mountain biking is a high-speed extreme sport. Riding without any sort of protection exposes the cyclist to dangerous risks. Wearing protective equipment is essential for mountain bike riders. Some cyclists choose to only wear a helmet to protect their heads, while others opt for full body armor. In this article we discuss mountain bike armor names along with tips and tricks for selecting the right armor for your needs.
Mountain bike armor is protective riding gear that includes a vest, padded shirt, a full armor suit, a chest protector, a downhill jacket, a helmet, knee pads, and elbow pads.
Body armor is protective riding gear that cyclists use to shield themselves against any potential danger or injury while riding their bikes, as explained in this video tutorial by The Loan Wolf. Wearing body armor can improve cyclists' confidence and allow them to ride more comfortably. In this article, we provide a complete list of mountain bike armor names with meanings and pictures.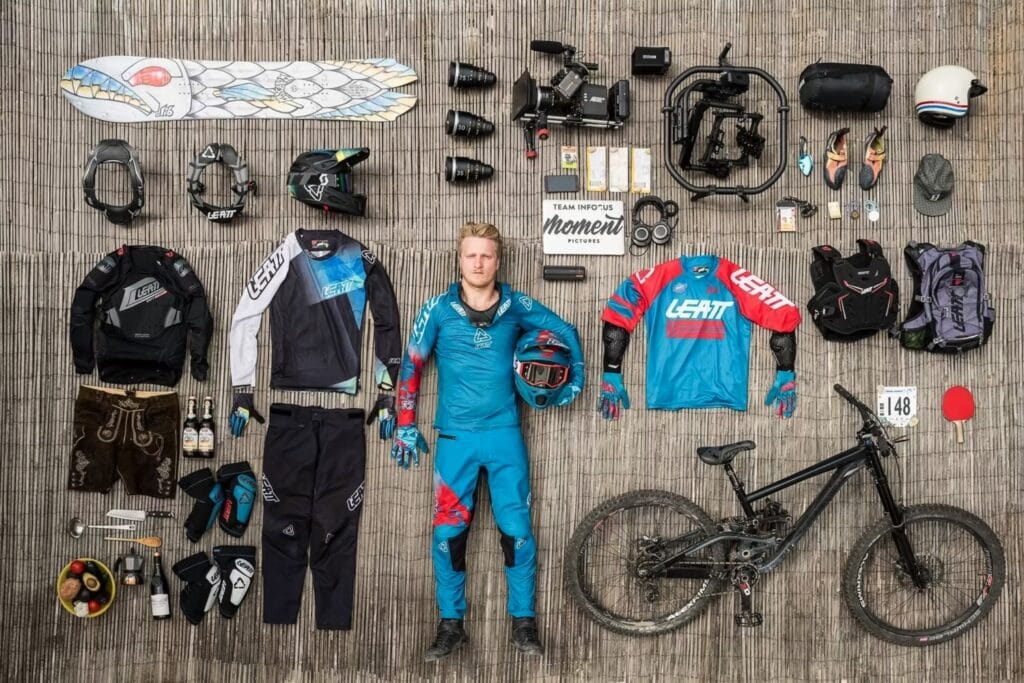 You might also find interest in our related article explaining mountain bike armor design ideas, tips, and tricks. Be sure to take a look at that article for more information.
Body Armor
Let's first discuss mountain bike armor names that are relevant to body armor. The construction of bike body armor items allows them to reduce the effect of collisions or falls while protecting your vital organs and the parts of your body that are more likely to be at risk, like the shoulders, chest, knees, spine, and elbows. 
The outer shell of body armor is made of hard thermoplastic resins with resilient foam linings that can absorb the impact if the cyclist falls or has an accident. Different types of mountain bike body armor include vests, shirts, and armor suits. 
Our mountain bike armor durability study explains durability and warranty features that ensure riders are well protected.
Vest
An armored vest like this is a strong shock-resistant vest that can provide excellent protection for the chest area, the neck, and the spine. The vest has a sturdy thermoplastic outer shell so that it can absorb shock and be strong enough against impact, and it has soft padding inside to provide cushioning for the body. The vest covers the torso area offering crucial protection for your back and your chest. 
It is important to wear an armored vest while mountain biking because of the rugged terrain you will encounter. Evaluating the difficulty of the terrain will help you decide what type of vest you will need. Wear a hard-shell vest if you will be riding over a rocky trail with steep elevations, and wear a thinner padded vest for even paths that have fewer obstacles like boulders and tree roots. 
Armored Shirt
Armored shirts are garments made of elasticated fabrics that cyclists wear under their armored jackets. The role of armored T-shirts is to keep the contouring armor in place while riding which increases safety and keeps the body protected against impacts if the cyclist falls. It is important to purchase a high-quality armored shirt because a low-quality shirt won't offer the correct level of protection and will probably chafe the rider if it doesn't fit well. 
You should wear an armored shirt under your armored jacket if you're doing long-distance and high-speed cycling. The shirt alone is not enough as a protective garment, it boosts your safety when used with an armored suit or jacket. Layering an armored shirt under your jacket is also a great way to stay warm in cold climates. Our article that provides mountain bike armor heating and cooling tips has valuable advice on what to wear when riding in extreme temperatures. 
Full Body Armor 
Full-body armored suits like this offer the best protection for your whole body starting from your shoulders to your knees. They are full suits that have sturdy outer plates with soft foam linings on the inside to absorb shocks. Full body armor has the ability to provide excellent protection for your back, shoulders, elbows, hips, legs, and knees. As this article from the Journal of Trauma and Acute Care Surgery explains several serious injuries can be avoided if proper preventative measures like wearing protective gear, are implemented by the riders. 
A full-body armored suit is available in two types; a one-piece or a two-piece suit. Both types are equally effective when it comes to shock resistance. Wearing a full-body armored suit is not required for every cyclist. There are instances where long rides on unpaved roads can be a high risk for serious injuries. In these cases, wearing a full-body armored suit might be necessary. 
Downhill Jackets
A downhill jacket is another important part of a cyclist's kit. It is designed to offer protection against cold weather and strong winds. It is a windbreaker jacket that can protect the cyclist from the strong winds while riding fast. These mountain biking downhill jackets are designed to offer flexibility and comfort. The jacket is made of lightweight materials that protect against moisture and offer great breathability to ensure good ventilation. It is very important to make sure that you're purchasing a downhill jacket that is designed specifically for mountain biking. 
Chest protector
A chest protector like this is a crucial part of any cyclist's protective gear. The chest is a vulnerable area that holds the most vital organ in the human body, and injuries to this part of the body can be fatal. So, it is very important for cyclists to wear a chest protector while cycling. 
A chest protector is usually made of EPP impact foam that is used specifically to reduce impacts and absorb strong shocks. This study from KoreaScience explains the impact characteristics of EPP (or Expanded Polypropylene foam). A chest protector has a sturdy outer shell that offers extra protection to the chest area and at the same time maintains good ventilation. This piece can be used either as a base layer under a jersey or over a shirt to boost protection. 
Helmets 
The helmet is the most important protective piece a cyclist can wear when riding. You should never neglect using a helmet even if you're not wearing any other protective gear. Whether you're riding on regular roads or mountain biking, a helmet should always be worn and correctly fastened. 
The nature of a person's riding will determine the type of helmet they should use. For maximum protection, choose a full-face helmet and for normal daily rides, choose a half-lid helmet. 
As this article from Specific Sports-Related Injuries explains, the most common cycling injuries are head injuries which can easily be avoided if cyclists wear helmets. Even a basic youth helmet like this can offer ample protection.
Half Lid Helmets
A half-lid helmet like this is one that is made to be used for normal everyday rides because it offers minimal protection when compared to other types of mountain biking helmets. This design offers great protection to the back and sides of the cyclists' heads. It features a sturdy outer layer that is shock resistant and can absorb impact. This outer shell is generally made of thermoplastic, fiberglass, or carbon fiber. The inner shell is usually made of expanded polystyrene. This material is lightweight and can absorb hard impact forces, which ensures the helmet is safe and comfortable. The helmet also has an inner padded lining that improves comfort. 
What is great about this helmet is that it is lightweight and still effective when it comes to protecting against shocks, and it is preferred by cyclists who are looking for a lightweight helmet. The only problem is that it is meant to be used for daily rides as it is not as effective as a full-face helmet. If you want to learn about when and how to upgrade your bike armor which includes your helmet, then read our article about how to choose the best mountain bike body armor upgrades. 
Full Face Helmets
A full-face helmet like this offers maximum coverage and protection for the whole face because it covers the back of the head and the sides, and also has an attached chin guard that covers the front area of your face. In case of a crash, a full-face helmet offers the most protection for the cyclist compared to half-lid helmets that cover only the back and sides of the head. 
In spite of the superior protection it offers, the drawback of full-face helmets is that they are quite heavy and might not be suitable for some cyclists who are used to wearing lightweight helmets. Our article about mountain bike body armor qualifications explains the helmet testing procedure and what certification you should look for when buying a good-quality helmet.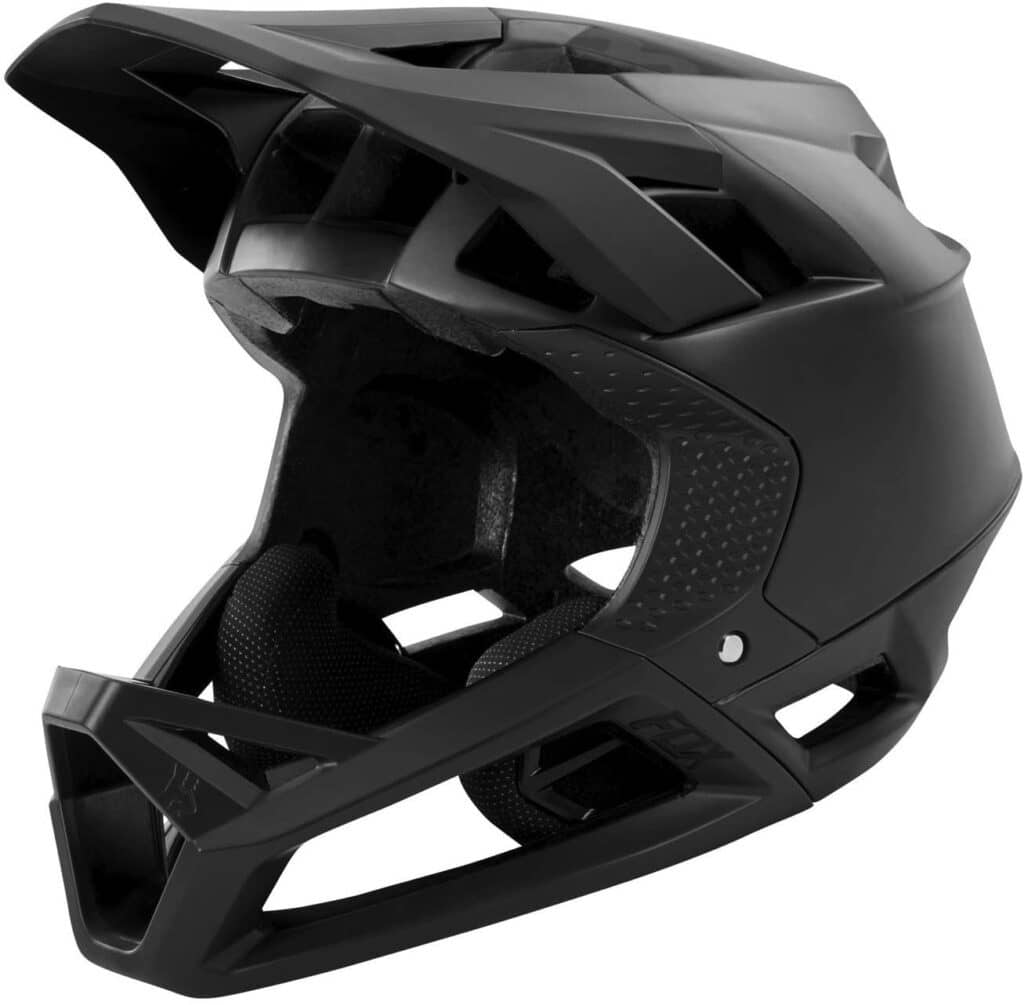 Convertible helmets are cycling helmets that can be used both as a half lid helmet and as a full-face helmet. They feature a removable chin guard that allows the helmet to be used in two different ways. The helmet is as effective as a full-face helmet while also being versatile. This Giro Switchblade helmet is a great choice for cyclists who tend to change their helmets according to their needs as it allows them to convert the helmet according to their preference and the nature of their rides. 
Knee Pads
Knee injuries are another common mountain bike injury. Kneepads protect the vulnerable knee joint, which is exposed if you fall or have an accident. 
The three main types of knee pads are soft knee pad sleeves, hard shell knee pads, and all-in-one knee and shin coverage.
Some types of knee pads are designed with a shock-resistance sturdy outer shell, like these ones have, that covers the knee area to protect it and absorb shocks. Other types are just soft but still provide protection. Check out our guide on how to buy downhill mountain bike armor for more information about knee and skin protection.  
Soft Knee Pad Sleeves
A soft knee sleeve is a protective sleeve with a soft foam pad on the knee area. In spite of the fact that the foam pad is not rigid, it still offers good protection for the knee. A soft knee pad like this is designed to absorb shocks and offer the necessary protection for your knee joints while being much lighter than hard-shell knee guards. It is also more breathable, which is more comfortable while riding and reduces sweating and heat. 
Hard Shell Knee Pads
Hard shell knee guards offer maximum protection for your knee joints. They are another common design of knee guards that has been proven to be very effective in terms of protection. This knee guard offers protection for the knee area by featuring a sturdy cap over the knee to protect it against shocks. These knee guards are flexible and comfortable enough to ensure the natural movement of the joint.
The hard-shell knee pad is more suitable for riding on more technical terrain. If you are doing mountain biking or park biking, a hard-shell knee pad is a great choice. It will protect you from hard impact forces and the possible injuries that might be caused by falling on sharp rocks.
Knee + Shin Coverage
A knee guard with shin coverage features a shield that covers the front of the leg and a cap that is designed to cover the knee joint. This guard offers great protection for the knee and shin areas thanks to the shock-absorbing hard outer shell which reduces shock The design is also padded from the inside with a soft lining to offer comfort and breathability. The knee and shin guard is the best design of knee guards as it offers maximum protection for the knee joint compared to other types of knee guards. 
Elbow Pads
Although elbow pads are not as important as other protective pieces like helmets and knee pads, they can protect your elbow joint from getting broken. It can also protect your elbow from getting scrapped on sharp rocks. 
Mountain biking elbow pads come in three main types, soft-shell elbow sleeves, hard-shell elbow guards, and forearm and elbow guards. 
The elbows can easily be exposed to knocks while cycling and it is important to keep them protected. Go for elbow pads like these if you're doing a high-speed ride, to ensure more protection for your arms. 
Soft shell Elbow Sleeve
A soft sleeve elbow guard is a protective sleeve with a small pad on the elbow area that is not very hard but still offers protection for the elbow. The foam pad is designed to absorb shock and offer the necessary protection for the elbow joint. A soft shell elbow sleeve like this is lighter than the hard shell elbow guard but still breathable enough to offer the cyclist the ultimate comfort while riding. Although the kind of protection this design offers is not the best, it still can be suitable for daily short rides as it can reduce the force of the impact. 
Hard Shell Elbow Guard
Hard shell elbow guards are very effective protective pieces in terms of protection. This design of elbow guards offers protection for the elbow joints as well as the area around them. These elbow guards feature a hard cap that covers the elbow joint Since elbow injuries are very common for mountain bikers, wearing a hard shell elbow pad is crucial. These guards are flexible and very comfortable and offer more protection than that offered by the soft elbow sleeve because the hard cap is shock resistant and offers better coverage of the elbow joint. 
Forearm and Elbow Guard
A forearm and elbow guard features a connected shield that covers the forearm section with the elbow joint. The guard offers great protection for the elbow and forearm area thanks to the shock-absorbing hard outer shell which reduces shocks. The guard is also padded on the inside with a soft lining to offer comfort and breathability. Compared to the soft shell elbow sleeve and the hard-shell elbow guard, This forearm and elbow guard is the best elbow guard design as it offers maximum protection for the elbow joint and the forearm.
Armored Lower-Body Clothing
We have discussed mountain bike armor names for upper body protection but what about protection for the rest of your body? Mountain biking is a dangerous sport in general and most of your body is exposed to bumps and scrapes including your lower body. 
Armored lower-body clothing is also padded to protect your body from the waist down and usually includes armored shorts and armored longs.
Armored Shorts
Armored shorts like these are another great piece of body protective gear. Though they are not a vital element, they can still offer great protection when used as a base layer under your pants or shorts. The armored shorts can boost your protection and most importantly comfort when worn while cycling. They are designed with protective panels lining the sides and inner thighs and can offer great coverage to protect the cyclist against bumps and bruises from hard saddles.  
Armored Pants 
Like armored shorts, armored pants like these are a great option for protective clothing. The pants are equipped with hard protective PP shells to absorb shocks and be strong enough against impacts. They are also equipped with EVA foam to absorb shocks and provide comfort for the cyclist's legs. They make a great protective base layer and offer protection for the knee, crotch, tailbone, and hip. If you want to learn more about the various items that make up biking body armor then read our detailed guide to mountain bike armor pieces. 
Disclosures
This website is a participant in the Amazon Services LLC Associates Program, an affiliate advertising program designed to provide a means for us to earn fees by linking to Amazon.com and affiliated sites.