How to Choose Mountain Bike Grip Heaters – Step by Step
When mountain bike riding, it's not uncommon to experience weather changes. Extreme weather, like rain and snow, affects your grip, and wind and cold temperatures can make for an uncomfortable ride. And when your hands get cold, performing basic actions takes a lot more effort. This leads to grip fatigue and overall discomfort during your ride. But you don't have to stop biking when temperatures drop. Mountain bike grip heaters can prevent discomfort and help you enjoy your ride for as long as possible.
Choose mountain bike grip heaters that are easy to hold on to, water-resistant, easy to install, have a rechargeable battery, and heat up quickly.
While the idea of heated grips might seem excessive, the relief of having warm hands on a cold ride is very welcome! Let's look at how this bike modification works.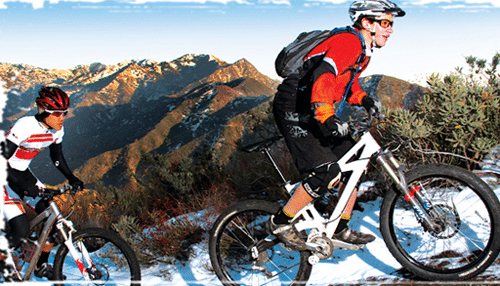 Before going any further, you might be interested in learning more about mountain bike drop bars and why you might need them. Be sure to read our related article to find out.
How Do Mountain Bike Grip Heaters Work?
Heated mountain bike grips are often slide-on grips made out of rubber compounds.
Mountain bike grip heaters are connected to a lithium battery. To use grip heaters, slide on the grips, turn them on, and wait for a few minutes for them to heat up. They usually have a button controller on the front or the side.
Depending on the model and brand, this can take anywhere from one and 15 minutes. Recharge the battery after each ride so you won't end up with freezing hands while you are still riding.
The handlebar acts as a thermal conductor, so it will absorb some of the heat that is generated depending on the material that your bike is made from. That's why heated mountain bike handlebars can handle different levels of heat, with some reaching 122°F to heat your hands from your palms through to your fingertips comfortably.
To know more about the materials that mountain bikes are made from, have a read through our article that explains the difference between a carbon mountain bike vs. an aluminum mountain bike.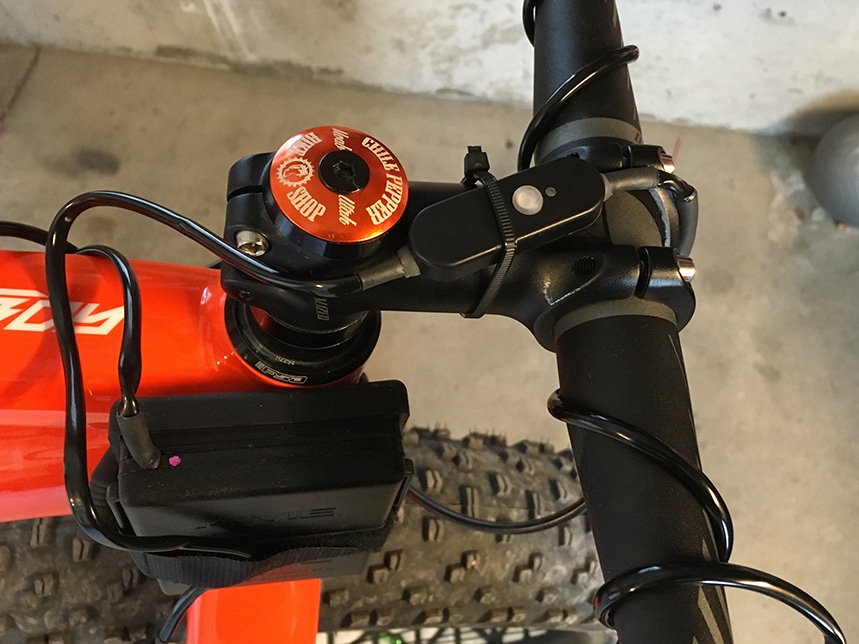 You may also be interested in learning about the different mountain bike grip taping techniques. Be sure to check out our related article to find out more.
How to Choose Mountain Bike Grip Heaters
Before you start looking for heated mountain bike grips, you must pay attention to the material, durability, and how to get the best value for your money. You also have to be aware of any compromises that you'll be making.
Choose mountain bike grip heaters which include push bike grips that fit onto the handlebar, battery-powered heating that can last for up to four hours for long rides, easy installation with clear instructions, heat-resistant and waterproof material, durable grips that can withstand temperature changes, grip pattern that makes a tacky hold, adjustable heat levels for different riding temperatures, and a controller with smart features that help the battery life last longer.
The perfect heated mountain bike grips need to be long-lasting, waterproof, easy to install, and heat up quickly. They should be made from a material that provides a good grip, made to withstand temperature changes, and the battery must last you at least one long ride.
Heated grips don't come in as many variations as regular grips, so they might not suit larger or smaller hands. If you still don't want to give up your gloves, you must look for a heated grip material that works best with gloves. Check out our tips for choosing mountain bike gloves if you are interested in buying gloves or upgrading the ones you already have. 
And if you need some help picking out suitable grips before picking out a grip heater, check out this article from Shimano.
Here we list the features that you should look at in handlebar grip heaters:
Feature 1. Push-On Bike Grips Fit the Handlebar Like A Glove
Most heated mountain bike grips are push-on and made of rubber compounds, which can be tricky to install. It may be a good idea to read our article that provides tips on how to choose mountain bike grip sizes before choosing your grip heaters. If you're worried about a push-oh grip not being easy to install, buy lock-on grips like these instead which don't have such a snug fit. They are easier to fit on the handlebar and can be secured with a single lock. And if you want more info about mountain bike grip installation in general, check out our step-by-step guide.
To install heated grips, put a quick-evaporating fluid like this isopropyl alcohol on the inside of the grips and then quickly slide them on in a twisting motion. The heated push-on grips should fit the handlebar like a glove. Do not use compressed air or rubbing alcohol like you do with regular grips, because that's not safe with heated grips. 
If you don't want to use heated grips, you could use a plug-in heating system as explained in this video by Polar Plug, for a similar effect. This type of system consists of two modules with an integrated battery, a USB port for recharge, and a power button. The modules are slipped inside the bar so you can use any rubber grips on the outside. The one downside of using them is that the maximum heat reached is 104℉ or less if you have an aluminum handlebar.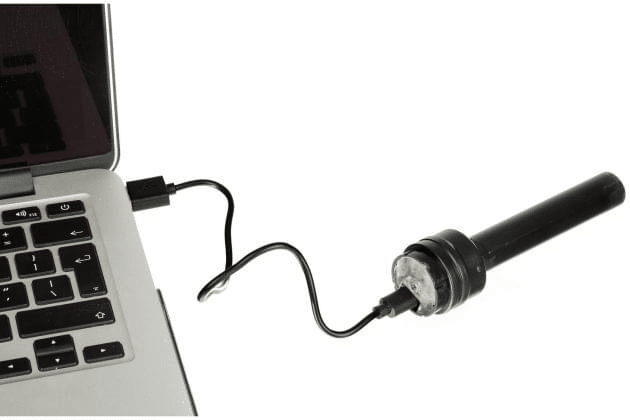 Feature 2. Battery Powered Heating that Lasts for Four Hours for Long Rides
Another crucial feature to pay attention to is the length of time that your grips will stay warm for. Some grips have small batteries and can produce heat for 1 to 2 hours, while others have power for over 4 hours. 
Rechargeable heated mountain bike grips can be slid off the handlebars and plugged into a USB charger between rides. These usually have lower heating power compared to those connected to a lithium battery. 
But the battery performance also depends on your handlebar material. For example, even if you purchase grips with a battery that promises up to 4 hours of heat, it might only last for 2 hours on an aluminum handlebar. This won't happen if the handlebar is carbon, as carbon is not a thermal conductor and less heat will be wasted.
Feature 3. Easy Installation with Clear Instructions
Installing grips that are connected to a battery shouldn't be too difficult or complicated. The best heated grips come with clear instructions to join the cable from the grips to the battery. 
You might want to go the extra mile and add cable fixtures to give the bike a clean look. Good grips come with a lightweight battery that you can attach to the handlebar stem or headset.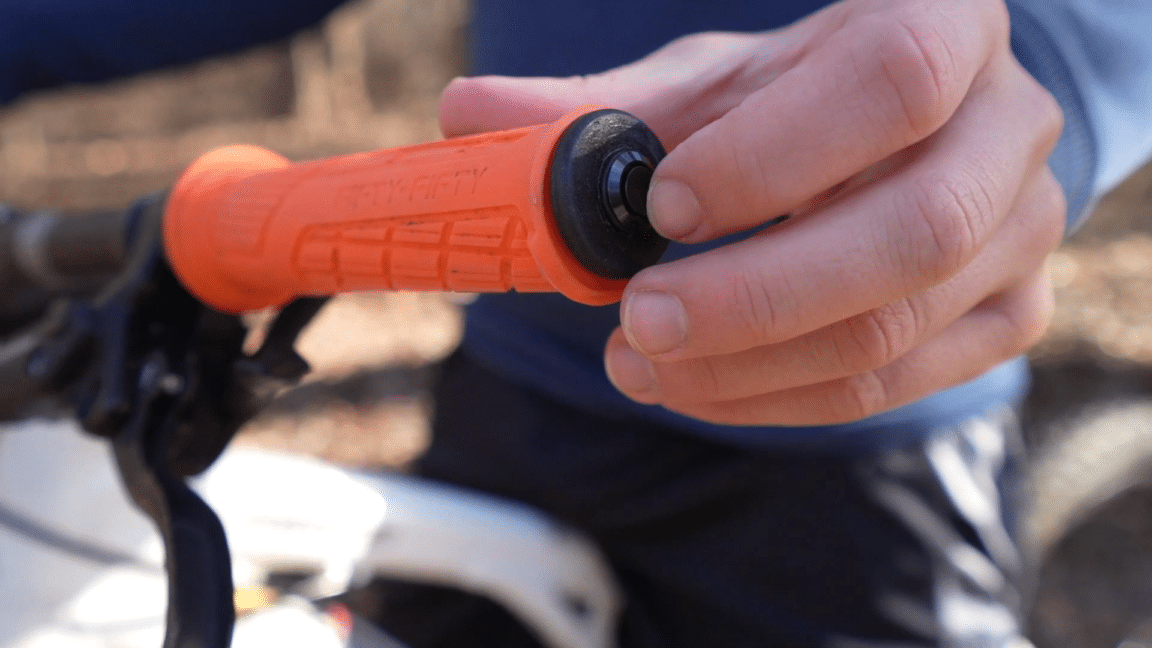 Feature 4. Heat-Resistant and Waterproof Material
Rubber, silicone, and plastic are all heat resistant and great insulators. They don't absorb and transfer heat, so the battery lasts for a long time and your hands will stay warm for longer. You also need grips made out of waterproof material that won't be slippery and will be easy to clean off.
How do insulators and conductors work? Heat insulators are materials that don't let heat escape easily, and metals are usually heat conductors which means they carry heat and wouldn't be effective at insulating heat. Since the bike grips are in constant contact with heat conductors like metal and air, they must be made from a good insulating material to retain some heat.
Vulcathene is a specially designed material often used in plumbing and chemical transport and doesn't conduct heat. It is durable, resistant, waterproof, and provides a good grip on its own, even without a specific pattern. This material is used in quite a few different heated bike grips. 
Feature 5. Durable Grips that Can Withstand Temperature Changes
Heated mountain bike grips fluctuate from below room temperature to 120℉ and vice versa. Not all materials can withstand that. If you're a frequent rider, you could be using the grips a couple of times a day. The heating and cooling-off process can stiffen the grips, leading to discomfort and eventual damage. 
It's normal to expect the lifespan of heated bike grips to be shorter due to this process, but manufacturers have developed materials resistant to constant temperature changes and these grips have an extended warranty. Look for these extra durable materials when purchasing your grips.
Feature 6. Grip Pattern that Provides a Secure Hold
When purchasing heated mountain bike grips, you shouldn't have to sacrifice a textured surface for heat quality. Many models come with a suitable grip for aggressive and adventurous riders, with added vibration insulation. The material together with the grip pattern makes for a secure grasp. Don't waste time trying to use heated bike grips with a grip pattern that won't be suitable for you.
Feature 7. Adjustable Heat Levels for the Different Temperatures Ridden In
The heating power level you need depends on your location and the terrain you frequently ride on. Heated bike grips have an average maximum of 120℉, which can feel too hot in mild weather. To avoid sweaty hands, you need several heat levels. And if you need help choosing a mountain bike grip for sweaty hands, check out our article.
Heated bike grips can come with an adjustable heat level. Some brands provide a smart controller where you can choose between 5 or 6 different heat levels, depending on the weather conditions. 
Also factor in how long the bike grips take to heat up. Mountain bike grips that take a long time to eat up could be an inconvenience for early morning rides and could mean your hands freezing at the beginning of your ride while you wait for them to heat up. So be sure to choose heated grips like these, that shouldn't take more than 5 minutes to heat up.
Feature 8. A Controller with Smart Features to Help the Battery Life Last Longer
Besides helping you control the heat level, the controller can have more features, like automatic shut down. Controllers connect the battery to the grips and turn on when the sensor picks up vibrations and reduces or stops the energy supply when the sensor stops picking up vibrations. For example, there's no vibration if you stop for a quick break so the bike grips will work with 30% less power to conserve battery power. Once you get back on your bike, the power supply will return back to 100% power. 
If you tend to be forgetful and accidentally leave the bike grips on when you get back home, they automatically shut off after more than 15 minutes of no vibration. Look for bike grips with smart controllers if you like these handy advanced features.
You may also be interested in learning about the benefits of clipless pedals on a mountain bike or choosing pedal straps with heel support for kids. Similarly, our step-by-step guide on how to thread a pedal strap has a lot of useful information. Be sure to check out all of our related articles to learn more!
Reasons to Purchase Heated MTB Grips
Gloves do a great job protecting your hands in bad weather but can only do so much for control and grip. Low temperatures accompanied by cold wind cause numbness and can compromise the level of control you have over your bike. As a result, your hands work harder for basic actions like steering and braking. 
Reasons to purchase heated mountain bike grips are for improved bike control in bad weather and to make winter rides more comfortable and enjoyable.
Reason 1. Improved Control In Bad Weather
Low temperatures affect circulation especially in our extremities - our hands and feet. When riding your mountain bike in cold weather without heated grips you could experience numbness and pain as a direct result which could slow your response time and impair the control that you have over your bicycle. Investing in heated mountain bike grips will help you to avoid this by keeping your hands warm, maintaining good blood circulation, and ultimately allowing you to have better control over your bike. 
If you would like to know more about what to wear for cycling in different types of weather, check out this article from REI's bicycle experts.
Reason 2. Comfortable Winter Rides
Keeping your hands warm while riding in bad weather is not only important for having control over your bike but also for keeping you comfortable. If you find that your hands start going numb because of low temperatures or bad weather and you don't have heated grips it is very difficult to warm them up and keep them from becoming sore, especially on long rides. So we recommend using heated mountain bike grips to keep your hands warm and comfortable on your winter rides. 
If you are an adventurous pioneering type of person why not check out this video that shows you how to make your own DIY heated handlebar grips. 
Disclosures
This website is a participant in the Amazon Services LLC Associates Program, an affiliate advertising program designed to provide a means for us to earn fees by linking to Amazon.com and affiliated sites.