How Much is a Mountain Bike Chain, Plus MTB Chain Price Comparison Chart
Your mountain bike chain is the most essential part of your bicycle. But damage over time causes your chain to wear out or break, so you'll eventually need a replacement. In this article, we discuss the question "how much is a mountain bike chain? And while you might be panicking over the price tag, when you look at how much a mountain bike chain is you'll see that it is affordable.
The average price of a mountain bike chain is between $14-$20. Chains with double X bridge technology, high-quality materials, or specialized chains for custom bikes are more expensive. This price difference is determined by the chain quality, brand, the material it is made from, and the incorporated technology.
The prices of bike chains range from $10 to $90 based on the brand, chain quality, and the type of bike that they are designed for. Most bike chains cost close to $10, however, chains made for top-notch bikes normally cost more. 
However, higher-end bikes are typically for professional cyclists or people who compete recreationally and need to have the most innovative and durable equipment to beat their competition, so the riders invest in higher quality and more expensive chains. However, if you're just riding to have a good time, a cheaper chain will work fine. 
Here's everything you need to know so you're prepared for buying a new chain online or picking one out at your local bike shop.  
Are Expensive Bike Chains Worth It?
Typically, higher-quality chains are lighter and thinner. They're able to resist corrosion so they usually last longer. Bike chain prices mostly range from $10 to $90 due to the quality of materials and the number of cogs on the back cassette. 
No, expensive bike chains aren't worth it because some cheaper mountain bike chains are equally efficient. Cheaper bike chains have almost the same lifespan as expensive ones if well maintained, all mountain bike chains perform the same functions, and chain sizes are the same for both cheap and expensive bike chains.
The weight and fancy plating of expensive chains, though attractive, don't necessarily make them a better choice. Most cyclists judge the worth of chains in terms of their functionality and average lifespan. And besides, you still have to wash and care for your chain - if you buy an expensive chain and don't wash it, it will degrade just like an affordable bike chain. And really, you only need to buy an expensive bike chain if you're a professional cyclist competing to get the absolute maximum efficiency. If you're just a recreational mountain biker, the difference is so small that it won't matter to you.
Reason 1. Some Cheaper Moutain Bike Chains are Equally Efficient
Even a cheap bike chain can last a long time if you choose the best quality chain you can afford and keep it clean and lubricated. A higher price tag alone does not ensure higher efficiency. You need to check the materials the chain is made from and the reviews on the product to see how long it has lasted for previous buyers.
Reason 2. Cheap and Expensive Bike Chains Have Almost the Same Lifespan if Well Maintained
Cheap and low-quality bike chains can last for almost 2,000 miles if maintained well, while higher-quality and expensive bikes can last for up to almost 2500 miles. In ideal conditions, a high-quality chain might last for over 3,000 miles, but that isn't your average mileage and it's only possible when the chain is perfectly taken care of. 
Reason 3. All Mountain Bike Chains Perform the Same Function
Both cheap and expensive mountain bike chains perform the same function: to transfer the power from your pedals to your drivetrain to move your bike. At most, some expensive chains tolerate damage better and have a less noisy drivetrain compared to cheaper alternatives. However, you can still ride optimally with a cheap bike chain and you can lube your chain to reduce noise.
Reason 4. Both Expensive and Cheap Bike Chains Sizes are the Same
There isn't a huge difference between the sizes of bike chains, since they both serve the same purpose. While some pricier chains might be slightly thinner than the cheaper variety, the difference in sizes isn't that obvious and both will work on your mountain bike.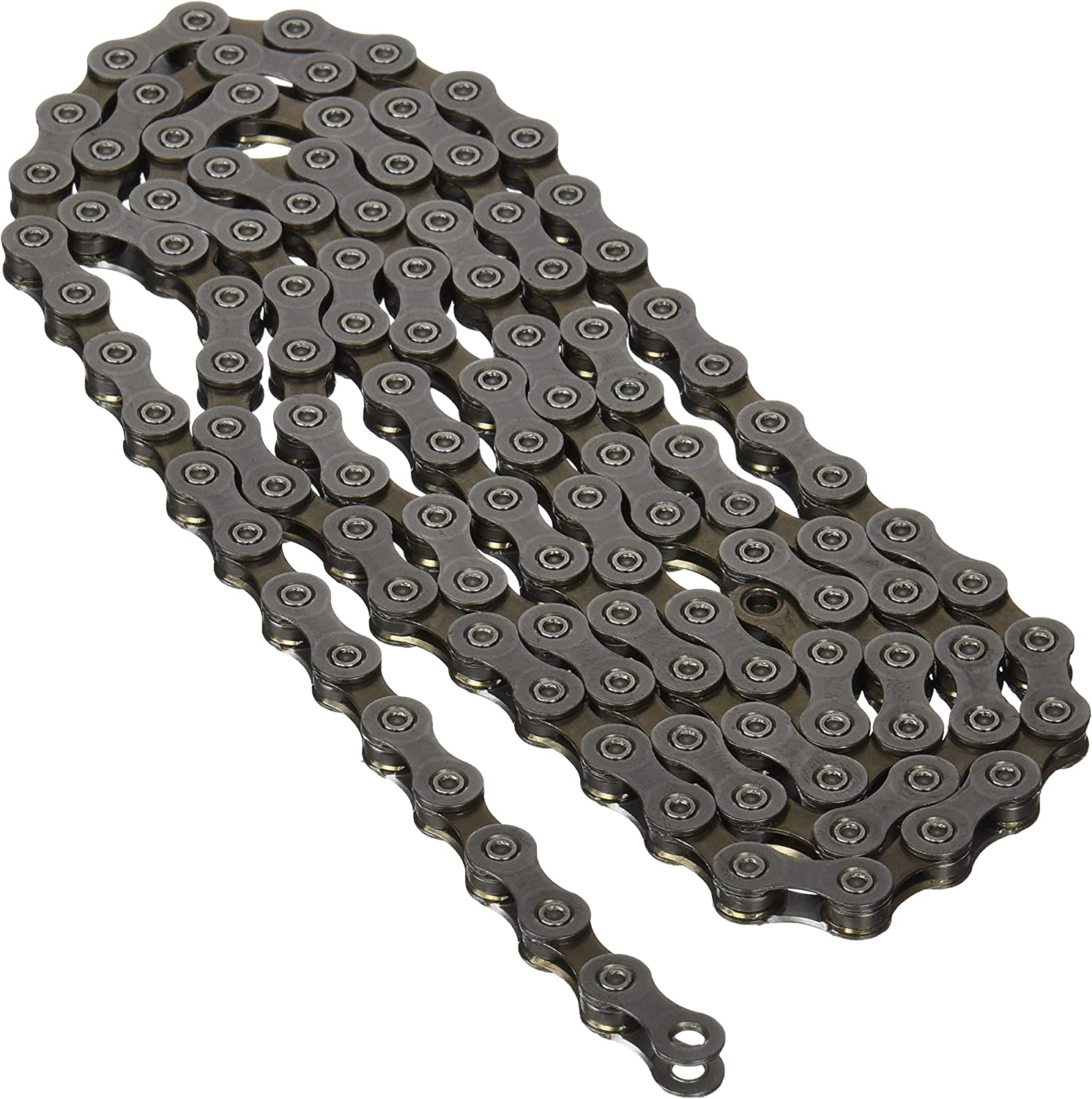 How Much is a New Mountain Bike Chain
When it comes to all biking equipment, you can spend hundreds of dollars to get the fanciest brand out there. But so many chains and parts are overpriced just because it's made by a certain manufacturer. Mountain bike chain prices range widely, so it is best to check out the different options before buying to figure out if the chain you're looking at is worth the money.
An entry-level chain can cost as little as $10-15, while a chain made for professionals can cost up to $135 (or more!). This is dependent upon the material, the number of links, and the bicycle that it's designed for. 
Mountain Bike Chain Price Comparison Chart 
Factors That Determine Bike Chain Prices
When first shopping for a bike chain, you might be surprised by the huge differences in bike chain prices. But this is because each bike chain is made for something different, and that is what you should keep in mind. Companies will jack up the price of a chain if they know that a buyer is willing to pay more for it. This is just one of the many factors that can influence the prices of bike chains. 
Factors that determine mountain bike chain prices include incorporated technology, the material used to make the chain which impacts performance, how durable the chain is, and if a custom-made bike needs a specialized chain.
1. Incorporated Technology That Makes Riding Your Bike More Enjoyable
Some additional technologies contribute to additional charges. Depending on whether those features appeal to you, you may or may not select the particular product. 
Modern bike chain technology has made the process of riding your bike better. When your bike chain has a double x bridge shape like this, it makes shifting smoother and gives you a smoother ride. Plus, when you can shift smoothly you can go faster, making it easier to drop into higher or lower gears for tackling that tough uphill or cruising downhill as fast as possible.
This Shimano UG-71 chain has special technology that helps you ride faster. It delivers a smooth ride, gives you more control over your gear-shifting, and has a quick link for easy installation. 
2. Material Used to Make the Chain and How That Impacts Performance
The material that your chain is made of makes a difference in the quality, performance, and price. Most bike chains are made of steel, which is why they rust quickly. However, a steel chain shouldn't cause any additional issues as long as you lubricate it properly. 
Bike chains made of titanium like these cost a bit more because that's a lighter material, so they will slightly lower the overall weight of your bike. Any top coats added to a chain, like titanium carbon nitride, can lower friction and improve durability. Sometimes added top coats as these chains have, can change how the chain looks and that can up the price as well. 
3. How Durable the Chain Is
If you want your bike to last longer, it has to be a more expensive material. Since your typical steel chain lasts 2000-3000 miles, you'll need a more expensive metal to last longer. Plus, any additional coating will cost you as well. But if you choose a more durable chain like this that costs more money, it should last you at least 3500 miles as long as you take care of your chain properly. Check out our tips for quick and proper mountain bike chain maintenance to know how to prolong the lifespan of your chain.
4. If Your Bike Has to Use a Specialized Chain
Some custom bikes require specialized chains that are specifically designed to be compatible with their features and speed requirements. These chains normally cost more than others because they have to be made either by a manufacturer like TAYA or at a local bike shop specifically for you.
Mountain Bike Chain Replacement Costs
How much is a mountain bike chain? Depending on the brand and quality of the chain you choose, the price will vary. And if you choose to hire someone to replace the chain for you, it will cost you more because of labor. 
It costs approximately $33 to replace an old chain with a new chain including the cost of labor. The cost of replacing a mountain bike chain is determined by the price of the chain selected and the labor cost if the replacement is done at a bike repair shop. 
For example, it would probably cost around $33 to replace an old chain with this FSC F410 1-Speed Bicycle Chain Single. This is if the shop allows you to bring your own chain in, which costs approximately ~$13. Then, the labor on average is about ~$20. Both of these factors could change depending on where you live. 
If you live in an affluent area, then the cost of labor will be higher. And if the shop will only do the work if you use one of their chains, then it may cost more than buying it yourself.
Mountain Bike Chain Replacement Process Step-by-Step
Most chains purchased from major manufacturers are compatible with the drivetrain components of other brands. So as long as you match the speed of your drivetrain with the speed of your chain, you should be good to go. 
To replace a mountain bike chain, first choose the right bike chain and get the tools needed for chain replacement. Remove the old chain and put on the new chain. Size the chain by using the front and rear rings. Route the chain correctly with the printed logo or letters on the outward side and lastly connect the chain. 
Step 1. Choose the Right Bike Chain and Buy the Tools Needed.
To choose the right bike chain as this article by Park Tool explains, count the rear cogs and the spacing between the front cranksets. It never hurts to talk with a local shop to ensure that your desired chain is compatible with your bike. Then, make sure you have the tools you need to attach it as the guys from REI discuss in this article. You'll need a chain wear indicator like this, a new chain, a replacement pin or master link, a chain tool, and master link pliers. This Amazon video tutorial by Park Tool explains exactly how to use a chain wear indicator.
Step 2. Remove Your Old Bike Chain
Start off by removing your old bike chain. To do that, push out one of the pins from the lower stretch of the chain using a chain splitter. If you have a quick link installed, then undo that and carefully remove the bike chain. If the chain is only slightly worn out then you will only need to change that, but if there is too much damage then replace the cassette with one like this as well.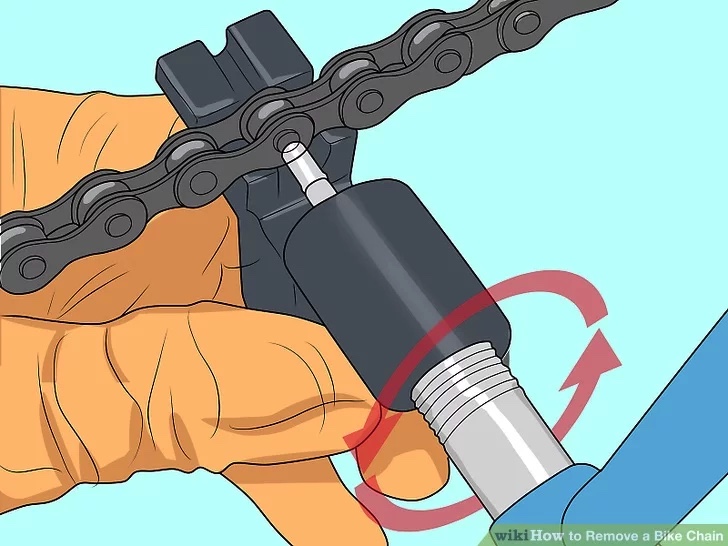 Step 2. Put on the New Bike Chain
Before you put your bike chain on, remove any lube or residue that may be on the bike already. This way, you don't have to try to clean the chain before applying your preferred bike lube.
Now that your old chain is off, shift the front derailleur to the biggest chainring and the rear derailleur into the biggest cog. If your bike has a clutch mechanism, then release that on your rear derailleur. Then begin threading in the chain. 
Start by moving in one end through the front derailleur and shift the cranks a bit so a few inches of the chain dangle down. Then grab the other end of the chain and place it inside the seat stay and lay it over the cassette. 
After that, pull down on the rear derailleur. Then thread it over the top of the upper jockey wheel, onto the tab in the derailleur cage arm. From here, thread the chain over the lower jockey wheel and finally move it through the lower tab, and release the derailleur.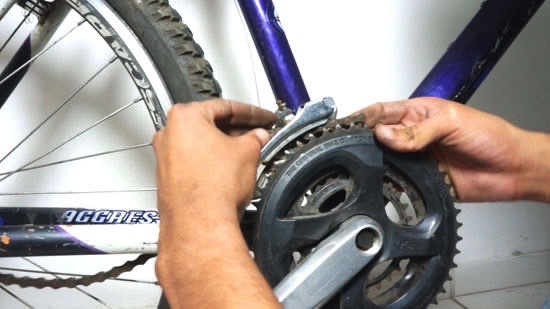 Step 3. Size the chain
It's essential to make sure that the chain is the right length to ensure that the chain will work with any gear so that your bike won't get damaged while riding. 
To size the chain, fit the chain to both the front and rear rings. Once the chain is in place, pull at both ends and bring them towards each other. Measure them to find which one should be split by shifting the biggest chainring in the front and the biggest sprocket in the rear, then add one inch to that.
 Once you have the right length, and you can still see movement in the derailleur arm, use the chain tool to split the chain. Now, you can manually shift the gears to the smallest cogs.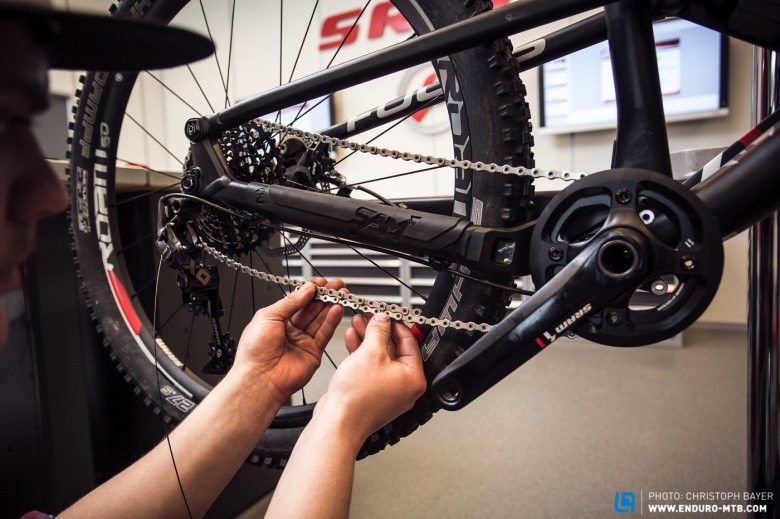 Step 4. Join the Two Ends of the Chain
Finally, take both ends of the chain and insert a joining pin like this using this chain tool. Once you have the joining pin in place, you can snap off both ends using pliers. Now your chain is on your mountain bike, so all you need to do is apply your favorite bike lube and you're ready to ride. 
Be sure to check out our article that provides more in-depth step-by-step instructions for mountain bike chain installation.
Factors to Consider When Buying a Mountain Bike Replacement Chain
If you are looking for a bike chain replacement, it's important to select one worth the price tag that will work best with your mountain bike. Also, you need to consider any factors that are specific to the environment in which you'll be riding your mountain bike in. Like if you plan to ride on rough terrain, you may want to invest a little more in a chain coated with durable material so that it lasts longer.
To choose the right mountain bike chain, first, double-check that the chain speed matches the bike's drivetrain speed and that the chain length is compatible by measuring it against the old chain. Then check the durability of the chain and compare the material of the chain with that of the cassette. Then look into the bike chain's efficiency, weight, and resistance to harsh conditions.
Factor 1. Double-Check That the Chain Speed Matches the Bike's Drivetrain Speed
Both the speed of the chain and that of the drivetrain should be compatible for the right functioning. For example, if you try to put an 11-speed chain on a 9-speed or 8-speed system, you'll start to notice a decline in shifting performance. It's not quite as noticeable with say, an 11-speed chain on a 10-speed system, but it's still best to just purchase matching chain and drivetrain speeds like this kit has.
Factor 2. Double-Check That the Chain Length is Compatible by Using the Old Chain
An easy way to figure out what length to look for in the new chain is to count the number of links in your old chain. If it was working out just about right for your bike, then you can look for a chain with an exact number of links. If it wasn't, then add or subtract links to the original number depending on what you needed to be different. Typically, chains like this have around 116 links. However, high-pivot mountain bikes require a lot longer chain length than this, that have 126 links. 
Factor 3. Research How Durable the Chain Is
While most chains are made of simple carbon steel, others like these are made of alloy steel. A chain made with alloy steel and nickel coating is resistant to corrosion and more durable as explained in this article from the Principles of Corrosion Engineering and Corrosion Control. The more durable your chain, the more miles it will last (as long as you take care of it properly). But a durable chain will cost more, so factor that in.
Factor 4. Look Into the Bike Chain's Efficiency
Look out for designs that promote optimal efficiency of bike chains. A design structured to assist chain links to shift into gear or a design with roller pins within the links improves the efficiency and flexibility of the drive chain.
If you are willing to invest lots of money in a chain, watch this video tutorial by New Motion Lab's about their new link drive technology, which solves common problems with roller chains.
Factor 5. The Weight of the Mountain Bike Chain
Heavier chain weight adversely affects your riding efficiency, and weight can be an issue even in expensive chains. However, lighter chains like these are available. These feature extra peening, slotted links, and hollow pins. 
But a lighter chain on average will only save you a few seconds per climb, so that may not be worth it for the extra money that it costs. If you want to move faster on your mountain bike, you'd be better to focus on shedding pounds (only if you're overweight), buying better wheels, and making your bike aerodynamic as we suggest in our article about whether you can put drop bars on a mountainbike and why you should do it.
Factor 6.  The Resistance to Harsh Conditions
For aggressive riders who enjoy rough terrain and harsh weather conditions, you need a durable alloy chain with a nickel coating to prevent corrosion. However, you should also look into other helpful features like clip on fenders for mountain bikes to protect your bike as we discuss. Pair structural modifications to your bike with frequent maintenance to keep the chain in good shape in which case you will find our ultimate list of tools needed for mountain bike maintenance useful.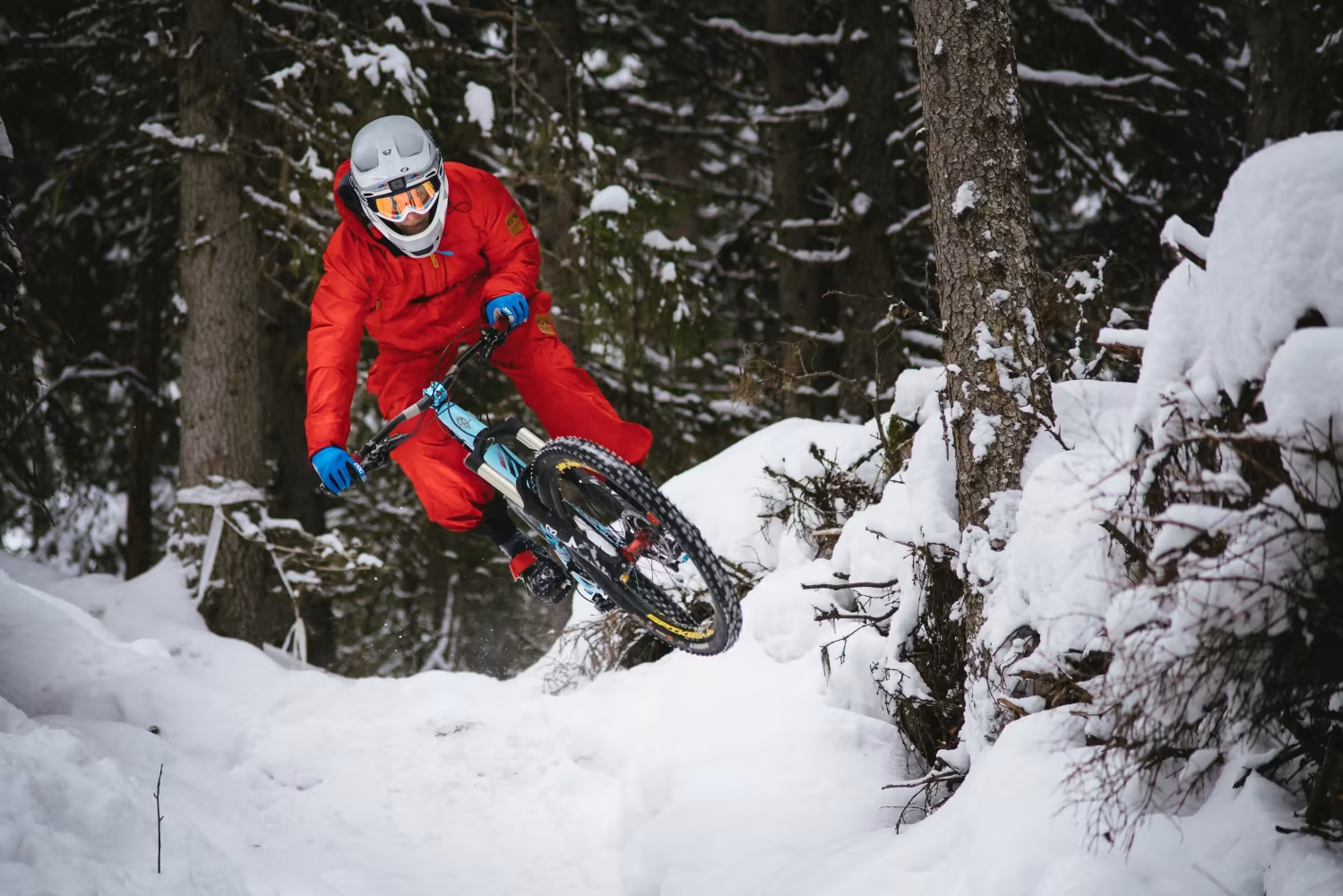 You might also find interest in learning how to easily fix a mountain bike chain that keeps coming off. Be sure to read our related article to find out more.
How Long Does a Mountain Bike Chain Last
There's no promised number of miles that a bike chain will last and it depends entirely on the way that you care for it. Clean and lube the chain often to ensure you get the most bang for your buck. 
A mountain bike chain should last for 3 to 4 years or 2000-3000 miles with regular maintenance. How long a mountain bike chain lasts depends on factors like the trail conditions, the durability of the chain, and regular maintenance.
Factor 1. Trail Conditions
Adventurous mountain bikers who love jumping their bike and moving through rough terrain quickly will wear out their chain faster than road bikers who use their bike for their commute. The mud and other material from the rough trails stress out the chain and make it wear out.
Factor 2. The Durability of the Chain
Most bicycle chains are made from plain carbon steel or alloy steel like this. However, their durability can be improved by coating them with nickel which prevents rusting of the metal.  But even if you buy this nice chain, you need to clean and care for it properly, or else it will wear just as fast as a plain steel chain.
Factor 3. Maintenance Practices
To ensure your bike chain lasts longer,  clean and lubricate it with a mountain bike cleaning kit like this often. Clean it after every ride if it's muddy, or every few rides if it seems pretty clean, and then lubricate it. If you've ridden over rough and muddy terrain, it is best to clean off the muck as soon as possible. Also, make sure you dry your bike after a ride in the rain to prevent rust. When applying lube, do so in moderation, and wipe off the excess with a cloth. Avoid using cleaning products and degreaser in the bottom bracket to save the grease in that area. 
For more information, be sure to read our related article explaining how to lube a mountain bike chain.
Frequently Asked Questions
When it comes to mountain bike chains, there are lots of frequently asked questions. So we've combined all of them here. 
Mountain bike chains need to be replaced between 1000-5000 miles, it costs $10-$100 to replace your bike chain and sprockets, and a mountain bike chain should last anywhere from 1200 to 2400 miles depending on the quality of the chain and how it is maintained.
And if you still need more info, check out our other article on how to know if a mountain bike chain is too long.
How Often Do Bike Chains Need to be Replaced?
The wearing out of a chain depends on several factors: how well you maintain your chain, your shifting patterns, your weight, the terrain, and weather conditions as we explain in our guide on how to replace a chain on a mountain bike. All these factor into how soon your chain needs a replacement. However, on average, you should keep an eye on your chain after 1000 miles, and replace it between that and up to a maximum of 5000 miles. You will most probably need to change a lot sooner than 5000 miles unless you've taken excellent care of it and it's made out of more expensive material.
How Much Does it Cost to Replace Chain and Sprockets?
The cost of changing your mountain bike chain will vary depending on whether you choose to replace it yourself or hire someone to do it. The average cost of getting it replaced at your local bike shop will include $10 to $20 for labor. Besides labor, depending on the quality and brand of the chain you choose, the chain itself will typically cost between $10 to $100. And both the price of labor and the chain and sprockets can vary drastically based on where you live and where you purchase your chain from. A chain and sprockets from Amazon will typically be cheaper than a local bike shop.
How Long Should a Chain Last on a Mountain Bike?
How long a chain lasts on a mountain bike depends on the quality of the chain, how well it was maintained, and the conditions that the bike was ridden in. Typically, average quality chains last for somewhere between 1200 to 1800 miles, while higher quality mountain bike chains may last over 2500 miles. If your chain is not lasting very long then you may find that our article on how to fix a mountain bike chain that keeps breaking has some handy tips for you.
Disclosures
This website is a participant in the Amazon Services LLC Associates Program, an affiliate advertising program designed to provide a means for us to earn fees by linking to Amazon.com and affiliated sites.