Tips to Choose Mountain Bike Fender Extensions
Mountain biking is a great way to get outdoors and enjoy the fresh air. However, it can also get pretty dirty because you can be covered in mud after a ride. That's where these mountain bike accessories come in handy! Mountain bike fender extensions will help to keep you clean and dry.
When choosing mountain bike fender extensions, determine how much extra length is necessary, and ensure the extension diameter and width suit the MTB tire size. Then, match the original fender, the extension shape, and the design.
By following our tips below, you can be sure to choose the best mountain bike fender extension for your needs.
How Long Should Mountain Bike Fenders Be?
Mountain bike fenders should be long enough to provide enough coverage to prevent mud, debris, and water from being flung up into your face. They should also be wide enough to cover the entire width of the tire to ensure full protection. When choosing a mountain bike fender extension, determine how much extra length is necessary based on the size of your tires.
The right length of a mountain bike fender is determined by the bike's tire radius. Bike fenders should extend down the tire to the 3 o'clock position. Buy 32" front and 52" rear fenders for 26-inch tires, 32" front and 48" rear fenders for 27.5-inch tires, and 32" front and 54" rear fenders for 29-inch tires.
When in doubt, purchase the longest-length bike fender possible. For mountain biking, it's better to get full-length fenders rather than clip-on because you'll be going through tougher terrain. Following these fender lengths "rules" may just help your mountain bike fenders work keeping a lot of the dirt and the mud off of the back of your shirt. 
Before going any further, be sure you know these five key mountain bike fender parts along with their functions. Our related article even has pictures to follow, just in case you need them.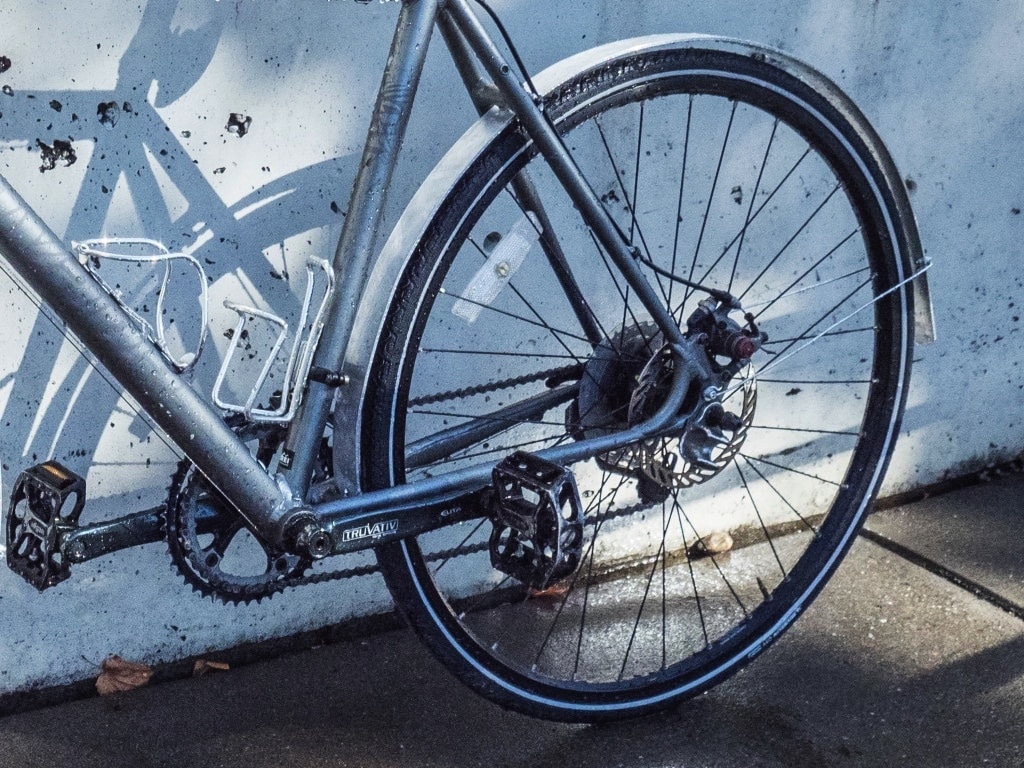 1.   Tire Size 26"
The best way to determine how long your mountain bike fender should be is by measuring the radius of your bike's tires. For 26-inch tires, you'll need at least 48-inch rear fenders, but longer is better. Go up to 52" for maximum coverage and protection for you and the important parts of your bike. The front fender doesn't have to be quite as long but look for 32-inch ones.
Different manufacturers offer elements that can help with specific types of weather and terrain. Planet Bike offers these fenders with an additional 40mm coverage with a rain flap, which can help if you live in an area that sees a lot of wet weather.
2..   Tire Size 27.5"
This tire size is a bit confusing because it's often referred to as "650b" rather than in inches. But for a 27.5" bike tire, you'll want to find back fenders that are at least 48". Look for front fenders that are at least 32". 
If you need 650 b fenders, check out these ones from Velo Orange that are 52" long.
3.  Tire Size 29"
Often referred to as "29ers", for a 29" tire, you want to look for fenders that are 54" long in the back and at least 32" long in the front. You want the rear fender to cover about half the circumference of the wheel to keep out debris during your ride. And if you have a hard time finding fenders that are long enough, you can always order some from people like MK Fenders, who will custom make your fenders just for your tire size.
You might also find interest in learning how to choose mountain bike fender width properly or how to make a DIY mountain bike rear fender. Be sure to read our related articles to find out more. Similarly, these tricks to choose clip-on bike fenders might also be interesting.
Tips for Picking the Correct Mountain Bike Rear Fender and Front Fender Extensions
It is important to pick the right size mountain bike fender extension in order to be fully protected from the elements on your ride. The wrong size fender extension can lead to mud spraying your ankles and possibly even your chain, derailleurs, and brakes. If sand or mud gets into these parts of your bicycle, they will wear out quicker.
To pick the correct mountain bike fender extensions, match the fender extension width with the fender width, ensure attachment methods are compatible, calculate the total fender and extension length to reach the 3' O'clock position, and ensure the fender design and shape match the extension.
Also, if after you've installed your fenders they feel a little off, check out our article on how to adjust mountain bike fender offset.
Tip 1. Match The Mountain Bike Fender Width to the Fender Extension
When you purchase your fenders, you don't want to just consider the length, you also need to consider the width. You need the width to be 8 to 12 mm (0.3 inches to 0.5 inches) longer than the width of your tire. So when you are looking at fender lengths, make sure the widths match up to the specs of your tire.
Tip 2. Ensure The Attachment Methods are Compatible
Every bike has different options available when it comes to attaching a fender. Make sure the fender you purchase is compatible with your type of bike. Many fenders need to be installed with eyelets to attach to the fender stays. However, some road bikes may not have those, so in that case, you would need to purchase clip-on fenders.
Tip 3. Calculate The Total Length Of The Fender and Extension to Reach The 3' O'clock Position 
To ensure that your fender protects your mountain bike enough, you need to make sure the total length of the fender and the extension reach the 3' O'clock position on the rear tire. To measure your tire, take a soft measuring tape and measure the circumference of half of the tire. Then, you can calculate the fender and extensions you purchase to make sure it matches that.
However, front tire fenders are often shorter than rear ones. According to this article from REI, a front fender only needs to cover about a quarter of the tire's circumference.
Tip 4. Ensure The Fender Design and Shape Matches With The Extension 
Not every fender design works with an extension. Before purchasing a fender, check to make sure that the design can take an extension. If you can't figure that out from the package, you can always contact the manufacturer or a local bike shop to ask. And if you really don't want to extend a fender, we explain how to make a DIY mountain bike rear fender in our article so that you can make your fender the length and shape that you're happy with.
Once you're done choosing your fender extensions, this video tutorial by Mudhuggger shows you exactly how to fit their fender extensions. 
You may still be wondering why you should put fenders on a mountain bike, to begin with. If so, be sure to read our related article for more information. Furthermore, you can find more information about adding a mountain bike mudguard extension to your bike in this article too. 
Examples of Mountain Bike Fender Extensions And Their Compatibility
Some mountain bike fender extensions are designed to be compatible with only certain types of bikes or certain brands. Others are made to be universally compatible with any type of mountain bike. Check out these mountain bike fenders below to see what will work for your bike.
Some mountain bike fenders can only be fitted with specific extensions so check that the mountain bike fender extension being used is compatible with the fender on the mountain bike.
Here we compare various brands of fender extensions:
| | | | | | |
| --- | --- | --- | --- | --- | --- |
| Fender Extension | Location | Fender Width | Fender Length | Attachment Method | Approximate Price |
| SKS Speedrocker Extension | Rear | Accessory for the SKS Speedrocker Fender Set | 6.75" | Clip-on | ~$20 |
| Planet Bike Hybrid Mudflaps | Rear and front | Compatible with all Planet Bike hybrid 45mm fenders | 1.5" | Quick snap | ~15 |
| Mudhugger Fixed Front Mudguard Extender | Front | Attaches to the Mudhugger FRX or ShortyX fenders | 4.14" | Plastic pop rivets | ~$15 |
| Cascadia Mud Flaps | Rear and front | Compatible with Cascadia fenders (700c x 45mm),  Hardcore fenders (700c x 45mm), and Full fenders (700c x 45mm) | 5.12" | Quick snap | ~$10 |
And in regards to mudguards, be sure to read our related article to decide if you need mountain bike mudguards or not. You might be surprised at the answer! And if you need them, you may want to learn how to make a mountain bike mudguard instead of buying one. Take a loot to see how easy it might be.
How to Improve DIY Bike Fender Extensions
While there are fender extensions out there, there's not a huge variety and it can be difficult to find exactly what you're looking for. But the good news is you don't have to purchase a fender extension, you can make one yourself at home with materials that you might already have around the house.
When making a DIY bike fender extension, use a fender V-stay kit, stick a reflective sticker at the bottom and attach a coat hanger to the fender extension and extend it to the original fender to make it rigid.
For a practical innovative approach, take a look at this thread on Bike Forums. 
Approach 1. Use a Fender V- Stay Kit to Position the Fender Extension Over The Middle of The Tire
When creating a DIY fender extension, one of the most important aspects is to secure the extension well to the back of your bike. If you don't, it can flap around and make a lot of noise, or even worse, fall off or get caught in your chain. So when you decide how to make your DIY fender extension, make sure it's nice and secure.
To add more security to your DIY fender extension, use a fender v-stay lit. This kit secures your fender to the middle of your bike. The fenders you already purchased may have a v-stay kit available for purchase from the manufacturer. If that's the case, you'll want to purchase that one to ensure it has the right fit. If not, look around for a v-stay kit that can be connected properly to your bike.
If you can't find a v-stay kit that suits your bike, you can use wire to create your own. Measure from the drop out on one side, then to the tail end of the fender extension, and the drop out on the other side. Cut a piece of wire (strong utility wire like this works well) that matches the length you measured. To fit it, shape the wire into a U around the fender and then mount the stay with cable ties like these. And last, you connect the wire stay at the dropouts.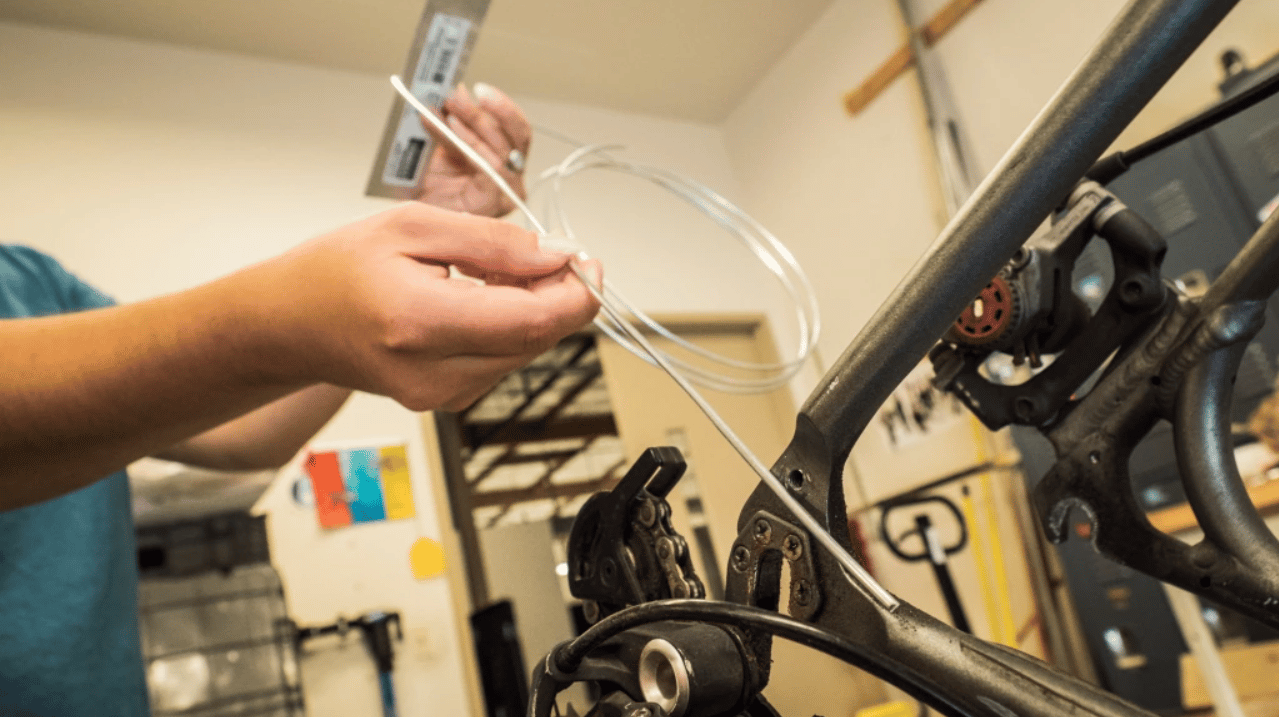 Approach 2. Use a Coathanger to Make The Fender Extension Rigid
When you add a long fender extension, if you don't secure it properly, it's going to whip around on the back of your bike as you ride. This makes an annoying sound but can also be dangerous if it flies off. A simple way to secure a long fender is to add a coathanger to the back.
To do this, grab a wire coat hanger from your closet. You'll have to twist the top so you can make the wire a single line, or use wire cutters to cut the hook of the hanger off. Then, cut the wire into the length of the fender that you'd like to secure. Use duct tape or super-strong glue to connect the wire to both sides of the fender. This will help to keep the fender extension rigid, helping you stay safer and enjoy your ride!
If you're looking for more ways to increase your safety while riding your mountain bike, check out our articles on mountain bike armor pieces and how to buy downhill mountain bike armor.
Approach 3. Use Duct Tape to Secure the Fender Extension Further
Since duct tape can hold about 45 pounds per strand according to this thesis from the University of Dayton, it's a surprisingly strong material to use when securing your DIY fender extension. Your fender extension can be made from anything, even an old ice cream carton, but not all materials will be particularly strong. By covering material like cardboard with duct tape like this, you'll make your extension more rigid and less likely to wear and tear when riding. Plus, it's an easy, cheap way to attach a coathanger or wire to your fender extension.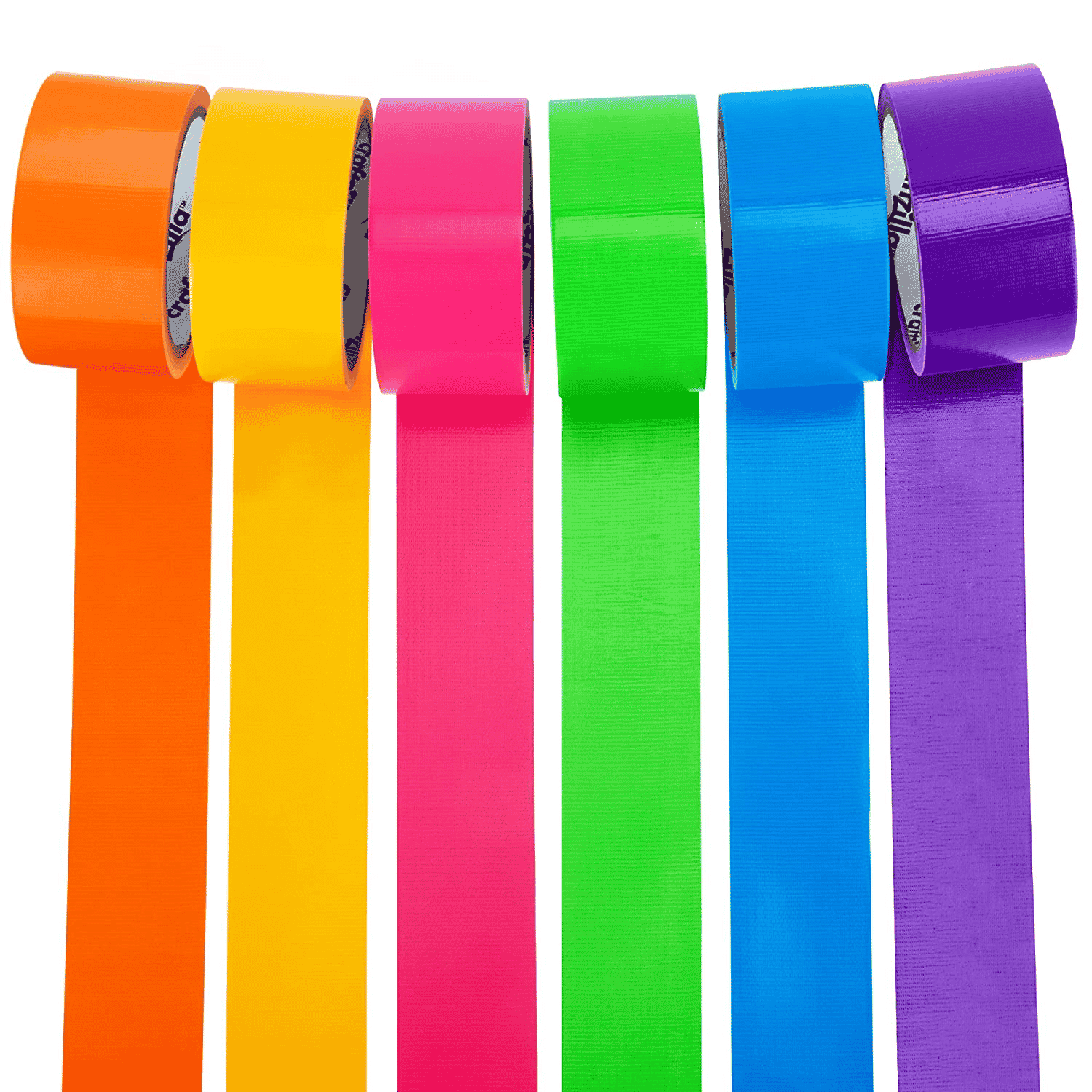 Approach 4. Use Reflective Stickers To Increase Visibility When Riding
With safety in mind, it's important to do everything in your power to make sure that you're visible when riding. Whether you are on a trail in the early morning and want to be visible to hikers or you are on the road on the way to the trail and want to be seen by cars, the more visible you are, the more time everyone has to get out of the way and avoid a crash. Our article about mountain bike fender accessories has some great ideas about using reflective tape on your fenders which can help with visibility. Reflective stickers are a simple thing to add to your front and rear fender extensions. They come in different sizes and colors, and as long as your fender is decently covered that will be enough. You should use  these waterproof reflective stickers so that they won't fall off if it rains or snows.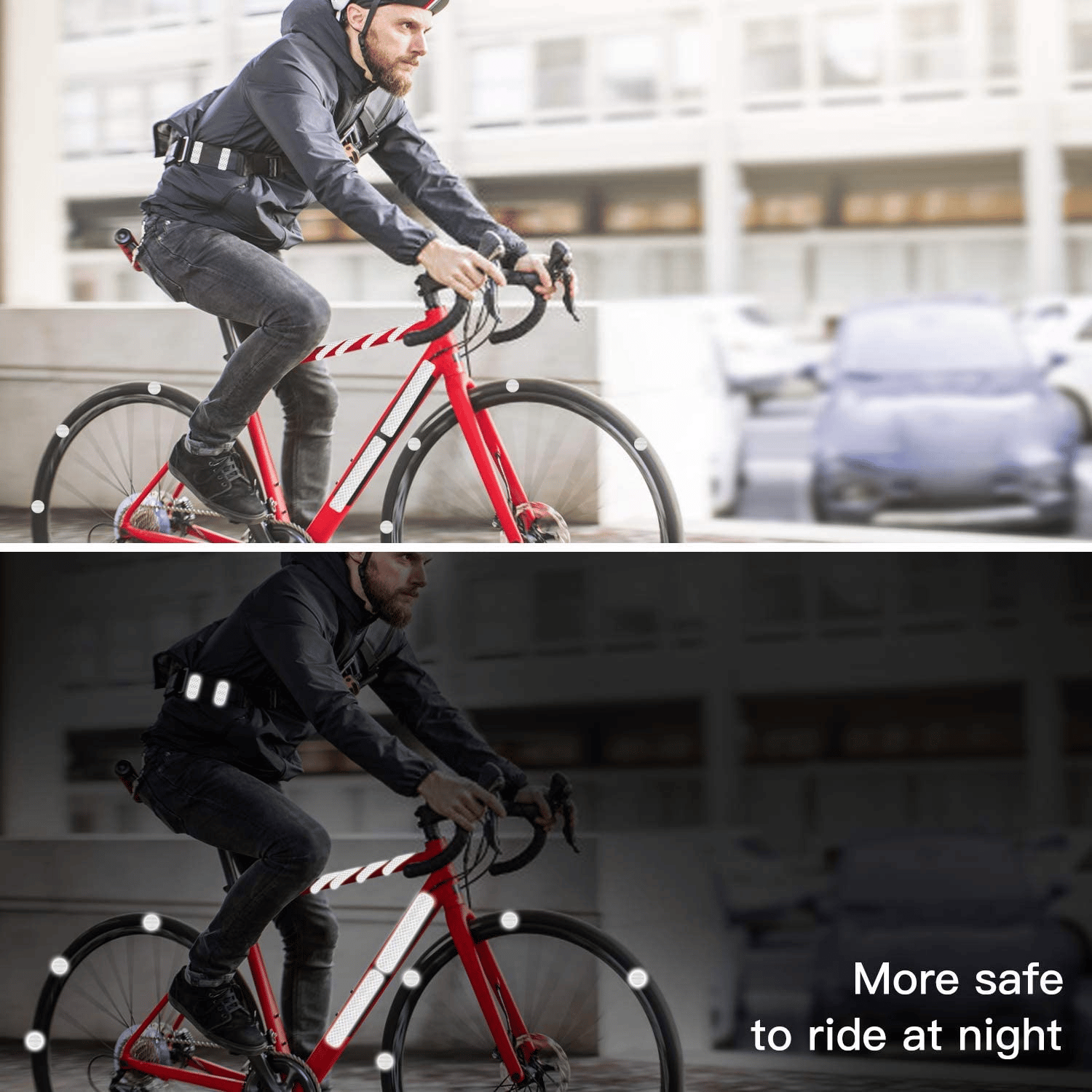 Approach 5. Use Colored Stickers To Match The Fender Color With Extension Color
This tip is more of one for aesthetics, but you can use colored stickers to match your fender color with the extension color. You can either buy colored stickers to change the color of your fender to match the extension or the extension to match the fender. This makes the fender extension blend in easily with the rest of the fender if that is a concern of yours. You can also use colored duct tape or this adhesive vinyl over the fender and the extension so that they look like they are one color.
Disclosures
This website is a participant in the Amazon Services LLC Associates Program, an affiliate advertising program designed to provide a means for us to earn fees by linking to Amazon.com and affiliated sites.