Are Pedal Straps Good? A Detailed Guide With Pros/Cons & Tips
It's almost impossible to cycle in footwear like slip-ons or sneakers that don't have proper grip or tread. Even with proper cycle shoes that have the appropriate grip you may need accessories like pedal straps that are good for keeping your feet secured to the pedals when you ride your mountain bike. In this article we discuss whether pedal straps are good by discussing pros and cons and providing tips about how to use pedal straps.
The main advantages of pedal straps include a sturdier foot grip, cycling leverage and pedaling with more force, better comfort, and better control overall. Cons of using pedal straps are that the rider's feet could remain trapped under the straps in an emergency and the rider could have difficulty fitting their feet under the strap.
Of course, there are some disadvantages like your feet being trapped when you are involved in an accident as explained in this article by Bythlon. You could also find it harder to fit your feet under the straps while cycling. However, if you are careful enough and insert your feet firmly into the strap while starting to cycle, pedal straps could make your cycling easier. If you are not exactly sure which pedals to go for check out our article that explains how to choose mountain bike pedals for grip maximization.
What Are Mountain Bike Pedal Straps?
Mountain bikes already come with increased stability when compared to regular bikes because their large tires enable better handling and support even on off-road terrain. Using pedal straps for mountain bikes makes them even more stable to ride.
Mountain bike pedal straps enable a rider to keep feet on the pedal and increase pedaling efficiency by enabling power transfer to the crankshaft on upstrokes and downstrokes. Pedal straps for mountain bikes are similar to road bike straps, with slight material variations. Tough and durable materials such as nylon or fabric with reinforced stitching are used for mountain bike straps.
Pedal straps like these are compatible with certain pedals and can easily be installed to help make your ride even better. 
By adding a proper set of pedal straps to your mountain bike, you will be able to push and pull to get an even transfer of force and power while keeping your feet secured to the pedals.
And if you're still choosing between clipless pedals like these and flat pedals, this article from the bike experts at REI can help you make a decision. And if you decide to go clipless, check out our article on the benefits of clipless pedals and how to choose them and choosing between mountain bike toe clips vs clipless pedals so you can pick out the right ones for you.
With the ability to pull the pedal both upwards and downwards, riding your mountain bike with pedal straps makes things easier. As for the safety, it all depends on your level of skill and how tight the pedal straps are around your feet.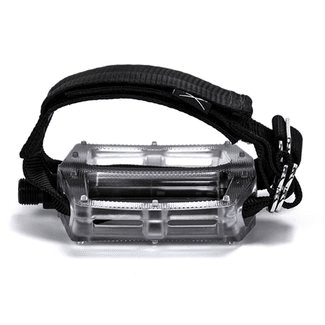 This might be a good place to learn the differences between pedal straps vs. cages. Make sure to read our related article to find out more. Similarly, be sure to read up on our guide to mountain bike pedal strap replacement for more detailed information about pedal straps.
Do Pedal Straps Help? Advantages of Pedal Straps
Pedal straps can be helpful for every cycling enthusiast because they keep your feet from slipping off the pedals, help you to distribute cycling power evenly, and they help you to maintain control of your bike.
The advantages of using pedal straps are that they prevent the rider's feet from slipping off the pedals, they provide extra cycling leverage and increased power transmission, they make pedaling more comfortable, and they allow for better control of the bike.
Because of this, sprinting is much easier and there isn't much difference between the downwards or upwards pedaling action. However, these are just some of the benefits of pedal straps for both regular bikes and mountain bikes. 
And if you're looking for pedal straps with heel support for kids, check out our article on how to choose them.
A Secure Hold and Foot Support
Pedal straps offer full support for your feet while you cycle by going over the feet across the bridge or balls of your feet, unlike toe clips that only secure the front of the feet. Cycling with pedal straps your feet will always be firmly attached to the pedals. 
If you ride over a bump or a hole, your feet shouldn't come loose and with a firm grip on the pedals, you can easily cycle uphill or sprint with confidence.
With this increased support, you also won't have to worry too much about your footwear when cycling. With pedal straps it's possible to get a sturdy grip and firm support with most footwear, not only cycling shoes.
Cycling Leverage and Increased Power Transmission
With a firm grip on the pedal, you will have increased cycling leverage and you will be able to generate more speed with each stroke.
Your feet are firmly attached to the pedals when you use pedal straps. Without straps, your  feet could move around and slip resulting in you not having full control of your bike and could even cause you to have a little spill. You can also relieve some pressure from your quadriceps this way, as all the muscles in your legs can engage fully when pedaling.
A More Comfortable Ride
The lowered pressure on your quadriceps will make you feel more comfortable while riding, and you will also feel more comfort overall because your feet are held in place. You will also have more control of your bicycle making your ride easier and you won't have to strain too much to keep control and ride with power.
Better Control of the Bike
With pedal straps, your feet will ultimately stay connected to the bike which means that you will be able to grip the pedals without too much effort and your energy can be used to pedal powerfully to get up and down rough terrain. Since you'll have a safer ride, you can actually ride with more confidence. Pedal straps are great both for experienced and beginner mountain bike riders. These Outgeek pedal straps are great for beginners and experienced riders.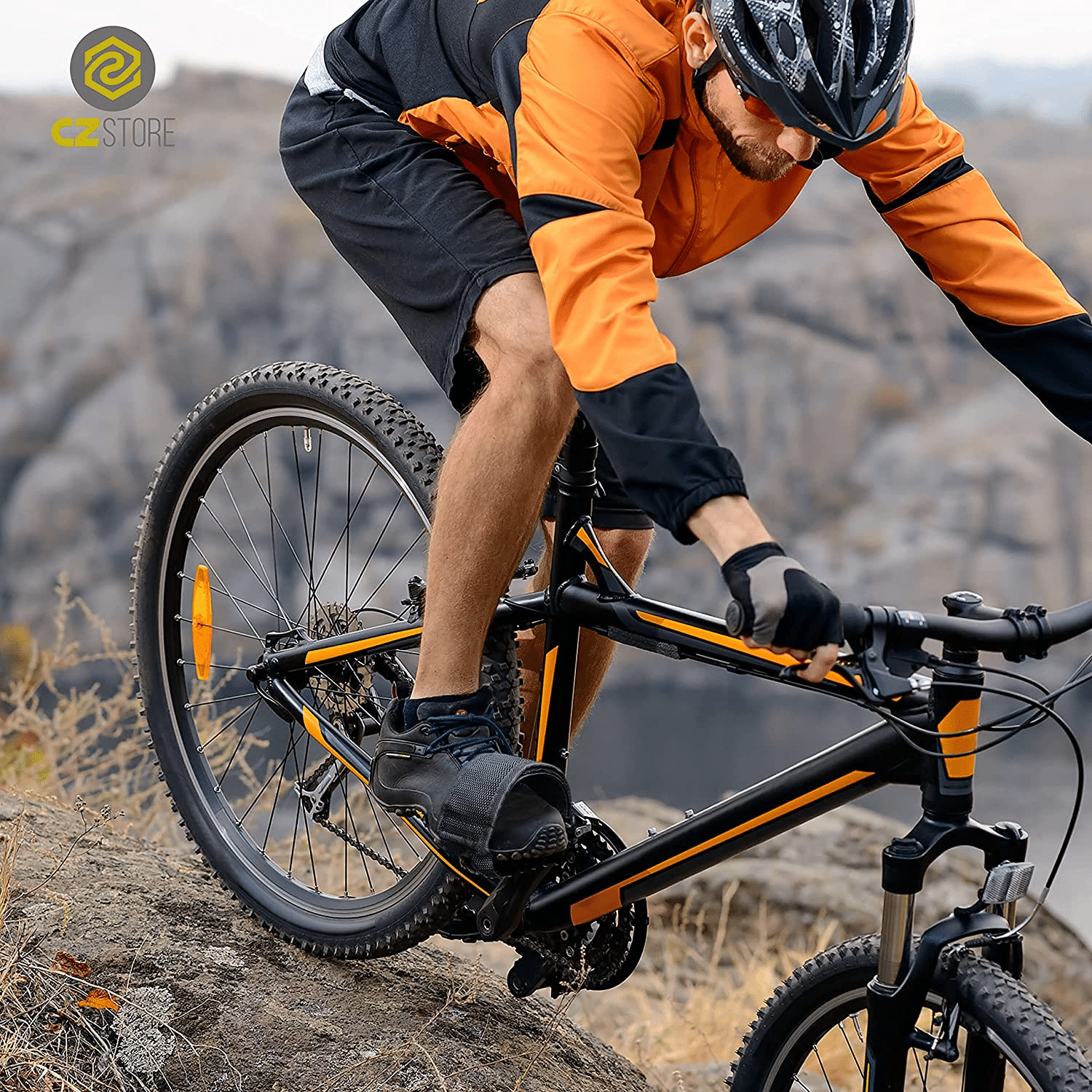 Similarly, you may find interest in learning why you should use toe clips on a bicycle. Our related article will show you the pros and cons of toe clips too. Furthermore, we have a guide to toe clip installation and use that you might find helpful. Be sure to check that article out too.
Are Pedal Straps Dangerous?
Pedal straps are only dangerous if you lose control of your bike and the straps are too tight for you to loosen your feet. The other potentially dangerous scenario would be if you didn't attach the straps properly so your foot comes loose while cycling.
Pedal straps can be dangerous if they are too tight or if they haven't been secured properly.
If your straps are too tight and you manage to loosen a foot it may be tough to get it back into the strap, especially while cycling at higher speeds. Sometimes, keeping your pedal strap just a little bit loose can be a good thing if you need to get out of it quickly while riding.
However, wearing pedal straps while cycling is no more dangerous than riding without them and risking your feet slipping at any time. Different brands of pedal straps have different designs that help to reduce the risk of this happening. 
Features That Reduce Pedal Strap Accident Risk
Adjustable Fasteners
Some pedal strap manufacturers like CZ state that their hook-and-loop fasteners allow for a more secure fit. This way, the number of potentially dangerous scenarios is reduced as much as possible.
Adjustable fasteners enable a sturdy grip that eliminates the possibility of your foot slipping from under the strap. Moreover, the design of their straps is reliable because the nylon material grips around your feet even as you ride on rough terrain.
This feature combined with adjustable fasteners for easy customization will let you have safer cycling with the straps being locked in place.
Loose Design and Beginner Fit
Outgeek's branded straps are designed with beginners in mind to keep their feet on the pedals. They designed these straps to be a bit loose in the top section, so you can reposition your foot even if it slips out while you are cycling.
Also, the manufacturer advises beginners to use a single strap first, until they get used to the sensation. These bits of advice can result in much safer cycling with the straps on, even in potentially dangerous situations.
Triple-Layered Fabric Which Prevents Tears
According to Onipax, these pedal straps are less dangerous thanks to the triple-layered material that's more durable and should never break. These are perfect for mountain bikes, BMX, or fixed gear bikes.
Durable material isn't the only safety solution implemented in ONIPAX straps. You can also count on adjustable Velcro as it holds your foot locked, and in case it breaks, you can still swiftly place your foot onto the pedal.
You might also be interested in learning how to make bike pedal straps of your own. If so, be sure to read our related guide to learn more. Similarly, you may want to learn how to change pedals on a mountain bike too. So make sure you read up in our step-by-step guide.
Comparison of Pedal Straps vs. Toe Clips
A similar accessory to pedal straps are toe clips that can also offer a safer and more powerful ride. When comparing pedal straps vs. toe clips, it's important to understand which would be best for your type of cycling. 
When comparing pedal straps vs. toe clips, both products allow for maximum push and pull action for cycling on steep terrain and during sprints. However, pedal straps are more secure around the feet since they cover the feet from the sides. They are also more beginner friendly.
Since both accessories have their benefits and downsides, here's a table with all of them listed so you can decide which one is the best option for your needs:
| | | |
| --- | --- | --- |
| Product Benefits | Pedal Straps | Toe Clips |
| Increases power while cycling | Pedal straps give you controlled cycling power on the up and the down stroke due to the firm grip of the strap around the foot | The cage secures only your toes, and allows more controlled power in the upstroke |
| Comfort | Straps are comfortable if loosely set and with the right choice of material | Toe clips could be more comfortable than straps as they don't lock the entire foot |
| Grip | Pedal straps provide an all-around grip covering your feet from the sides | Toe clips could have less grip since they only secure the front part of the foot |
| Safety | Pedal straps come with the risk of the foot being stuck in the case of an accident | Toe clips are safe due to reflective strips on the pedals and can be easier to slip out of quickly |
| Adjustable Fit | Pedal straps are adjustable and can have a loose fit | Toe clips can be adjusted by tightening the strap |
| Suitability for Beginners | Pedal straps are suitable for beginners and can be used with just one strap to start off | Toe clips can be suitable for beginners if set loosely |
| Example from Amazon | CZ Store Bike Pedal Straps | Venzo Toe Clip Cage |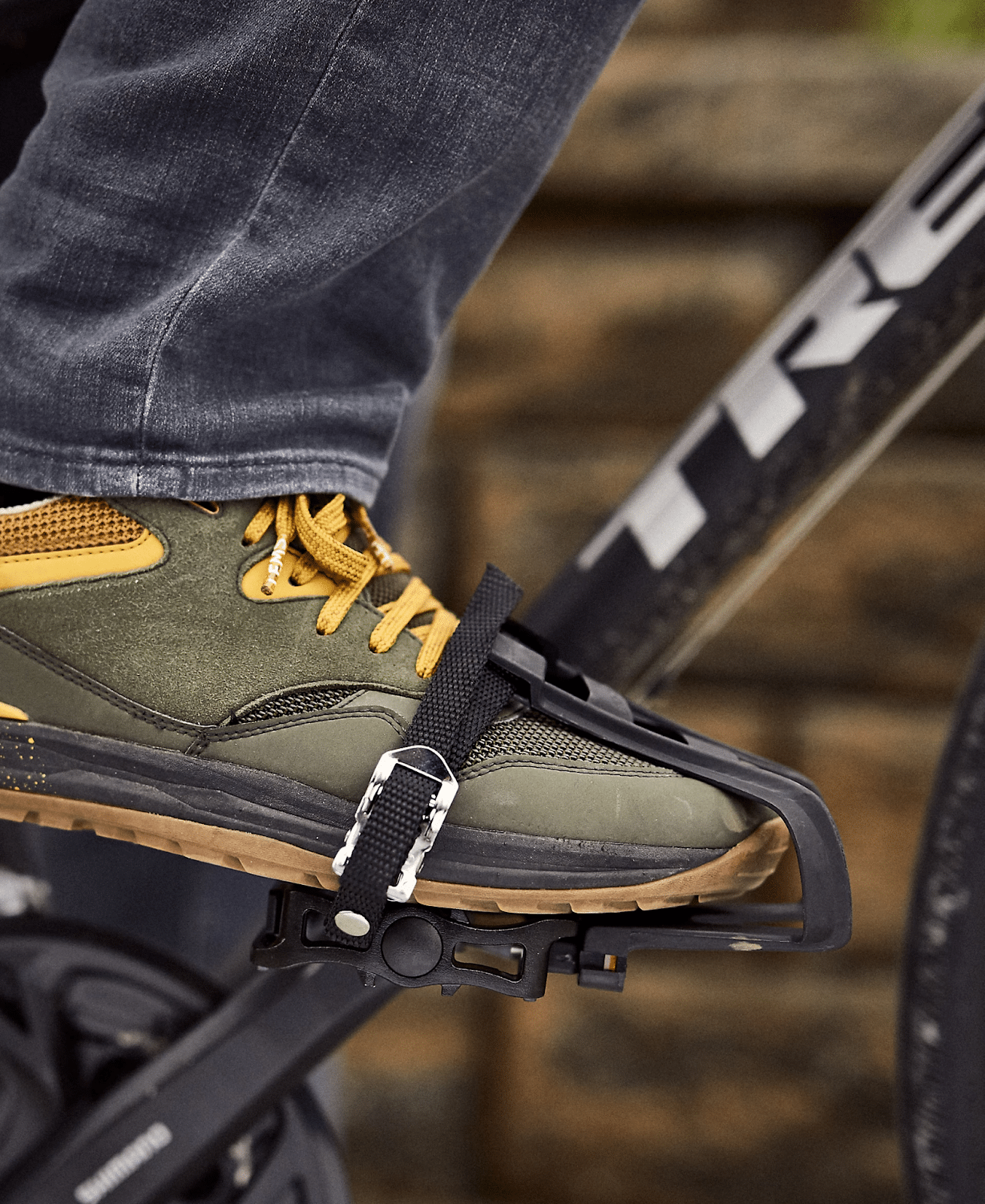 Related articles:
Mountain bike armor durability
How to Use Mountain Bike Pedal Straps
Using pedal straps may seem more complicated than it actually is. The straps fold over each other and have velcro for easy connection.
To properly use bike pedal straps, thread the straps through the pedals. Then, place one foot onto the pedal and fold the straps over the foot, and connect the velcro. Repeat this for both sides.
This handy video tutorial shows how to use pedal straps and we also give a quick overview of how to use mountain bike pedal straps.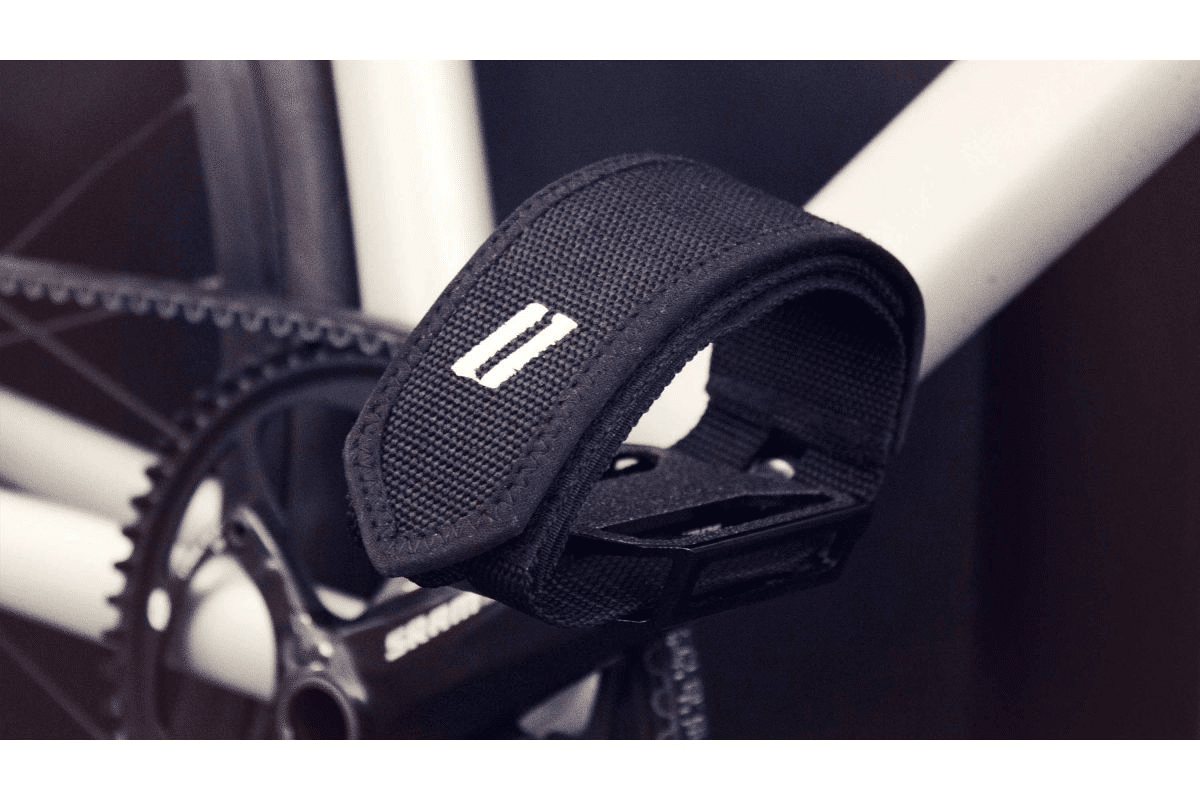 Step 1. Thread the Straps Through the Pedals
Thread the top strap through the metal link of the bottom strap. Then feed the bottom straps through the openings in the pedals making sure that the velcro on the bottom straps faces up and on the top strap down.
Step 2. Position One Foot and Connect the Straps to Fit Snuggly
Place the first foot onto that respective pedal and connect the velcro with the straps fitting over the foot snuggly.
Step 3. Repeat Connecting the Straps Over the Other Foot
After connecting the straps on the first pedal rotate the pedals and repeat the process for the other foot making sure that the straps are connected for a snug fit.
If you would like a more detailed guide on installing pedal straps and toe clips we have two articles that could be handy resources. Check out our article that provides step-by-step instructions on how to thread mountain bike pedal straps and then we also provide instructions on how to install mountain bike toe clips.
Disclosures
This website is a participant in the Amazon Services LLC Associates Program, an affiliate advertising program designed to provide a means for us to earn fees by linking to Amazon.com and affiliated sites.